No Comments
2 Days 2 Nights | Art, Craft & History in Cheyenne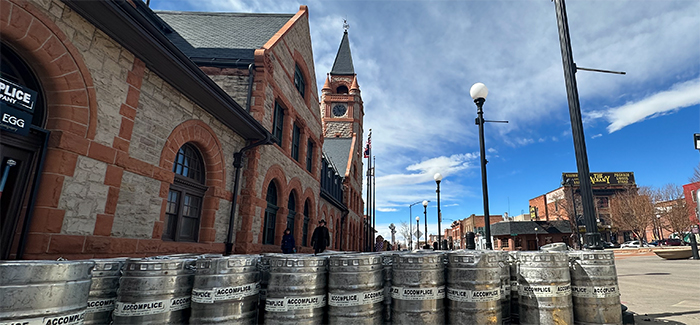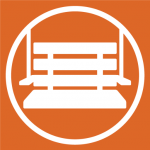 Although Cheyenne, Wyoming, is just over the border from Colorado's Front Range craft brewing epicenter, it also seems just off-the-map. But with four breweries and a distillery, all fiercely independent yet committed to the craft community, it's worth pinning as a road trip destination for any beer or spirits enthusiast.
In the summer, tour buses en route to Yellowstone, Grand Teton and Devils Tower stop in Cheyenne for a meal or an overnight stay. In the winter, many drivers find themselves stranded there due to treacherous highway conditions. But Wyoming's capital city is a destination in its own right. At 65,000 residents it's the state's largest city, and four times as many people come for Cheyenne Frontier Days, an annual end-of-July celebration with the rodeo as its centerpiece.
"The big picture of our breweries embodies our Western heritage here in Cheyenne," said Aaron Brown, marketing and experience manager with Visit Cheyenne. "We see lots of creativity, persistence and determination, as well as fun. The people who run the breweries are passionate about what they do."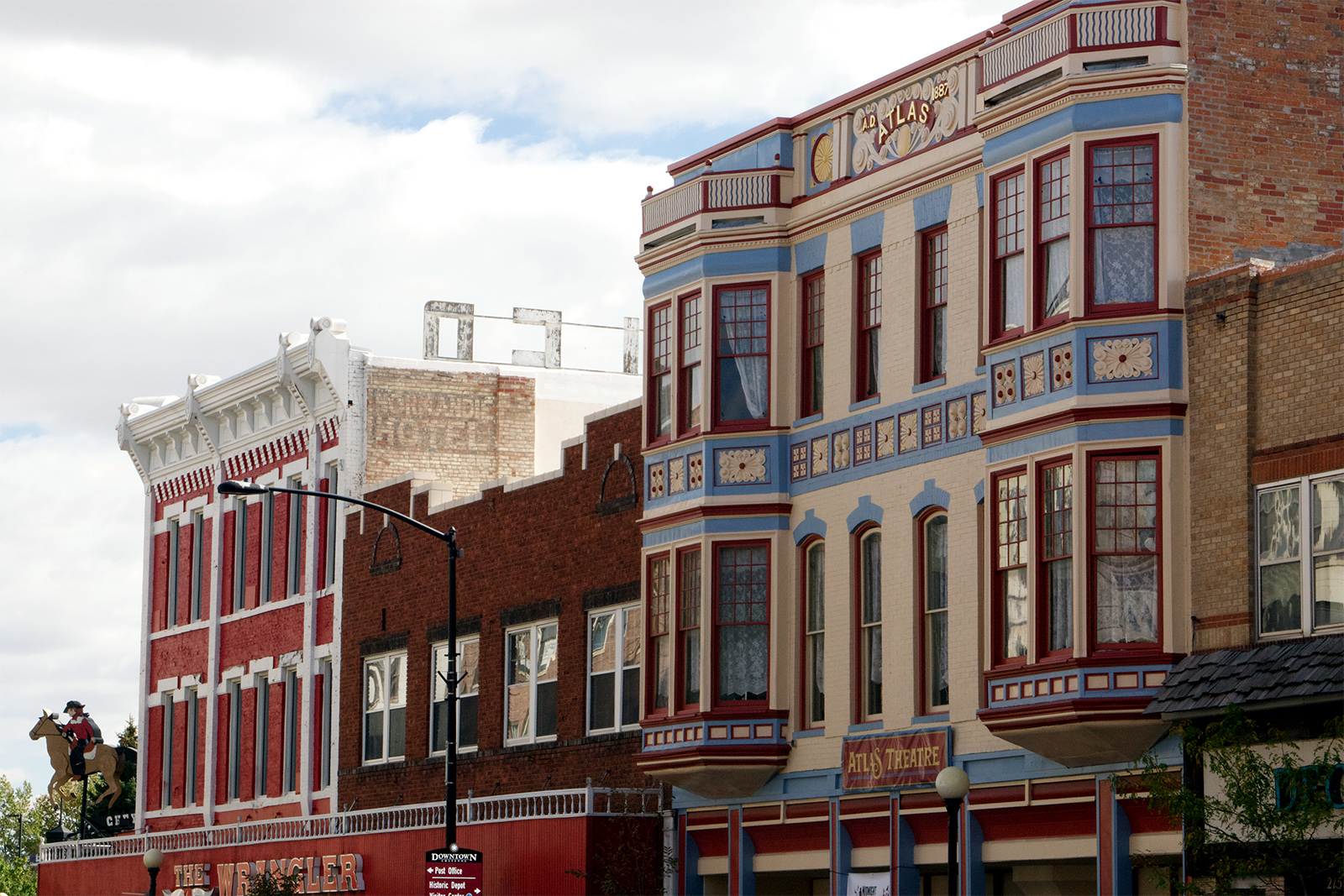 Cheyenne's four craft breweries and distillery are all within walking distance of the city center and each other. And thanks to an ordinance that went into effect last year, pedestrians within the historic downtown can carry open containers of beer, wine and hard seltzer while enjoying live music, fine art and historic architecture.
O Pioneers! Freedom's Edge Brewing Company
The oldest Cheyenne brewery still in operation, Freedom's Edge Brewing Company opened in 2012 in the historic Tivoli Building—once home to a speakeasy, according to Brown. Two years later, Freedom's Edge moved its taproom adjacent to its brewing operations on Pioneer Avenue. Since early 2020 it's been owned by Eric Kilmer and Joel Emerick.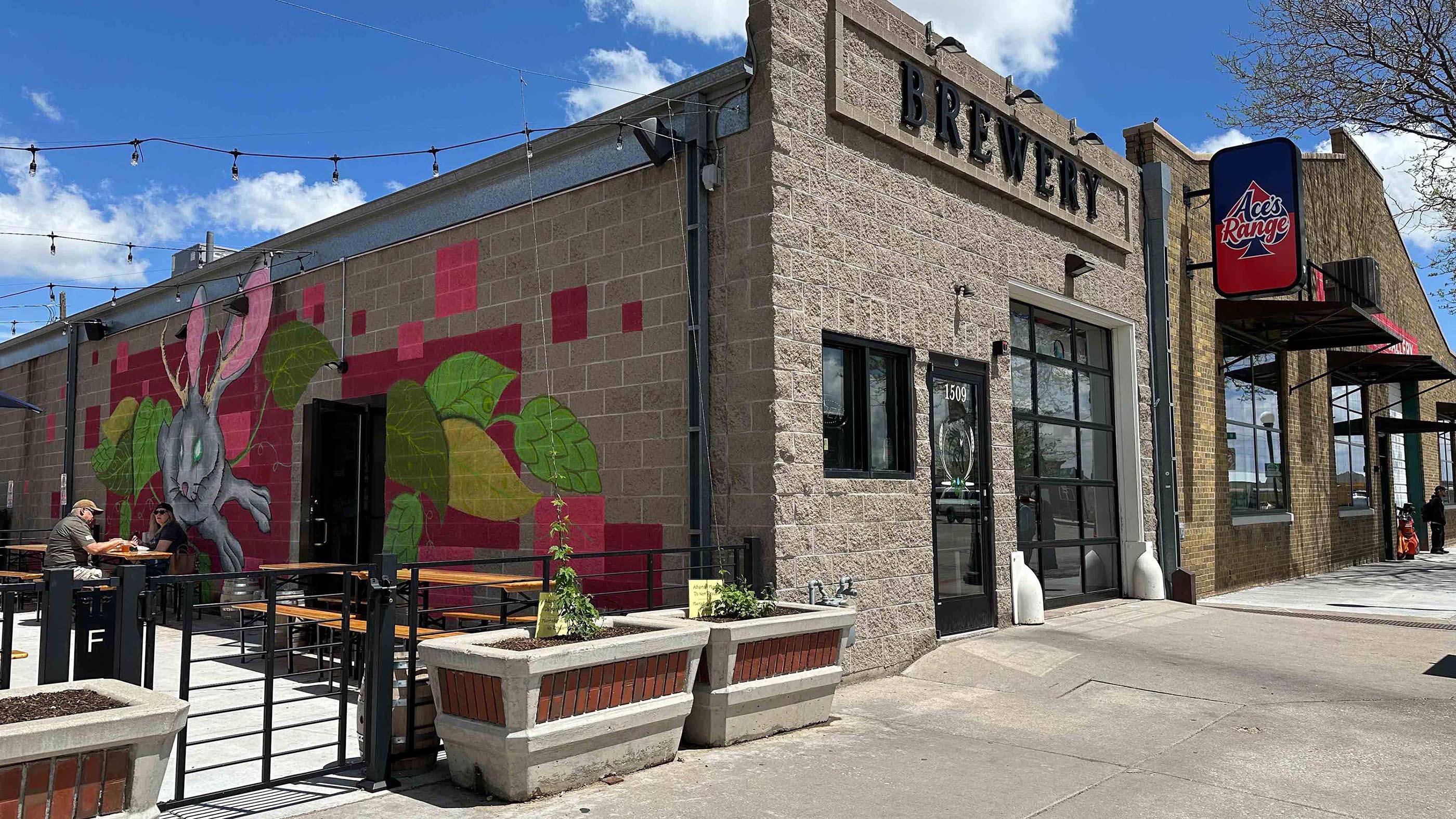 Taproom Manager Muriah Kilmer credits the community for the brewery's longevity.
"Sure, we make delicious beer but that's no good without a steady supply of beer drinkers and we are very blessed to have such devout clientele," she said.
Freedom's Edge customers expect old favorites and innovation — check the chalkboard at the far end of the bar to get a peek at what's brewing next. High Noon Chili Ale has been on tap at Freedom's Edge for a decade. The recipe has evolved under its current owners.
"It's a Blonde Ale flavored with a blend of chili peppers giving it a bit of heat kick," Kilmer said. "It is definitely one of those love-it-or-hate-it styles, however, it is one that we do exceptionally well and has certainly become our most popular beer, garnering its own cult following."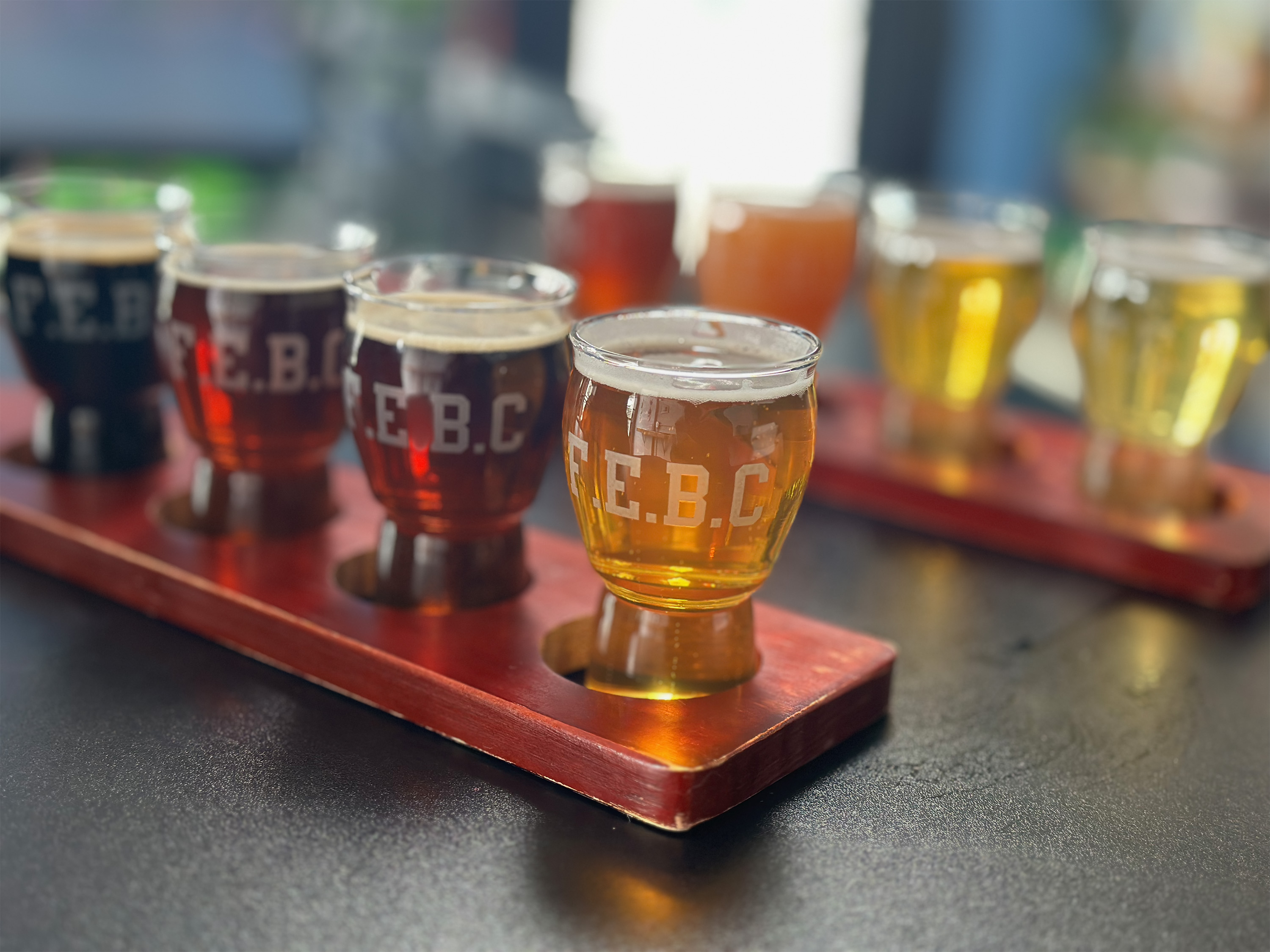 If a chili beer alone doesn't satisfy your need for heat, stop by the brewery when the Weitzel's Wings (aka Double Dub's) truck is parked out front. Trent Weitzel serves fresh-fried wings with an array of innovative sauces, earning accolades from Josh Allen (the University of Wyoming quarterback now playing for the Buffalo Bills) and Diners, Drive-Ins and Dives.
Freedom's Edge is one of the stops along the First Friday Artwalk and sports a jackalope mural on its north exterior wall, so it's no surprise that Kilmer recommends visitors take a beer along for a self-guided downtown mural tour.
"And if they're feeling a bit more adventurous, I would suggest they take some crowlers to go and drive 35 miles west to Vedauwoo to see some pretty incredible local nature and geology," Kilmer said.
Rise and Shine: Accomplice Beer Company
A visit to Accomplice Beer Company will get you as close as possible to the Union Pacific railroad line that put Cheyenne on the map in 1867. The brewery is in the railroad depot, completed in 1887 and now a National Historic Landmark.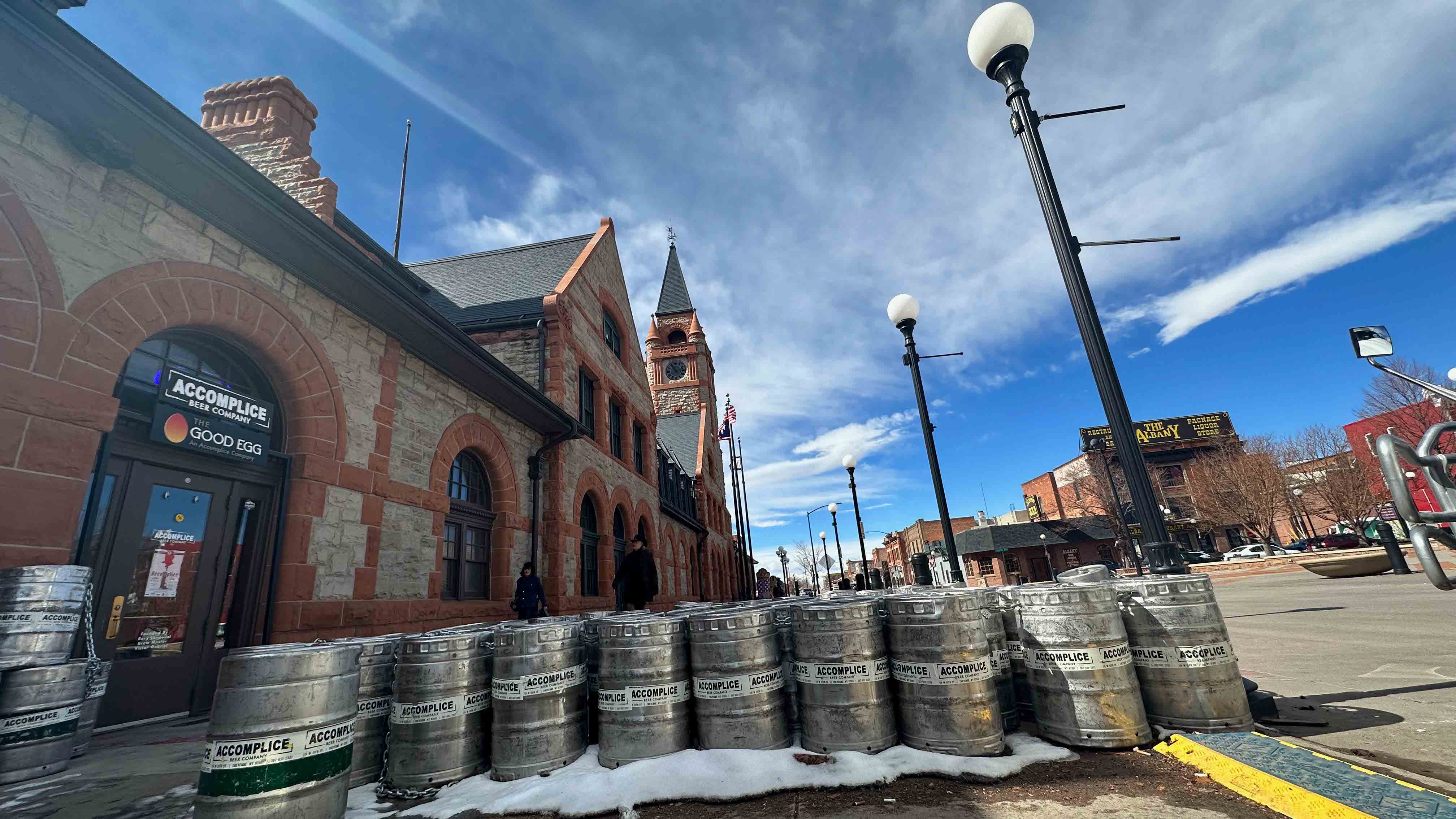 "It's the center of town, so there's always something going on," said Accomplice Head Brewer Victor Gabriel. During the summer, locals and tourists gather for Fridays on the Plaza to hear Wyoming musicians and touring acts. During colder months, the depot hosts a winter farmers market.
When you walk through Accomplice's front door, there's no question where your beer comes from. The entry is lined with sacks of malt, and customers pass fermenters on their way to the taproom and restaurant.
Brewing in a historic building means "some things are hard to work around," Gabriel said. For example, the brewery couldn't install a garage door. "I have to bring in bags of grain by hand, one-by-one. When we bring in cans, we have to bring them in behind the back of the building."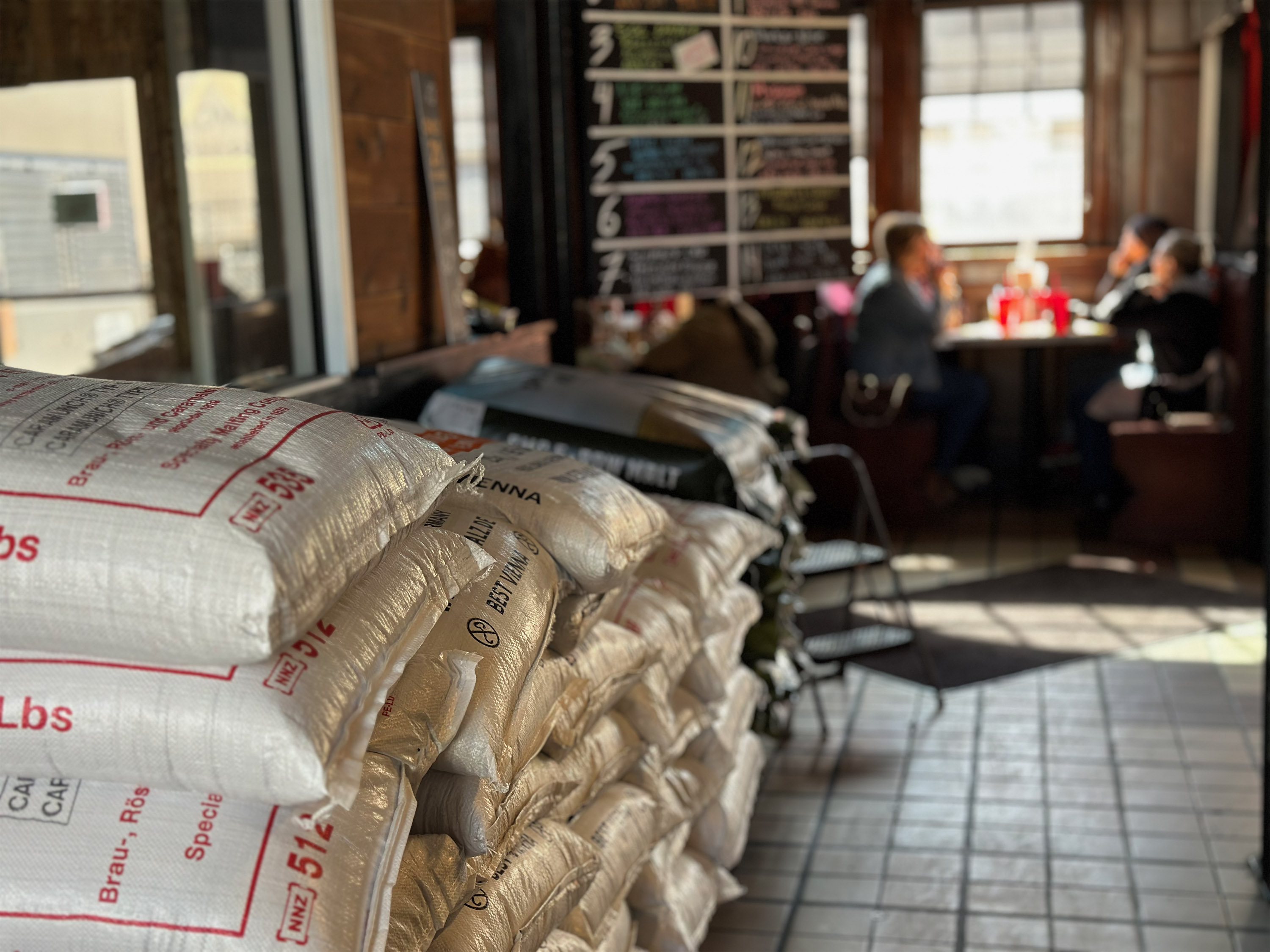 The historic building is also home to Charlie, the depot's resident ghost. Staff arriving for morning shifts have reported Charlie breaking glassware when they don't turn on music soon enough.
"Everyone's got stories about Charlie," Gabriel said. "We have mediums and ghost hunters come every once in a while." He recounts an encounter with Charlie while working late one night. "You know how people stick their fingers in their mouth to whistle really loud? I heard that, like 10 to 20 feet behind me, but there was no one there."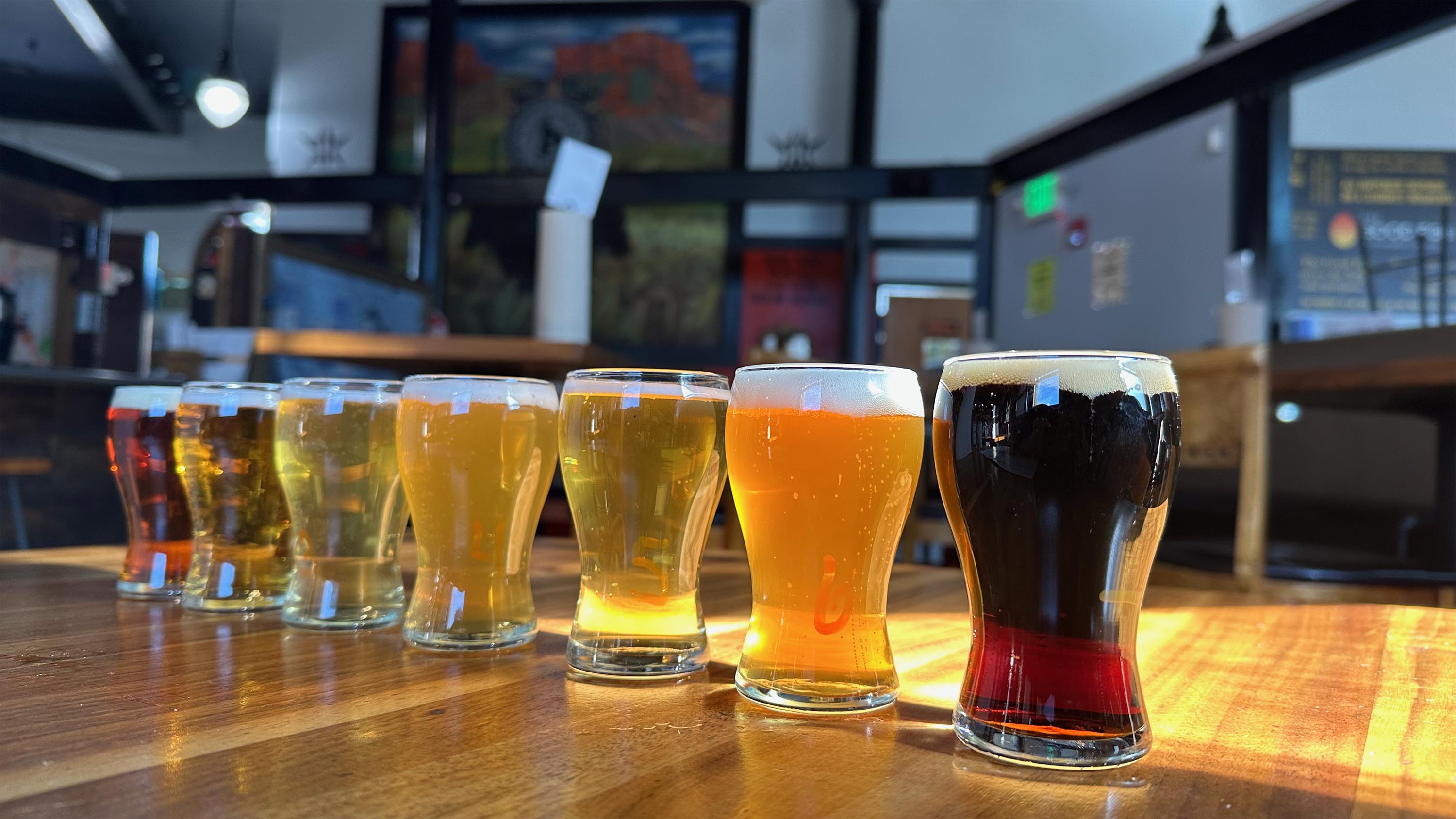 Among Cheyenne's craft breweries, Accomplice is the only one where you can order breakfast. The Good Egg, a sibling venture which shares premises with Accomplice, serves omelets, benedicts and skillets hearty enough to fortify morning craft beer connoisseurs. When asked which Accomplice beer he'd pair with breakfast, Gabriel said: "I like to drink something dark and roasty like Slumber Car or right now we have a milk stout on, Bittersweet Surrender."
It's not just the head brewer and Accomplice's regulars who are fond of Slumber Car — the porter won bronze at this year's World Beer Cup.
State Pride: Black Tooth Brewing Company
Founded in 2010 in Sheridan, Wyoming, Black Tooth Brewing Company opened its second brewery and taproom in Cheyenne in 2020. During a midafternoon weekday visit, regulars and remote workers occupied its large, wraparound bar. As the evening began, its tables filled with colleagues and friends meeting up after work.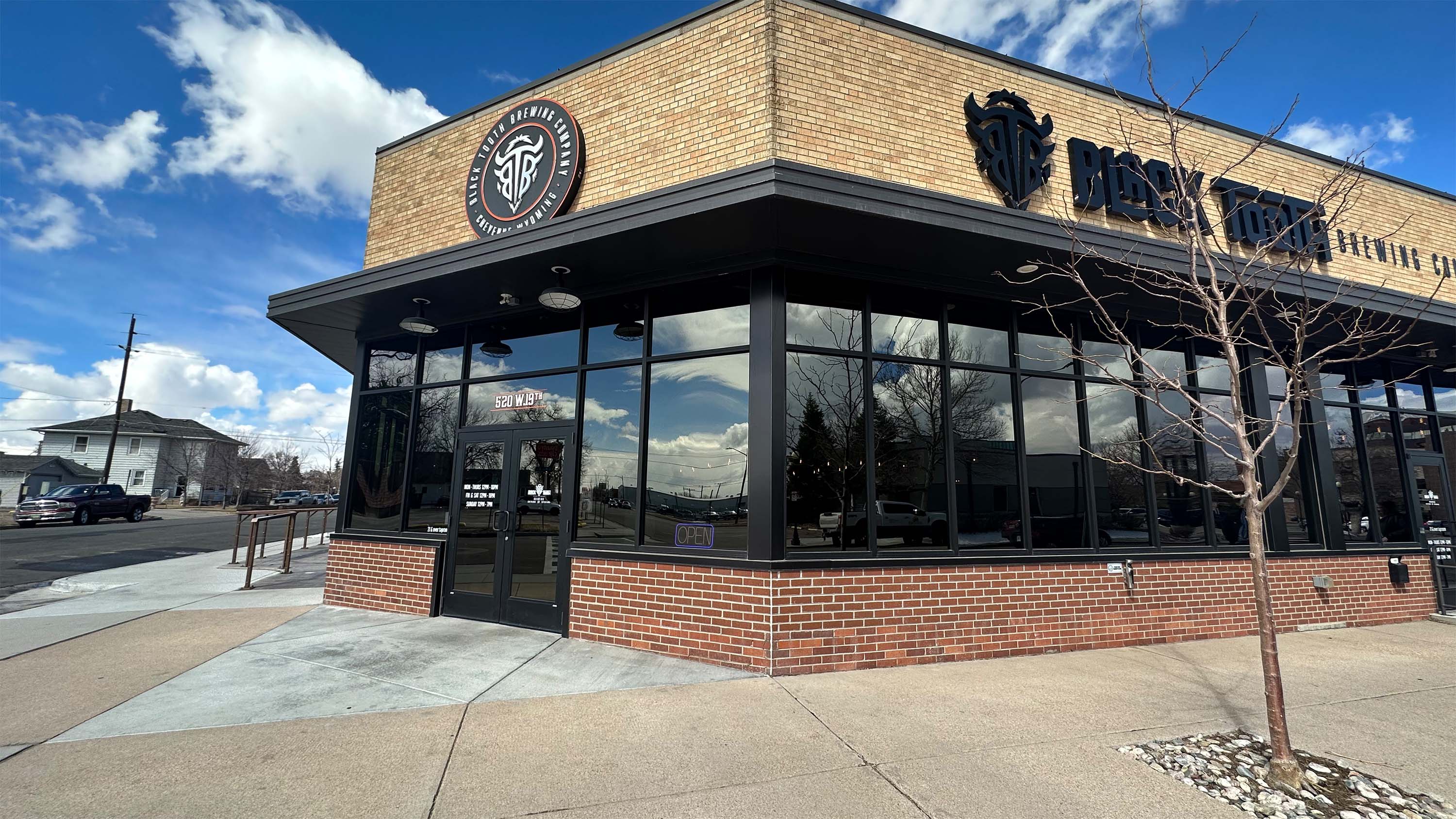 "​​When Black Tooth Cheyenne was designed, the company wanted key elements added in the taproom to pay homage to Cheyenne's history, the railroad and the industrial feel of the West Edge," said General Manager Steph Reece, referring to the neighborhood the taproom occupies at the corner of O'Neil Avenue and 19th Street. "We had a lot of custom metal work done, including a floating draft tower and a Conex container that serves as an additional bar.
Now with three locations (Black Tooth's Casper, Wyoming, taproom opened in 2021), Reece noted the statewide popularity of the traditional styles, Saddle Bronc Brown Ale, Bomber Mountain Amber Ale and its 307 Lager.
"As we've found throughout the last three years though, Black Tooth Cheyenne caters to both the traditional beer style crowd and those who enjoy trying new styles from our small batch pilot system," Reece said.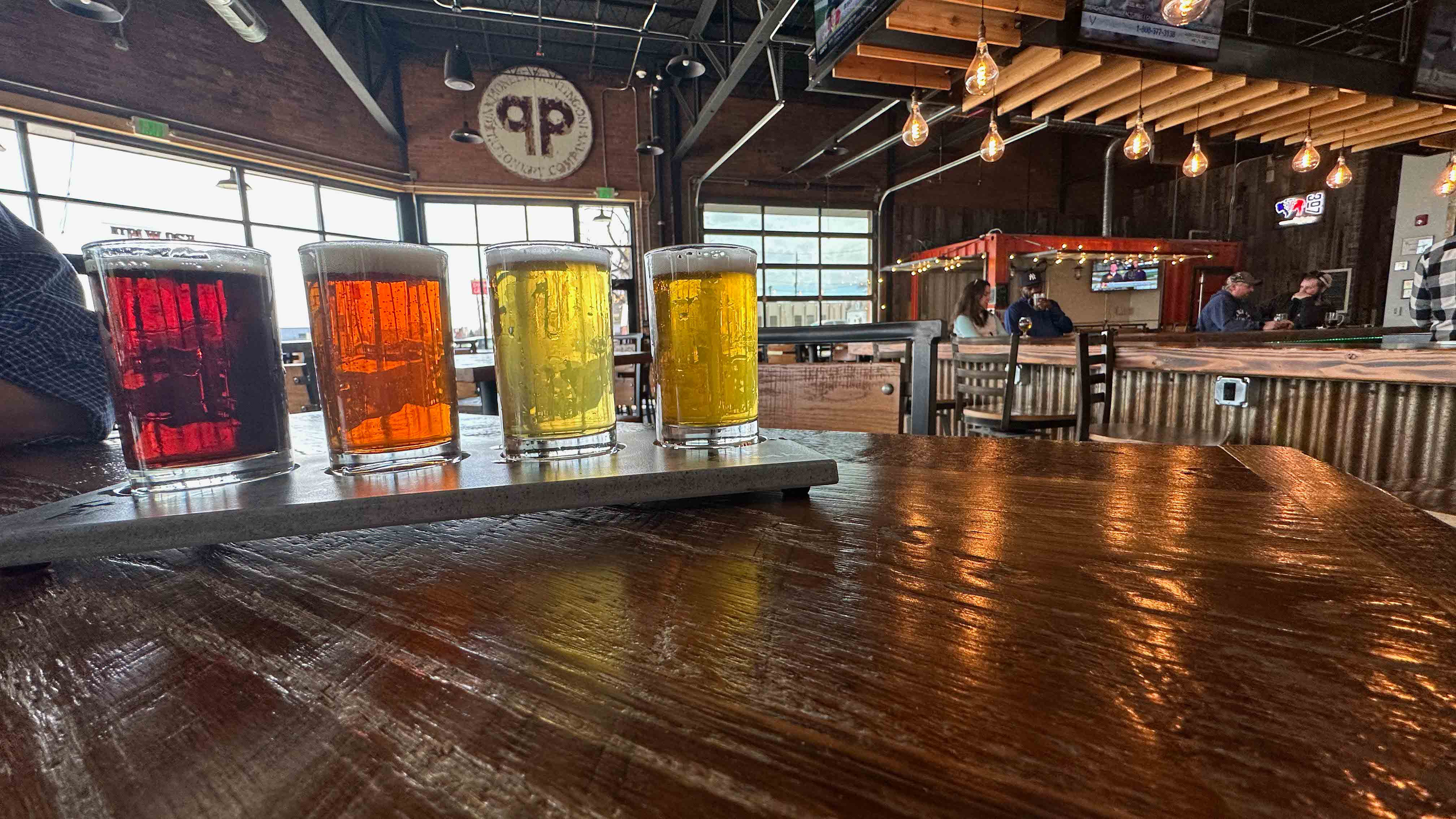 During a mid-March visit, the taproom had six beers exclusive to the capital city, including Morning Grind, a coffee vanilla Blonde Ale, and a peach and apricot Saison called Peaches of Cheyenne, a nod to one of Garth Brooks' rodeo ballads.
"We are thankful to have a strong regular customer base who drink the same styles over and over throughout the week, and then customers who are willing to try anything we put out and who enjoy more of a variety," Reece said. "It's a great opportunity to test the waters and see what people gravitate towards and how we can push the envelope."
The brewery is known for beer names evocative of Wyoming's culture.
"Our company is named after Black Tooth Peak in the Bighorns, which sits at 13,014 feet elevation," Reece said. "Saddle Bronc Brown celebrates the rodeos of Wyoming, specifically saddle bronc riders. Our Bomber Mountain Amber Ale represents the wreckage of a bomber plane that remains in the Bighorn range."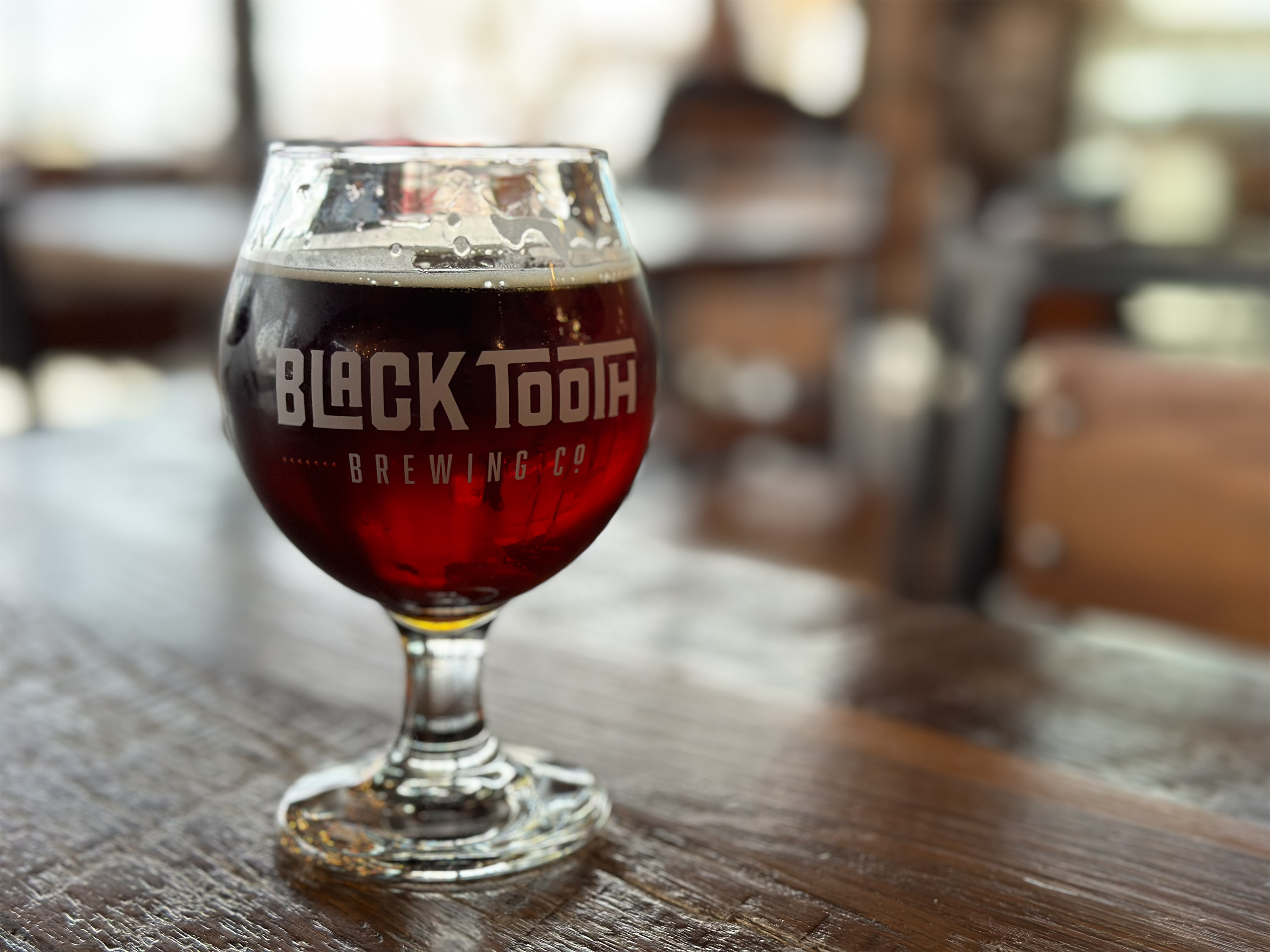 Black Tooth beers are available again this year at Cheyenne Frontier Days, including 307 Lager in the grandstands and Saddle Bronc Brown and Wyoming Golden Ale at concessions.
Fully Fledged: Blue Raven Brewery
When Danielmark's Brewing Company announced it planned to close in late 2021, regular Richard Hart and former employees Ryan "Willy" Willson and Kevin Tighe hatched a hasty plan to keep beer flowing in the Corson House, an 1883 Queen Anne cottage.
"Fortunately the old owners gave us time to get our act together to purchase the place," Hart said. "From the date we inquired to the sale, it took a little over six months."
By May 2022 the new owners had reopened the brewery under a new name. Blue Raven Brewery is perched near the corner of Warren Avenue and 18th Street in the Rainsford Historic District, a neighborhood once home to cattle barons who then regarded it as the far edge of town.
"They have turned it into a great looking place," said Brown of Visit Cheyenne, which features the house on its historic walking tour.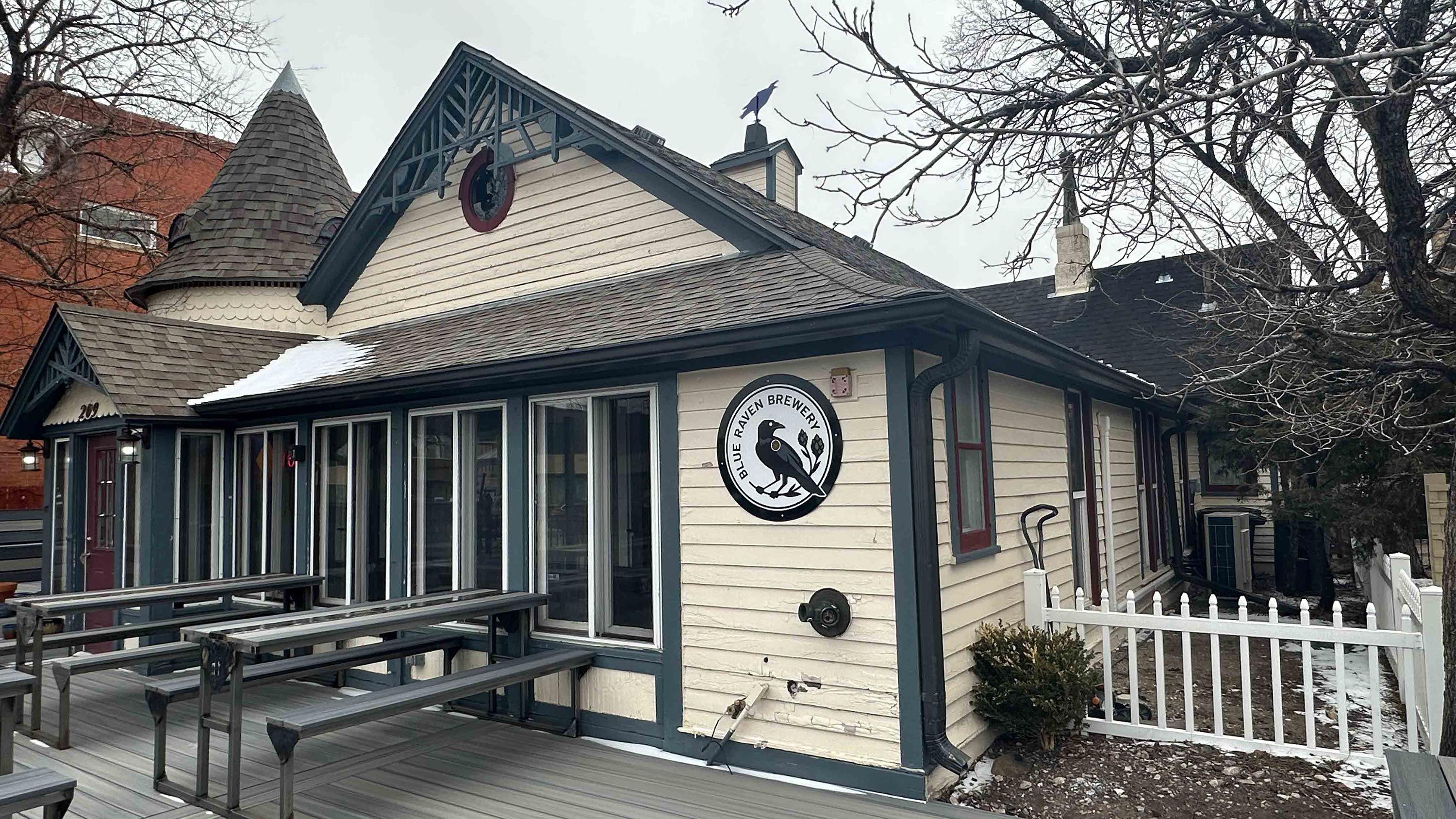 "We're the new kids on the block, but we're certainly not a new brewer on the block," Hart said. "Willy brewed for Danielmark's, our predecessor, for three years before taking the helm as an owner of Blue Raven Brewery."
Hart says the eponymous Blue Raven IPA is the brewery's best seller. Other flagship brews include Iron Badger Dry Irish Stout, Copper Heart Amber Ale and Corson German Pilsner.
"We are the only brewery in town that crafts a hard seltzer, which is great for folks wanting a beer alternative," Hart said, referring to Fizzy Willy, which its namesake brewer changes every batch to feature different fruit and spices. Hart also recommends the Wyomelon Watermelon Lime Gose.
"We can hardly brew it fast enough to keep up with sales. It's a little sweet, a little salty, a little sour, and, of course, a little fruity."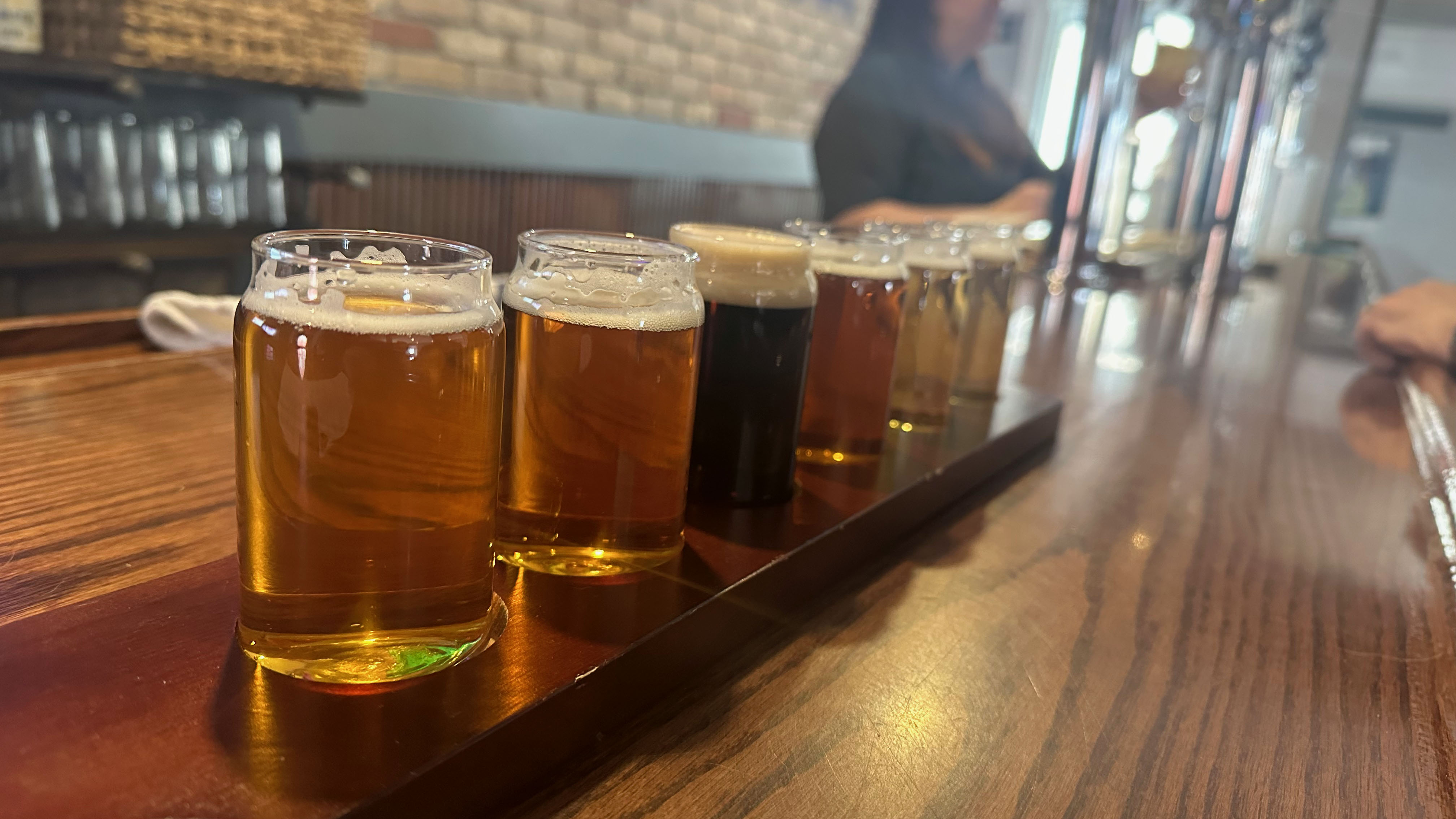 A vintage photo on the brewery's website depicts a couple enjoying the Corson House's porch. Its expansive outdoor spaces still attract visitors to Blue Raven.
"There are little nooks people can sit at to be away from the action, and others if you wanna dive right in," Hart said. The brewery has cornhole and outdoor televisions for watching a game, and live music on Thursdays, Fridays and Saturdays.
Brown of Visit Cheyenne recommends what he calls the Corson combo. "Right across the street is La Paz, which has excellent tacos and burritos and real barbacoa," Brown said. "Go pick up your food at La Paz and listen to some live music at Blue Raven."
As co-owner of a brewery known for its live music, Hart recommends patrons also visit the historic Lincoln Theater, just blocks away. Formerly a movie theater, since reopening as a performance space in August 2020 it has hosted the likes of Orville Peck, Charley Crockett and Ice Cube, as well as regular local music showcases.
A Different Story: Chronicles Distilling
For craft enthusiasts whose palates run toward the hard stuff, Chronicles Distilling offers corn-based spirits including Biting Wind vodka, Tart Lemon vodka, Berry & Barb strawberry rhubarb whiskey, and Spit Shine whiskey.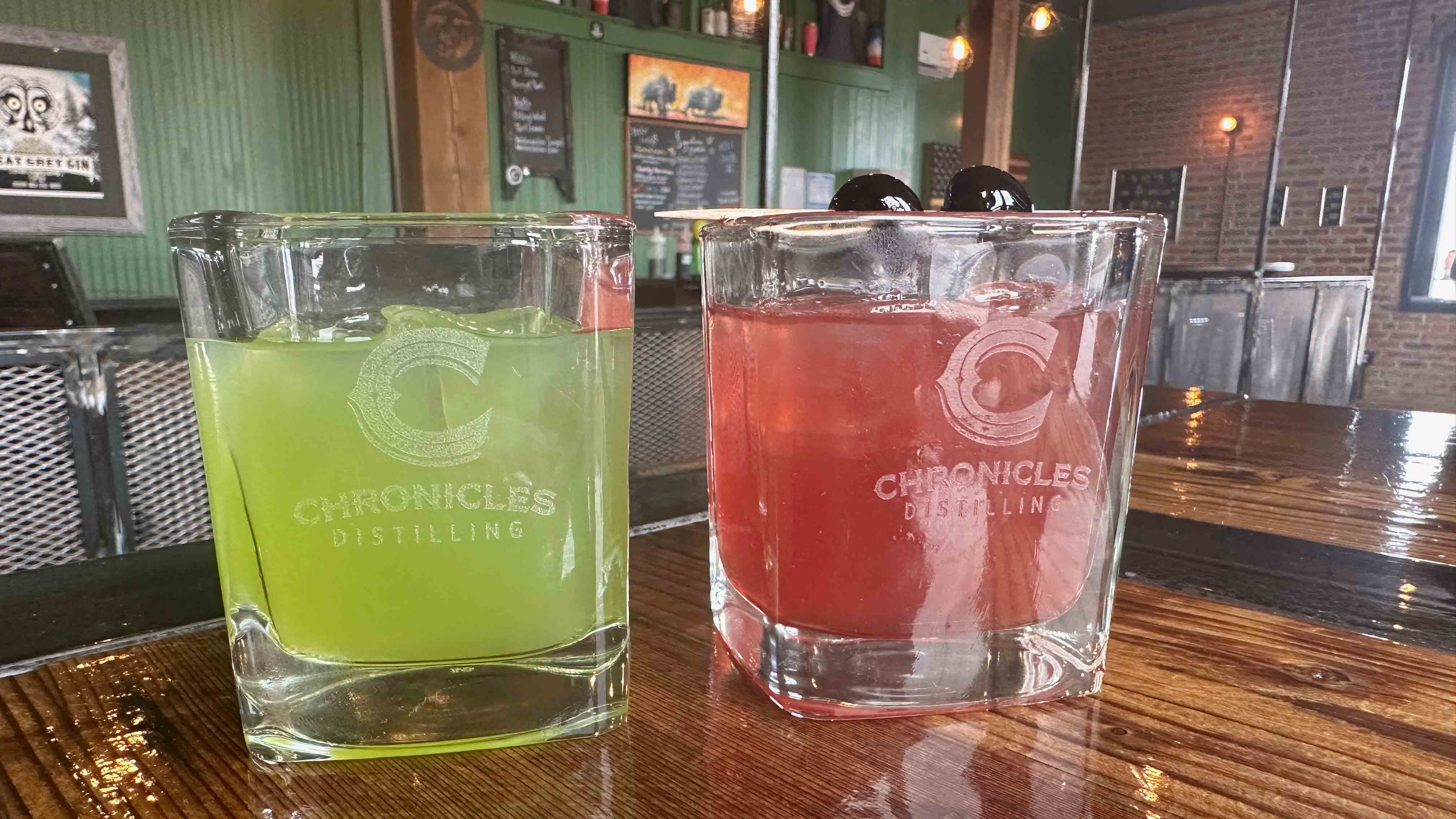 In 2019, brothers and Marine Corps Infantry veterans Aaron and Chase Lesher opened the distillery in the historic Asher Building at the corner of Thomes Avenue and 15th Street. The building's exterior bears ghost signs from its past as a grocer. Inside, the distillery's exposed brick walls often feature local art from painter Steve Knox or photographer Matthew Idler.
For patrons who get their Chronicles spirits to-go, their signature wide and flat bottle designs are meant to evoke books on a shelf when arranged side-by-side with labels reading, in part, "the best stories have to start somewhere and they always deserve to be shared."
With hand-crafted bar furnishings, artful surroundings and a comfortable gathering space free of televisions, the Lesher brothers have deliberately created a place where people can share stories over a craft cocktail made from the distillery's signature spirits.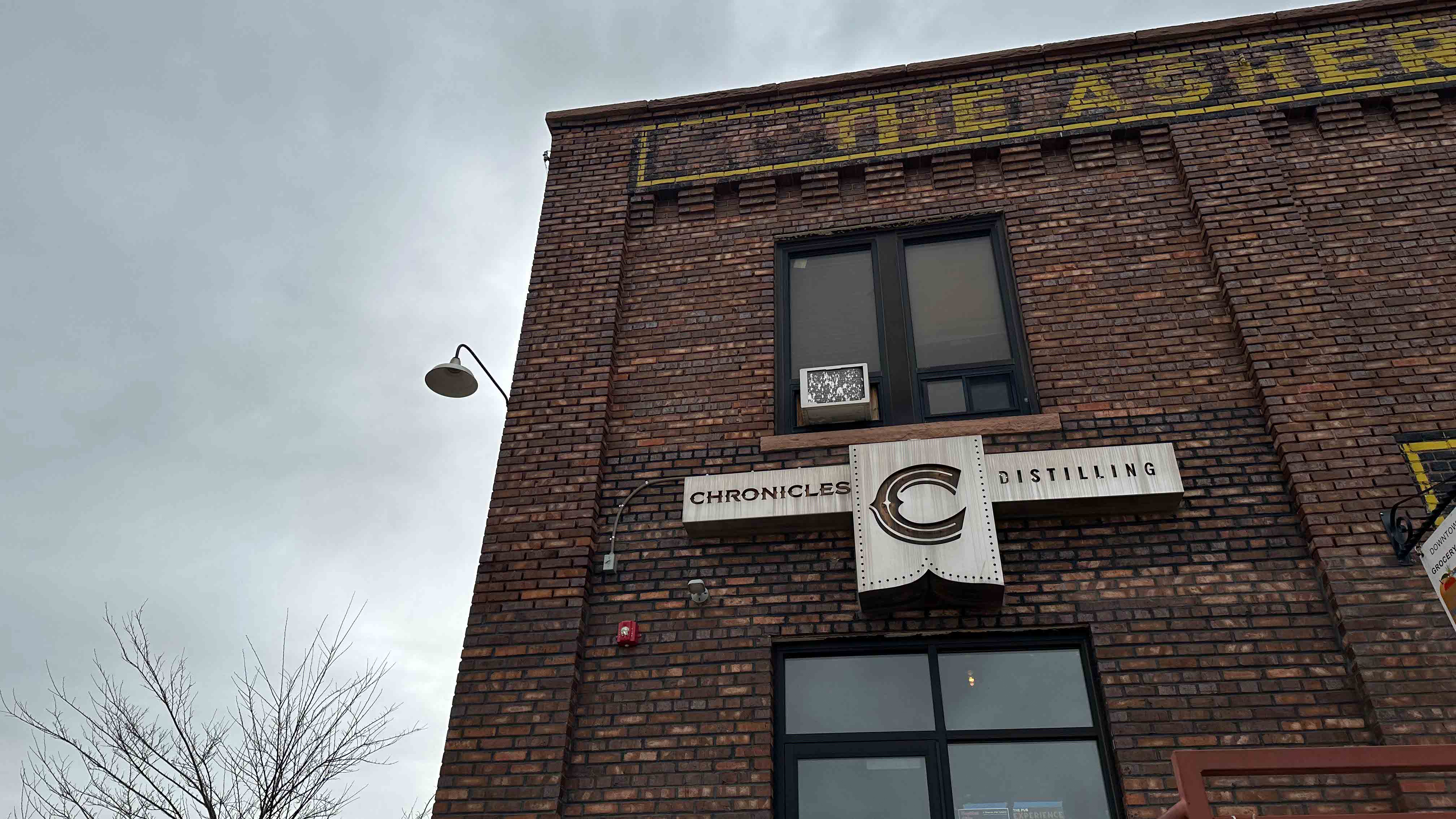 Take a Walk
Cheyenne Depot: Since 1996, fundraising by the Wyoming Brewers Festival has raised more than a half-million dollars to preserve the historic depot, which—in addition to Accomplice Brewing Company — houses the Cheyenne Depot Museum and a visitor center.
Cheyenne Street Railway Trolley tours leave the depot for Cheyenne's historic neighborhoods, haunted locations and holiday light displays, as well as trips to the Quebec 01 Peacekeeper Missile State Historic Site.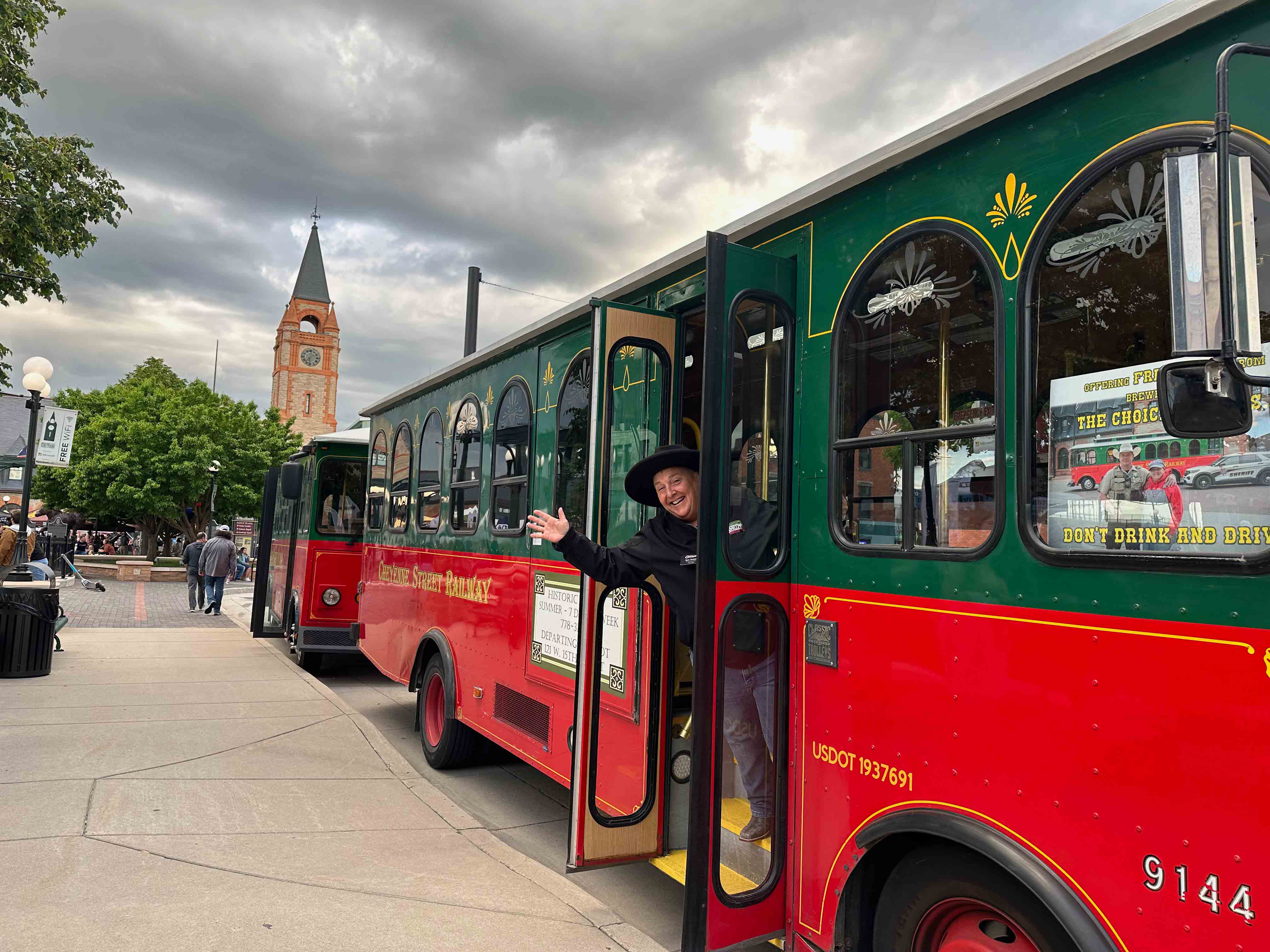 2 Doors Down is a spacious, counter-service restaurant serving burgers, thick-cut fries and salads, as well as Italian favorites.
The Cheyenne First Friday Artwalk includes stops at Blue Raven Brewing, Freedom's Edge Brewing and the historic Asher Building, home to Chronicles Distilling.
Walk right into the Wyoming State Capitol for a self-guided tour. If you're fortunate, docents will greet you in the lobby for a brief introduction and to answer your questions. For a challenge, try to find the upside-down baluster.
Hart of Blue Raven Brewing recommends seeing a show at the historic Atlas Theater, home to Cheyenne Little Theatre Players. During Frontier Days, the troupe stages an old-fashioned Western melodrama complete with a hero, villain and multilayered social commentary, as well as other productions throughout the year.
Take a Drive
L'Osteria Mondello, recently under new ownership, offers counter-service pizza toward the front of the restaurant and Mediterranean fine dining in the back.
Cheyenne Botanic Gardens offers visitors the chance to explore bountiful flora of the High Plains and beyond, with an indoor conservancy, children's area and outdoor gardens adjacent to Lions Park.
Curt Gowdy State Park has it all—mountain biking, fishing, camping and hiking — just 24 miles west of Cheyenne. Brown of Visit Cheyenne recommends the Hidden Falls hike, or fishing Crystal or Granite Springs reservoirs, both within park boundaries.
General Tips
Come as you are: Blue jeans are welcome in even Cheyenne's finest establishments.
Cheyenne is starkly beautiful in the winter, but most people visit between April and October to take advantage of pleasant weather.
If you're visiting in the summer, pack a raincoat or umbrella in case of an afternoon thunderstorm.
The downtown is walkable, with plenty of free parking for visitors.
---