No Comments
Firestone Walker | Anniversary XXVII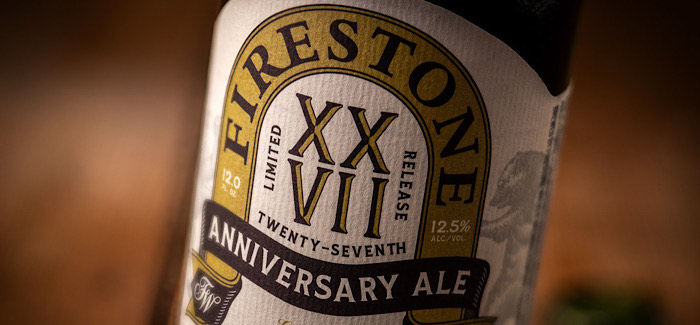 When you think of legendary anniversary beers, Firestone Walker has to be pretty close to the top of this list. Not only do they consistently produce incredible blended beers, it's how they come to that final blend that makes it so special. As with previous versions, local winemakers come together to compete to put their names on that winning blend.
Firestone Walker sits in the heart of California's Central Coast wine country and is home to some incredible wineries. The anniversary beers are created by winemaker-driven blending teams who gather each this summer to create the perfect blend, This year marks the 18th year of this summer blending party.
"This beer was created with experience, passion and collaboration, sparing no expense to celebrate our brewery's 27th anniversary," said Brewmaster Matt Brynildson. "This may be our most eclectic Anniversary Ale to date—a testament to the blending skills of our winemaker friends."
"These winemakers are practicing experts in the art of blending, and it's always amazing how they help us create a beer that is greater than the sum of its parts," he said. "It's a fun, competitive and spirited experience whenever we get together", said Brynildson.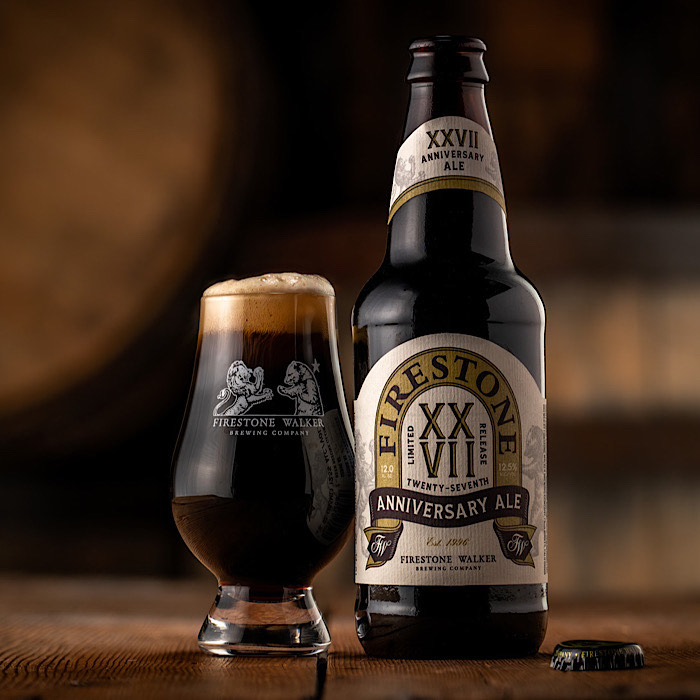 Firestone Walker Anniversary XXVII was blended from five ales that have all been aged in bourbon barrels.
The Beers
DDBA Batch 10k – Aged in Wheated Bourbon Barrels (33%)
Imperial Special Bitter
Dividing Time – Aged in Wheated and Rye Bourbon Barrels (29%)
Munich Wine Made in Collaboration with Private Press
Bravo – Aged in Bourbon Barrels (13%)
Imperial Brown Ale
Rip This Joint – Aged in Bourbon Barrels (13%)
Imperial Stout Made in Collaboration with Side Project
Velvet Merkin – Aged in Bourbon Barrels (12%)
Milk Stout
The Winning Blenders
Molly Lonborg – Alta Colina Winemaker
Kevin Sass – Halter Ranch Winemaker
Beer Club Member Ezekial Palmer
Other Winemakes and Blenders who took part in the blending party
Sherman Thacher – Thacher Winery
Janelle Dusi – J Dusi Wines
Billy Grant – McPrice Myers
Russell From – Herman Story Wines
Jesse Juarez – Desparada Wines
Steve Martell – Kaleidos
Bastien Leduc – Seven Oxen Estate Wines
Pete Turrone and Kyle Jury – Booker Wines
Pete and Alex Slosberg – Pete's Wicked Ale
Cassi & Nigel King – Beer Club Members
Mark Smolyar – Hopped.com
The Firestone Walker process includes the following. "This year's blending session marked the 18th occasion. Winemakers broke into teams to create their own candidate blends from a variety of barrel-aged components. Next, the winemakers and brewers blind-tasted all of the candidates blends, then voted as a group to crown the winner that would become XXVII."
XXVII: The Final Blend & the Brewmaster's Tasting Notes
"The finished blend is deep dark mahogany in color and expresses decadent up-front barrel aromas with notes of toffee and cocoa powder close behind. The mouthfeel is smooth and silky with rich caramel flavors complemented by toasted nut, vanilla and coconut accents. There is a beautiful balance between a rich malt character, a top-shelf bourbon spirit and chocolate truffles. An absolutely stunning barrel-aged beer and a true testament to the winemakers' skill in blending not only for aroma and flavor, but also for texture."
Feature image courtesy of Firestone Walker
---