No Comments
Brewery Showcase | SLO Brew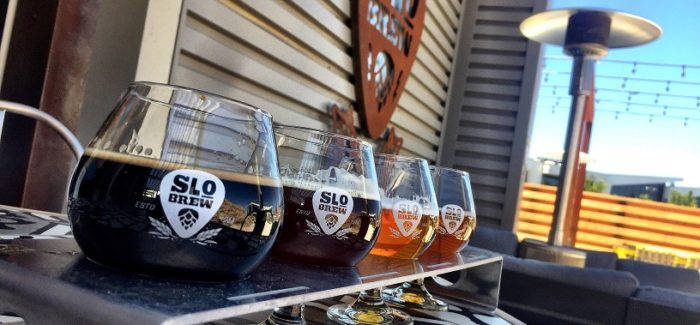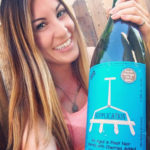 Right before you reach the San Luis Obispo County Regional Airport, there is an industrial area packed with offices. Tucked off to the side is SLO Brew's The Rock, the second brewery location that opened earlier this year. Son of Dr. Stanley Hoffman, one of the pioneers who established the Paso Robles wine region, Mike Hoffman founded SLO Brew in 1988 with Kathy Ireland. It was the first brewpub on the Central Coast since prohibition. The current owner, Hamish Marshall, a beer loving Aussie who fell in love with SLO, took over as owner in 2010.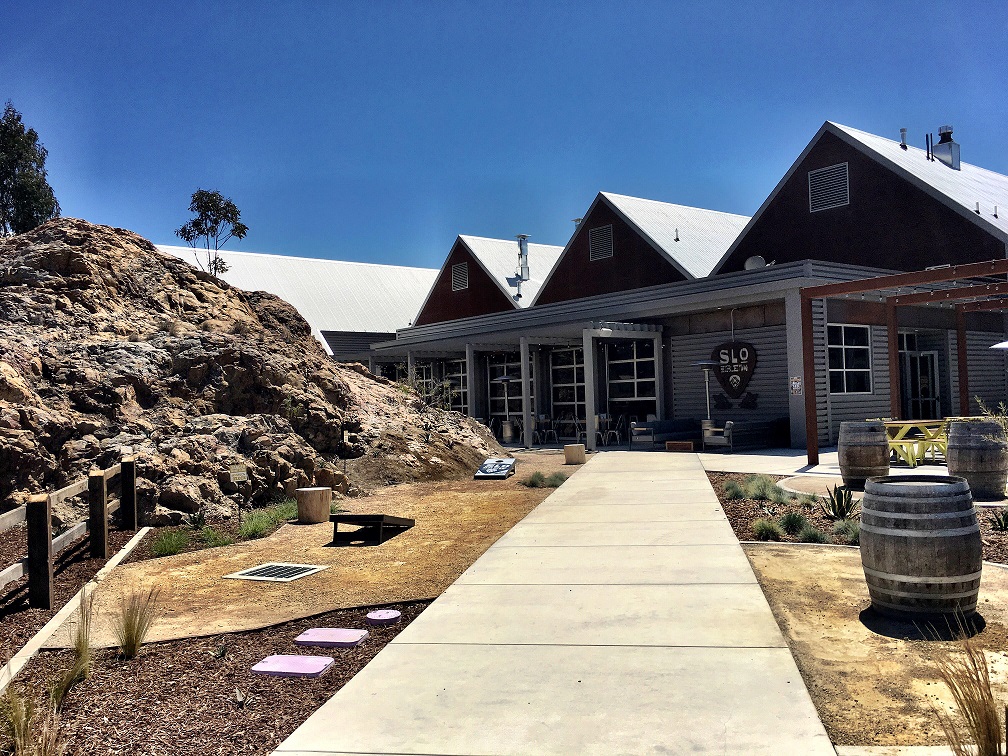 The Rock is a popular lunch spot with a line forming before their doors open. Parking is near a large boulder referred to as "The Rock" that pays homage to this new location. The brewery is a large structure with indoor and outdoor seating that seamlessly flow together by large roll-up doors. Wanting to create a family friendly space, the outdoor seating area has fire pits and games for entertainment including cornhole, bocce and giant Jenga. Dogs are also a welcome addition. The bar staff's motto at The Rock is the more dogs the better.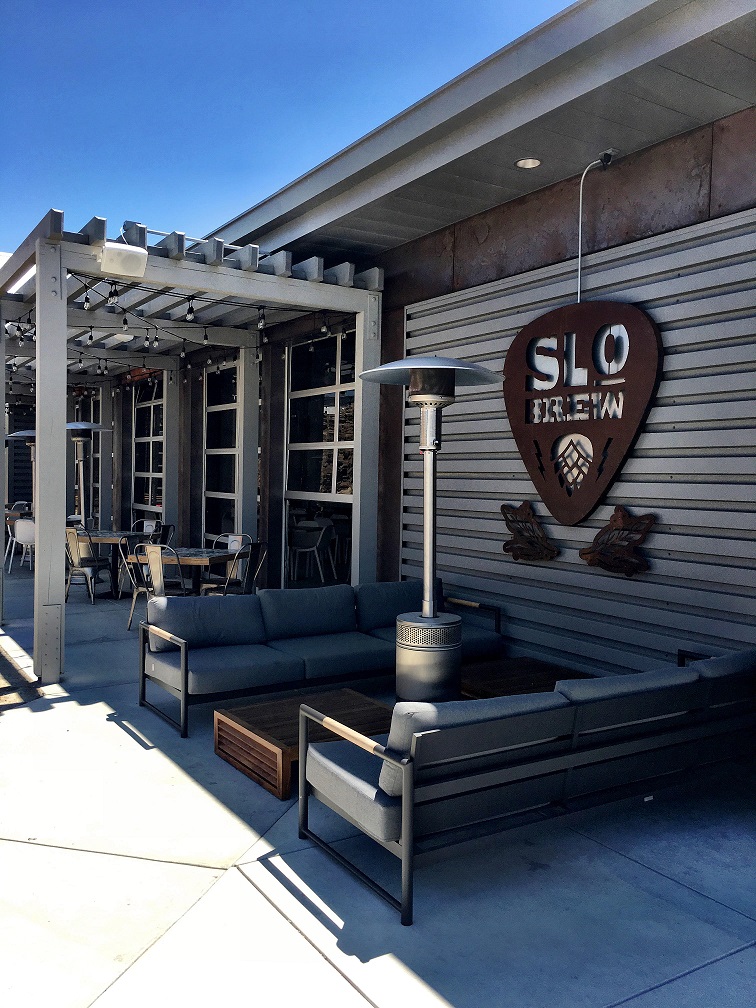 They currently offer 12 beers on tap, which are displayed on screens above the bar. With a variety of beer styles on tap that I hadn't tried yet, I decided a flight was the best option. I knew I wanted to try their oatmeal stout "Feelin' Your Oats" that won Bronze at the Great American Beer Festival. Rounding out my flight with Barley Champ, La Poire, and their IPA, I made my way to the outside seating area.
Feelin' Your Oats is a big, bold oatmeal stout pouring dark brown in color. Flavors of espressos, oatmeal and burnt sugar are tasted. This 5.7% beer is definitely roasty and goes down with a smooth finish.
Barley Champ is a delicious brown ale clocking in at 6%. It is a solid brown color. The nose features a deep toasted malt with a touch of sweetness. There is a strong caramel base with a hop kick taste giving it a complex flavor.
The IPA is the oldest recipe at SLO Brew and is brewed as a true West Coast IPA. It pours slightly hazy with a foamy off-white head. Coming in at 7.1%, this beer smells of malt and citrus fruit. The taste has a good hop bitterness with a crisp mouthfeel.
La Poire, meaning "the pear" in French, is a delicious pear Saison with a 7.4% ABV. I'm personally a fan of Saisons and really enjoyed the light, crisp, and fruity flavor the La Poire had to offer.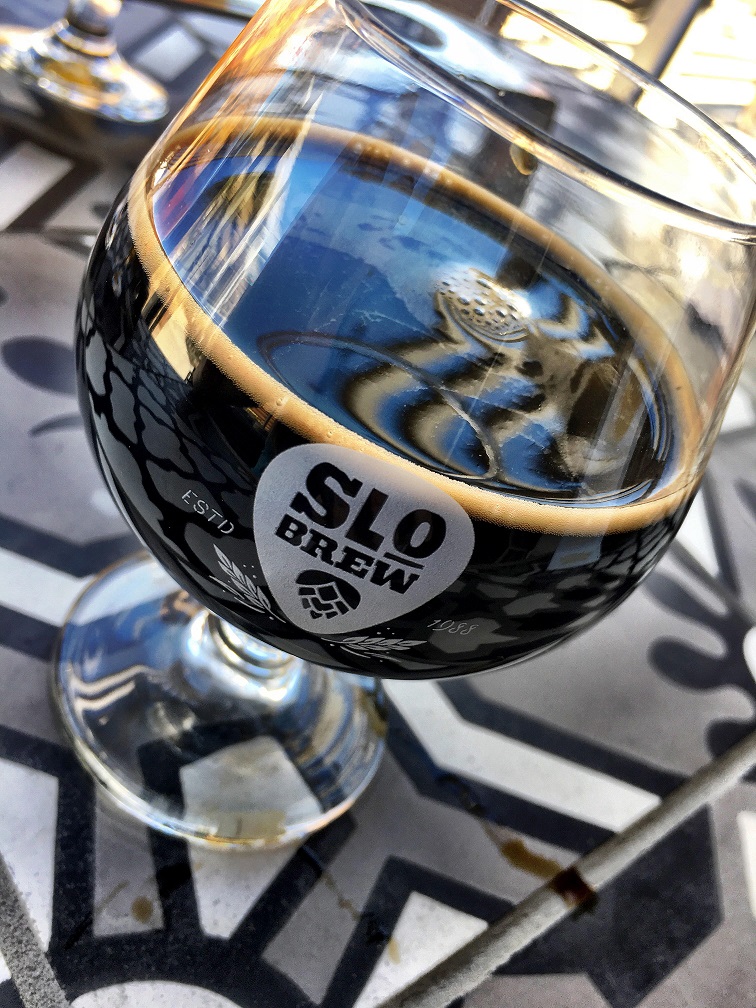 The future of SLO Brew beer includes canning two new beers. "The first one will be available in July and is our Pils dry hopped with Saphir hops. The second is an IPA that will be canned a little later. The recipe is pending, but we want to use unique hops," explained Eric Colvard, lead brewer. When asked if SLO Brew plans to get on board with the hazy IPA craze, Eric replied, "Funny you ask this. Yes we are. I just became lead brewer for SLO Brew so expect some great stuff and for us to keep up with the new craze." Their hazy IPA, Coast to Coast, just released and is available now. It includes Azacca and Idaho 7 hops with Maris Otter as the base malt.
With a good base tap list of a variety of styles, and some exciting new beer styles in the works, I'm excited to see the direction SLO Brew heads with their beer.
---
Save