2 Comments
4 Chicago Routes for Brewery Curbside Pick-Up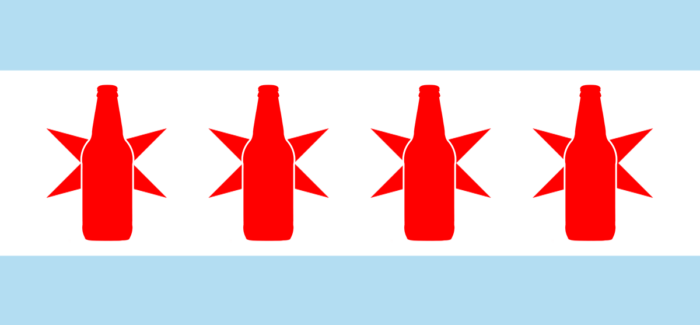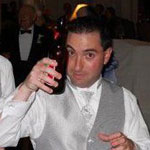 As we continue to adapt to the changes that are occurring seemingly everyday, curbside pick-up from your local brewery is the new normal.
Chicagoans are lucky to have so many local breweries to choose from but like the city itself, they're spread out. So we created four routes to help you visit as many breweries as possible that're doing curbside pick-up.
A car is highly recommended for these routes and things can change day-by-day, so make sure you check with the breweries to ensure they're still doing curbside pick-up and they're open the day you want to go. Many breweries have altered their hours of operation. Most require you to place orders ahead either online or over the phone to prevent customers from coming in and browsing.
Here are some routes to take that will allow you to get as much beer from local breweries as possible without driving around for hours.
Route 1: 7 breweries, 33 minutes driving time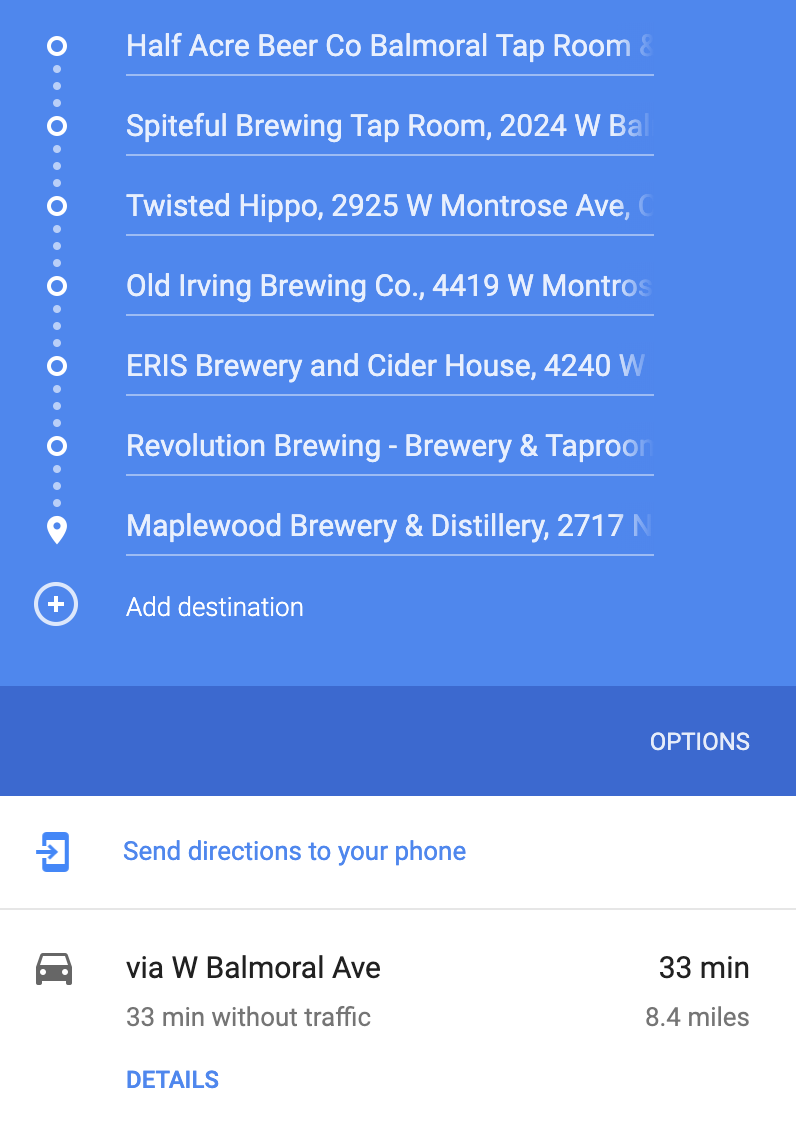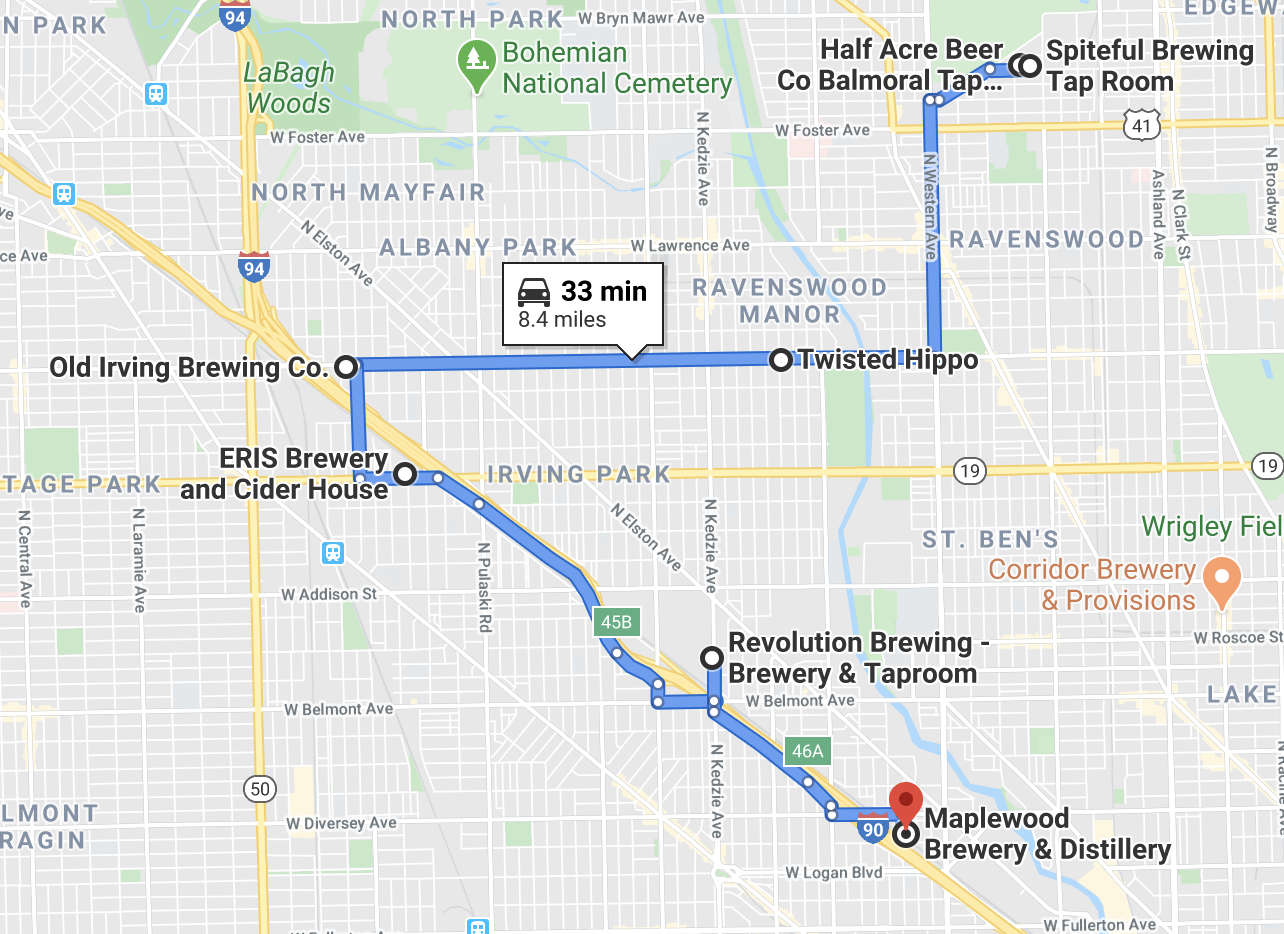 Stop 1: Half Acre Balmoral
You'll start at the newer of the two Half Acre locations on this route. Plenty of options to-go here, including classics like Daisy Cutter and Pony Pilsner. But they're also offering some newer beers including a couple of DDH IPAs.
Stop 2: Spiteful Brewing
Around the corner—literally. You might not even want to get back into your car it's so close but you can if you want. Spiteful's offerings change fairly often but Spiteful IPA or Pigeon Porter are always great options.
Stop 3: Twisted Hippo
You'll go down Montrose to get to Twisted Hippo. You can order food here too if you want something to go with the beer, or just stick to four-packs and growlers. Their Oatmeal Rye Stout Black Umbrella was one I liked a lot the last time I was there.
Stop 4: Old Irving Brewing
Continue west down Montrose and you'll hit Old Irving. Home to the gold medal Hazy beer from the 2019 Great American Beer Festival, Old Iriving sells Beezer in four-packs as well as a wide variety of their other beers. They're also doing growlers and food to-go. Don't sleep on Della, their Kolsch that is clean, crisp and so damn good.
Stop 5: Eris Brewery & Ciderhouse
Just a short drive away from Old Irving is Eris, where you'll be able to get beer or cider in 32 oz. howlers. They have a few IPAs to choose as well as dry and semi-sweet ciders and a bunch of guest taps for beer or cider.
Stop 6: Revolution Brewing Taproom
OK, you're going to get on the highway here but don't freak out. There's not much traffic and it's not even two miles on 94 East. I did the Old Irving to Revolution drive over the weekend and it took me six minutes. It's not bad at all. Revolution has a ton for curbside pick-up including some combinations that include a vintage Deep Wood beer but all the classics are available like Anti-Hero and Fist City.
Stop 7: Maplewood
You'll get back on the highway, but again, it's not that bad to get to Maplewood. People might think of Hazy IPAs and pastry Stouts when they hear Maplewood, but the brewery makes a few Lagers that are excellent. Also, Fat Pug, their milk Stout is light, flavorful and a great beer when you don't want to worry too much about the ABV.
Route 2: 9 breweries (6 stops), 29 minutes driving time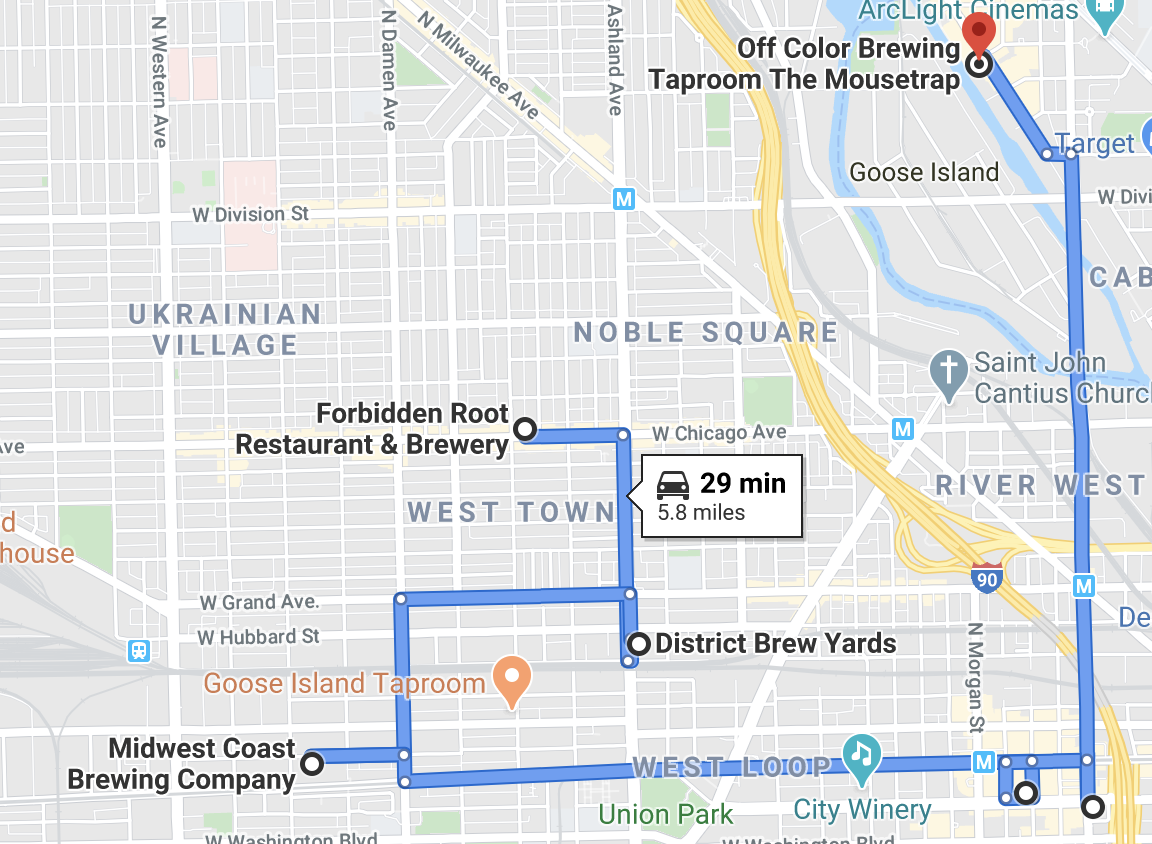 We're heading to the Chicago Brewing District for our next route and there are plenty of options here.
Stop 1: Forbidden Root
Just north of the main area, Forbidden Root had a burger named in the top 25, according to the Chicago Tribune, and has a hazy IPA, Snoochie Boochies, that's a must-try. There's a bunch of other floral beers to try as well.
Stop 2: District BrewYards
How do you only have seven stops on this route but can hit up 10 breweries? District BrewYards, that's why. Home to four breweries—Burnt City, Around the Bend, Bold Dog and Casa Humilde—you can stock up on a ton of beer here and not have to do a lot of driving. 
Stop 3: Midwest Coast Brewing
Get West Town Brown. You say you don't like Brown Ales? When was the last time you had a really well done Brown Ale? I don't mean one full of chocolate or coffee either. I mean a really good classic Brown Ale. You need to try it here but if you absolutely won't take my advice, their Saison and Hazy IPA are good too.
Stop 4: Cruz Blanca
We're entering the West Loop, which is home to two breweries on this route. The first is Rick Bayless' Cruz Blanca. Their Lager, Mexico Calling, is a staple in my fridge and a great anytime beer. And if you're going to be going to Cruz Blanca, you might as well get a take-home taco kit for dinner. You won't be disappointed.
Stop 5: Haymarket Pub & Brewery
Just down Randolph, you could walk if you wanted, is one of the city's oldest breweries: Haymarket. A huge list of beers is available to-go but I really like their Hefeweizen and Lager. They also have food so if you weren't feeling tacos, you can get pizzas or burgers here.
Stop 6: Off Color Brewing Mousetrap
You're going to take Halsted down a couple of miles to get to Off Color's Mousetrap and it's a great place to end this route. No IPAs here but instead you can pick up big format bottles or four packs of a bunch of different beers. Apex Predator is one that I'll always opt for if available but maybe try something new from Off Color. Odds are they have a style you haven't had before.
Route 3: 5 breweries, 20 minutes driving time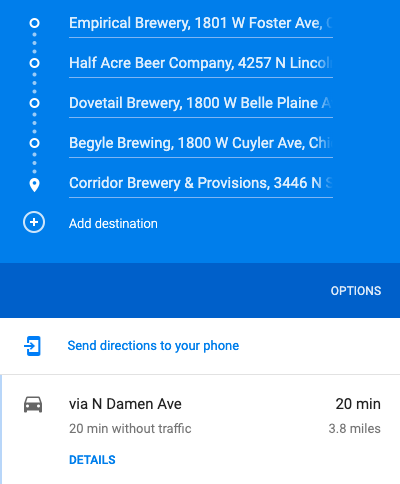 Maybe you don't have a ton of time but want to hit up a bunch of breweries. Route 3 is the one for you. This five brewery route doesn't take a lot of time and three of the breweries you could walk between.
Stop 1: Empirical Brewery
While you might not have time to hang out and see the famous brewery cats, you can pick-up all kinds of beer at Empirical. I'm a fan of their cream Ale Cold Fusion or their kettle sour Symbiotic. If you haven't picked up on it yet, there's a science theme here.
Stop 2: Half Acre Lincoln
Yes, Half Acre makes an appearance in two routes but with different locations. The original location on Lincoln Avenue is just a short drive from Empirical. Here you can get a similar selection as Balmoral but now you have burritos as another menu offering.
Stop 3: Dovetail Brewery
Home to Chicago's best Lager and a wide variety of other more traditional styles, you can't go wrong at Dovetail. They historically have only canned a few of their beers, but in order to accommodate everything that is going on, they make a quick switch and many of their beers now are in cans. They aren't pretty with labels like the Helles or Vienna Lager, but it's what's on the inside that counts. Get a four-pack but also pick up a bottle of their Kriek—trust me.
Stop 4: Begyle Brewing
Dovetail and Begyle are so close that they share parking lots for outdoor events during the year. I left my car at Dovetail and walked over to Begyle to pick-up Flannel Pajamas, their oatmeal Stout that is one of my favorite in the city.
Stop 5: Corridor Brewery
Food and crowlers to-go are the feature at this small brewpub on Southport. Known for their Hazy IPAs and delicious food, Corridor is serving up beer and pizza, so you'll be set for the night.
Route 4: 8 breweries, 29 minutes driving time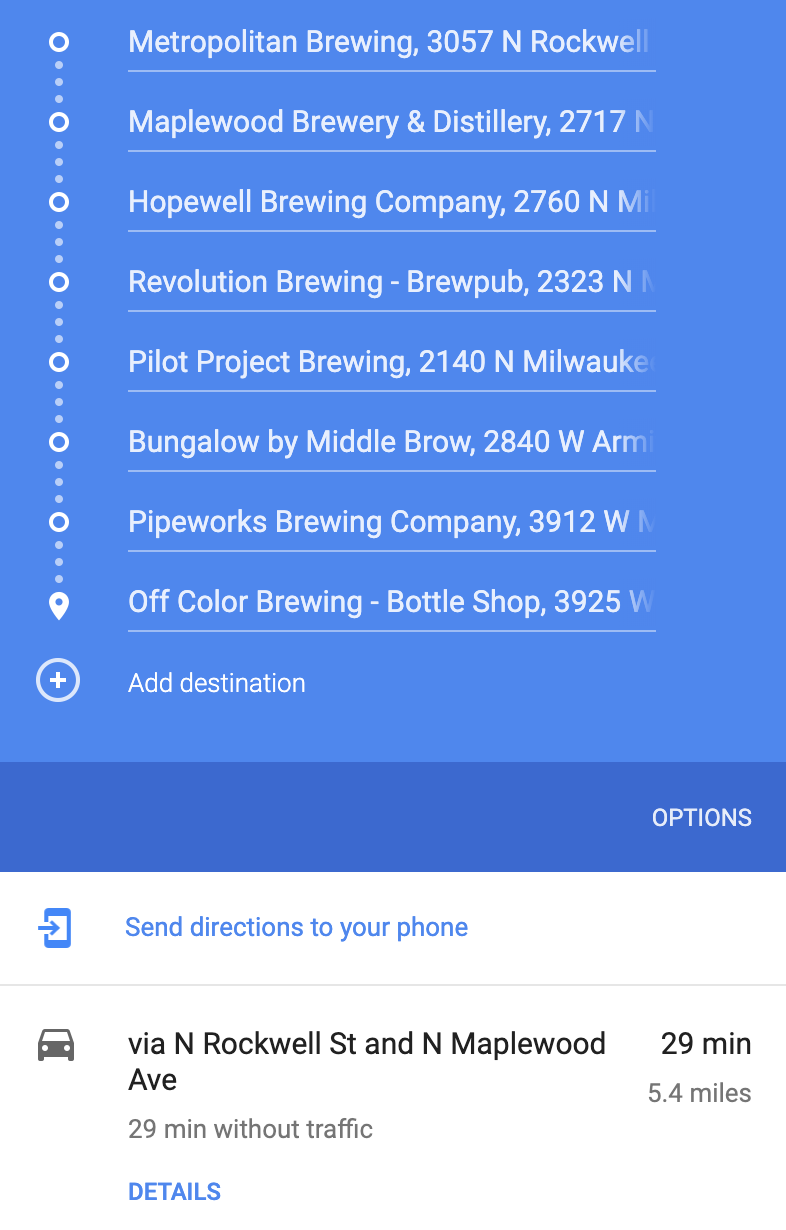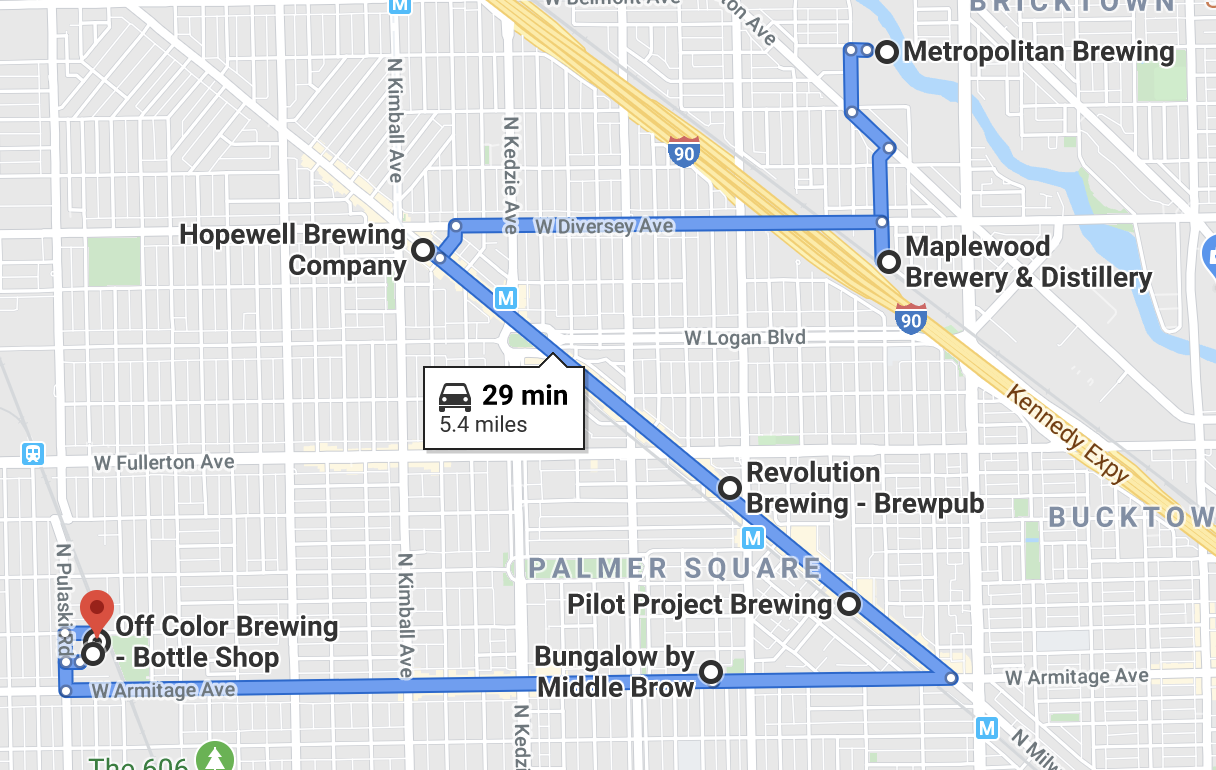 Logan Square is seemingly brewery central for Chicago so it's no surprise that you can hit up eight separate breweries in less than 30 minutes.
Stop 1: Metropolitan
Like Dovetail, Metropolitan sticks to more traditional styles and they do so incredibly well. You won't have time to admire their space or the view of the river so make a point to come back here once the shelter-in-place order has lifted. You can't for wrong with Krankshaft, their Kolsch, or their Pilsner, Flywheel.
Stop 2: Maplewood
Maplewood gets into two routes because it's on the way from Metro to the heart of Logan Square. See the entry above to get an idea of what to get here.
Stop 3: Hopewell Brewing Company
They'll have Going Places and First Pils in cans, which are great options. And if you're lucky enough to come when they have a bottle of Neon, their new sour series, grab it. Crudités also won a medal at the Festival of Barrel Aged Beers, so it wouldn't hurt to get a beer in that series.
Stop 4: Revolution Brewing Brewpub
Like Half Acre, Revolution has two spots but similar beer offerings. Located on Milwaukee Avenue, it's worth making the stop if you're going to be in Logan Square.
A brewery incubator, Pilot Project has a long list of different styles of beers available to go. From crowlers to four-packs, you'll have options here. I haven't had any of their packaged beer so I won't make any recommendations, but when I was here for the soft opening there was some good stuff to try.
Stop 6: Bungalow by Middle Brow
Beer, bread, pizza. You don't need much else and luckily you can get all three at Middle Brow's Bungalow. White Light is their Witbier that I'm a huge fan of, and if you're going to be there grab a loaf of sourdough and a pizza kit. You probably don't have an industrial pizza oven, but that's OK.
Stop 7: Pipeworks
Pipeworks Dojo (their bottle shop) has plenty of beer for you to take home. Pipeworks is one of the first craft breweries I ever geeked out on, searching everywhere for the latest fish series IPA to drop. This time around though I went for classics like Ninja v. Unicorn and Lizard King.
Stop 8: Off Color Brewing Bottle Shop
Before there was the Mousetrap there was the Off Color bottle shop on Dickens. You can't drink here, but that's OK because you can't stay anyways. You can still pick-up their beers in cans or bottles here. At this point, your car might be starting to get weighed down from all the beer you've gotten, but now it's time to go home, social distance yourself and crack open a cold one.
Route 5: 4 breweries, 31 minutes driving time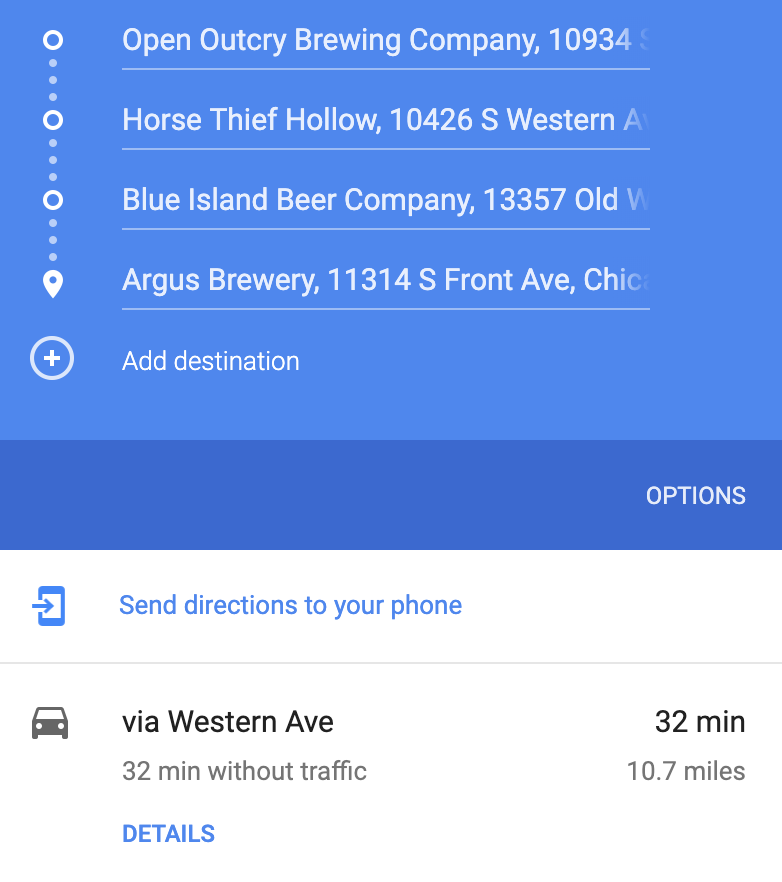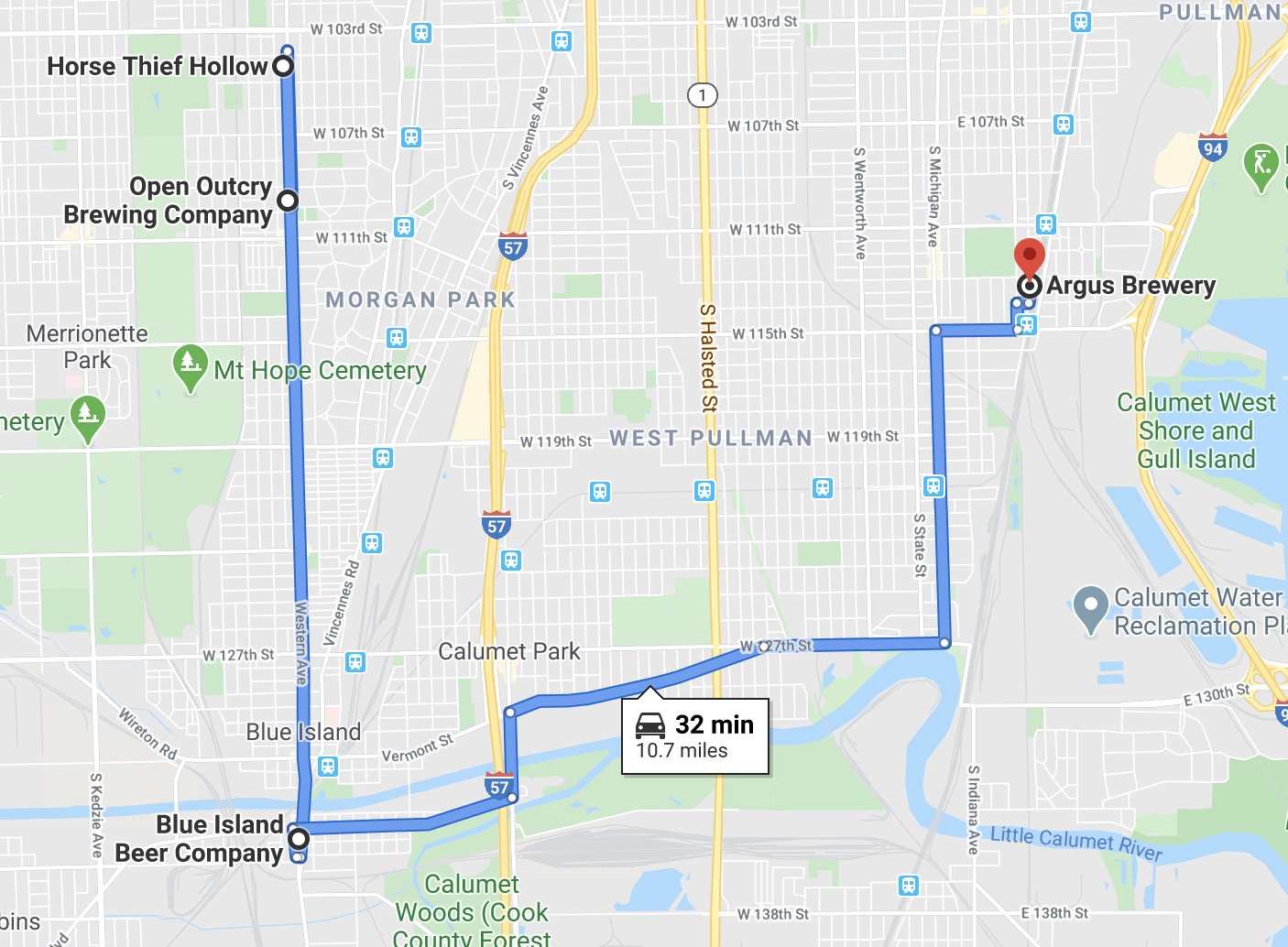 A bonus route! The south side has a budding craft beer scene with some excellent options if you can't make it up to the north side of the city. On a weekend when you have some more free time, hop in your car and do the south side route.
Stop 1: Horse Thief Hollow
Winners of multiple World Beer Cup and Great American Beer Festival medals, HTH is home to some fantastic beers that don't get talked about enough in the city. Try the Red IPA, it's not a style you see too often now but it's really good.
Stop 2: Open Outcry Brewing
Just down Western Ave from Horse Thief Hollow is Open Outcry. Coming from the financial world, John Brand and his team have been putting out some insanely good beers including a great cream ale. They also have a slew of hazy beers and stouts that are very well done. Oh – they have a pizza oven and the food there is so good. Beer and pizza on the south side – it's time to visit Open Outcry.
Stop 3: Blue Island Beer Company
Continuing down Western Ave, yes all three of these breweries are on the same street, is Blue Island Beer Company. I've only had their beer at festivals so can't speak to the actual brewery, but they have a wide variety available and if you're down on the south side it's worth checking out.
Stop 4: Argus Brewery
There's a lot of history at Argus Brewery which is in a building that was once stables for horses that would bring beer to taverns across the city. They don't have the largest selection of beer but a solid lager and IPA is worth checking out.
---