Posts ByStephanie Grant – PorchDrinking.com
February 13, 2019 | Stephanie Grant
Avg. Reading Time:
3
min
Wine has become synonymous with Valentine's Day, but it's time for that to change. With all the chocolate candies and desserts flying around, stouts and porters make a much better pairing for the day. While, it would have been easy to make this a love letter to dark, chocolaty beers, this list has a little something for everyone. Including a bonus beer at the end for anyone who doesn't have a valentine this year. Read More
January 22, 2019 | Stephanie Grant 2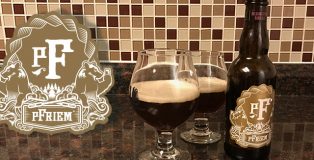 Avg. Reading Time:
2
min
pFriem (pronounced "reem") Family Brewers is a German and Belgian-inspired brewery in Oregon, a location where breathtaking views of the mountain and rivers make you wonder why you haven't moved to the Pacific Northwest. Josh Pfriem devoted his career to learning as much as he could about crafting delicious beer and, in 2012, he achieved his lifelong dream of opening an artisanal brewery in Hood River with partners Ken Whiteman and Rudy Kellner. Today, they have several award-winning beers pouring from their taps along with a well-earned, loyal following.