#SkeletonKeyBrewing Archives – PorchDrinking.com
May 8, 2020 | Mathew Powers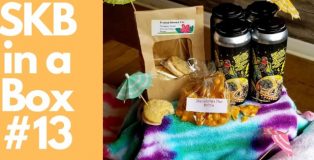 The idea of "craft community" has always enjoyed duality in that it both touches on brewery-to-brewery camaraderie and the connection between breweries and its neighborhoods and cities. Breweries such as Chicago-area's Skeleton Key, Wolfden and Sew'd Hop—to name a few, along with a host of brewing and service industry peers, are now creatively working together and with nearby businesses as they pivot to a new "normal" during the lockdown. And, that effort is exemplified by the unique to-go COVID-19 Brewery Baskets available to customers.
February 5, 2020 | Mathew Powers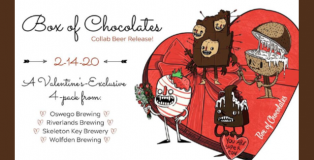 Move over Cupid. Oswego Brewing, Riverlands Brewing, Skeleton Key Brewing and Wolfden Brewing have concocted the perfect method for which to achieve romantic bliss: the Box of Chocolates Beer Collaboration. The multi-brewery Valentine's Day beer package is more than just a treat, though, because the beers also serve as beautiful demonstrations of the versatility of stouts (or stout-like ales), which is fitting for February (a.k.a. Stout Month).