No Comments
Unique COVID-19 Brewery Baskets and Community Partnerships in Chicago Suburbs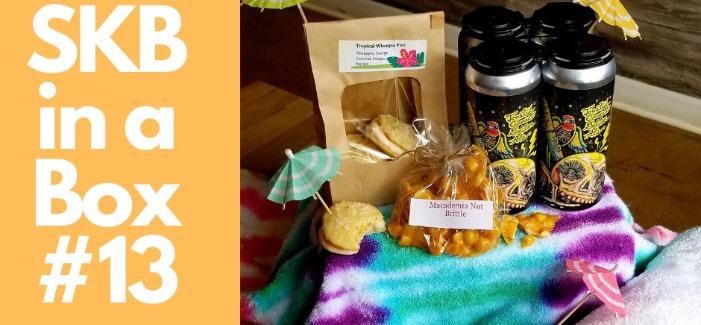 The idea of "craft community" has always enjoyed duality in that it both touches on brewery-to-brewery camaraderie and the connection between breweries and its neighborhoods and cities. Breweries such as Chicago-area's Skeleton Key, Wolfden and Sew'd Hop—to name a few, along with a host of brewing and service industry peers, are now creatively working together and with nearby businesses as they pivot to a new "normal" during the lockdown. And, that effort is exemplified by the unique to-go COVID-19 Brewery Baskets available to customers.
"As small business owners, we're all struggling to get help from the government, so I think there's some solace to be found in helping each other," noted Emily Slayton, co-owner and brewer at Skeleton Key Brewing. "I don't think there's a single brewery in our area who would cheer another's demise amidst this."
Wolfden Brewing co-founder Katie Wolf agreed "Supporting other breweries is imperative right now; we all want to see each other on the other side of this!"
Skeleton Key, Sew'd Hop and Wolfden are similar to many breweries whose sales mainly came from taproom business. In fact, at Skeleton Key, their sales are 90% taproom driven. So, when the lockdown arrived, breweries immediately had to pivot. "We weren't sure about curbside at first. We didn't want to encourage people to leave the house," explained Slayton. "But, once we realized how it could be done safely, we did it, and now we are getting creative with it."
In addition to everyday growler sales, she and her husband (and co-owner) Paul started offering "Skeleton Key Brewing in a Box" packages. In the process, they discovered they could assist other small businesses, too.
"It's less about profitability and more about promoting other businesses that are struggling," explained Slayton. "Not all businesses have the option of curbside. We are fortunate to do that. So we are bringing in other businesses into the boxes."
She added, "We want to have food and other things that go with the beer. We gave some treats. We give people things to do, and give them a feeling of being [at the brewery], without actually being [there]."
But when it came to canning beer, that was another story.
Brian Pawola, head brewer and co-founder of Pollyanna Brewing, asked Emily and Paul if they needed Pollyanna to bring over a canning line to get Skeleton Key beer into cans. Emily remarked, "I told him how great that would be, but we don't have any cans." Pawola didn't hesitate. He simply asked Emily and Paul if they would be okay with having their beer put in Pollyanna's printed cans—the answer was an easy "yes."
"[Pollyanna] is one of our closest neighbors and we've always been friends and fans, so it was a no-brainer," noted Slayton. They canned about 140 cases (about half the batch for now).
The timing couldn't have been more perfect. Skeleton Key had brewed a collaboration brew with nearby Foxtail Restaurant, a sophisticated Mediterranean focused establishment that intended to use the beer as its in-house lager. With the in-house aspect removed by the lockdown, cans were needed. So, just like that, the collaboration beer went from an in-house lager into a symbol for businesses helping out businesses during a time of confusion and chaos.
In addition to pairing with local businesses, Pollyanna and Foxtail, Skeleton Key is working with several other breweries including BuckleDown Brewing, Ike & Oak, and collaborating with with Miskatonic Brewing on a beer that was intended to be served during Illinois Craft Beer Week. "It's going to be a dank, West-Coast IPA called 'Joint Effort' and that, too, will go into cans."
Meanwhile, Wolfden Brewing, another husband-wife operation, have not only collaborated with other breweries and businesses, but Katie has gotten into the face-mask game.
"'Adapt or die' is my new motto since COVID started. Yes, at Wolfden we make beer but my background is in fashion design and I've been sewing since I was 10 years old," said Wolf.
"Philanthropy is very important to me so naturally my focus quickly became making masks for the people I care about. That's now grown into a side hustle-I'm making about ten each day. I am hoping to make enough stock that I can sell them at Wolfden without constantly running out."
https://www.instagram.com/p/B_p-dVBJsjF/
And they have plenty of COVID-19 Brewery Baskets, too. "We are putting together packages every week that include a few other local small businesses goods—we call it Wolfden's Local Habitat. I curate the items to all make sense together and give the package a different theme each week. Of course, our most popular packages include the masks."
A recent Wolfden Habitat package called "The Big Chill" included its Polish Pilsner along with hand sanitizer created by the nearby Church Street Brewing. It's a 16-ounce "Canitizer" that one can put in any spray bottle found in the home. And they also included a 12-ounce can of Marz Community Brewing's innovative Cannabis (CBD) Elixir Botanical Seltzer and a 30ml bottle of 450mg CBD (non-THC), created by a local nurse along with a few other items from nearby, small businesses.
Another brewery offering COVID-19 Brewery Baskets is Sew'd Hop in Huntley (Chicago's northwest suburbs), who have developed a community-minded "Huntley's Hometown Snack Pack."
They posted on May 2: "We love that we have the continued opportunity to partner with some other local small businesses, especially now during these tough times." The basket included Sew'd Hop beer and a Huntley's Hometown Brewery T-shirt along with "a Sew Hop'd face mask (by Elle Custom Apparel), magnet and stickers, one 16-ounce CANITIZER hand sanitizer, Huntley Snack Mix (made special for us from Morkes Chocolates of Huntley) and one fresh baked cookie from Blessed Little Kitchen."
In each case, the breweries go beyond including small businesses in the packages, but routinely take the time to make videos and/or lengthy posts on social media promoting the businesses they include in the packages.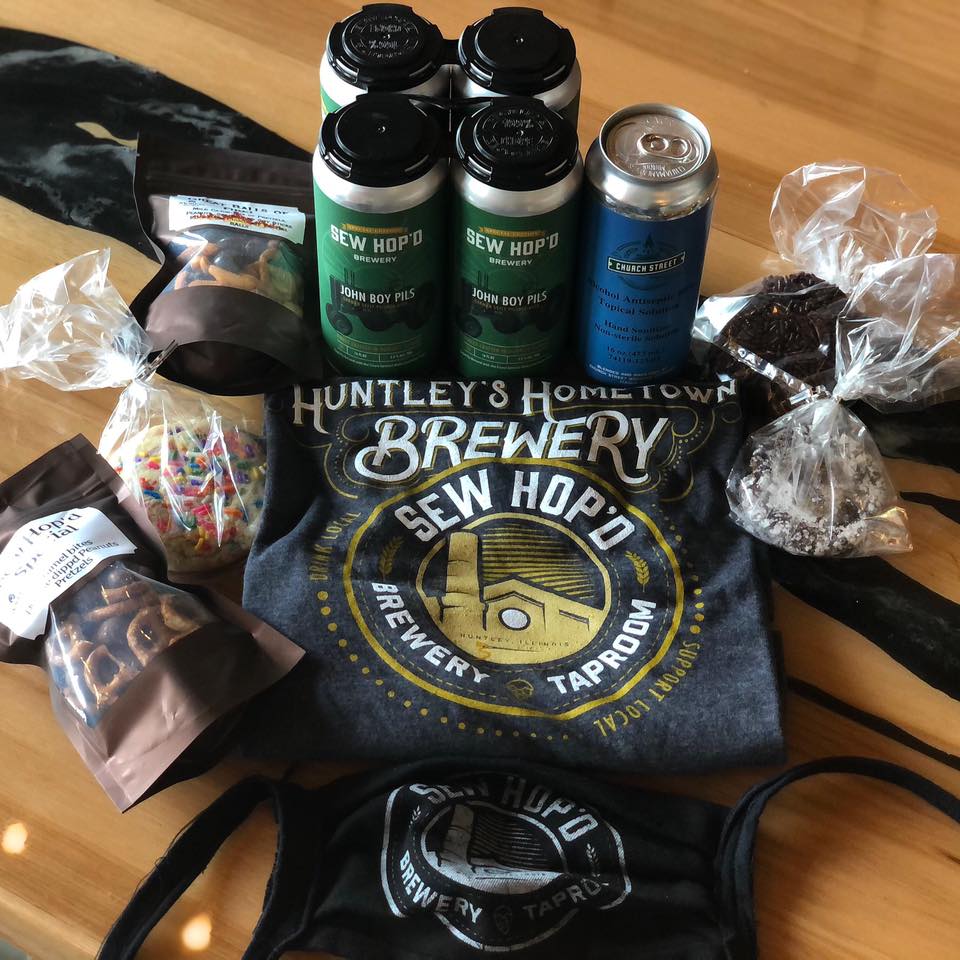 Community Is a Two-Way Street
Orange & Brew (bottle shop and tasting room) owner Eric Schmidt explained:
"There's suddenly a new beer audience now. They open the doors to our place just because they want to support small business. People are coming into O&B and asking, 'So, what IPA do you recommend?' They are new to beer and now want to try it."
Emily chimed in: "We have been extremely humbled by the ongoing support from craft beer consumers, who I know are also going through tough times of their own…It's so nice to see our regulars every day, even if gloved-up and masked from a six-foot distance."
Only time will tell if this current level of optimism, hope and collaboration can help the industry navigate the stormy waters without sinking. The COVID-19 Brewing Baskets and collaborations are akin to an industry grabbing a paddle to not only keep the ship afloat, but steering it along the right path to calmer waters, which in Illinois appears to be arriving June 25—that is the hope.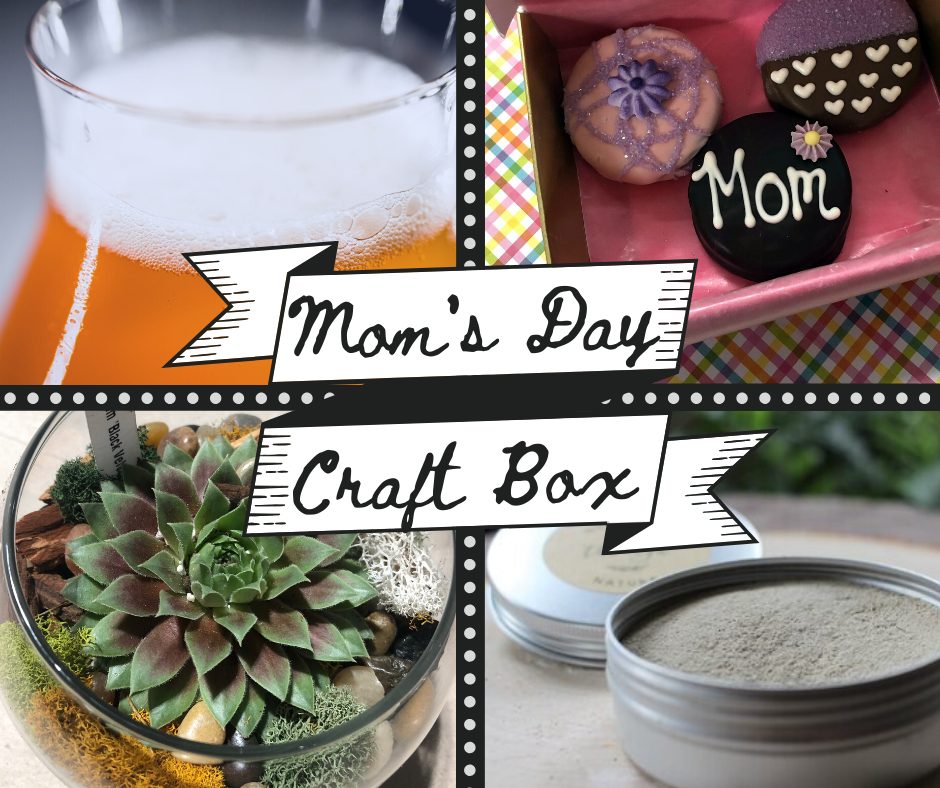 ---