No Comments
Russian River – Row 2, Hill 56 – The Story of Simcoe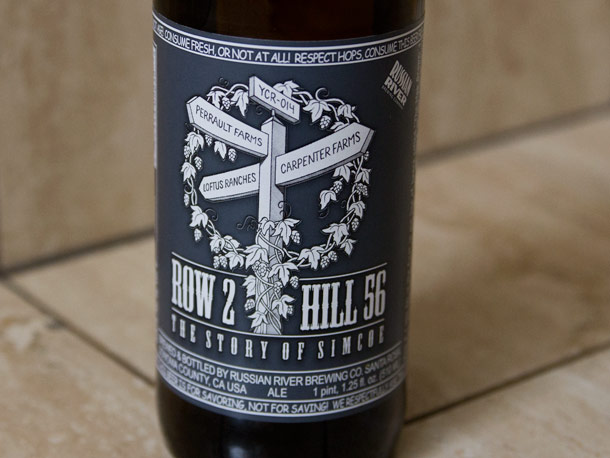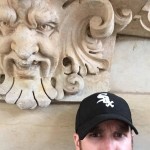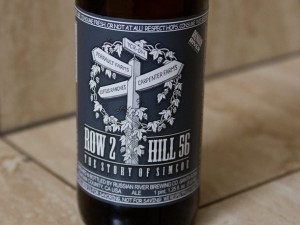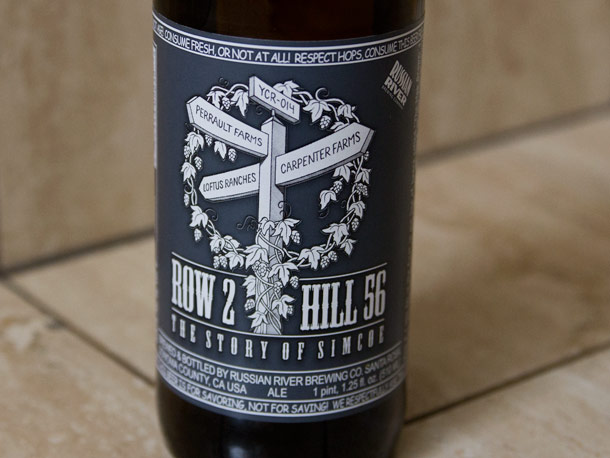 Row 2, Hill 56 – Russian River Brewery, Santa Rosa, CA
ABV: 5.8%
IBU: 40
Russian River is my definitive brewery. We all have one. Do you love everything New Belgium puts out, to the point that, without hesitation, you would lay down $15-$20 on a bomber of their beer? Then New Belgium is your definitive brewery. So when I saw that Russian River was at Oregon Brewers Festival in Portland this past weekend, I instantly made a beeline for their tent. I expected to see one of their more commonly available beers, most likely Damnation. Much to my surprise, it was a beer I had never heard of: Row 2, Hill 56 – The Story of Simcoe.
Fun fact about your writer (hell, most of the PorchDrinking staff)—even when I'm out drinking, or even quite drunk, I need to look up beers I am not at all familiar with. I could be sitting at a bar or at a beer festival; it doesn't matter. I will stop everything I'm doing to look up more information about the beer in question; reviews, tasting notes, etc. It's doubtful any of this actually impacts how I perceive a beer, but it's a bit of an OCD quality at this point.
OK, so quick background on Simcoe hops—there are only three farms in the country that grow them (all in WA), and to my knowledge, all three have never been used in the same brew process. Enter Story of Simcoe.
This review comes on the heels of IPA week, which will see the introduction of Pliny the Elder to taprooms across the area. Pliny is quite easily my favorite beer, but it's one that must be enjoyed in moderation. This has nothing to do with alcohol content, but more to do with the complexity of the beer—you'll begin to lose a bit of that if you try to down more than two bottles. It's not often that you will find beers that are complex and drinkable. Simcoe is that beer. It's a beer I could clearly see myself drinking in front of a TV while watching The Brow dominate Tunisia, all while marveling at the subtlety of the hops combining with elements of pine and citrus notes before a slightly bitter finish. This is a damn good beer, and the only beer I went back for repeat tastings of at the Brewers Fest.
I'd love to say this is widely available, but it's not. It's listed as currently "pub draft only" on the Russian River website, and is presumably only available outside the area at special events. Pliny will likely always be my favorite, but Simcoe is the beer that convinced me a trip out to Santa Rosa, CA is absolutely necessary. It's the beer that convinced me that Russian River can do no wrong.