No Comments
Cincinnati Brew Fest Recap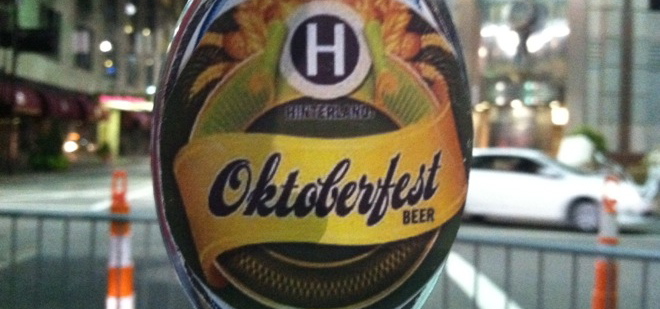 As we often encourage, one of our PorchDrinking followers wanted to join us on the porch. So when Jason Behler requested to share his take on this year's Cincinnati Brew Festival we were more than happy to give him the floor. Please welcome his contribution!
What's Brewing in Cincinnati?
The location, Fountain Square in downtown Cincinnati, evokes memories of childhood ice skating sessions and long walks to and from Riverfront Stadium for Reds' games. But tonight's journey was not about sappy childhood nostalgia, and ice skating is definitely not in the cards. Tonight was about beer. Looking at the lineup for the Cincy Beerfest, two questions beckon immediately: how am I going to sample all of this beer (without puking) and what is my plan of attack? Like any craft beer festival you have your staples who already distribute regionally and/or nationally, and then you have your locals, your up and comers, your small-time brewers. Plan – to desert the Rogues, the Dogfish Heads, the Lost Coasts, and the Sierra Nevadas, not because they don't make good beer (quite the opposite), but I can get those anywhere. For this festival we were going local.
The deal at this particular event is $30 for twenty—five, five-ounce samples. How do you measure those samples you ask? Well a cheap plastic cup will not do for an affair such as this. No, a five-ounce hard plastic mug was to be the chalice of choice, and we set out to fill it as many times as sobriety would allow. Let the games begin.
Quaff Brothers Brewery's Single Barrel Stout (Cincinnati, OH) was perhaps not exactly easing into it, but hey … when in Rome. This hearty brew, aged in Buffalo Trace barrels and infused with chili pepper, is a Commonwealther's dream. Unlike Country Boy Brewing's Jalapeño Porter (Lexington, KY), this beer was strong on the bourbon flavor and weak on the chili pepper, which would be my preference for a bourbon-barreled beer every time. I could drink one of these. This beer is a nightcap, a desert, or a breakfast pick-me-up, but not an all day drinker.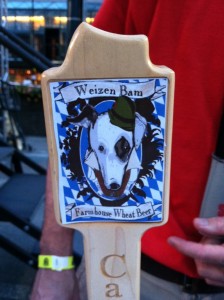 Next on the list, after a bratwurst of course, was the Listermann Brewing Company's Enter the Beagle IPA (Cincinnati, OH). Their workers/brewers, donning some obnoxious, ugly electric orange shirts (which just added to their booth appeal), were fully knowledgeable and extremely gregarious, answering both my dubiously ignorant questions, as well as my glaringly ignorant ones, in regards to the beer making process and ingredients used. Let me digress for a second to get one thing straightened out: I am not qualified to do anything but drink the beer, and give honest opinion based on the sheer volume of it that I have consumed over my 31 years. I have little to no knowledge of ingredients, process, or aging. I know my palette, and, having worked at a winery, I feel I can accurately describe (read: bullshit about) what I taste. Now, that I have gotten that off my chest, Enter the Beagle is an intriguing IPA that is not as hoppy as my fellow ginger-bearded beer guide would have had me believe, a slightly more than subtle, sweet hop taste with a citrusy finish. A six-pack kind of beer, nice on a hot/warm day and would definitely would want more than one … and more than one I had.
The five-ounce mug seemed to empty itself as I caught up with old friends from the area, Listermann's Beagle as my companion. I tried a forgettable summer blonde ale and a hefewiesen from the battery of Cincinnati brewers before we sauntered to the regional brewers area behind the stage. Meringue music in the background and the Reds game on the big screen, with a new location came new possibilities: lager,bitter, APA, kolsch? Weizen Bam Farmhouse Wheat—not my cup of tea … only took a sip. Reissdorf Kolsch—tasted like a Kolsch ("the epitome of what a Kolsch should taste like" according to the distributer pushing the beer)—not much to the taste, would drink twenty of them in a Fall day in Prague, but can cause massive heartburn in chugged on a hot day … as evidenced on the day of my bachelor party. Spice Life's Columbus Hops—a single-hopped beer which is not nearly as hoppy as one might think, as there is only one. However, if you don't like the taste of that one hop, in this case the Columbus, then you will loathe the beer. A bit bland for me, as I prefer the blend of hops for a more full bouquet, crushing the back end of my palette. It was clear that the regional fare had little to offer me, except alcohol.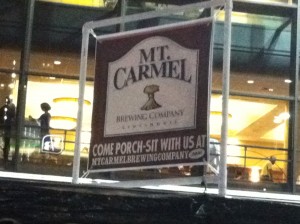 It was at this point that my buddy was called, albeit ever so briefly, into the office (which is conveniently located across the street from Fountain Square). Alone, marooned at the beer circus, I recognized myself sliding through the proverbial looking glass to that dark and twisted side. There is a mystical, transitional time in the evening right before the city lights turn on, not yet dark, but definitely not light. The 1999 Pavement album Terror Twilight referenced this exact phenomenon—when more car wrecks occur, when uneasiness sets in, when things are imprecise. It was in this moment, recognizing exactly when it was, where I was, and in what state I was (and the answer was not Ohio), that the city lights set ablaze the square and my glazed eyes saw the mellow glow around each bulb. The perfect buzz, at the perfect time of day for uncertainty—when the day itself is uncertain of its state, a zen moment. Magnified thru the lens of my now empty five ounce mug, the lights blurred and lit a runway to the promise land, back to local beer, to what was to be my favorite (for multiple reasons) booth of the night, Mt. Carmel Brewing Company (Cincinnati, OH). One look at their sign, and I knew that density had brought me here (BTF reference). "COME PORCH-SIT WITH US." Sold. The IPA keg was being changed and my hop-shocked tongue needed a break, so I started with their Nut Brown Ale. Even with a half numb tongue, I could taste the robust nuttiness that made Newcastle taste like Bud Light. Plently of refills on that one. Their IPA, so good I picked up a 6-pack the next day. I was really pleased with those two selections from Mr. Carmel Brewery, and I think I will check out their setup on the East side next time I am up that way … maybe do some porch drinking with them.
By this time my drinking companion had returned, and we finished the night with some beer from Hinterland Brewery's Oktoberfest (Green Bay, WI). Without a doubt the best regional beer I had all night, and a fine way to end the evening as I did pass up Covington's German Oktoberfest (a festival in NKY affectionately known as the "white trash bash") to go to the Cincy's Beerfest. A nice beer as the evening cooled off leaving hints of fall both in the air and on my lips.
Cincinnati has a rich beer tradition. At one time (pre-prohibition), Cincinnati produced more beer and boasted more breweries than any city in the U.S. What can I say? The German-/Irish-/Polish-Catholic contingent … we like to drink beer. While many of Cincy's famous beers—Hudepohl, Little Kings, Christian Moerlien (all originally brewed by Hudepohl-Shoenling)—have since been bought out and are not all produced in the Queen City, the craft-brewing boom has hit Cincinnati with dozens of new ones popping up every year. This festival was a testament to that idea that brewing is going back to its roots with more small, local brewers; that good beer is going back where it belongs; and that Cincinnati is one of those places.