No Comments
Bridal Veil Rye Pale Ale – Telluride Brewing Co.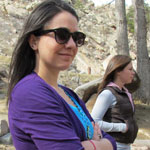 Image provided by Lauren Hoff of Napa of Beer
ABV: 5.5% IBUs: 65
Telluride Brewing Company took me by surprise. While visiting that oh-so-gorgeous mountain town, my friend and I stopped for dinner at Brown Dog Pizza after a long day of driving and hiking. Naturally, we decided a few beers were in order. We dove into their draft selection from Telluride Brewing Co. and never looked back. The Bridal Veil Rye Pale Ale is your link to the mountains we all dream of living in. At an altitude of 8,750 ft., TBC burst onto the Colorado craft beer scene in 2011 ready to impress. Their very local distribution has now expanded to the Front Range within the last month (can you get some?!) with the Bridal Veil Rye Pale Ale as the flagship beer. Won't you join me in experiencing this gem? Take the time to pour the beer into a clean glass so that you can appreciate the golden honey color and fresh, citrusy hop aromas. Wait, don't drink it yet – swirl the beer and take another whiff. I get some spicey notes from the aroma, too. With that first sip, you'll notice how the malty, rye-filled body of the beer mingles with the dry, hoppy finish. The lingering spice makes my mouth water and, obviously, sucks me in for more. Sessionable, yet flavorful, the Bridal Veil Rye Pale Ale will become your new favorite beer for a reward after a hike or a versatile partner to almost any dish you can whip up.