4 Comments
NCAA Mascot Madness – Genius Bracketology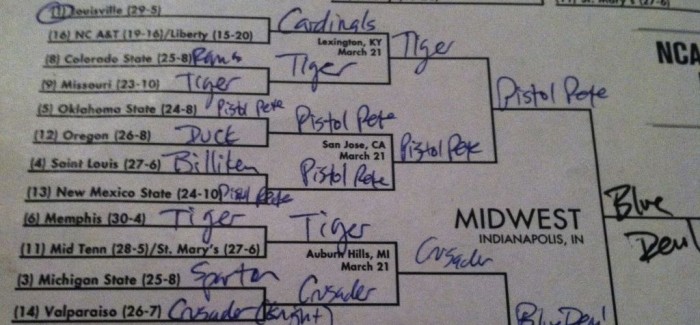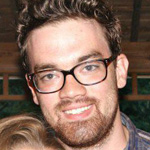 This year, I'm trusting in the unpredictable. I'm doing something bold. I'm trusting my brackets not to expert advice or probability or whether I believe a high-scoring offense or a solid defensive core will win basketball games.
I'm making a bracket based on which mascot would win in a fight. For every game. It's perhaps the first time someone has gone on the internet and actually advocated mascot-based bracketology. It's NCAA Mascot Madness. It's genius.
For safety – and science – I made a bracket that was based on my own (mostly safe) picks. And I'm stacking it up against a bracket which – by my own arbitrary determination – asks which team's mascot could kick the other's ass. The results are fascinating.
And for your comparison, here is a side-by-side of how the actual brackets look in a neat fashion. Compare them. See which you think makes more sense.
*METHODOLOGY NOTE* – I did in fact look up each team's mascot/team name. And then I picked the team whose mascot would dominate. And I did in fact register these brackets in competitions. And I am in fact genuinely curious as to which bracket will prove better/less busted.
One last note before the brackets… I will be updating this post throughout March Madness to note how each bracket is doing. Watch this space.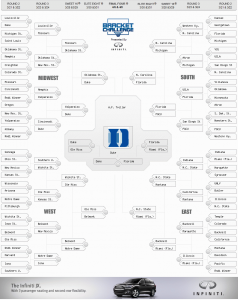 Now let me explain the art of mascot ass-kicking. Let's go by region.
MIDWEST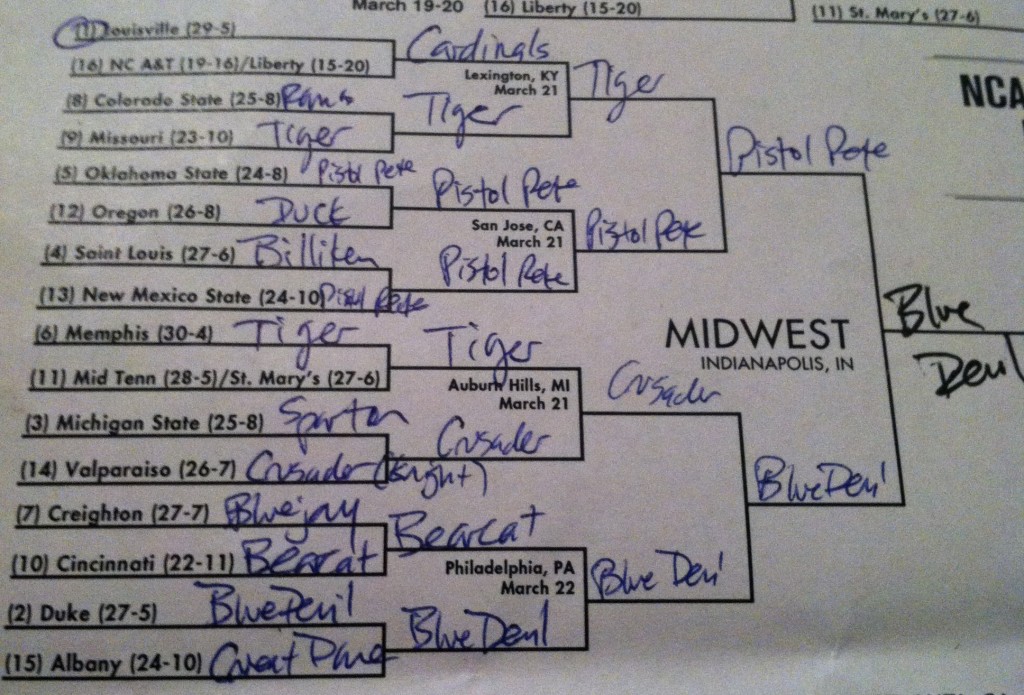 Clearly, this region has one of the most amazing matchups ever. Both Oklahoma State and New Mexico State have mascots named Pistol Pete. Seriously. Both of them do. And clearly this character – in both iterations – can take down either a duck or a Billiken, whatever the f*** a Billiken is. And I think he can take down a tiger, too. He has at least one pistol.
Another interesting matchup here the the Spartan versus the crusader – ancient times versus medieval times. I choose technology and pick the crusader of Valparaiso to advance, though I don't think he – or ANYONE in this region – can handle the power of a blue devil. It's got nothing to do with the devil's color; he's the devil. That accounts for something. And I don't think even Pistol Pete can handle a devil of any shade.
WEST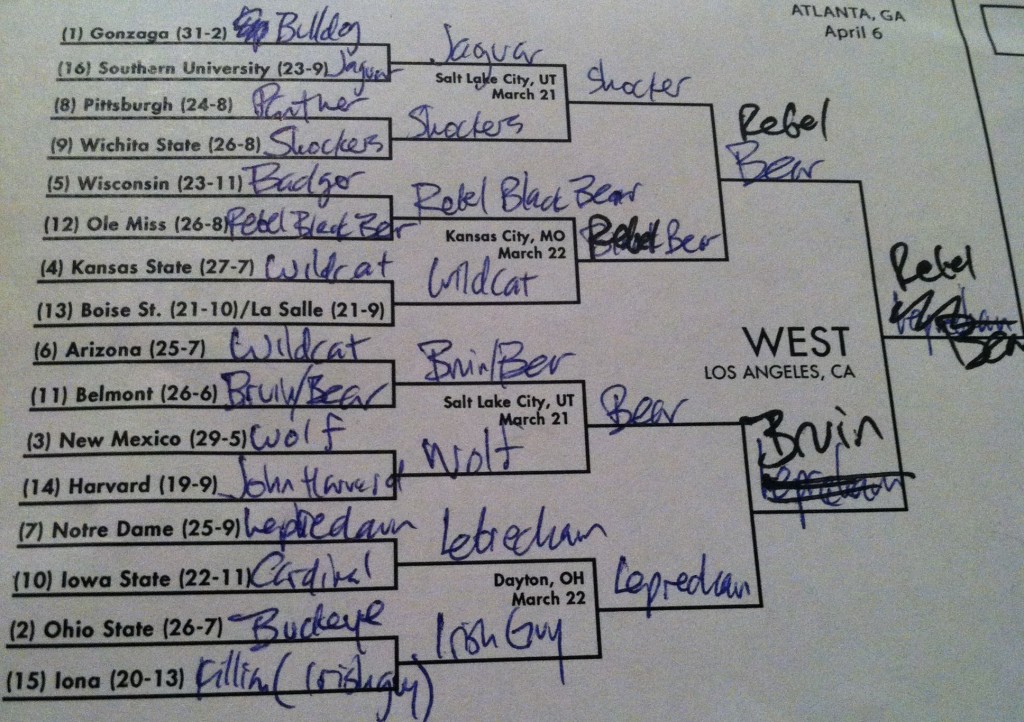 I'm pretty sure a shocker (I'm thinking actual electricity, guys, like a taser – don't try to make that gross) could take down a panther and a jaguar. But then right after that, the shocker comes across the rebel bear. Not a bear, you guys. A rebel bear. Like, a rebel that doesn't give a f*** about what you or anyone else thinks. Good f***ing luck controlling a bear like that.
There's a great little matchup between the Notre Dame leprechaun and Iona's Killian, who's basically just an Irish guy. No question the leprechaun wins; he's magic. But even leprechauns get beaten by bruins. And in a bear-versus-bear matchup, the bruin easily loses to the REBEL BEAR. Guys, that bear is such a badass.
(Fun fact! Ole Miss students almost elected Admiral Ackbar their team's mascot).
SOUTH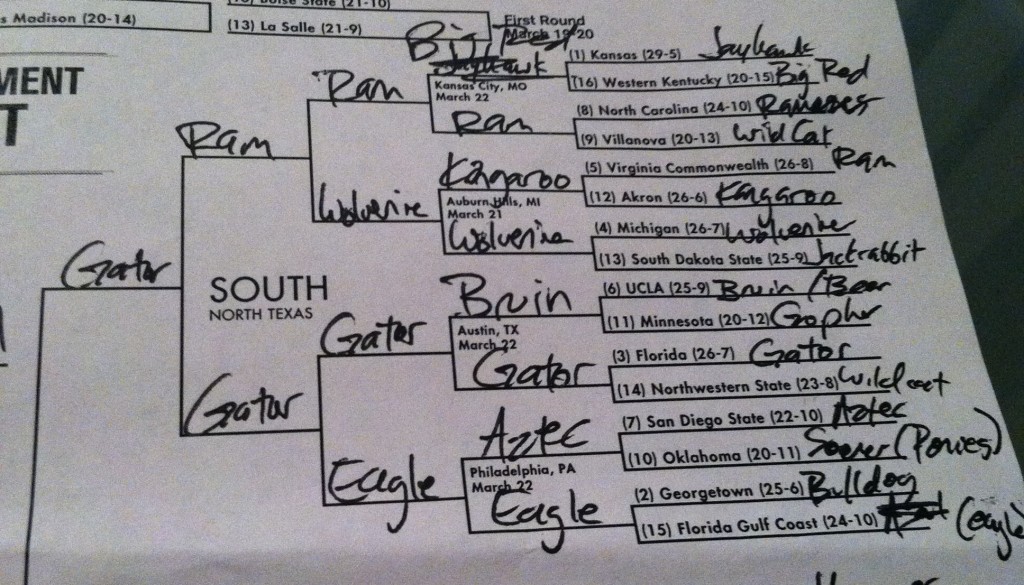 A few rams here, but – and you may disagree here – I think a ram has a better chance against a wildcat than a kangaroo. 'Roos are nasty and fast and have a hell of a kick. Also, I have no idea what a big red is, but I think it's just crazy enough to beat a jayhawk. In another spot of this bracket, I had a tough call between a gator and an eagle. While eagles are amazing, majestic creatures who rule the air, on the ground or in the water they stand no chance against gators. There you have the winner from this corner of the bracket.
EAST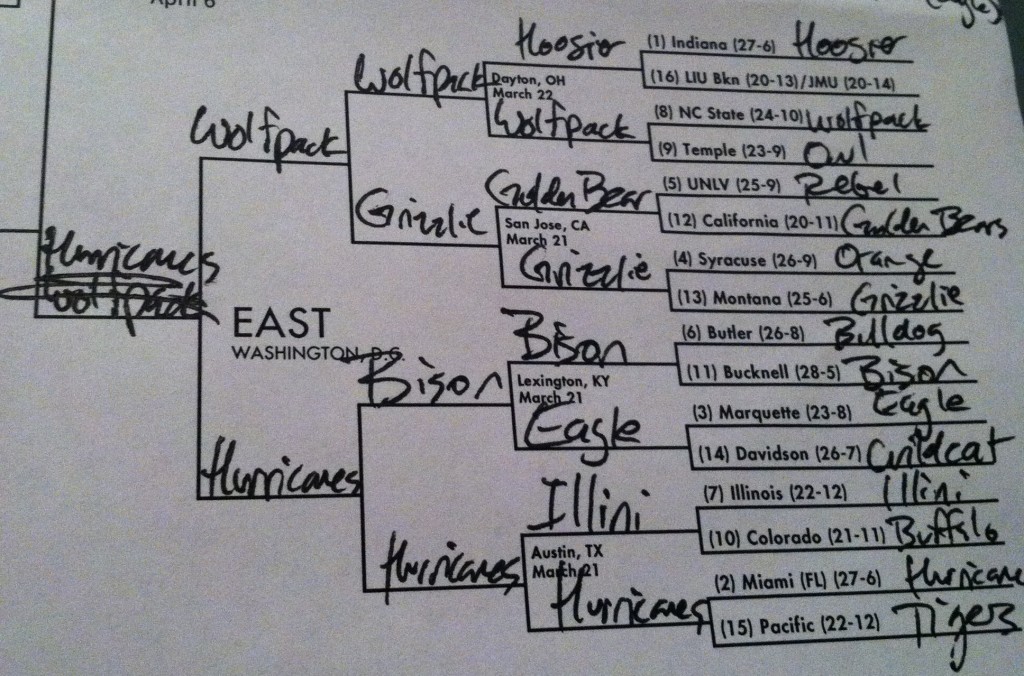 Don't ask me why, but I believe in the wolfpack. It's not a Hangover thing. I think wolves could take down a Hoosier – which is basically just a dude from Indiana – and a grizzly bear. Seriously, though, I'd pay to see that fight. Or the fight between a bruin and a grizzly. Holy crap there are a lot of bears in college sports. People aren't that original, are they?
In other thinking, nothing in this part of the bracket could beat a hurricane. I don't want to trivialize the natural disasters like the one that leveled New York and New Jersey last fall, but let's just say that if an apartment in Midtown can't handle a hurricane, neither can a bison.
FINAL FOUR
I've got the Duke Blue Devils versus the Ole Miss Rebel Bear. And I've got the Florida Gators against the Miami Hurricanes.
Interesting matchups. Can a bear – even one as strong and badass as the rebel bear – handle the black magic of a blue devil? And which Florida mainstay – gators or storms – would prosper?
Well, my picks, as you saw originally, have the blue devils and gators advancing. Gators have survived hurricanes, and hurricanes never stay fierce enough long enough to win a tournament – or get the best of the gator population. (I'm just now realizing how insane I sound).
In the final game, it's a tough call, but I reluctantly say the blue devils win. Feel free to argue with me in the comments about which opponent you feel could have defeated a blue devil. But there were no god-figures in the tournament this year.
UPDATE:
WEDNESDAY 3/20
My dad just threatened by text to disown me for picking Duke (he went to Virginia). Hey, Dad, maybe if the Cavaliers were a bit more impressive on the court this season I could put them in the mix, but as it is I stick with the science of mascot madness.
Also, a commenter mentioned that buckeyes are poisonous. I had no idea.
SATURDAY 3/23
Okay, so neither bracket is doing great. The one where I made actual picks based on real basketball teams still has seven of its elite eight (and all of its final four) still alive. The mascot bracket still has all of its final four, but only five of its elite eight. I DID, however, predict one of the greatest upsets of the tournament in my Mascot Madness bracket. I picked Florida Gulf Coast over Georgetown, because eagles certainly beat Aztecs. Still didn't see the Harvard crimson comin'. It's not a perfect system, but I'm still alive. Stay tuned.