No Comments
Samuel Adams' 26.2 Boston Brew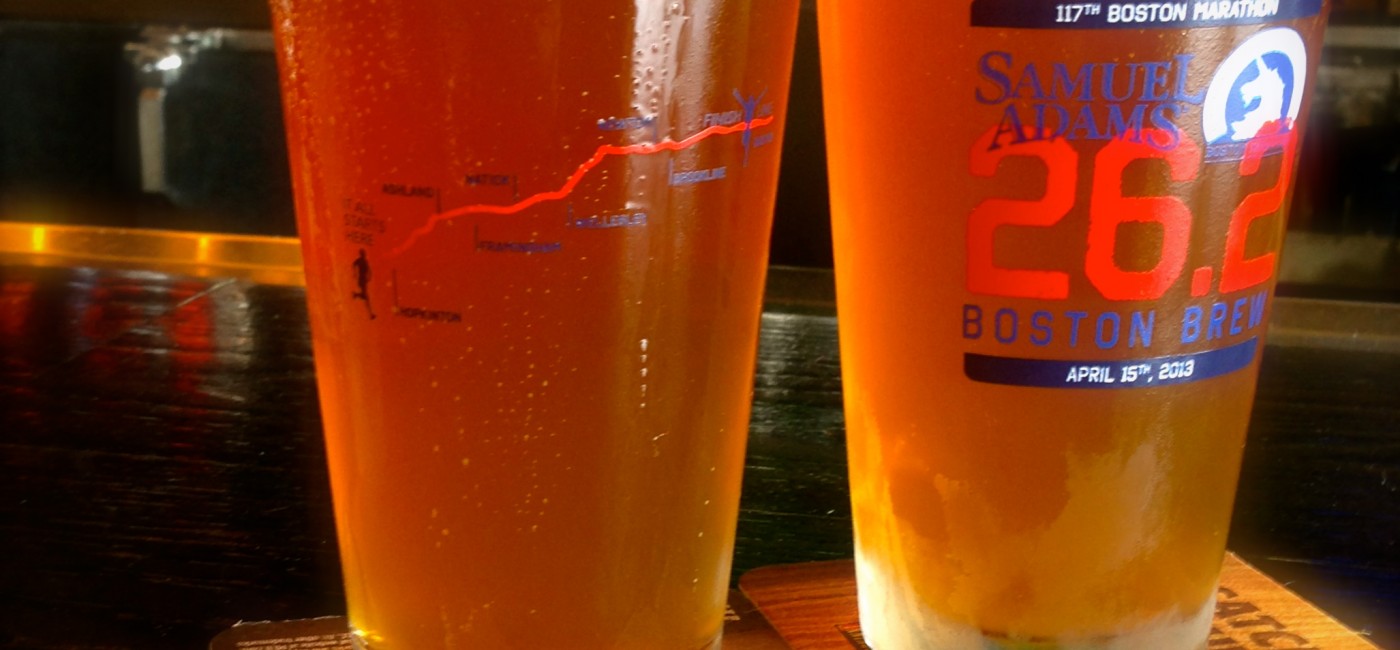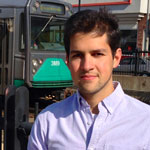 It's Marathon Monday! If you don't know what that means, you obviously do not live in Boston. I suppose it's known as "Patriots' Day" elsewhere[1], but ironically, in the land of the Pats, the Boston Marathon is the main event. Imagine if Macy's Thanksgiving Day was 20 miles longer in a city 1/20th the size of New York: things get a little crazy and crowded.
On the bright side, it is a holiday. Which means you are free to lock yourself in your apartment, escape the insane crowds and sip on something good without a care in the world. But that feels a little too reclusive, right? The other (insane) option would be participating in the Marathon, but, let's be real, that's just not happening. So I chose to celebrate Marathon Monday with a pint of 26.2 Boston Brew (named after the length of a marathon), Sam Adam's version of a celebratory ____Ade bucket. It's a perfect compromise.
If you were one of the many hunting down Ommegang's  "Iron Throne"[2] two weeks ago, you are probably somewhat familiar with the idea of an "event beer", a limited released designed to pair perfectly with an occasion. I am usually skeptical of these releases, as they often feel like more time was spent coming up with the perfect name, label and, type than making it a special beer that would stand out by itself with no event association. The final product tends to feel forced and taste flat. Fortunately, this is not the case with 26.2 Boston Brew. The synergy between brand, style and taste is truly impressive.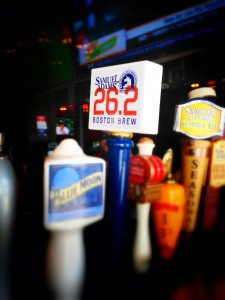 I'll save an in-depth look at Sam Adam's as a brewery to a later time. It is way to influential in the Boston beer scene – and in my own beer history – to be condensed into a paragraph. Most of you already know about them anyways and, if nothing else, are familiar with Boston Lager. The fact that their signature brew is called the Boston Lager is really all that you need to know about it for now:  they obviously enjoy marrying their brand image to the city and usually do it in very classy fashion. It would have been easy for them to just slap a "26.2 Boston Brew" label on a couple kegs of skunked Boston Lager and sell it like hotcakes to everyone walking along the Freedom Trail this weekend. Instead, they brewed a relatively small batch of gose and focused on distributing it to bars along the Marathon's route.
The decision to brew 26.2 Boston Brew as a gose is the one I felt was most inspired because with the addition of salt and coriander (IT'S GOT ELECTROLYTES) during its brewing process, it is the sports drink of beers. It is as clever of a nod to the Marathon as it is subtle, and I admire that.  I doubt they are suggesting that people would try replenishing themselves with 26.2 Boston Brew this weekend. My guess is that they just realized that most of us humans are much more likely to be drinking at a bar by rather than running up Heartbreak Hill. Thankfully, they also realized that whether you just ran 26 miles or dealt with clueless tourists on the subway all weekend[3], you deserve a treat.
26.2 Boston Brew is a gose, certainly, but not a very traditional one. First of all, if you were expecting a voluminous head, you are out of luck, sorry. Maybe it was the pour, or maybe if Sam Adams had designed glassware for a gose (instead of just printing a logo on a regular pint glass) that would have been a little different.[4] The lack of head, happily, is the only instance in which the deviation from a traditional gose is undesirable. Otherwise, it is pleasantly less subtle than the norm, with a delicious yeasty, peppery bouquet hitting you right away and a sharp, distinct citrus note on your first sip. Eventually, its mineral spiciness comes through but it is by no means overwhelming, this is a very sessionable yet satisfying brew.  As is often the case with the better Sam Adams beers[5], it will please a wide range of drinkers[6], from those to whom Sam Adams is a fancy "splurge" beer to the most avid connoisseurs. I can't attest to its qualities[7] on the racecourse but as far as its ability to make everyone feel like they are participating in today's event is concerned 26.2 Boston Brew is as winning Robert Kipkoech Cheruiyot[8].
---