No Comments
Dogfish Head – American Beauty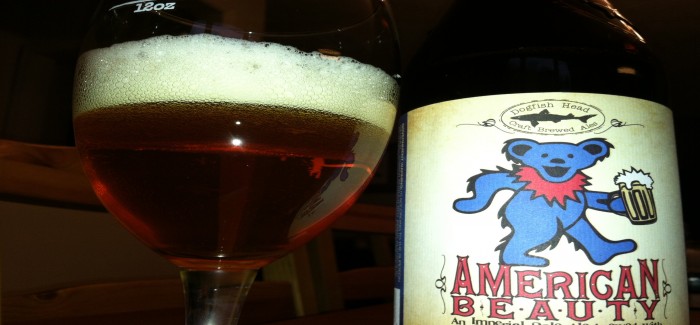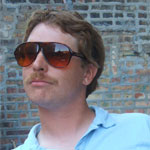 9.0% ABV, 55 IBU
Workingman's Dead on CD, bought for $5 from the used bin at the local record store my Freshman year of high school. For a short period of time, they were the only band that existed in my provincial teenage mindset. Their lyrics made sense, their melodies were catchy, and their musicianship was transcendent. They championed the idea that music should be an experience to be enjoyed with others to which their legendary shows are the ultimate testament. True masters of their craft…with legions of loyal fans…who love to enjoy their product together…sounds like the craft beer industry, right? Naturally, Dogfish Head Brewery took the next logical step to marry these two entities for eternity with their American Beauty, an homage to the most popular Grateful Dead album. I have gushed in other reviews about what geniuses I think Sam Calagione and his staff at Dogfish Head are because the Deleware Brewers seek to "discover the wonders of nature" (as the Dead would say) with every beer they produce, searching out new ingredients and exotic flavors the world over.
American Beauty, which identifies itself as an Imperial Pale Ale brewed with granola and American hops, smells like Spring – that welcoming hop aroma that piques the senses and accompanies most pale ales. A mash of honey sweetness and the mild bitterness of hops on the front end are quite potent, but quickly give way to a subtle tartness, followed by a mellow aftertaste that clears the palate in seconds. Almost no aftertaste. Delicious and not nearly as challenging on the weak-tongued as some of Dogfish Head's other ventures. This is an amazingly enjoyable beer. Kind of like the album, American Beauty, it is consistently good with every note, with teasing flourishes of greatness, and no let down; each sip, like each listen, tastes as good as the one before.
American Beauty is a limited release that should be on shelves this week, but the friendly Dead Bear toting a beer mug on the bottle coupled with masses of craft beer-swilling Deadheads will ensure this one is as rare as an original Warlocks recording. People that want to like this beer because of its association with the band will have plenty of reasons to do so, and those who want to dislike it for the same reason will have to nitpick to find reasons to ignore American Beauty. But it  is like Jerry, Phil and company always said, "One man gathers what another man spills." If you spill this one I will be a-gathering.