No Comments
Coronado Brewing Company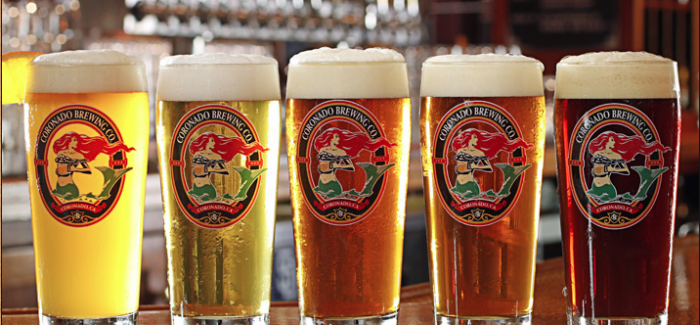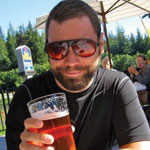 I happened to be in San Diego during San Diego Beer Week at the beginning of November 2013 and had the pleasure of checking out some fantastic San Diego Breweries.  Of the multiple breweries that I visited that really stood out was Coronado Brewing Company located on Coronado Island across San Diego Bay near downtown San Diego.  Coronado Brewing opened their doors in 1996 as a small brew-pub and then expanded by adding a 30 barrel production brewery in San Diego in 2012.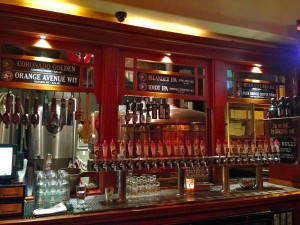 '
Coronado Brewing began distributing in the Portland area this past October, so I sampled a 12oz. bottle of Idiot IPA before heading out to San Diego. I had a few pints while waiting for a to-go food order on a Sunday and was so impressed that I returned the following two nights for tasters.  The pub has a cozy and classy feel; reminiscent of the brew pubs in Portland.  Great food at a more than fair price, with $10 growlers, $5 howlers, a massive tap list and extremely friendly service.  I immediately felt right at home sidling up to the bar chatting about the many year-round and seasonal beer styles with the staff.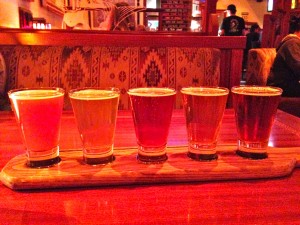 Tasting Notes:
Hibiscus IPA (Collaboration with Maui Brewing Co): 4.9% ABV, 40 IBUs
Beautiful light orange glowing color.  Very sweet hoppy floral aroma.  Crisp mouthfeel.  Light finish with lingering hop and hibiscus flavors.  Perfectly balanced beer.
Berry The Hatchet: 4.6% ABV, 13 IBUs
Fruit beer brewed with red raspberry, blackberry and blueberry.  Grapefruit color and sweet beery smell.  Very smooth mouthfeel.  Extremely reminiscent of Ruby IPA from McMenamins.
Wind Chime Lime Saison: 5.2% ABV, 20 IBUs
Hazy pale yellow color.  Banana and clove aroma from the yeast.  Lemon and lime peel slightly cut through to add to the crispness.  The added flavors from the citrus peels play very well off the yeast.
Rye Dog IPA: 6.2% ABV, 50 IBU
As a sucker for the "Rye PA," I am always excited to try a new spin on this style.  Pale orange color.  Floral hop and rye aroma and taste.  Crisp mouthfeel.  Perfect amount of flavor lingers on the palate.  Perfect balance of hops and rye.  Similar to the Hop Rye'It from 10 Barrel Brewing (my favorite of the style).
Punk'in Drublic Pumpkin Ale: 8.0% ABV, 30 IBU
Brewed with 350 lbs. of pumpkins and pumpkin pie spices.  Love the homage to NOFX.  Dark orange color.  Deep pumpkin aroma with cinnamon and nutmeg.  Dry mouthfeel. Cinnamon dominates, with pumpkin and malt.  Lingering bitterness makes this unique amongst other beers in the style.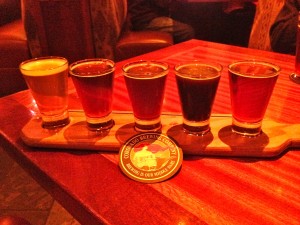 Wet Willie XPA: 4.5% ABV, 65 IBU
Session IPA with Nelson Sauvin and Simcoe hops.  Intense tropical notes; Pineapple and Grapefruit.  Crisp and light mouthfeel.  Stinky hops present in the first sip.  I find that the Nelsons are onion-like in taste and aroma, but the Simcoe balances the overpowering varietal with a citrus sweetness.  Very creative blend.  These California XPAs are winning me over more and more with each taste.
435 Pale Ale: 5.2% ABV, 40 IBUs
4 lbs. Northern Brewer,  3 lbs. Chinook, 5 lbs. Cascade per 10 barrels.  Cool idea to add hop weights based on the area code of the brewery.  Pale yellow-orange color.  Almost no aroma.  Not much jumps out on the palate.  Very hop-light pale.  Easy drinking.
Bobblehead Red IPA: 8% ABV, 65 IBUs
Amber-Red color.  Tropical aromas; primarily grapefruit.  Very similar to the XPA, though with much more body.  Heavy biscuit and malt flavors in the extremely dry finish.
Stupid Stout: 9.0% ABV, 42 IBUs
Cloudy, light black color.  Heavy alcohol aroma with chocolate notes.  Hop crispness in the finish.  Overall, dominated by the alcohol flavor.
Old Scallywag Barleywine: 11.4% ABV, 50 IBUs
Deep copper color.  Butterscotch and tobacco aroma.  Sticky and soft mouthfeel.  Very complex barleywine.  Sweet malt taste at the front.  Hop bitterness mid mouth, and vanilla and caramel at the back.  Fantastic and distinct.
Coronado Brewing was in Portland to celebrate the roll-out to the region on Wed Nov 20 at Belmont Station (my staple bottle shop) and Thurs. Nov 21 at Roscoe's (my staple beer bar).  I spoke with rep. Cory Bradford at Belmont Station and brewer Ryan Brooks at Roscoe's.   Based on my discussions with Cory, Ryan and the staff at the Coronado pub, I can tell you that these guys are all about beer.  They are all definitely a part of something that they love, which comes across in all aspects of their business.  I am sold on Coronado Brewing in a big way and wish them continued success as they expand into the west coast and beyond.