No Comments
Beer and Food | Kolsch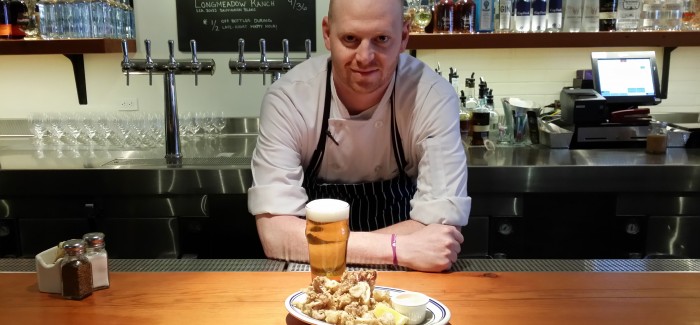 Welcome back to the delicious world of beer and food. Now that we have covered the basics in last week's installment, we can move into our first course to start the month. As a way to pay tribute to our hometown and the BAA that resides in it, this month's feature will be classic-contemporary American cuisine from Boulder, CO.
Building a pairing is like an artist choosing their paints, and your tongue being the canvas.  The approachable American cuisine we are pairing this week is the equivalent of blending two primary colors.
As trees are beginning to bloom and the Spring Equinox is approaching, the season for lighter, session-able, outdoor-drinking beers is approaching. As a way to celebrate Spring and showcase a classic warm weather beer, this week's beer selection is Kolsch, a German hybrid-style from Cologne.
Only a beer from Cologne, brewed in this style can truly be called a Kolsch. However, there are many "Kolsch-style" beers that aren't brewed in the region that pay homage. The style is unique to this city, kind of like a wine in relation to an appellation, because of its incredibly soft water which lends itself to this smooth, subtle character. A Kolsch is brewed using a top-fermenting ale yeast and fermenting it at colder lager temperatures. The resulting product is a crisp, clean beer that exhibits a mild fruity ester, while finishing well attenuated and dry, a great alternative to a Pilsner for those looking for a light lager without a hop-driven backbone.
'8 Second' from Elevation Beer Co. is a Kolsch-style ale that gets lagered for five weeks with a very traditional recipe and brewing process. The '8 Second' displays pear and apricot esters with a Pils malt backbone. '8 Second' has been a taproom favorite for over a year, but has now made its way into larger distribution. It was developed when Elevation assumed sponsorship for the local rodeo grounds from one of the macro's, and needed something with a similar finish and outdoor sessionability that crowds had been enjoying previously.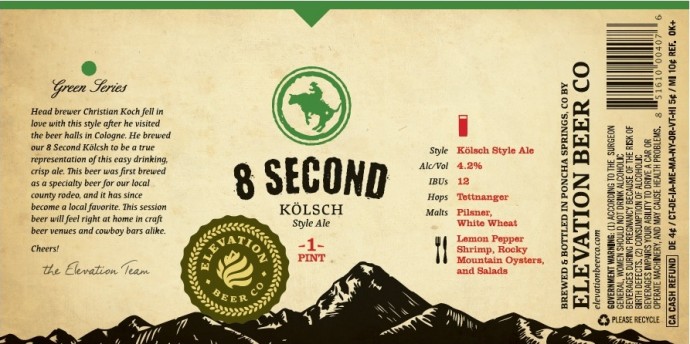 For those of you who can't find '8 Second', there are many great craft brewed examples that you can find, and the profiles of those beers should work out wonderfully in an attempt to replicate these pairings.
A Boulder restaurant showcasing a wonderful pairing with this Kolsch-style ale is The Kitchen Next Door. For our first course, we begin with a quaffable, refreshing hybrid-ale and pair it with an approachable classic-contemporary American dish, fried Calamari.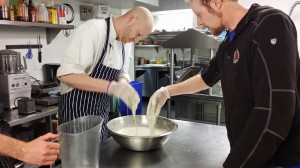 At The Kitchen Next Door, Chef de Cuisine Colton Wagner uses a mix of Cornstarch with coriander and freshly ground black peppercorns to bread the calamari, "You want to mix the batter by hand, because if you use a mixer it can get really tough", Wagner mentioned.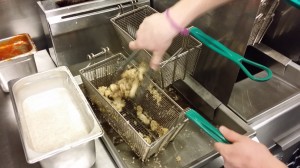 The rings and tenticles are fully tempered before being thoroughly coated in batter and fried for about 60 seconds in Peanut oil, which along with the use of Cornstarch, is a lighter approach to a dish that generally isn't always so.
There is a mild buttery, creamy richness of the calamari with a subtle briny characteristic that transforms into a good peppery kick at the finish. The Cornstarch breading works with the squid to create the essence of poached calamari on a freshly fried tortilla chip.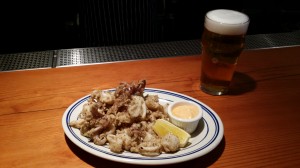 The Pilsner malt and Cornstarch resonate harmoniously for a mild cereal-like sweetness that contrasts the savory and peppery elements of the dish. There is also a wonderful contrast between the light fruity esters of the Kolsch and the peppery, buttery, and briny aspects of the dish.
The lighter elements of this pairing support each other in a gentle balance of crisp fruit juxtaposed against the savory oceanic flavors of the dish, while the palate-lifting carbonation isolates the spices of the dish as they linger through the finish.
Walking into Cured with a 4-pack of Elevation '8 Second' at our side, we knew we wanted something lighter bodied with a mild saltiness, maybe some grassy elements to resonate with the wheat bill of the beer or some fruity notes for resonating with the mild fruity esters produced by the ale-yeast saccharomyces cerevisiae.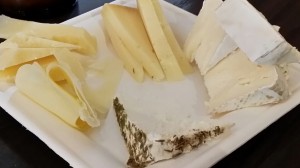 Molly Browne, ASC Certified Cheese Expert at Cured appeared from behind the counter, with an assortment of wonderful suitors, but one stood out. It was obvious when everyone's eyes lit up with the initial bite, as if we were children tasting candy for the first time.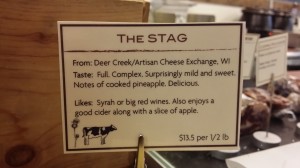 The 'Stag' is a mild but complex white cheddar, that comes from a collective of farms in the high Niagara rock of eastern Wisconsin. Chosen only from the right cultures of their younger 'Fawn' cheddar, these cultures are chosen for their ability to age longer.  This longer aging also leads to a higher acidity in the cheese. The large traditional 22 lb. Daisies that it is aged in allows the 'Stag' to breath and imparts a wonderful mild nutty foundation, with subtle hints of pineapple and butterscotch.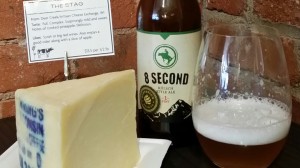 The 'Stag's' notes of pineapple resonate with the esters of the beers for a nice green flavor that contrasts with and accentuates the nutty quality of the 'Stag'. This platform is a great foundation for the acidity of the cheese to brighten the vibrant effervescent quality of the beer as it washes away your palate and gets you ready for the next exciting bite.
We hope this inspires you to go out and try one of these pairings or your own different pairing. Maybe try a Mac n' Cheese, using the 'Stag' as Chris, owner of Deer Creek Artisinal Cheese Exchange mentioned, "The culture set likes heat". And check back next week as we drink the Lips of Faith series 'Wild 2 Dubble' at Oak at Fourteenth.
Cheers.
Alewise is a Ciceone and Beer Education Co-op founded by Eric Linder and David Bird in Boulder, CO. Our goal is to strengthen the beer community by fueling the knowledge and passion of those involved or interested in joining it by making things more accessible and fun. You can find Eric serving or bartending at Frasca Food & Wine in Boulder, and David in the taproom at Avery Brewing Co. in Boulder.