No Comments
Beer and Food | Crooked Stave Vieille finds True Love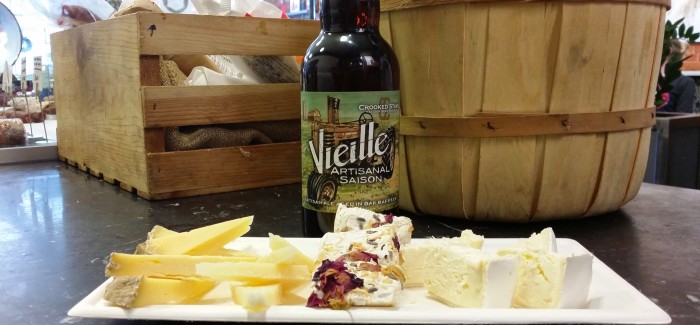 Welcome back to the delicious world of beer and food. We are off to an exciting start as the pairing with Westbrook last week was very inspirational for Alewise, and it was great to see Morgan in Denver last week at What the Funk?.
For our second course we are choosing a beer that is great for all seasons but the citrus notes scream of Spring, the Crooked Stave Vieille. This Brettanomyces fermented bright dry Saison can be paired with many dishes, but for this salad we built the course around the beer.
Saisons are part of a small family of beers that are known as 'Farmhouse Ales'. Saison translates to 'season' in French, and is a beer that was generally brewed by farmers near the end of the colder months for summer consumption. The beer was not meant to be imbibed as much for enjoyment as it was for sustainability during the warm summer heat working in the fields. This style can vary greatly in alcohol content, color, and fermentation profile, but the most common rendition of a Saison is pale orange to golden in color and displays floral, fruit, and pepper notes, which can be complimented by light acidity from wild yeast or bacteria.
The Crooked Stave Vieille embodies the rustic quality of the Saison style. This beer starts with a light malt profile which lends itself to soft grass and grain on the palate. Next, the all Brett fermentation yields a dry finish, and the combination of Brett strains builds complexity. Then it is aged in oak fodders, thus the name "Vieille" which means old.  Finally it is lightly dry-hopped for aroma and a little flavor.
For the dish this week we used: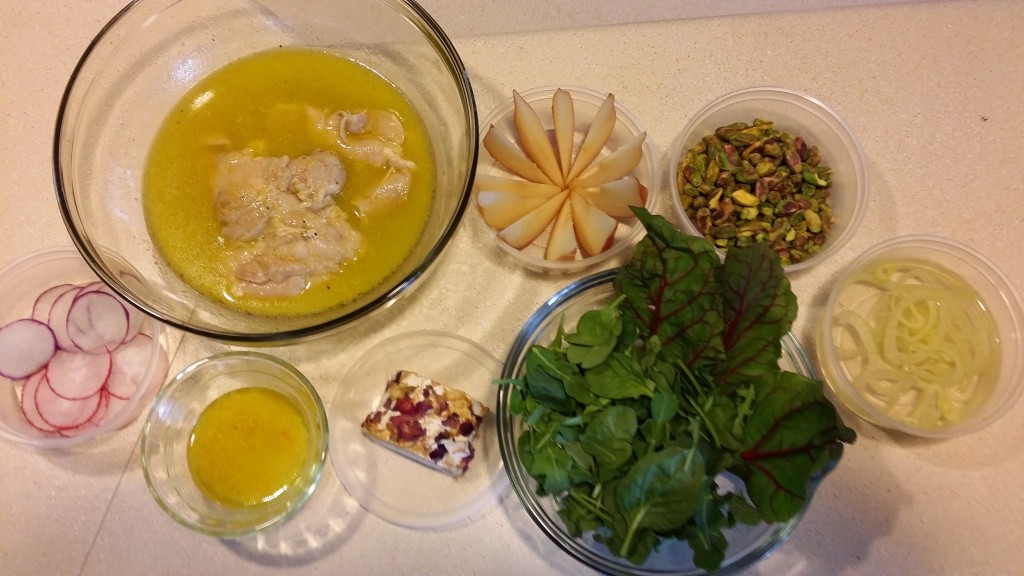 1 Chicken thigh filet
3 oz.  Arugula
2 oz. Spinach
3 Red Chard Leaves
2 Easter Egg Radishes (sliced thin)
1 Bartlett Pear (cut in small wedges)
1/8 C de-shelled, unsalted Pistachios
1 oz. 'True Love' Goat Chevre
1/8 C pickled Fennel (recipe as follows)
– 1 C Water
– 1/2 C Champagne Vinegar
– 1 1/2 t. Salt
– 1 T Sugar
– 1 Fennel Root (shaved)
* Mix ingredients and leave at room temp for for 1-2 hours
Meyer Lemon Vinaigrette (recipe as follows)
– 1/8 C Champagne Vinegar
– 3 Meyer lemons (fresh squeezed, strained juice)
– 1/2 C Extra Virgin Olive Oil
– 1/4 t. Salt
– 1 1/2 t. minced Shallot
– 1 small clove minced Garlic
* Combine ingredients and whisk, or shake in small jar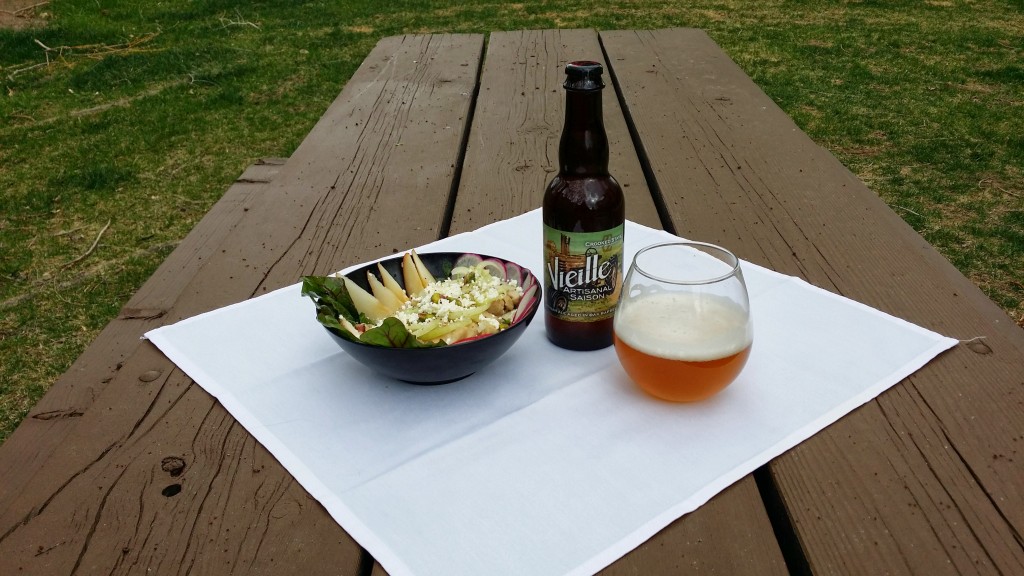 On the nose, there are aromas of light citrus notes from the dry-hopping along with white pepper and a floral character. When tasting as the Vieille hits your lips it rewards with crisp pear and tart lemon balanced by oak and funk. To match these characteristics we chose Easter Egg radishes for the pepper notes, Bartlett pear for the fruit qualities, Meyer lemons for the citrus in the dry-hopping, fennel for the herbaceous qualities, and goat cheese for the tartness and funk.  These carefully selected ingredients are then mixed into a bed of arugula, chard and spinach with a citrus marinated chicken breast. Finally the addition of the pistachios make for a buttery, fatty rich contrast to round out the flavors and mouthfeel of the salad.
The 'True Love' cheese we discovered when tasting through pairings at Cured this week stood out as such a great partner that we were compelled to use it as the cheese in the salad. True love is a Goat Chevre aged in small crottins, hand-wrapped in Rose petals, Jasmine, and Lavender produced in Logsden, OR. The mother-daughter team or Patricia and Astraea Morford that run the River's Edge farm take an artisanal, boutique approach and top-notch care of their 49 goats which they milk personally, twice a day, year round.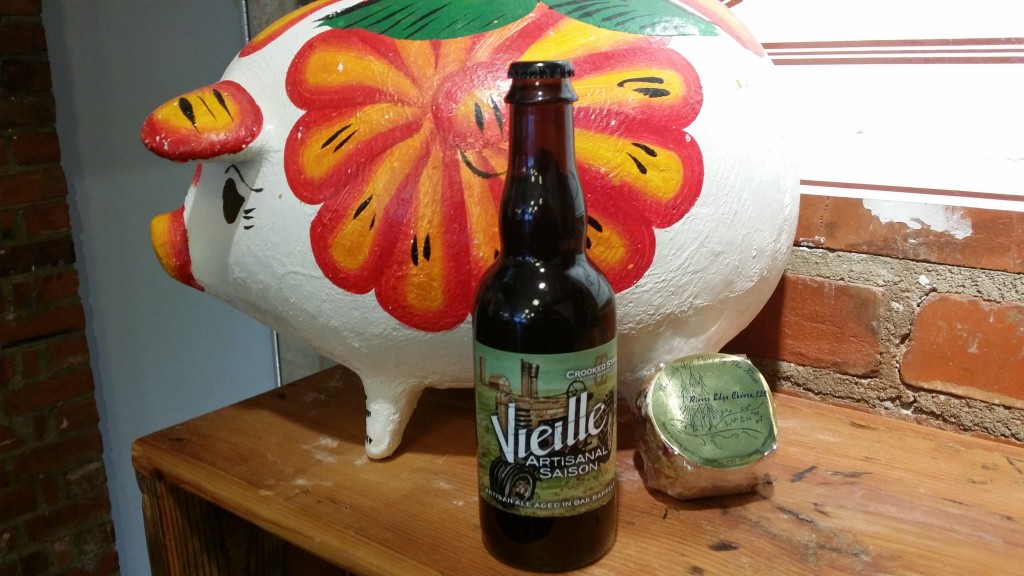 The Vieille found True Love at first bite (pun intended). Superlatives flew around the room as knees weakened and bliss was evident all around when witnessing how wonderfully the flavors of the two partners danced around the palate. Such a memorable experience these two will forever be tied together in our minds. From the complimentary florals and funky tang, to the contrasting mouthfeel, and all elements in between, this pairing will be a lasting marriage.
Our Sour/Wild month has kicked off with a couple of shining pairings and has began to show how acidity can be a great friend to food. As we have looked at some of the lighter bodied, golden Wild/Sour options, we will move into dark rich sours to match the raising intensity of the meal.
Alewise is a Cicerone and Beer Education Co-op founded by Eric Linder and David Bird in Boulder, CO. Our goal is to strengthen the beer community by fueling the knowledge and passion of those involved or interested in joining it by making things more accessible and fun. When in Boulder ask for David in the taproom at Avery brewing Co. and Eric at Backcounty Pizza and Taphouse.