No Comments
Event Recap | 2015 Denver Bacon and Beer: Brewer's Dinner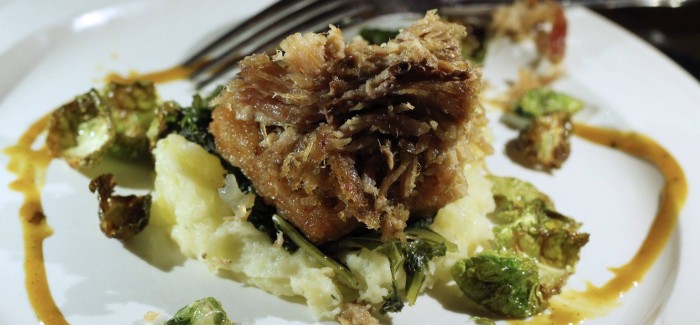 Average Reading Time: [4 minutes]
Imbibe Events and The Lobby hosted an intimate evening featuring five breweries and restaurants from the Denver Bacon and Beer Festival. The Denver Bacon and Beer Brewer's Dinner paired five chefs and five breweries for a meat filled evening that didn't not disappoint. The Denver Bacon and Beer Brewer's Dinner benefited Metro Caring and Project Angel Heart. Participating restaurants and breweries included Block & Larder, Euclid Hall, Second Home Kitchen + Bar, The Lobby, Max's Wine Dive, Great Divide Brewing Company, Wit's End Brewing Company, Call To Arms Brewing Company, Crooked Stave Artisan Beer Project, Spangalang Brewery and The Post Brewing Co.
Welcome Beer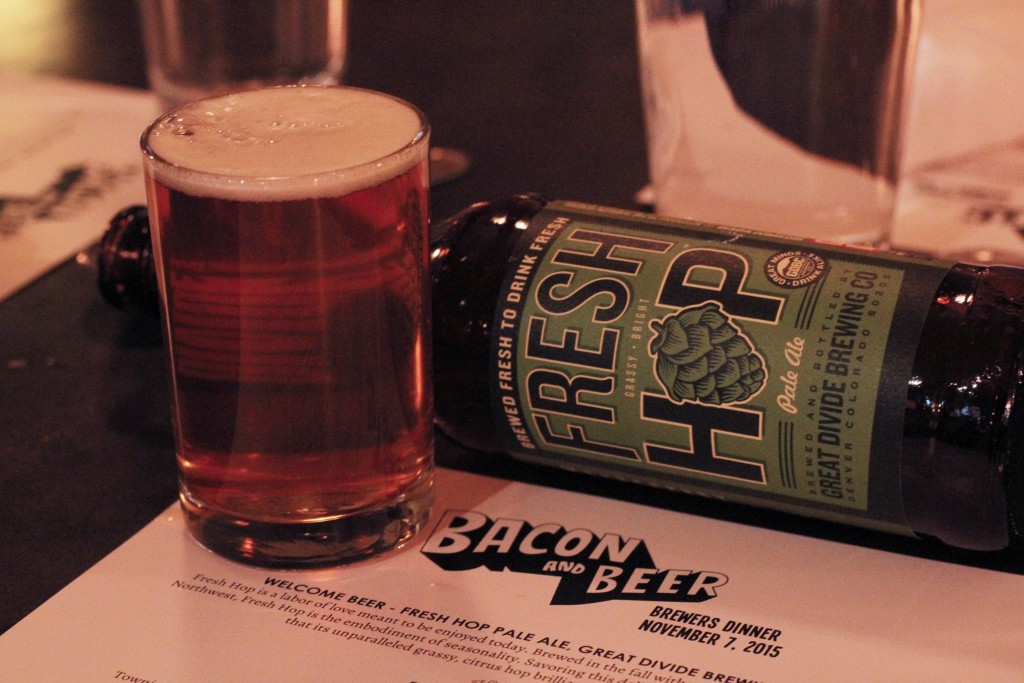 Fresh Hop is a labor of love meant to be enjoyed today. Brewed in the fall with wet, whole cone hops from the Pacific Northwest, Fresh Hop is the embodiment of seasonality.  Savoring this delightful pale ale during harvest season ensures that its unparalleled grassy, citrus hop brilliance will remain uncompromised.
Our only gripe of the whole dinner was that we wanted a full pour of this delicious beast. Next time GDBC, next time.
Course 1
"Purple Potato Causa with chilled salmon with house made bacon salad."
A Causa is a Peruvian dish served cold that translates to literally the 'cause.' It pays homage to the thousands of varietals of potatoes of that culture. Salmon rides middle seat in the mix while the squash layer tops off the dish and bacon taking 'king of the mountain' atop the whole deal. I am not a huge fish fan, but this was not fish forward. The salmon was just another flavor componenet. Lots of great fall flavors here and a light entry into the dinner. It paired amazingly with Post's offering that accompanied it.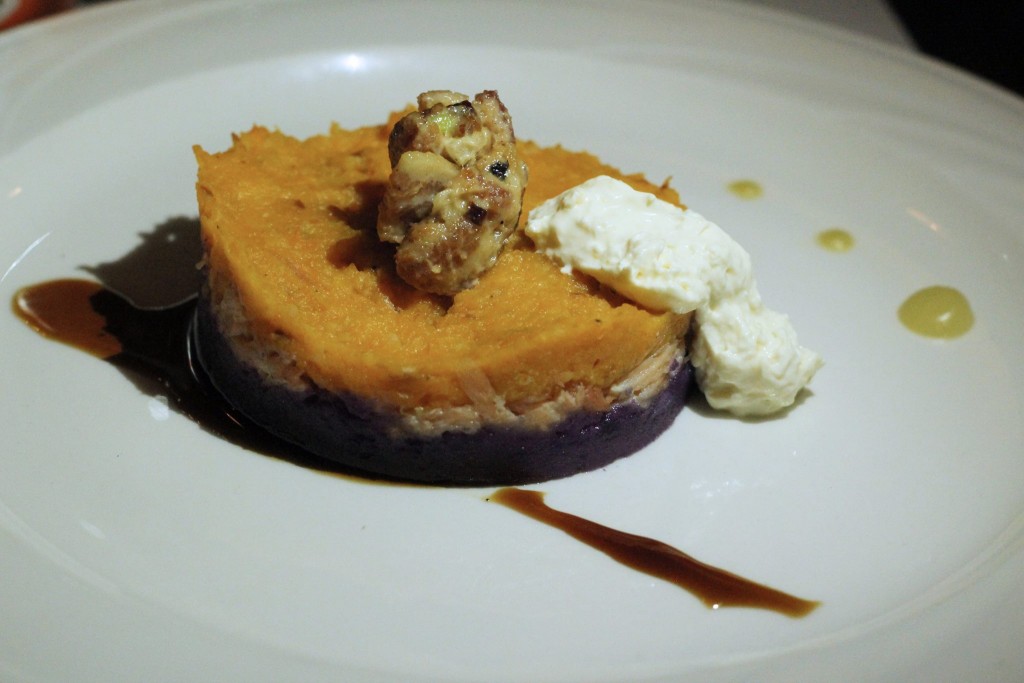 Townie balances the rough and the smooth with an attitude that is never out of place. This beer delivers an amazing, complex hop aroma and flavor with a smooth malt backbone that will leave you wanting more. With the dish, this beer's hops shined through and provided a subtle yet delicious pairing.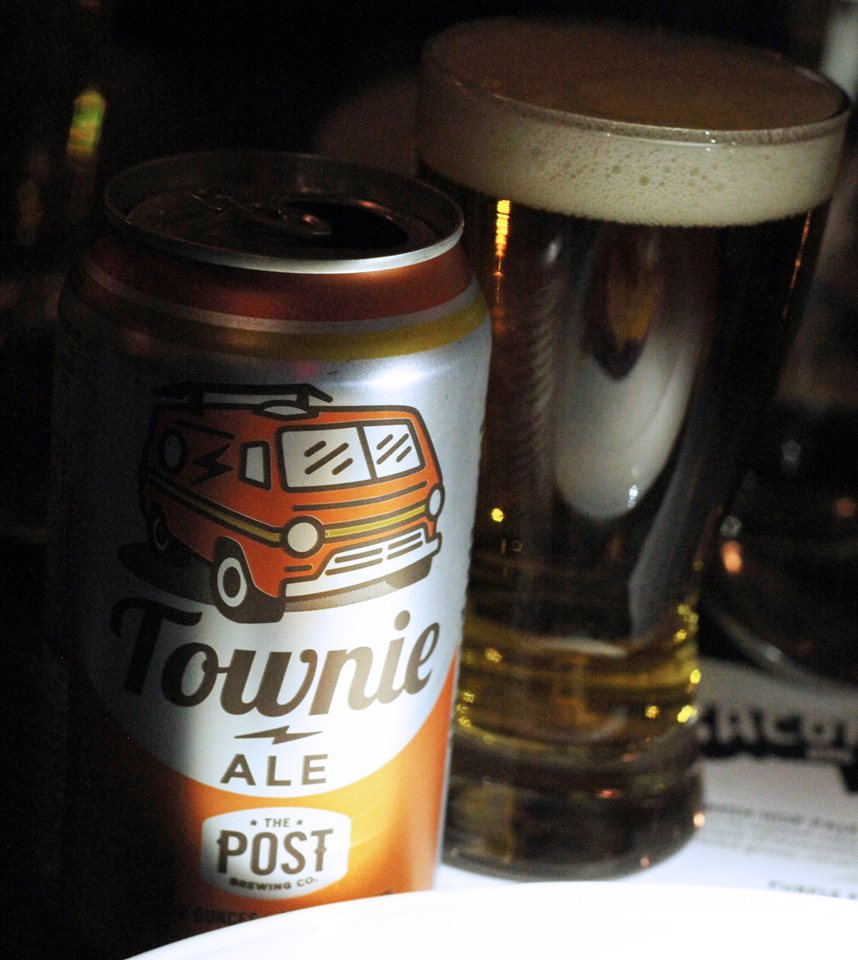 Course 2
"Ham salad 'sandwich' with cured pork belly, pumpernickel croutons, aioli, dried fruit and arugula." This one was a perplexing, deconstructed sandwich. The only salad was micro arugula or was it micro-cilantro. I don't remember. The garlic in the aioli played well with the crouton and the pork belly was all… GET THE FUCK OUT OF HERE SALAD'Y THINGS! Oh, it was delicious, delicious pork belly.
Jean-Claude Van Blond is inspired by the action hero in all of us. It features a Belgian yeast strain and is built on a lighter malt profile with just a touch of oats for a silky body and some additional depth. This brew cut through all of that fat so well and the clove/banana undertones were heightened with each bite of the dried fruit floating in the garlic aioli.
Course 3
Crispy Razor Clam "Chowder" with Semolina crusted razor clams, braised Tender Belly bacon, poached potatoes, celery, clam + bacon broth.
"CHOW-DA!!!" chanted the nearby table as Second Home discussed their dish. This was a favorite among many of the patrons. The poached baby potatoes held up the fried clams while the broth was rich and savory below. This was one of the portions I just wanted to keep eating. Creamy, chowder forward-BACON BROTH. Need I say more.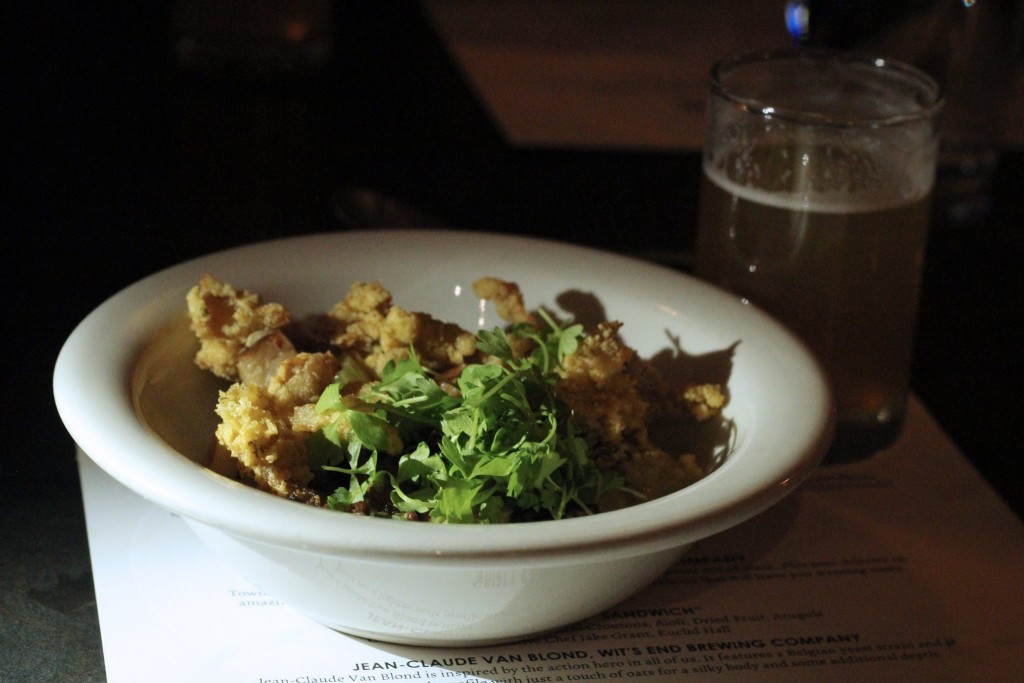 A Brett Saison incorporating fresh herbs, including white sage and lemongrass, as well as other rotating herbs foraged from the Rocky Mountains. Super bright, super tart. Crooked Stave should roll out some cans of this . . . just sayin' . . .  My second favorite saison behind Ratio Beerworks' Dear You.
Course 4
The Lobby – Sous Chefs Lance Esparza her
Beer Belly with hop cured confit pork belly over mashed potatoes and beer sautéed kale topped with brussel sprout leaves and liquid gold. Fuck off. This was so good. That Liquid Gold hot sauce with a apple cider base brings the heat and some acidity while the breaded pork belly nestled into the pillowy mashed potatoes. This item will be on their upcoming fall/winter menu. Don't think I won't be heading back for more of this soon.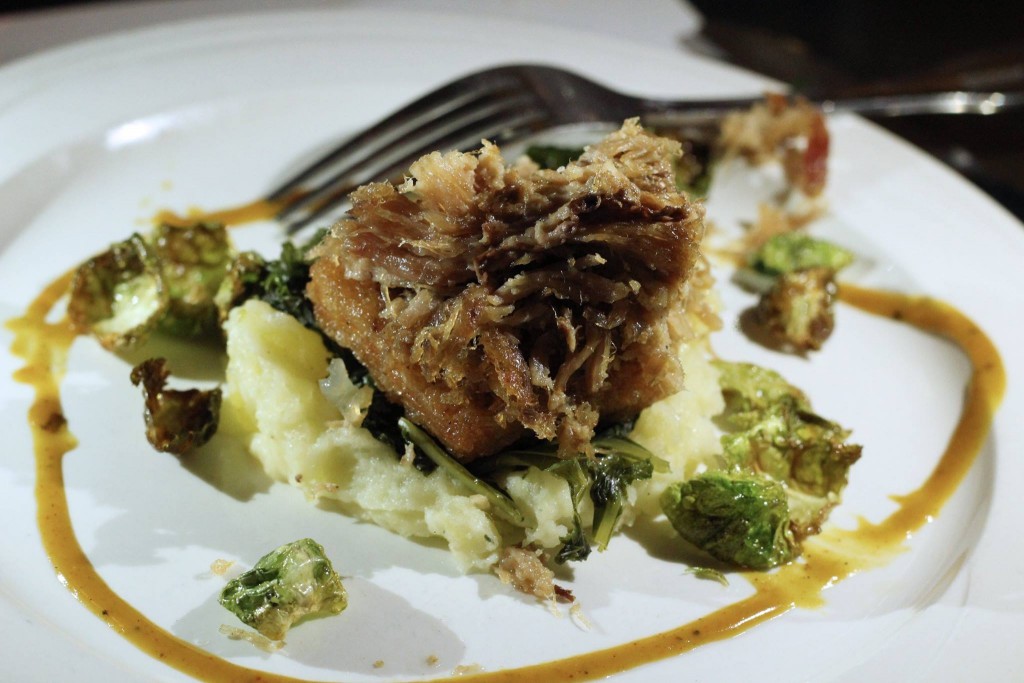 Big malt character, balanced American hop profile, combo of dark fruit and subtle spice in the nose. Sweet when paired with the Lobby dish, cuts through the pork belly and dances with the Liquid Gold hot sauce and it's apple cider make up. We saved some of this for the dessert portion of the meal and with the sweet dish, the hops fly to the forefront and you really get that big, burly American Barleywine profile on the finish.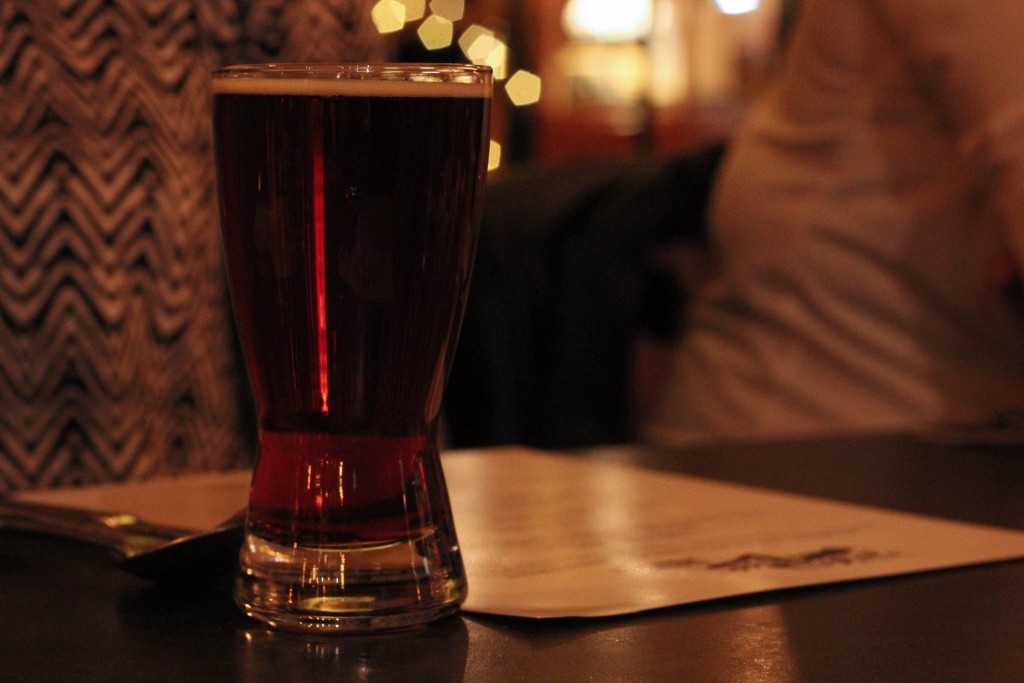 Course 5
MAX's Wine Dive  – Executive Chef Kevin Savoy and Sous Chef Mike Jacoby
Vanilla porter pound cake with peanut butter and banana gelato with candied bacon. My favorite bite. Once that ice cream melted into the cake, it was game over. I also ate the bacon with my bare paws because, well, that is the way bacon should be eaten when in this form. So good.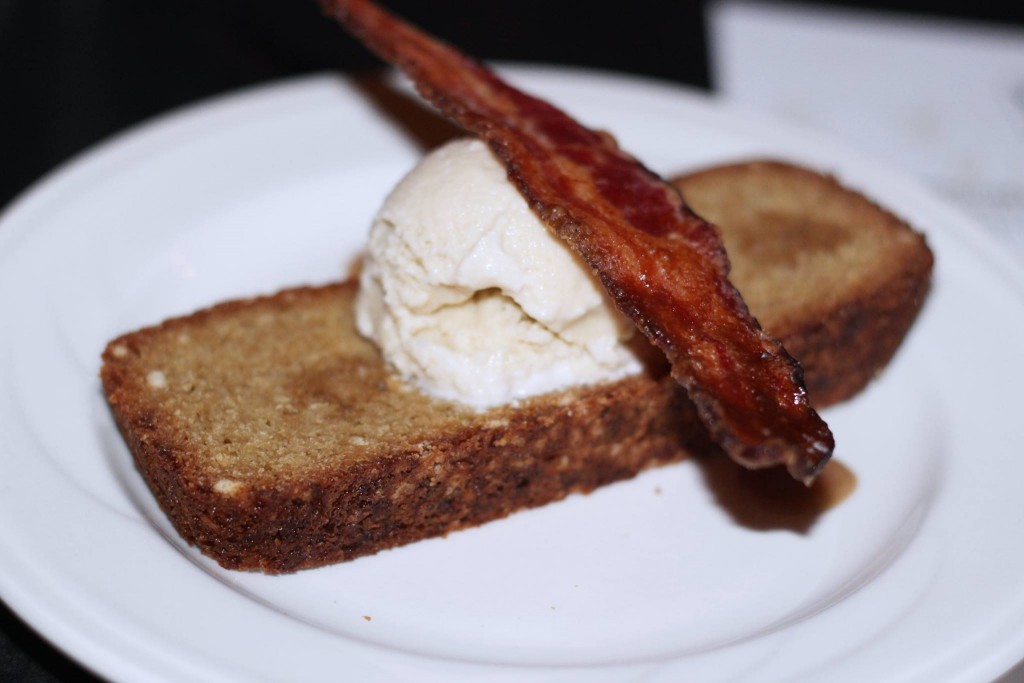 Oatmeal porter with huge mouthfeel, yet incredibly drinkable. Rich flavor notes of chocolate covered cherries, with light sweetness.
This paired so well with Max's dish that it was without a doubt the best pairing of the evening. Plus it has the best name. Also, Jesse and Jon (and Chris – where were you Chris?) are the coolest mofo's. So, good on you fellas for this delicious brew and congrats on your award for best beer on Sunday at the festival too.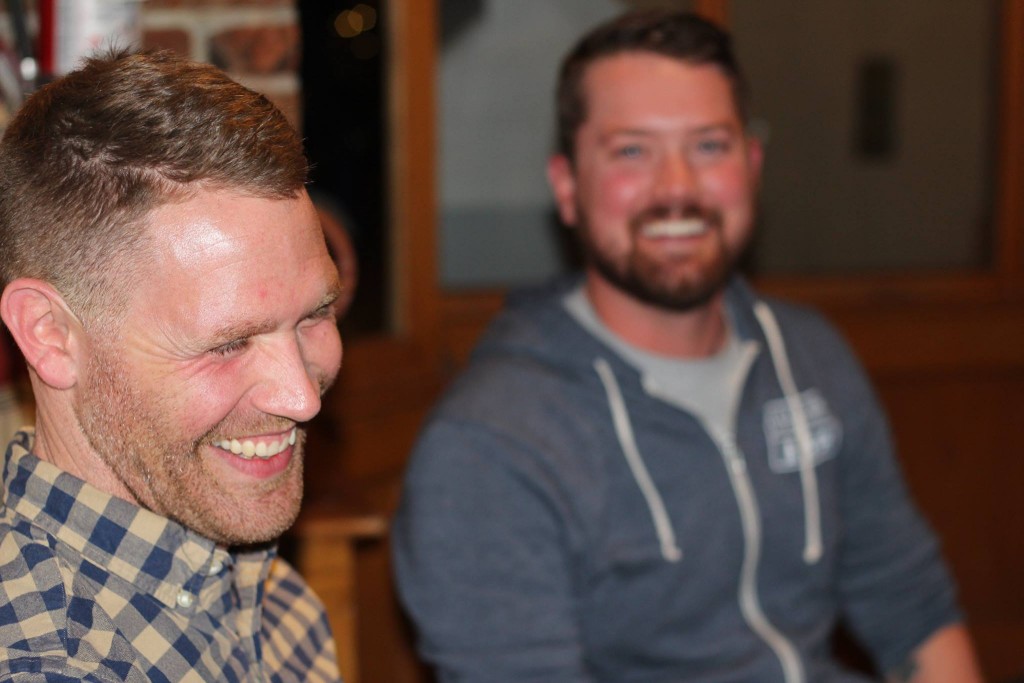 Shout out to Imbibe and the Lobby for hosting and all of the brewers and chefs that came out with their wares. We loved every bite.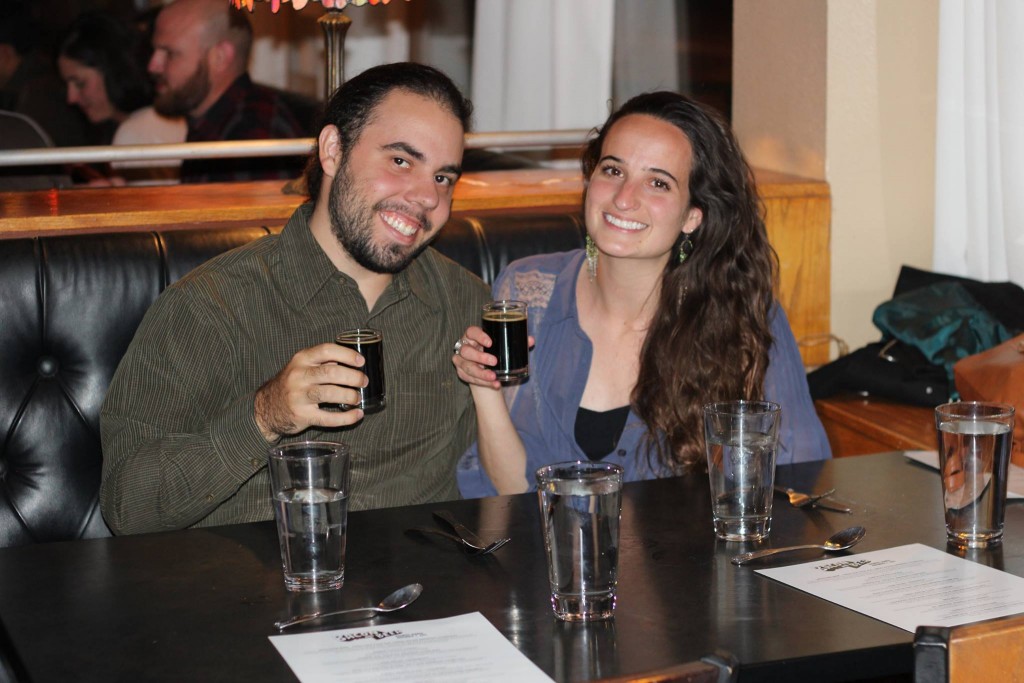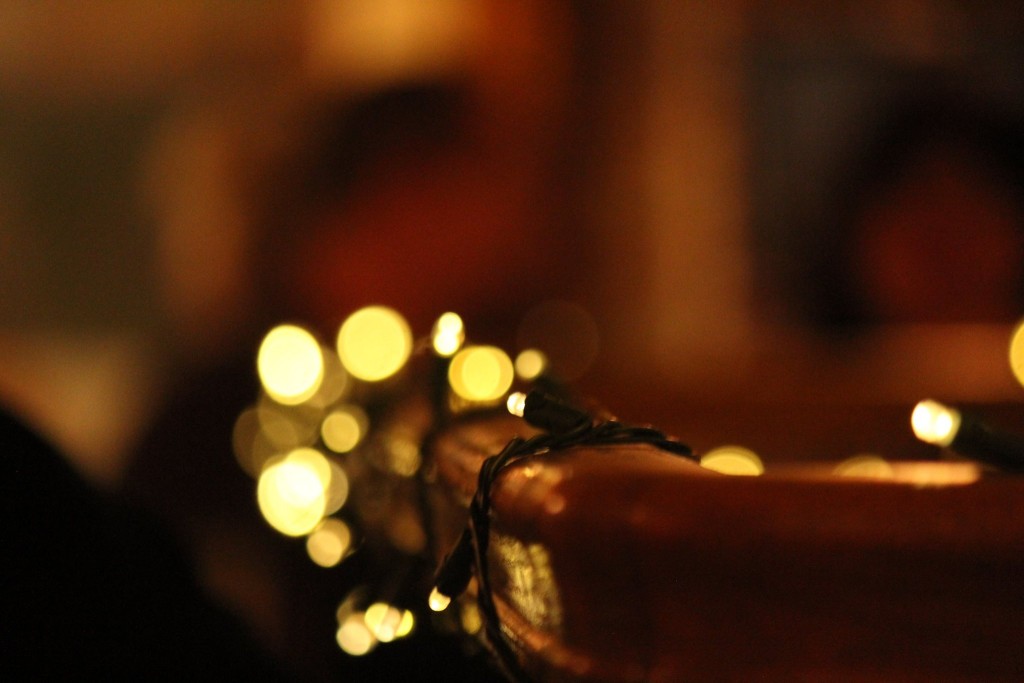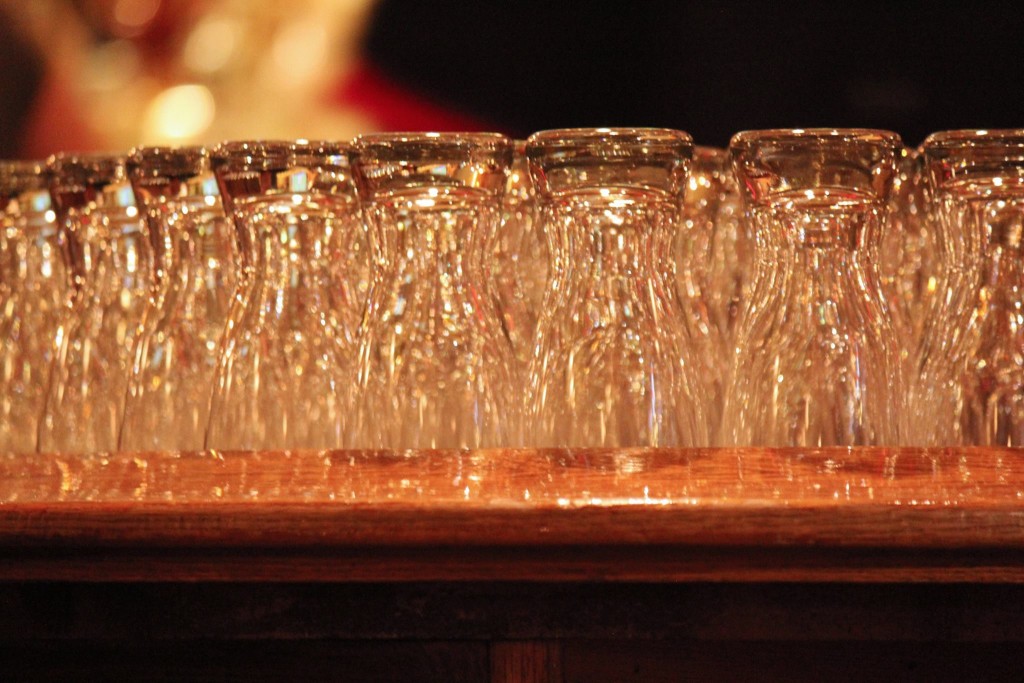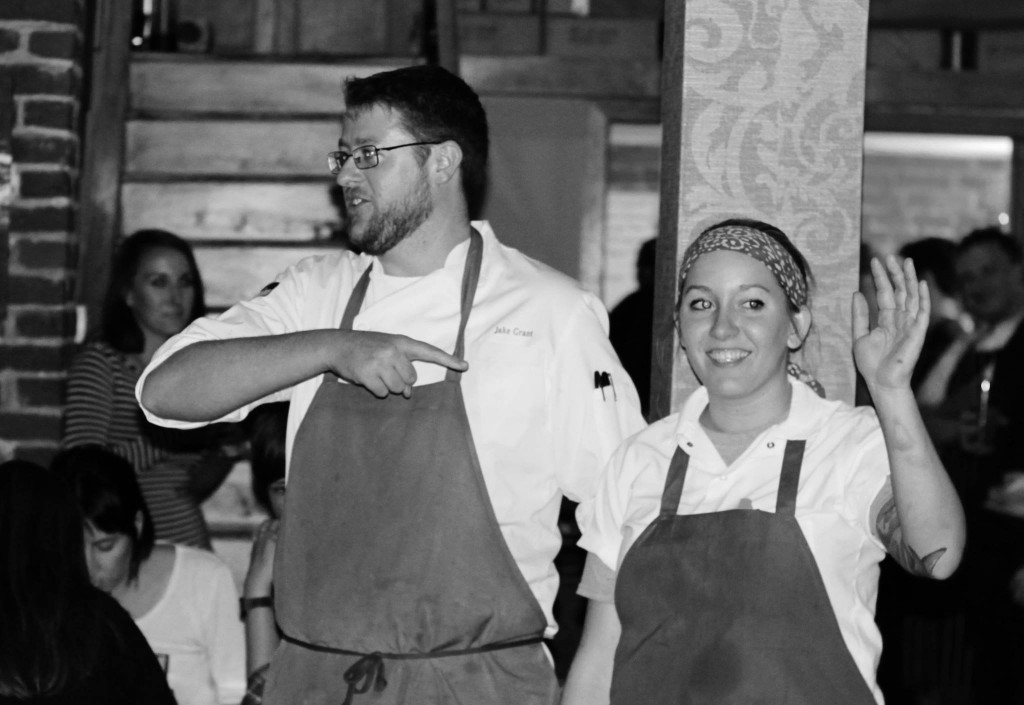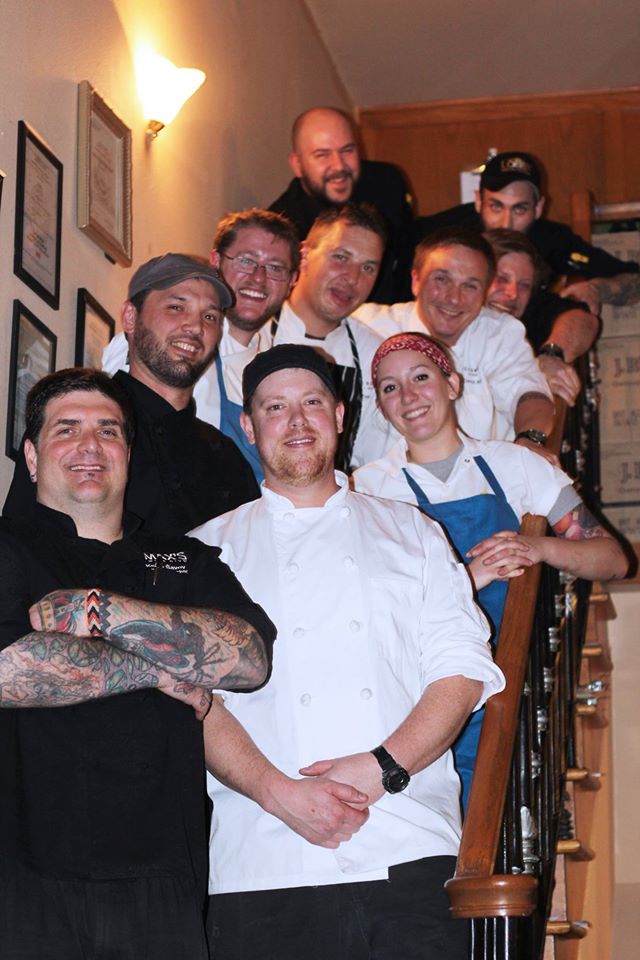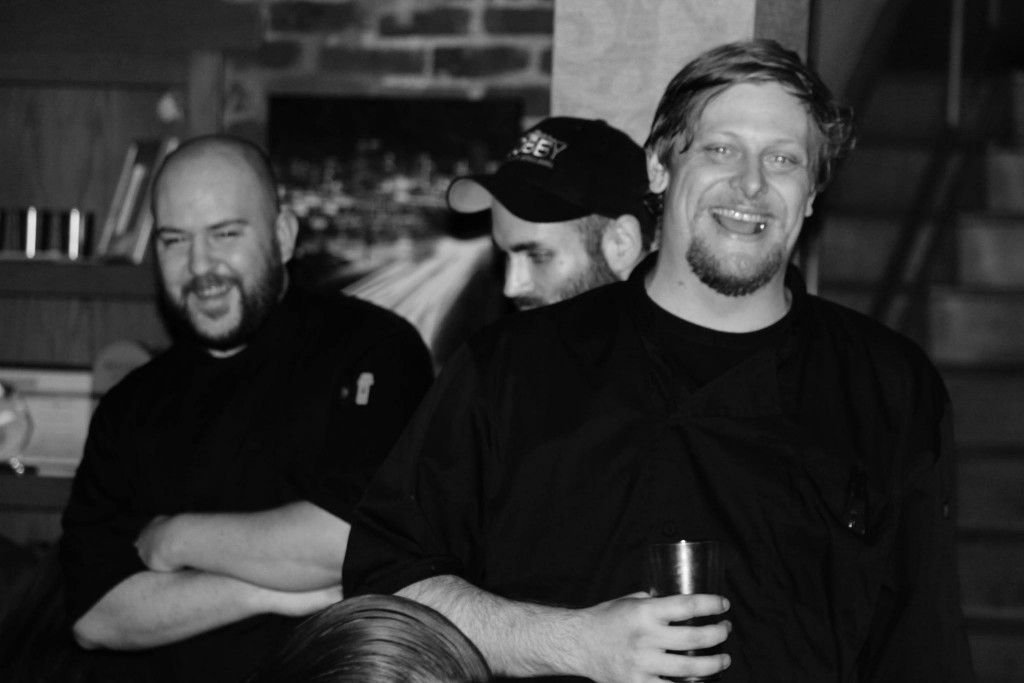 ---