No Comments
Ultimate 6er | 6 Beers Your Bartenders Are Currently Drinking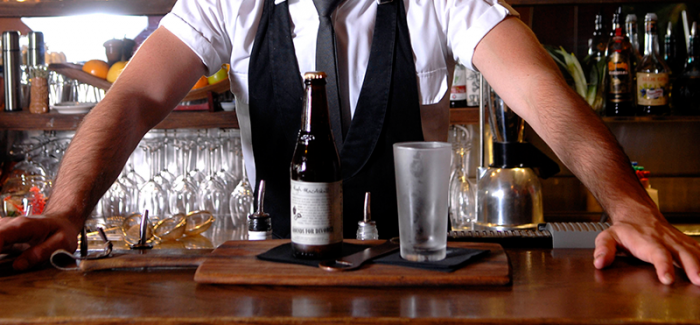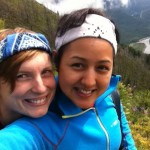 We don't always solicit advice from complete strangers, but when we do, it's usually going to be about which beer to choose. A trustworthy-sounding recommendation from someone behind a counter is golden, especially when Kelissa is giving me the "choose now" eyes as a list of 50 beers stares me down. Of course, not all recommendations are good recommendations. Sometimes I find myself taking the bartender or store clerk's word as if each one of them had sat down and conducted a scrupulous tasting of their entire stock, sipping carefully, wearing a little beer-tasting monocle, to be ready at a moment's notice with a mind-blowing suggestion for me. But many a time, a beer recommendation can totally backfire, maybe coming down to differing tastes or simply a lack thereof.
We've been out on the town taking recommendations left and right now that fall beer season is here! Today we bring you six beers (rightfully) advocated by the beer pros of Denver who are making sure glasses are full and refrigerators are stocked in this beer-loving city.
Prairie – Birra
Farmhouse Ale, 4.5% ABV, 18 IBUs
Birra boasts a huge head that lingers for quite some time when poured into a tulip glass. But once you finally get down to the goodness, the aroma comes at you, spicy and herbal. The taste is peppery, but draws back immediately, leading into a sessionable, friendly golden-tart maltiness that settles nicely over the tongue.
New Belgium – Le Terroir
Dry Hopped Sour Ale, 7.5% ABV
Le Terroir is a member of the New Belgium "Lips of Faith" family of beers. This is one of the best beers we've had in a while hands down – it's so clean, balancing near-perfect ratios of tartness, earthiness, fruitiness, and subtle hoppy tones. Extremely drinkable for a sour but in a great way. The eight day dry-hopping of Amarillo and Cascade provides a unique hop addition for a sour beer and ensures this is a beer better enjoyed near its bottling date.

Off Color Brewing – Apex Predator
Farmhouse Ale, 6.5% ABV, 25 IBUs
Oh, the Apex Predator is damn delicious. It's complex, mildly sweet, fruity, and it packs a near-perfect funky-farmhouse flavor punch, desperately reminiscent of the summertime with hints of earthy fall future. The honey malts transition to dry almost tart apricot ester notes that are spectacular. Off Color uses a technique called "free-rise fermentation" in this beer; the yeast is pitched into chilled wort, and the temperature control is then turned off, allowing the fermentation to slowly warm to room temperature. The beer thus ferments at a wide range of temperatures providing a powerhouse of unique ester flavors.
Anderson Valley – The Kimmie, The Yink and The Holy Gose
Gose, 4.2% ABV
We hope this limited release from Anderson Valley is brewed and distributed again. Our bartender recommended this one before realizing he'd run out the night before, a predicament testifying to the warm reception of this particular beer and the resurrected German Gose style in general. The Holy Gose has a light, soft, yet lactic upfront taste, ushering into a balanced, crisp saltwater finish. The dry salty finish keeps the sour from being overpowering and is a perfect introductory sour for those new to the sour movement. This beer is still available in several liquor stores, so definitely pick this one up before it's gone.
Yeastie Boys- Gunnamatta Tea Leaf I.P.A.
I.P.A. 6.5% ABV
This beer is hands down one of the most unique beers we have ever had. This brewery from New Zealand perfectly utilizes the flavorful and unique floral fruity hops of New Zealand. Pacific Jade, Motueka, Pacifica ad Southern Cross hops combine with dry-leafed additions of Earl Grey tea to create a nuanced interplay between the floral and fruity flavors. Tropical fruit, lemon, pine and black pepper combined with bitter subtleness provide the strong backbone for this beer. Had the tea been added to the boil, the the lavender and tea notes would have been overpowering, but instead they hit you after the hoppy flavors, ending your taste with just the right amount of lavender.
Wasatch Brew Pub –  Black O'Lantern
Pumpkin Stout, 6.5% ABV
The Black O'Lantern, despite its name, pours just slightly more reddish amber than some other stouts. The aroma is milk chocolatey, spicy and rich. The flavor is also milder than some stouts; it has a roasted pumpkin smell but less roasted taste then many stouts with more accentuation of the chocolate. The pumpkin flavor creeps out of the darkness at the very end, subtly blended with nutmeg and other spice flavors. We detected cinnamon aromas as the beer warmed. This is one of our favorite fall beers thus far. The dark malts keeps the beer from falling into the problems some fall beers face by being far too sweet and spicy.