One Comment
Negra Modelo | La Crema de la Cerveza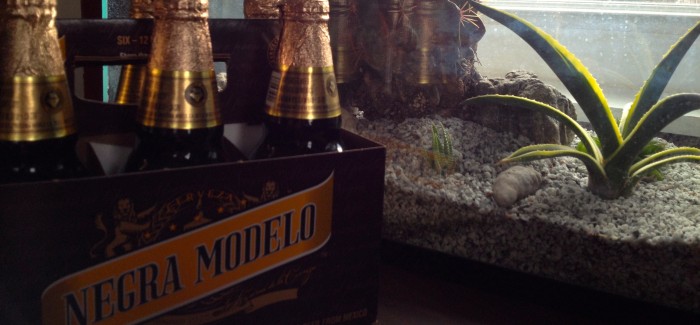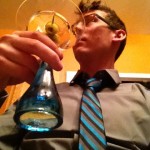 Tis the season to drink my favorite beer from Mexico, Negra Modelo. I know there aren't many write ups on here featuring Mexican brews, so I'm happy to add this to the collection.
First let's start with the bottles. It's like unwrapping a Christmas present wrapped in gold. The gold foil wrappers glisten in the hot sun as they are slowly peeled away, unlocking the door to a delicious treat. As a traditional Cinco de Mayo beer of mine, it has never let me down. Negra Modelo has a full flavor malty body, with perfect carbonation and an added lime turns this great beer into a really great beer! The lime, malt, bold flavors, all work together in creating the perfect beer to watch the sun go down over a warm beach. However, I was not a on beach, but a porch, and it was cloudy, and a little chilly, but still, all those thoughts were swimming through my mind.
Now, about Cinco de Mayo. The one day where Americans take a special trip to their favorite authentic Mexican restaurant, drink Mexican beer, and maybe even throw on a sombrero. Of course, shots of tequila will be thrown in the mix and a ton of nachos. But what is this holiday really about? That's right, we're going back to History class. In brief, Cinco de Mayo honors the Mexican army's victory over France in 1862 at the Battle of Puebla during the Franco-Mexican War. It celebrates the freedom and democracy that was fought for during the beginning of the American Civil War. The US also recognizes it as a celebration of Mexican heritage and pride. For the full history, here's a link to the History channel's website so you can read all about it:  http://www.history.com/topics/holidays/cinco-de-mayo 
Now that we all know a little more, back to delicious beer that brings people together. Whenever people dine at authentic Mexican restaurants they sometimes find it challenging to pick out the beer they want. Of course Corona, Dos Equis, and Pacifico are good choices, but then sometimes you want to go aginst the stream and try something new. That is how I found Negra Modelo. I had it on draft for the first time a few years ago and got immediate respect from some of the older gents I was with. The respect and the great taste of the beer had me hooked. So if your find yourself looking for something new, try the Negra Modelo. This cerveza has an ABV of 5.3% and is brewed by Grupo Modelo S.A. de C.V. Quite easy to find and is know as "La Crema de la Cerveza" or "Cream of the Beer". With a title like that you can't go wrong. 
Before I wrap this article up, I can't seem to shake the scene from the movie This is The End from my head. So the movie references Cinco de Mayo as Sinkhole de Mayo because a lot of sink holes happen in South America during May.

While conducting this research, I also discovered that there was an actual sinkhole in Daisetta, Texas where the sinkhole was so big it was nicknames "Sinkhole de Mayo" by the local residents. Anyways, happy Cinco de Mayo everyone! Go grab a cerveza and enjoy the week!