No Comments
Shock Top Brewing Co | Honey Bourbon Cask Wheat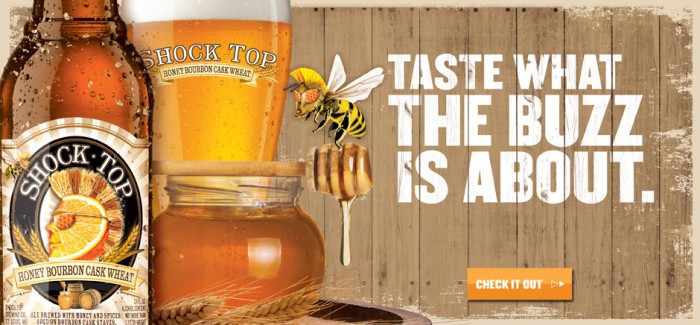 Shock Top Brewing Co. St. Louis, MO  | Honey Bourbon Cask Wheat
ABV: 5.5 %
It was Friday night in Columbus, Ga. and my boyfriend and I decided to make the most of our weekend and take a trip out on the town.
Heading out for a night of stories to be made often starts with a desire to have something in our stomachs before filling up on alcohol. We  chose Momma Goldberg's Deli on Broadway in what is known as uptown Columbus, Ga.
My discovery at this sandwich shop wasn't the food, though. No, my discovery was of a new brew which, with one sip, sent my tastebuds back to the breakfast table on weekday mornings before school in my childhood days. I've had beer smells (Natural Light and Keystone Light) direct me back to less pleasant memories of my flip flops sticking to the floor of the beer caked basements at a college fraternity houses. This beer, however, left me with a scent I encountered from a cardboard General Mills box.
The thing I like about this sandwich shop is that while they serve one of the most common food items known to man (the sandwich), they also offer an adult-style fridge.  I am rushed to order a drink and tell the cashier I'd like a Shock Top. A safe bet, at best.
The woman behind the counter removes the bottle cap for me and hands me a beer with a beige label reading "Shock Top Honey Bourbon Cask Wheat." I'm skeptical, yet excited. I had had several varieties of Shock Top, such as the Raspberry Wheat, traditional Belgian Wheat and the Honeycrisp Apple Wheat, so in ordering just a 'Shock Top,' I knew I would be pleased with whatever would surface.
When we sit down, I take a sip of my adult beverage. The beer is heavier than my typical Bud Light, yet not overwhelmingly so. I tend to stay away from big barrel-aged beers because they can come off as heavy, resin-y, and sometimes overwhelming. However, this wheat ale brewed with honey, spices and aged on bourbon cask staves, is just light enough to say refreshing, yet complex enough to carry a perfect burst of unique flavor. Most of these listed ingredients did not hit me in the initial taste, but instead it all hit me once that first sip made its way to the back of my throat.
Gulp of beer swallowed, my eyes widened as I searched for words to describe what had just happened to my taste buds. I couldn't find anything better than a predictable "Oh, my God," before I had to take a whiff from the bottle I had just consumed from. They say scent is the strongest sense tied to memory – I learned that ironically enough from an old Axe body spray commercial. Strange enough, the smell of this beer brought about thoughts of my younger days: Frosted Mini-Wheats, Honey Smacks and French Toast Crunch squares were all-of-the sudden dancing on my brain.
"Try this," I demanded of my boyfriend. After taking a quick sip, he offered up the thought of Golden Grahams. I swished the memory around in my mind for a moment, remembering the taste of the ridged honey squares and then agreed completely. The taste of this beer is like a satisfying shredded wheat cereal while the aftertaste is a sweet honey taste like delicious Golden Grahams cereal. Either way, after each sip my mouth was left wanting another bite, er, I mean sip.
My boyfriend and I reminisced for a minute back to our favorite breakfast cereals.  I recalled that Golden Grahams were a real treat because my dad would usually hide the box from us for his own indulgence. Shock Top Honey Bourbon Cask Wheat was my found box of Golden Grahams.
Shock Top Brewing Co. out of St. Louis, MO, has been around just a short eight years, but they offer stiff competition seeing as they collected gold in 2006 and bronze in 2007 in the Belgian Wheat category at the North American Beer Awards, according to their website. Honey Bourbon Cask Wheat is the newest edition to the Shock Top family of their seven flavors of wheat ales. This new edition is a "Belgian-Style unfiltered wheat ale brewed with honey, caramel malt, and aged on bourbon cask staves."
Breakfast at beer time would suddenly become my new favorite, but thinking of my roommates, I decided right then and there that I would be like my dad and treat it as the hidden Golden Grahams. Alright, so maybe my dad was on to something when he kept hiding them after all. Cheers to you and your ingenious cereal selfishness, dad.