No Comments
$250,000 in 3 Days: How Synek is Reinventing the Craft Beer Packaging Industry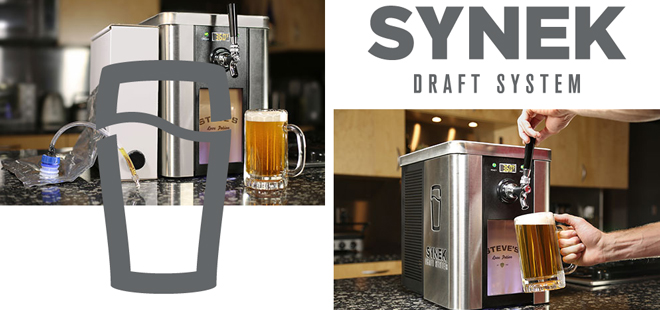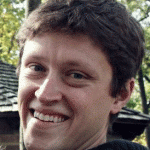 Typically, when I check out a Kickstarter project, I spend some time thinking about whether or not I want to spend the money to get behind it. What level do I want to go in at? Do I think the project will take off? But when I watched the video for Synek's (pronounced like cynic) Kickstarter, I immediately pressed the 'Yes Please' button. And not for my usual T-shirt or widget level participation but for the device itself. The first two and a half minutes got me all excited at the possibilities and the last twenty odd hilarious seconds of grilling and throwing bananas sold me.
Another unique aspect of Synek's Kickstarter (in my experience) was their request for help and ideas on how to spread the word throughout the craft beer community. Which is what triggered the idea behind this article and getting it in front of the PorchDrinking community. So, I spent a half hour interviewing their Director of Customer Engagement – Eric Stoddard. Here's what I found out.
Their founder, Steve Young, was working as a stock analyst and tended to meet with clients in craft brewpubs. These breweries, knowing that Steve and his clients were financially astute, would ask them to take a look at the books. What Steve found, in many cases, was that turning a profit was not a given just because a brewery was popular with enthusiasts and had all the keystones – atmosphere, style, etc. – of a great brewery. Digging deeper, he learned the issue was in distribution.
Of the roughly 3,000 craft breweries in America, 1,500 or so cannot afford to bottle or can their brew for distribution. It's very capital intensive and as a result, they're limited to what gets sold in the taproom or via growlers. And according to Synek, breweries are not fans of the growler process.  Unless a customer knows how to properly handle one, it can be a bad representation of the beer. The quality suffers quickly after it's opened, cleaning one needs to be done a certain way and if the stars don't align, this customer could end up with a "this beer sucks" mentality. Not good.
Steve's elegant solution is "the first flexible packaging for pressurized beverages". You can visit their Kickstarter and website for all the details but the Synek System essentially gives a consumer the ability to drink any draft beer, at any time, from the comfort of their kitchen counter. Just insert your bag of fresh brew into the device and pour away. The common analogy is – like Keurig but for beer. And while the complete system is excellent, the magic comes from the 6 cartridge patents and their ability to contain beverages at 30 PSI.
The original plan called for targeting the home brewer market. But five days into their Kickstarter, the money – though flowing – was clearly not going to be enough to hit their goal of $250,000 in 30 days. So, they deleted several pages of said plan and decided on opening up the project to the entire craft beer loving universe. This resulted in shovelfuls of dough coming in to the tune of this $250K goal in just 3 days. Talk about seizing an opportunity.  As of this writing, they've crowdfunded $512,000 in 19 days. WOW.
Skipping an entire phase of their plan, while extremely successful, resulted in some serious scrambling behind the scenes. Now, instead of the planned 9 months to contact breweries, bring them on board and figure out logistics – it had to be done RIGHT NOW. As the craft beer community got wind of this system, the common refrain became "This is rad but will my local brewery fill these bags?" The crew at Synek blew up their phone bill with 24/7 calls to make sure the answer was "Yes", which in almost all cases it was.
When I asked Eric what his favorite aspect of this start-up has been so far, he said the grassroots movement that resulted from the scramble to pull everything together tops his list. While Synek did their part to secure verbal commitments from breweries, they also asked their supporters to get involved with pre-written tweets, a simple flyer explaining the project and other super easy ways for everyone to help out. And help out they did. One guy from Ohio sent an Excel spreadsheet, unsolicited, to Synek with 40 breweries listed and the notes from his phone conversation with each one about getting them on board.
Now that they're funded and pushing through the stretch goals, what's next? They have big plans for future phases, here are a handful that Eric shared:
Bags and systems for sale in tap rooms and traditional retail locations
Built in social media sharing and internet features
Beer shelf life comparable to bottling once the filling process becomes mainstream
But my favorite would have to be their ultimate vision of becoming "the Netflix of beer" – go online, choose ANY craft beer and have it delivered to your door. This gets around the distribution problem faced by the smaller breweries and sounds cooler than "the Keurig of beer".
Of course, no PorchDrinking article would be complete without asking "It's your birthday, what beer do you want?" For Eric, as a Cleveland native, his go-to-store-bought-brew is a Great Lakes Eliot Ness Amber Lager though given his druthers, he'd hit up the taproom to see what experimental concoction is available.
So, do yourself a favor and check out Synek's Kickstarter here, the campaign ends on July 24th. And DEFINITELY watch the video, if only for the banana grilling.
Follow Niel on Twitter @WaveTrainLLC
---