One Comment
Cooking with Beer | Grilled French Toast with Rumble Syrup
You'll never eat regular French toast again. Really, I'm not kidding, you won't. Also, you most definitely will not go back to that plain, boring pancake syrup found hidden in the aisles of Safeway. Just. Say. No.
With this recipe, I shall convert you to a lover of the oaked goodness that is Rumble syrup. In case you need a little extra convincing, I'm throwing it on top of grilled French toast… that is first cooked in bacon fat. Yeah, you read that right – French toast, cooked in bacon fat, then grilled and finally topped with a glorious syrup made from a fantastic oak aged IPA. Let's get ready to Rumble!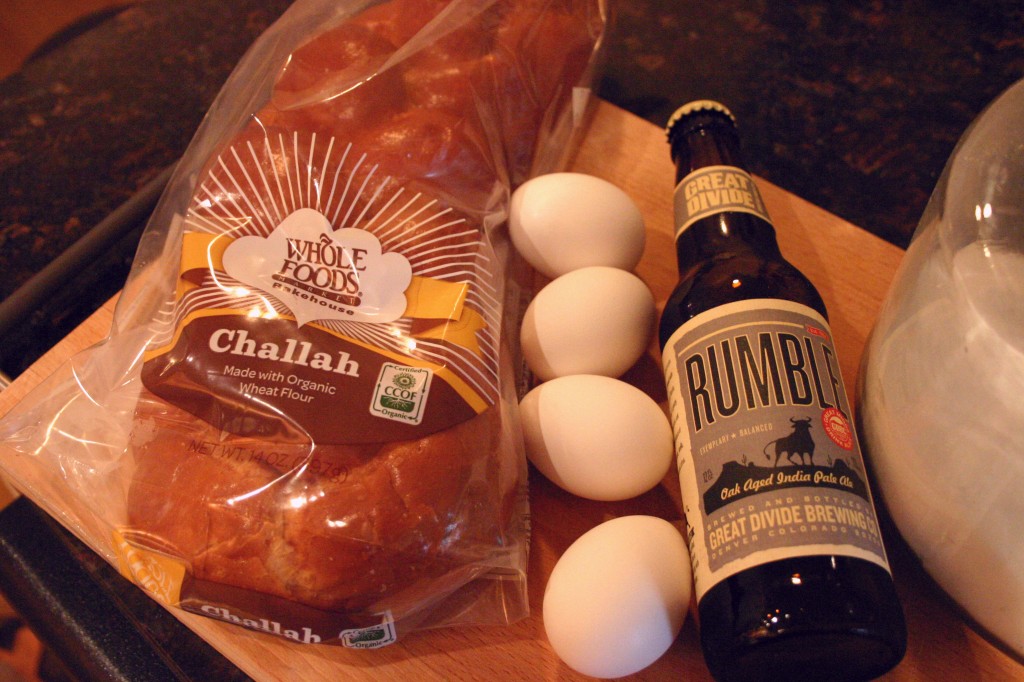 Ingredients
Grilled French Toast
1 loaf of challah bread
½ pound of thick cut bacon
8 eggs
Cinnamon
Nutmeg
Rumble Syrup
1 bottle of Rumble by Great Divide Brewing Company
2 tbsp corn starch
1 cup white sugar
1 cup brown sugar
Optional
Mascarpone for topping
Directions
In a large pan, start by cooking the bacon (I like to do mine on medium heat so it gets a even fry). I fit as much as I could in the pan (around ¼ lb) and it created enough fat for about ½ the loaf of challah to be cooked with.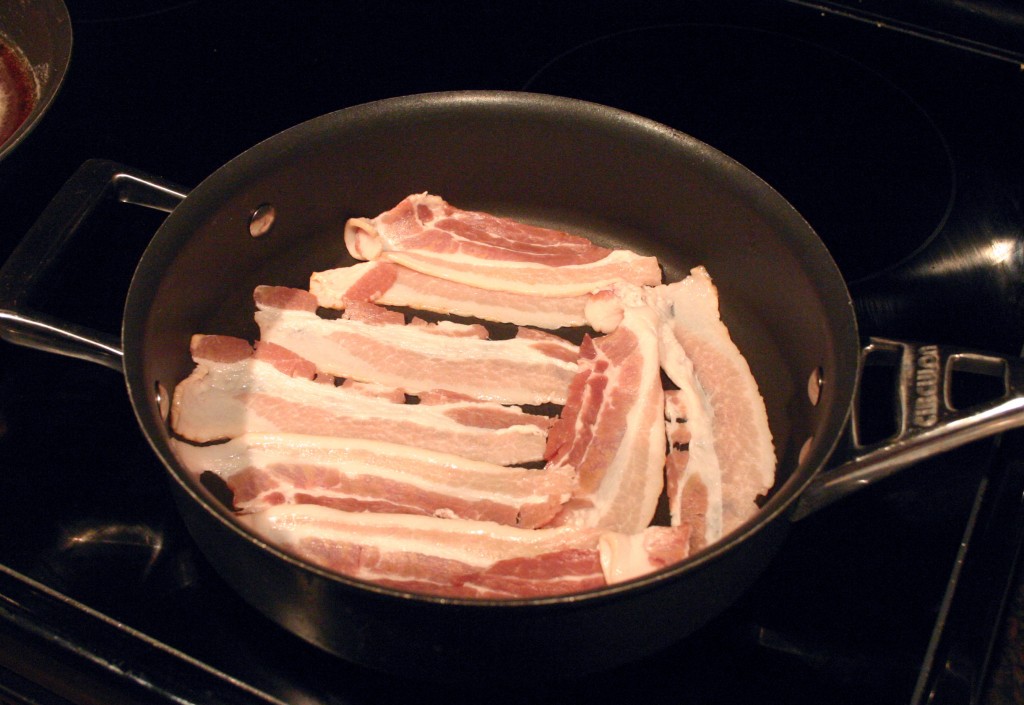 While the bacon is simmering, pour all the syrup ingredients into a pot and crank up the heat to med-high.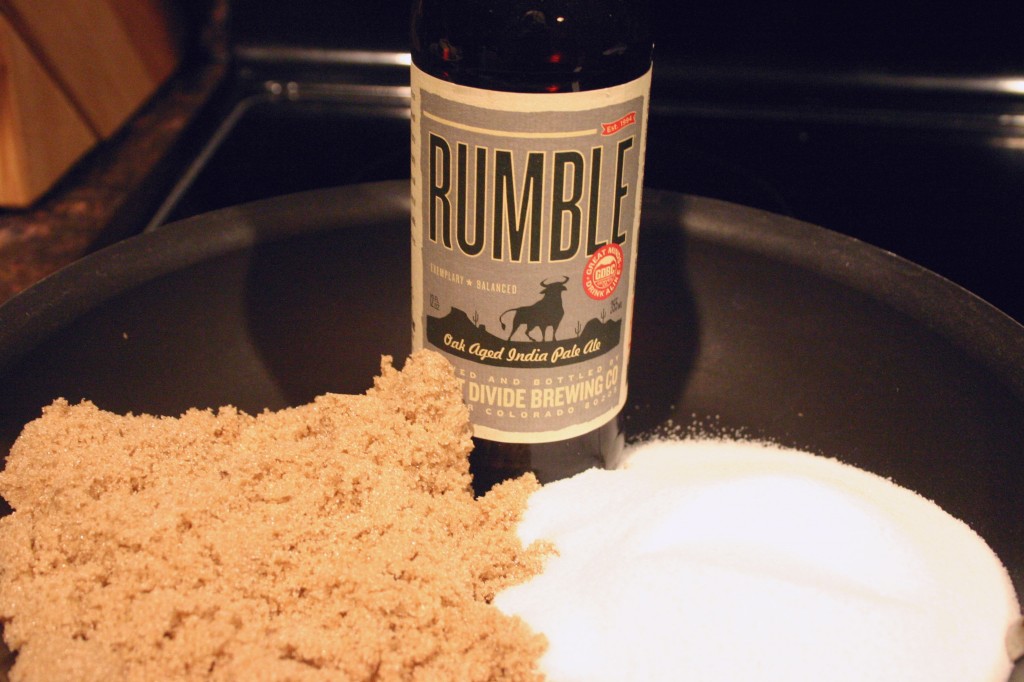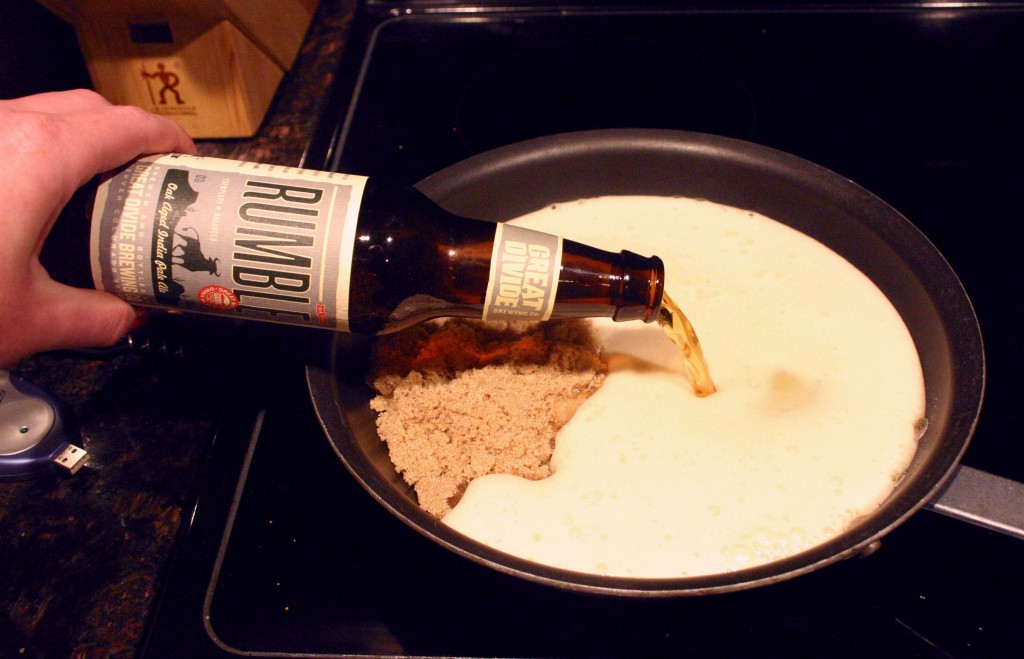 You'll want to bring the syrup to a boil and then let it cook for a minute or two while stirring constantly to avoid any burning. In my pictures, you can see that I used a pan. This was not such a great idea – as soon as it started to boil, a mountain of foam almost spilled everywhere on my stove. Luckily, I was keeping a close watch. So, don't be dumb like me, use a pot. Once the sugar has dissolved, remove the pot from the heat and let the Rumble syrup cool down.
Slice the challah into 1 inch thick slices.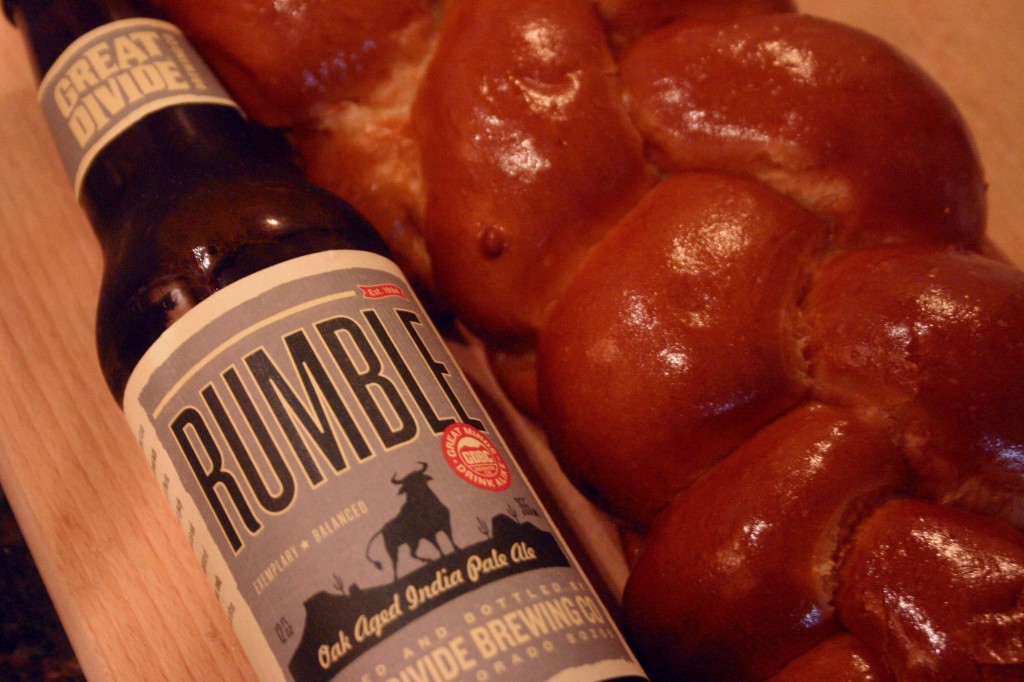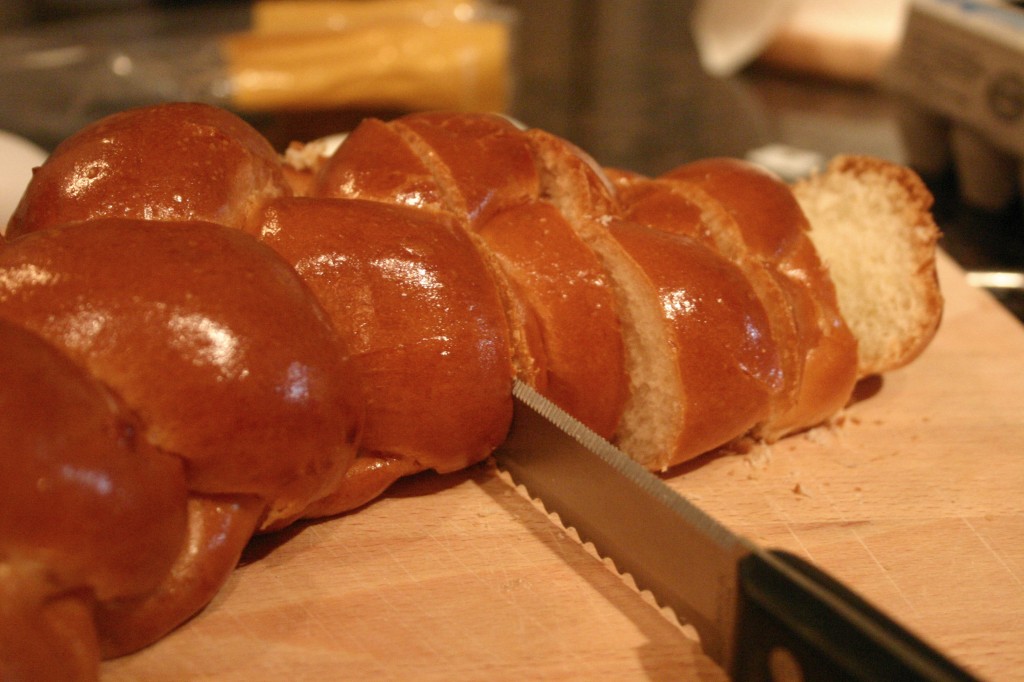 Whisk the eggs with a few shakes of cinnamon and nutmeg (more cinnamon than nutmeg).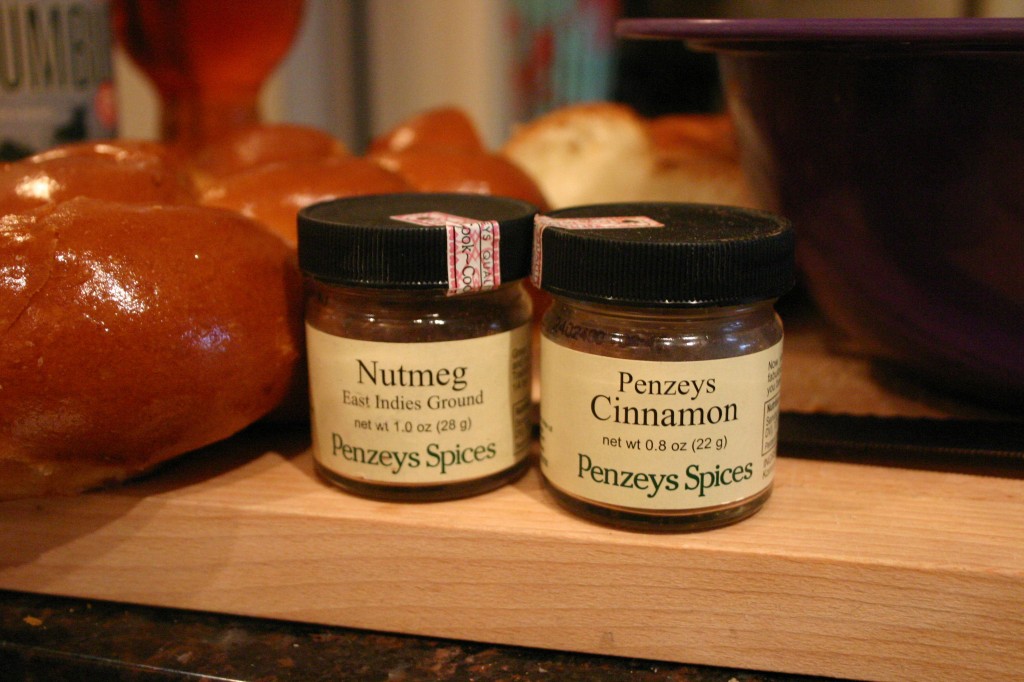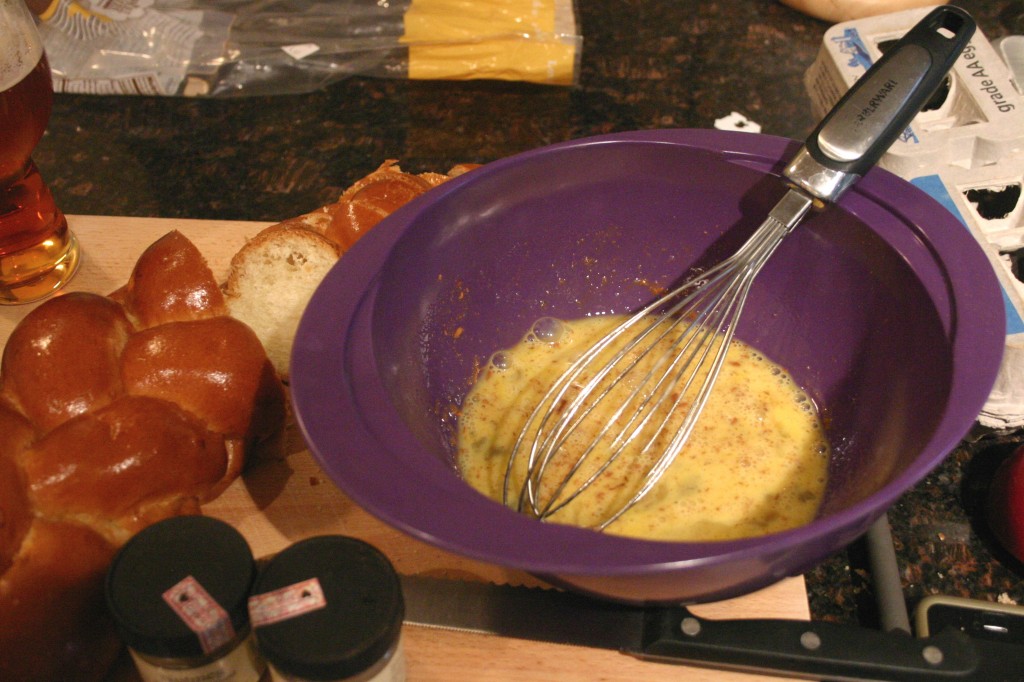 Next, dunk the challah slices into the egg mix for about 15-30 seconds on each side.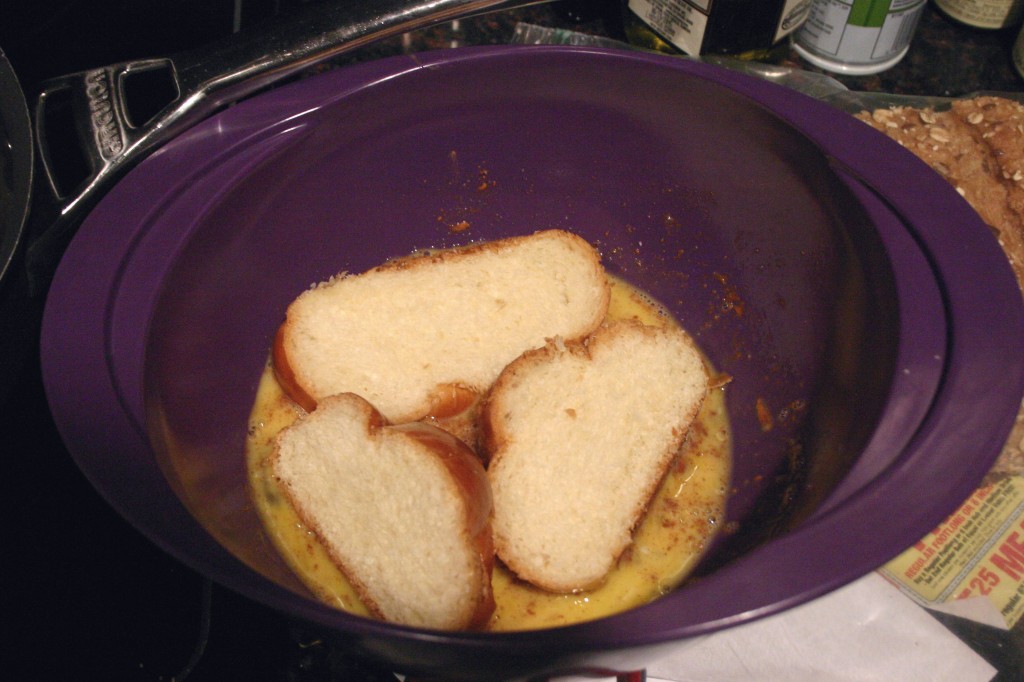 Around this time, your bacon should be done. Remove the bacon and pop in the egg-dunked-challah, letting it cook on each side only lightly browning (remember it still needs to go on the grill!)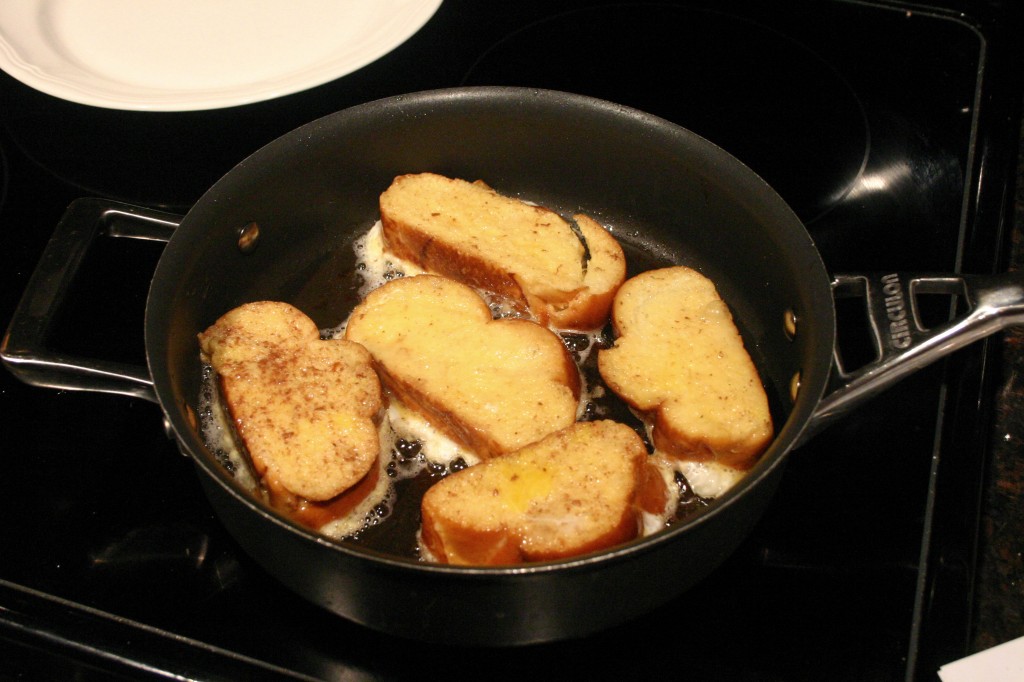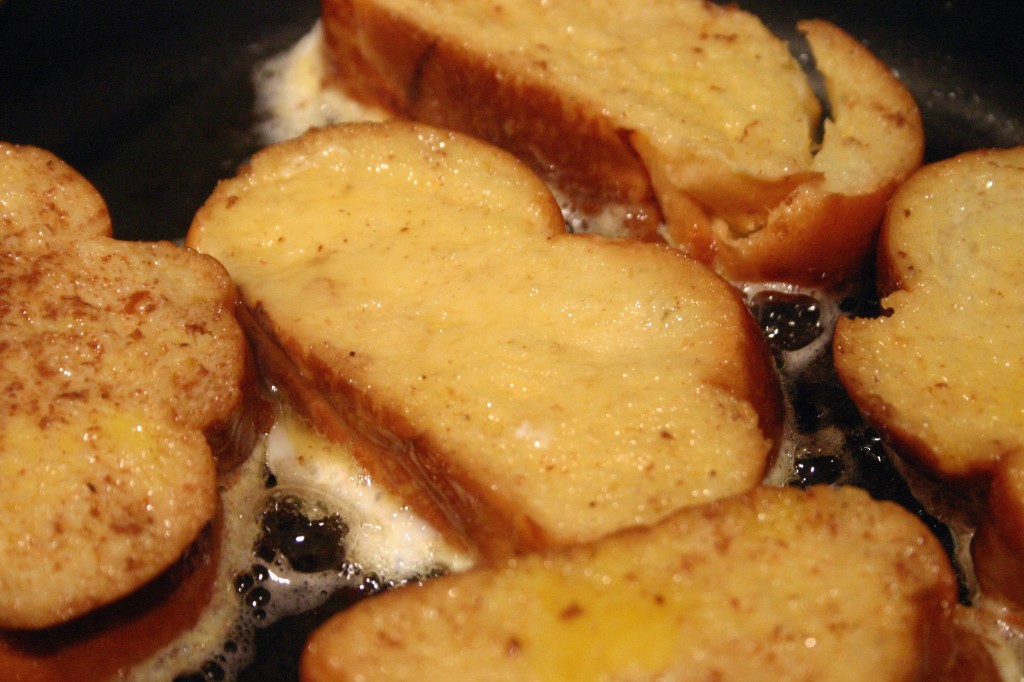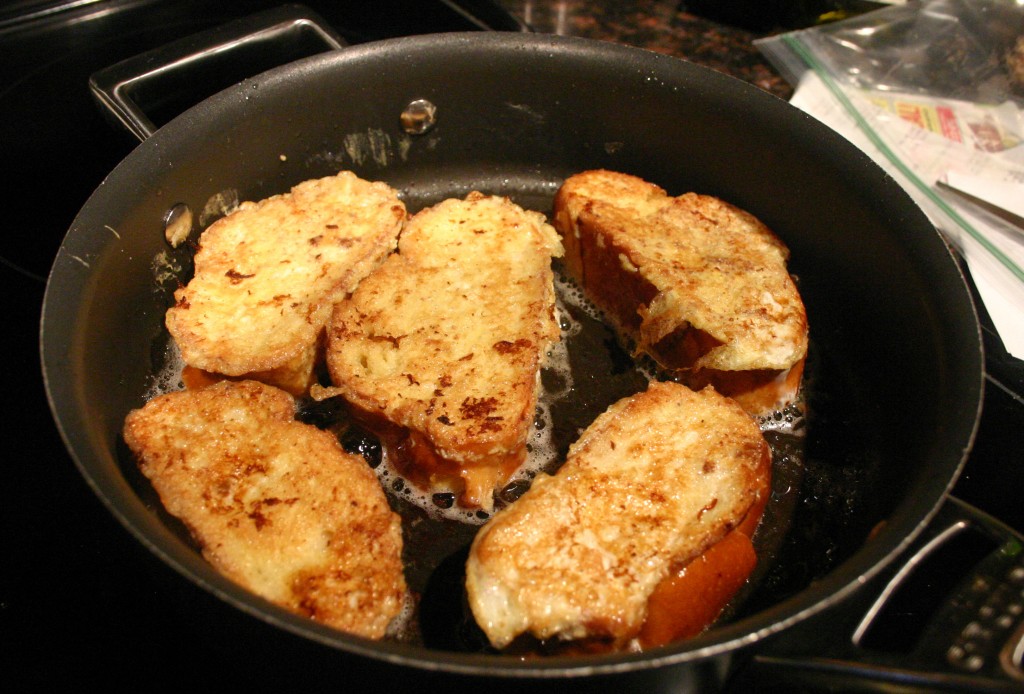 Once all your slices of bread look nice and pretty, resist your urge to chow down and instead, take them down to the grill (along with a glass of Rumble – treat yo self!)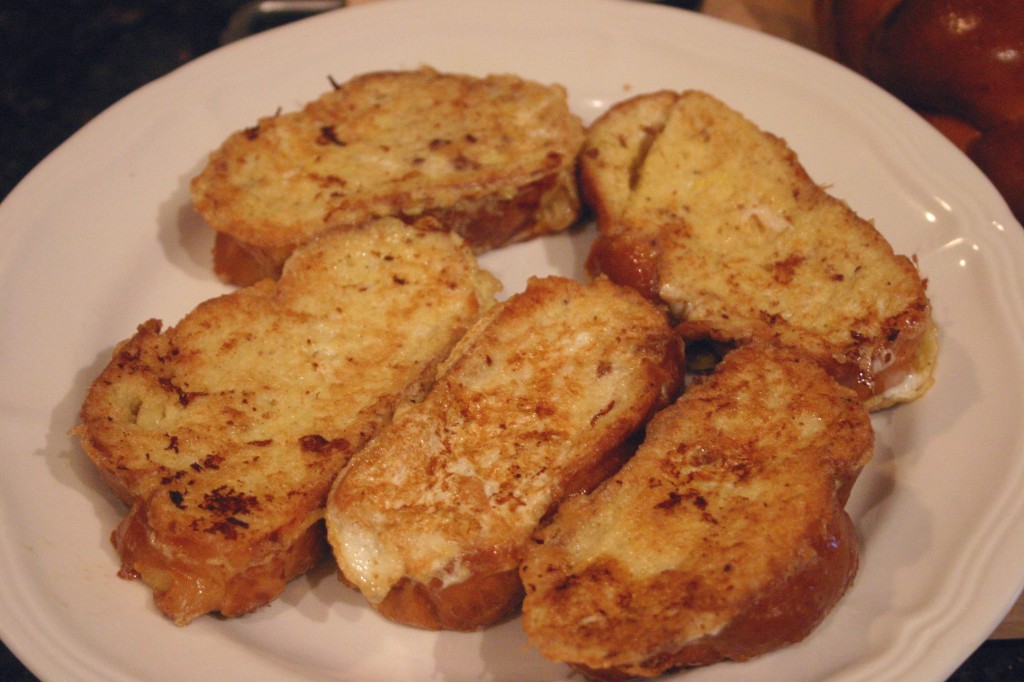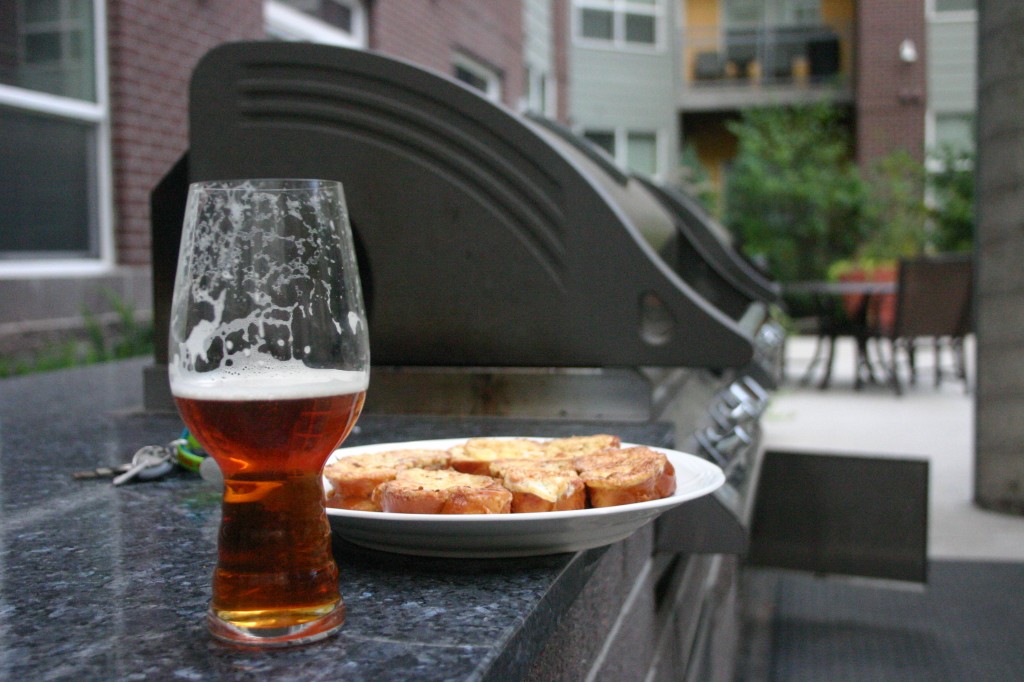 Heat it to 450 °F and then sear the pieces of French toast for about a minute and a half on each side so they get those really nice looking grill marks and the delicious smokiness from the fire.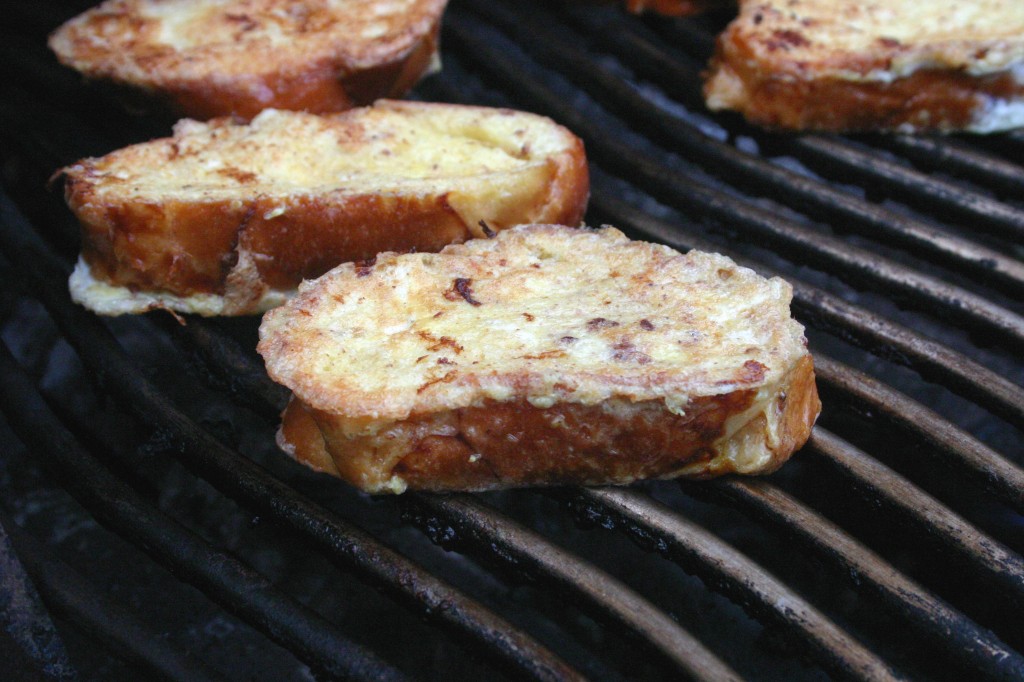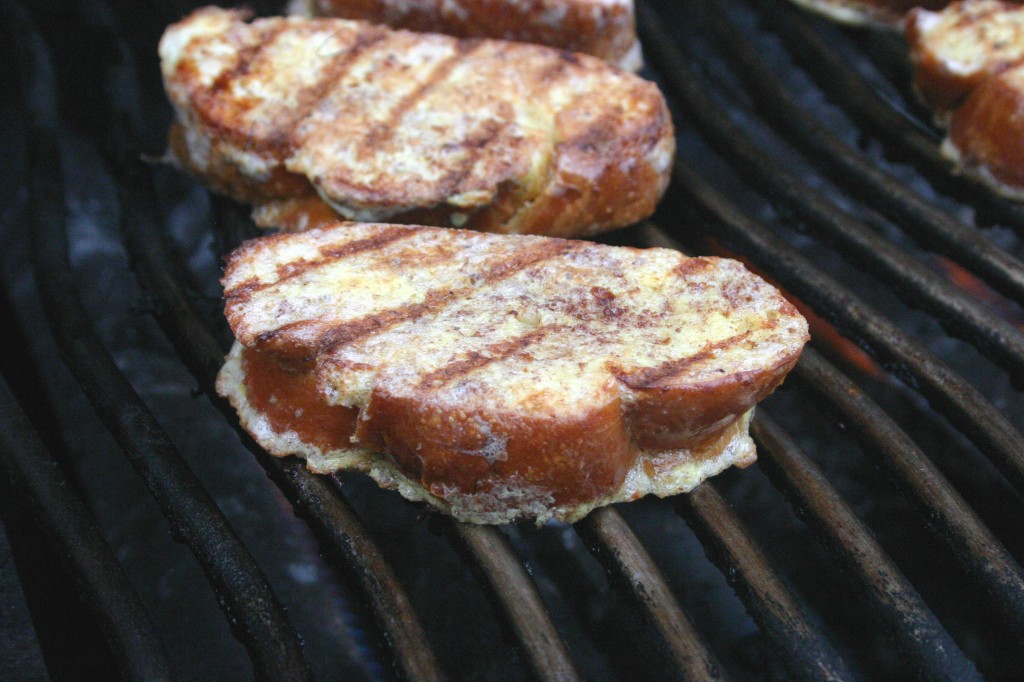 Side note: this is an awesome dish for a brunch party because you can prepare the French toast ahead of time on your stove. When all other food is just about ready/guests arrive, you can grill the toast really quick to heat it back up. You're totally going to throw a brunch party now, aren't you?
When all the parts of the dish are complete, it's time to serve. I decided to top my grilled French toast with a bit of mascarpone cheese and a hefty helping of Rumble syrup. When I took the first bite, I just about died. The sweet, oaky syrup combined with the charred flavor from the grill was just too good to be true. I decided it was reasonable to take 50 more bites and then lay around in a food coma for a few hours. I hope you have a similar reaction. Cheers!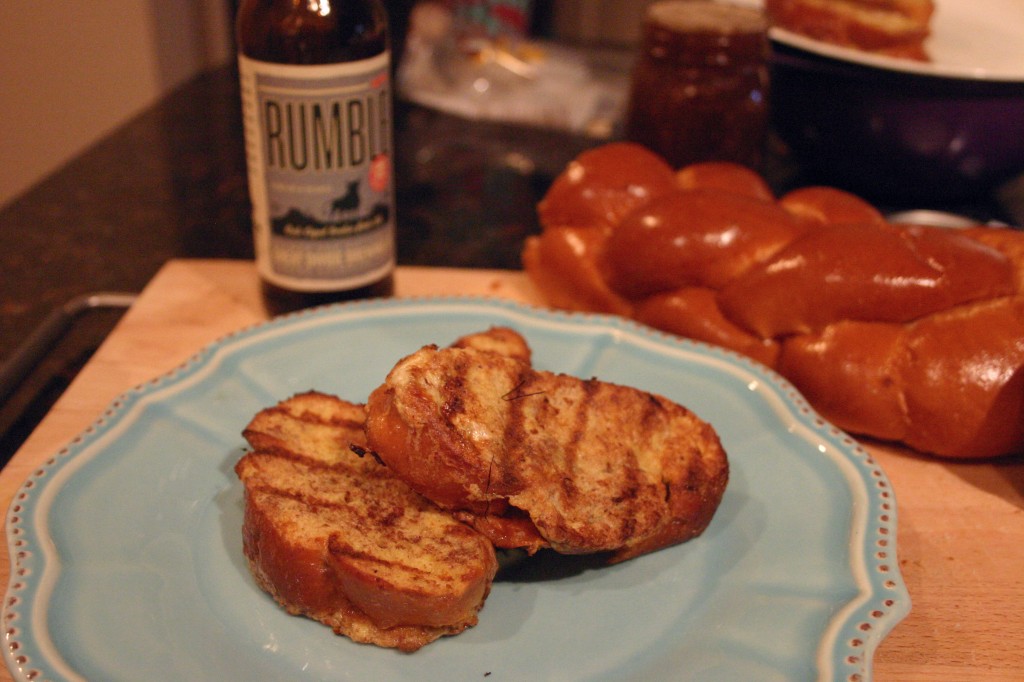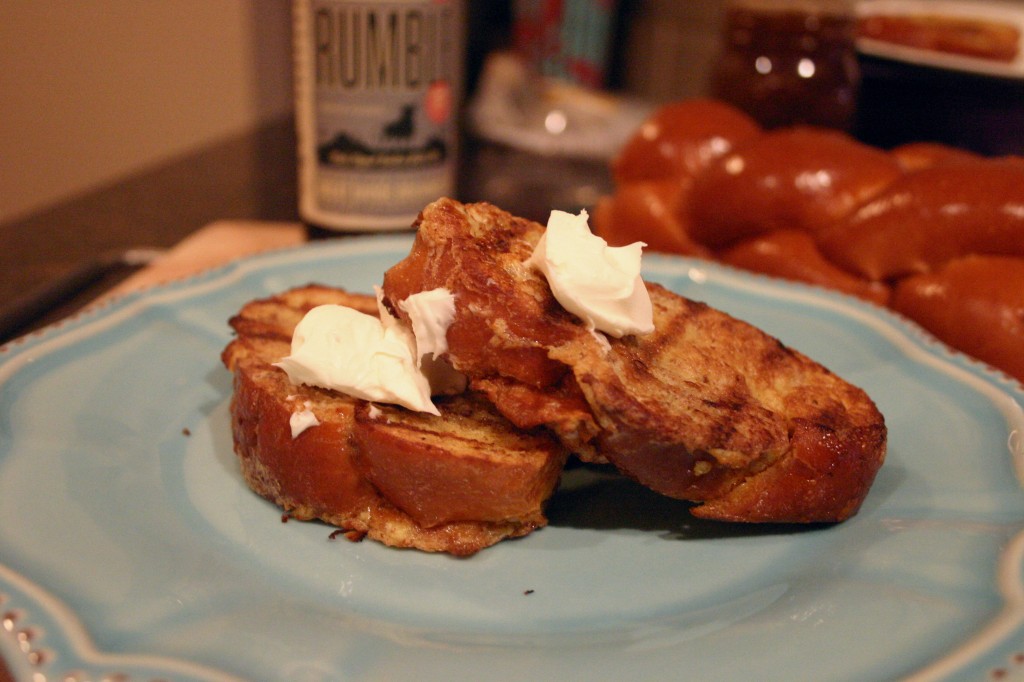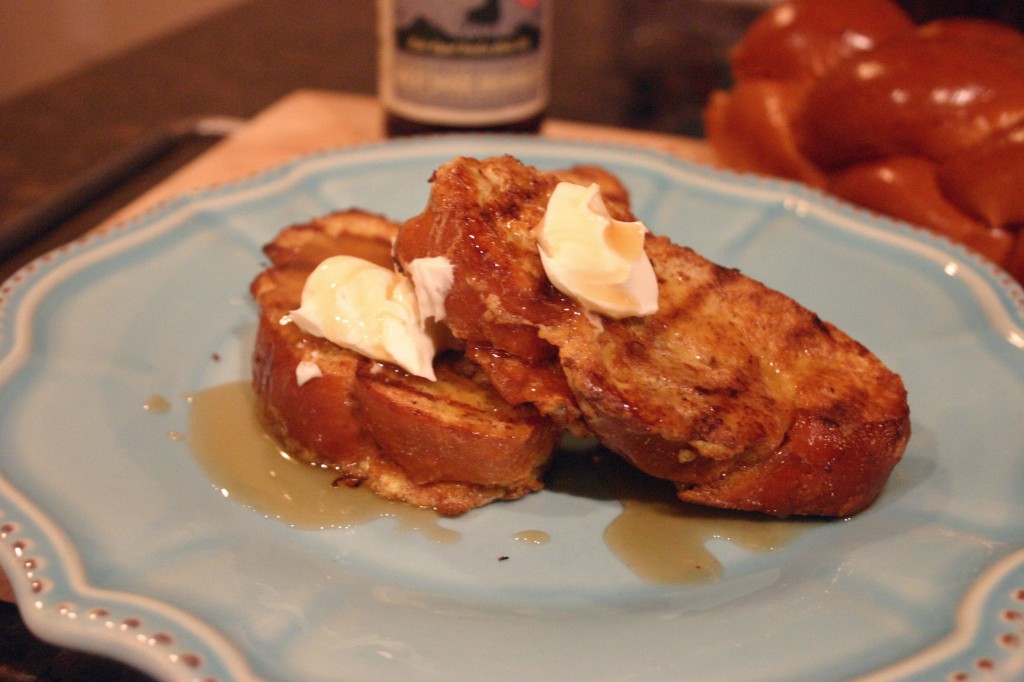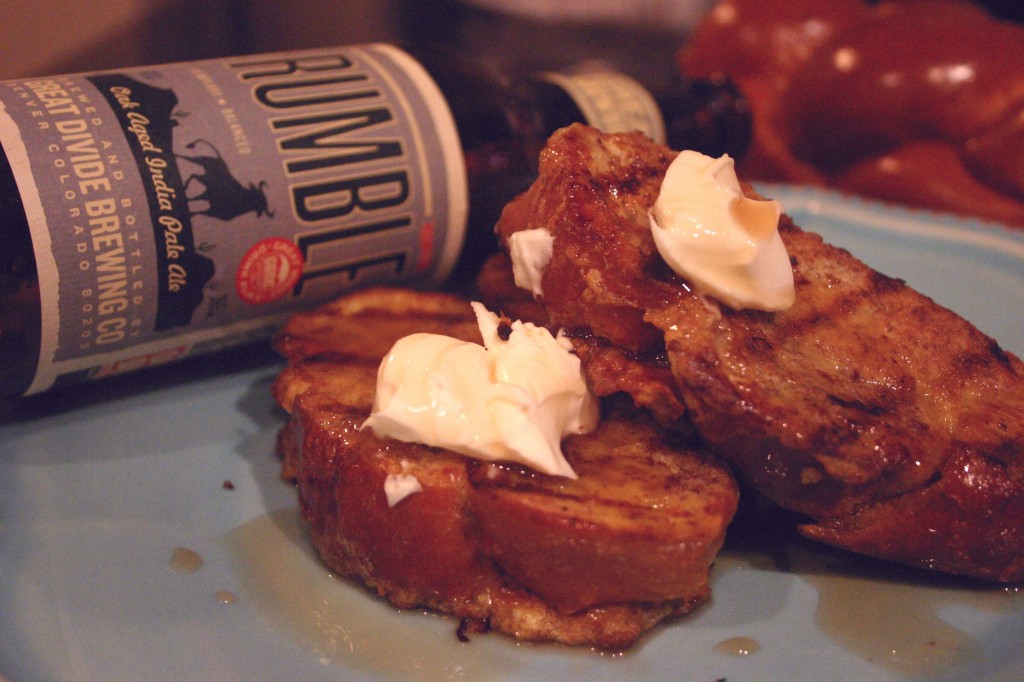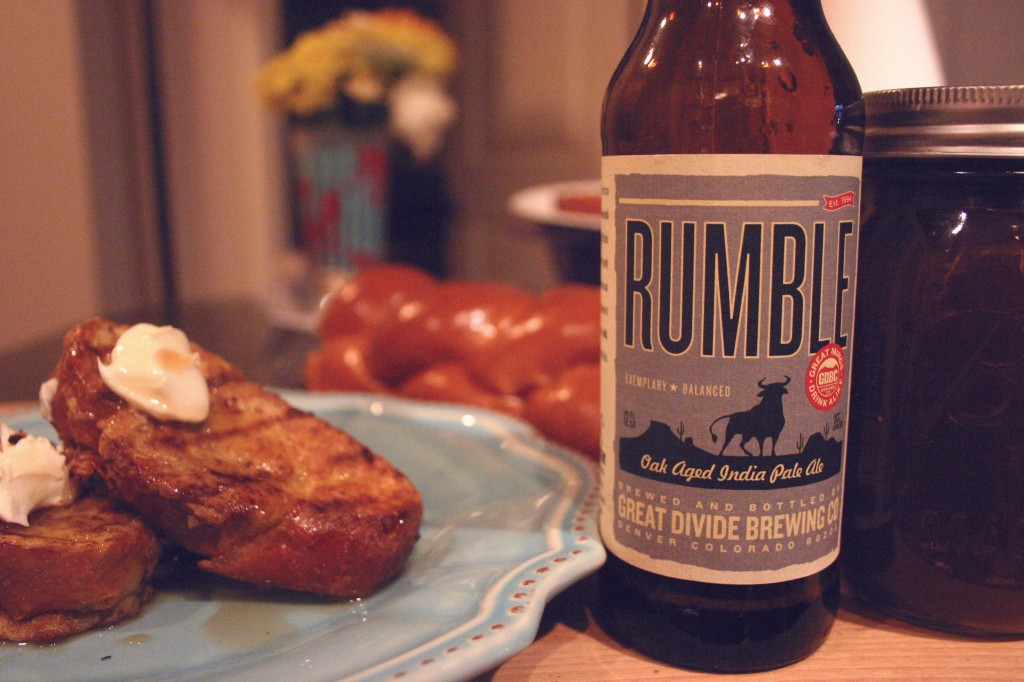 This never gets old (to me). Clearly my Instagram is not that cool.
---