No Comments
Beer Cocktails | Hibiscus and Gin Spiked Ale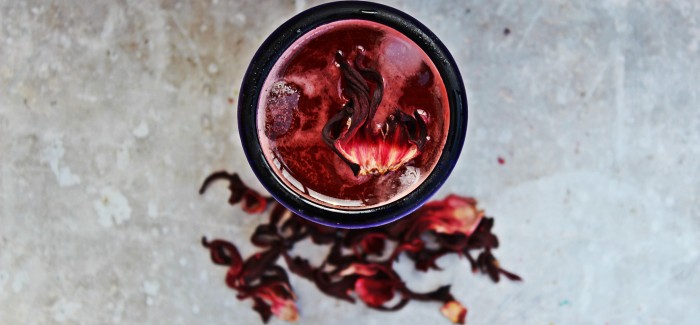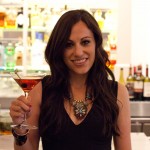 Currently, I am in Mexico on a boozy retreat and wanted to share a recipe that highlighted some flavors of the south. I went to a bunch of a grocery stores and liquor stores to try to find the perfect craft beer. The craft beer scene in Mexico is on the rise but many small breweries are having to pay a hefty tax so it is hard to find these beers distributed in local beer stores. I did however find a craft beer out of Monroe, Wisconsin from the Minhas Craft Brewery called Seasonal Bad Hare Amber Ale. This beer has an ABV of 5.5% and is recommended for everyday drinking, food pairing and sipping.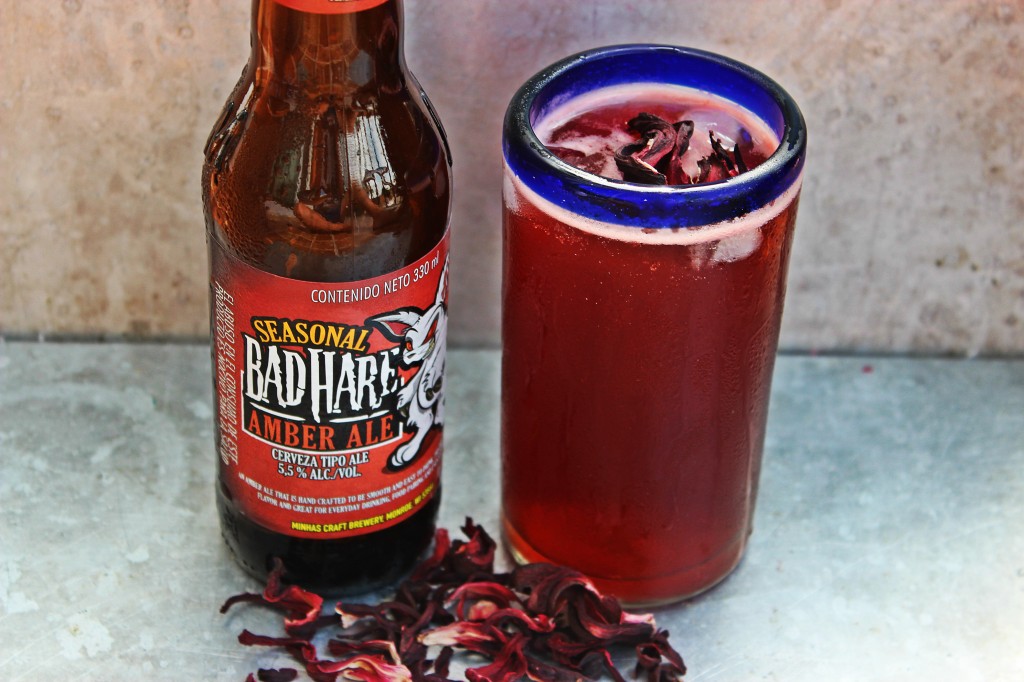 Today I created a hibiscus simple syrup to accent the amber ale. I used dried hibiscus flowers from the local market which are called Flor de Jamaica. They are also available online at several stores including the MexGrocer. This recipe makes about 3 cups of the syrup so if you want less the recipe could be cut. I also added sliced ginger and cinnamon to give it even more flavor. One thing to note is that this syrup is very pink and will stain surfaces kind of like beets. So, be careful not to spill, it could be a nightmare in your kitchen. I decided to use a local gin to booze this beer cocktail up! The botanicals in the gin pair perfectly with the spices in the simple syrup. The sweetness of the syrup cuts the bitterness of the ale and makes this combination the ultimate beer cocktail.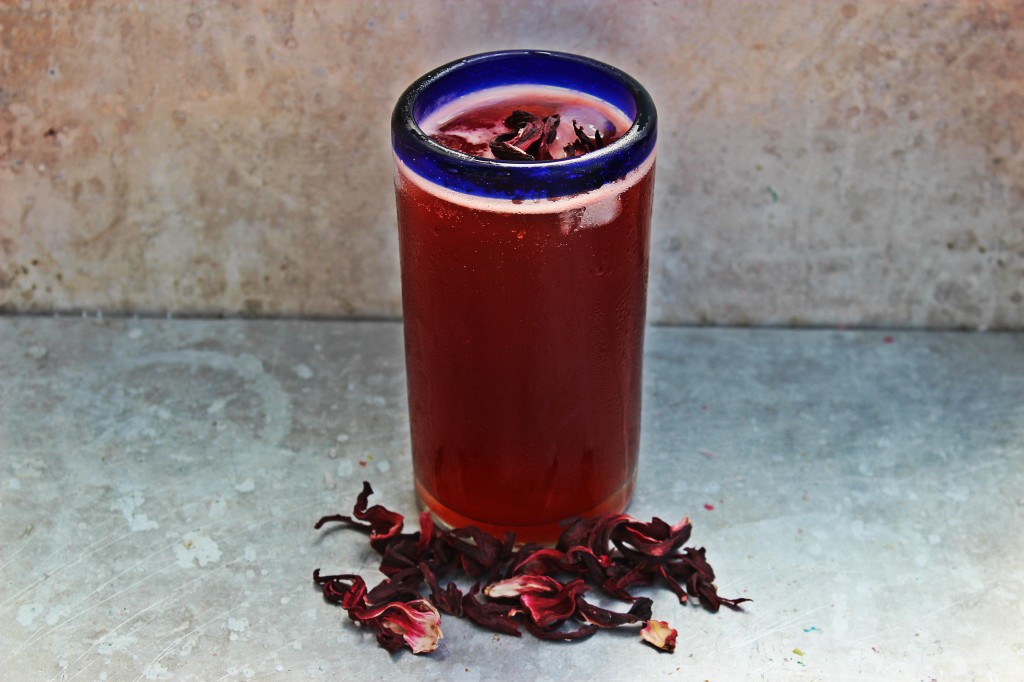 Recipe: Hibiscus and Gin Spiked Ale
Ingredients
1 tablespoon of hibiscus syrup (*recipe below)
1.5 ounces of gin
Top off with Seasonal Bad Hare Amber Ale
½ cup of ice
Garnish: Dried hibiscus flower
Instructions:
Fill glass with 1 tablespoon of hibiscus syrup
Add gin and stir
Top off with Seasonal Bad Hare Amber Ale
May need to be stirred slightly because the syrup can fall to the bottom
Garnish cocktail with dried hibiscus flowers
Yields: 1 serving
Cheers!
*Recipe: Hibiscus Syrup (Flor de Jamaica)
Ingredients
3 cups of water
1 cup of sugar
1 stick of cinnamon
2 inch piece of sliced ginger
1.5 cups of dried hibiscus flower (Flor de Jamaica)
Instructions:
In a sauce pan combine sugar, water, dried hibiscus flower, cinnamon stick, and sliced ginger
Let it boil for until sugar dissolves
Strain mixture and let it cool
Extra syrup may be stored in a glass container for up to a week.
Natalie Migliarini is the author of Beautiful Booze. Read more about tasty and delicious beverages here, or follow her on Facebook, Twitter & Instagram.
---