3 Comments
UPDATED with beer list! Event Preview | Parade of Darks 2014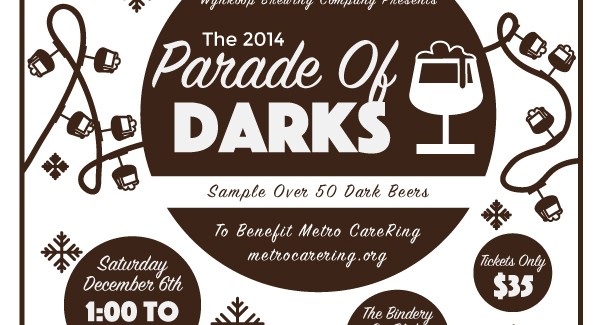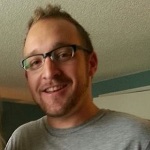 What: 5th Annual Parade of Darks Beer Festival
Where: The Bindery on Blake – 2901 Blake St, Denver, CO 80205
When: Saturday, December 6, 2014 – 1:00pm to 4:30pm
Ticket link: http://www.imbibe-events.com/event/2014-parade-of-darks/
Parade of Darks, the beer festival for lovers of ambers, porters and stouts, will return for its fifth year on December 6 from 1-4:30 PM. Wynkoop Brewing Company has changed the location from their downtown brewery to the Bindery on Blake (2901 Blake St.). Your $35 ticket includes unlimited samples of more than 60 brews from 25+ breweries, a commemorative festival tasting glass, and that warm feeling inside that comes from knowing all the profits go to Metro CareRing.
After attending Parade of Darks a couple years ago, I look forward to this year's event, sampling an even larger array of quality beers. I remember talking with the brewers and brewery reps in a smaller, more relaxed setting than most beer festivals. The combination of incredible brews and the goodwill everyone has during the holiday season made the festival something I was excited to continue being a part of.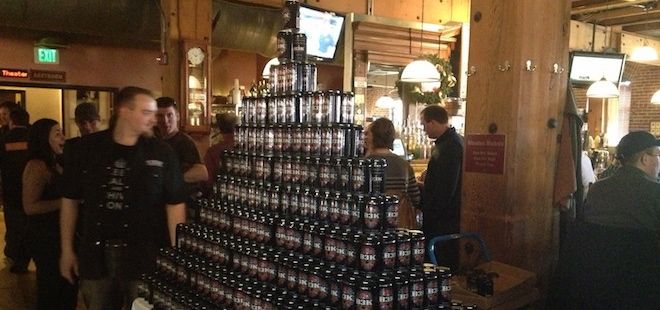 Parade of Darks has turned into a Denver holiday tradition, occurring the same weekend as Denver's Parade of Lights. "Parade of Darks is not only extremely fun, but it's also a very important event for Metro CareRing," said Lynne Butler, executive director of Metro CareRing. "Proceeds from Parade of Darks provide essential funding for Metro CareRing's programs and help ensure that our community's children are not going to bed hungry."
The previous Parade of Darks events have raised more than $40,000 for Metro CareRing, and this year Wynkoop will again donate 100% of the profits to Metro CareRing. The festival moved to the Bindery location to accommodate more participants in a larger setting.
If you have not been to a Parade of Darks before, Andy Brown, the head brewer at Wynkoop, said "Craft brewing is an art form and this festival really highlights experimentation and adventures in brewing. You will see a wide range of beers like barleywines, porters, stouts, and sours, all dark in color, all in one place."
Needless to say, you must be 21 or older to attend Parade of Darks. In addition to the beer festival, Parade of Darks will have a silent auction, including gift certificates and packages from local stores and restaurants. Proceeds from the silent auction will also benefit Metro CareRing.
**Update: Beer List Preview! **
Denver Beer Co. – Graham Cracker Porter
Denver Beer Co. – Ye Olde Nipple Pincher
Fiction Beer Company – Feely Effects (Green Tea Chocolate Stout)
Fiction Beer Company – This is Not An Exit (Belgian Dark Strong with Roasted Hatch Chilies)
Grist – American Barleywine
Grist – Nitro Niobrara Stout
Grist – Baltic Porter
J Wells Brewery – Light's Out
J Wells Brewery – Chocolate Milk Stout
Jagged Mountain Craft Brewery – Junta Dog Enigma (Brown Ale)
Jagged Mountain Craft Brewery – Barking Marmot (Belgo-American Black IPA)
Left Hand Brewing Company – Fade To Black
Left Hand Brewing Company – Black Jack
River North Brewery – Quandary (Quadrupel)
River North Brewery – Avarice (Belgian Imperial Stout)
Strange – Gingerbread Man
Strange – Powerhouse Porter
Strange – Cherry Bomb Stout
Tivoli Brewing –  Sigi's Wildhorse Buck Beer
Wonderland Brewing Company – Vaderade Irish Stout