No Comments
Green Bench Brewing Co. | St. Petersburg, Florida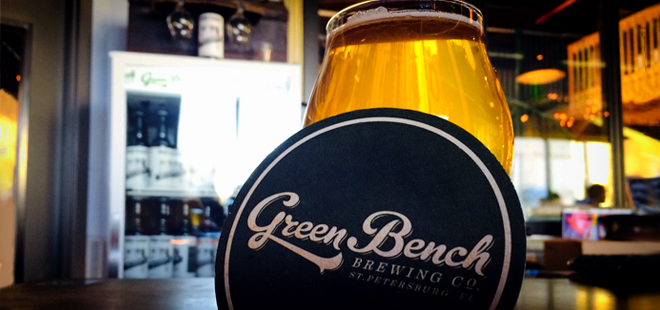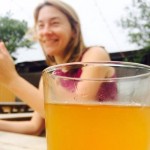 Come have a seat at St. Petersburg, Florida's Green Bench Brewing Co., where you'll feel like a local among the large warehouse taproom, friendly bartenders and large outdoor space for playing bocce, listening to music or catching an outdoor movie.
We visited during a week where poor Floridians were freezing (it was 60), but there was nothing icy about the greeting we received at the bar. Being a sour, salty beer geek (yeah, I know. So original right now), I ordered the 1903 Berliner Weisse right off the bat. Perfectly salty and a twinge of light fruit on the tongue, and a perfectly sessionable 4.0% ABV for day drinking.
At first we thought perhaps the 1903 was an homage to the Professor Fritz Briem 1809 Berliner Weisse (I don't know why. There were numbers. We were drinking. It made total sense at the time). So when we asked, the answer was, "No," but we learned all of Green Bench's beers are named in honor of the city of St. Pete and that 1903 was the year the city was founded.
A few other brews on tap that day, and their ties to the city:
Skyway Wheat – Hat tip to the Sunshine Skyway Bridge
Stay Dry Stout – A tongue-in-cheek reference to Florida's 4 p.m. thunderstorms every day from April through October. You can time your watch by it — trust me.
Greenhouse Double Stout – Those afternoon thunderstorms always make it feel like a greenhouse in Florida. This isn't the Midwest. The humidity sticks around, even after the rain. And what better type of beer to pair with heat and humidity? A double stout. (As you can tell, Green Bench has a sense of humor)
So what about the brewery name? As the story goes, St. Petersburg was known as the "City of Green Benches" in the early 1900s. The benches were THE place to be, and that's exactly the mood Green Bench Brewing Co. set out to emulate — and that's exactly what they accomplished.
Green Bench Brewing Co.
1133 Baum Ave. North
St. Petersburg, Florida
Taproom Hours:
Monday: Closed
Tuesday – Thursday: 12p-10p
Friday – Saturday: 12p-Midnight
Sunday: 12p-10p
---