No Comments
GRAND OPENING! | Tip Top Taps Growler Station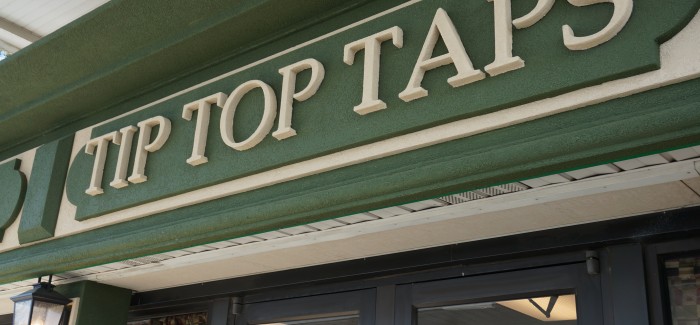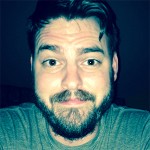 Columbia County's Chamber of Commerce hosted the Grand Opening of Tip Top Taps last week. This is the newest place in town to find great craft beer by the growler, howler and bottle. Tip Top Taps had a soft opening the week before the PGA Masters Tournament, the highly acclaimed golf tournament that brings thousands of potential patrons to the Augusta, GA area. It is only the second growler station open in Columbia County and one of four in the greater Augusta area.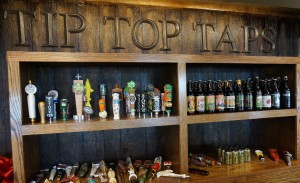 This growler station, fittingly, is located in a newly renovated gas station. I can appreciate the coincidence of a filling station being replaced by another, very different, kind of filling station. Inside, the atmosphere is influenced by luxurious hues and stained wood. Customers step up to a bar-top to sample and have growlers filled by any of their 20 taps from around the world. Proprietary howlers and growlers are available for purchase if you didn't bring your own. Most of the beers they offer are craft, with about 3-4 taps dedicated to imports. Current draft selections are presented on 4 HD television screens with digital graphics of the brewery, brand, ABV, and estimated amount left in the keg for that specific beer.
The same technology used to dynamically update their menu in the station is funneled to their website. Tip Top Taps' website provides customers with information on the establishment, location and menu of current beers offered. The beer menu on the website also displays the estimated amount left in the kegs. Patrons can check on the level of their favorite beer from home or out in town via a smartphone. Knowing if and when a keg is about to blow gives customers a chance to hurry in and get that last growler fill. Speaking of blowing kegs, Tip Top Taps has what some might consider the best random lottery a beer geek could ask for. According to the founder, it is Tip Top Taps' policy that if a keg blows while filling a growler the content of that growler is on the house.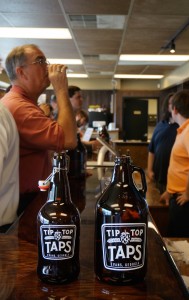 The growler station also provides a customer loyalty program that is driven by a phone app called Perka. This is a third party app that partners with small businesses and provides them simple solutions for loyalty programs. It is well designed and, seemingly, bug free. All the user needs to do is "check-in" to the establishment upon arrival. This is as simple as "checking in" to a location on your favorite social media app, like Facebook or Twitter. Then, go about your business tasting, pining over what to buy, and finally making the hard choice between the expansive selections of beers. At check out, Tip Top Taps systems will notice you've checked in and the purchase will prompt the app to virtually punch another tab out on your profile. This is my first experience with the app, but I am a couple of virtual "ticket-punches" in and nearing my free 32oz. howler of beer!
Wednesday's Grand Opening ceremony was another achievement for Tip Top Taps. There was a great turnout by Columbia County Chamber of Commerce members exemplifying the support they have for the establishment. The Chamber of Commerce pledged their support and assistance to the growler station for its newborn year. This is a reassuring gesture for the beer culture in Columbia County.  Also present were loyal customers of Tip Top Taps, the true supporters, out to show their appreciation and support. In honor of the event, Tip Top Taps offered complimentary tasting glasses with the purchase of a growler/howler for the whole week of the Grand Opening.
The beer scene in the greater Augusta, GA area is experiencing steady, albeit slow growth. Still, local beer enthusiasts are excited to see new outlets for beer that are offering an ever growing list of brands from local and regional craft breweries. There are plenty of economists that will tell you "slow and steady wins the race" in expanding markets. So, raise a glass to Tip Top Taps, the newest of these beloved providers of fizzy yellow beer!