One Comment
Cellarmaker Brewing Co. | Imperial Coffee & Cigarettes Porter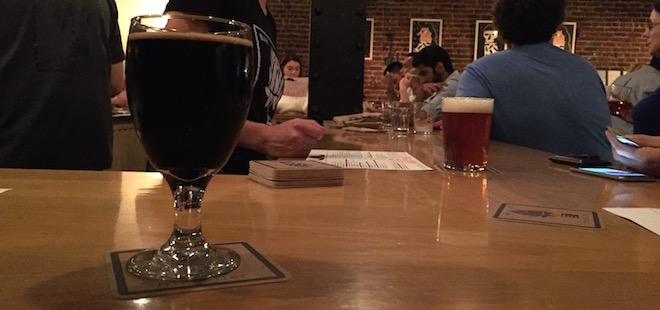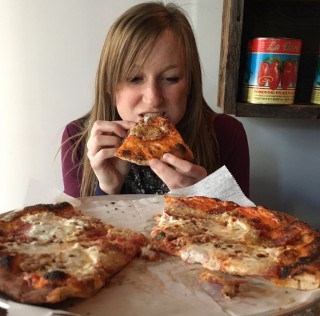 ABV: 10.3% | IBU: 45
When I found myself alone in San Francisco for a night after a conference, I did what any good PDer would do and took myself to the nearest beer bar. I ended up at the Mikkeller Bar, which had rave reviews for its unique draft list and boasts "the Perfect Pour" thanks to its gas blending system. After scanning the 40-plus draft options, I chose the Cellarmaker Imperial Coffee & Cigarettes Porter from the San Francisco-based Cellarmaker Brewing Co. Nothing else seemed as appropriate in a dark San Francisco bar on a Wednesday night.
The Cellarmaker website lists the beer as a smoked coffee porter "on roids" and with a 10.3% ABV and bold flavors, the beer lives up to its description. It pours a deep, thick brown with a dark beige head that stays around the rim of the glass. The appearance itself is reminiscent of a rich Mississippi mud pie, with its dense chocolate body and lighter, creamy head. The nose, true to its name, contains distinct aromas of cigarette smoke and is accompanied by hints of dark chocolate.
The porter is heavy and chewy, which is what you want and expect from a porter of this caliber and designation. A mild booziness coats the tongue and complements the velvety, thick mouthfeel. Smoke is again evident in the flavor, but this time it's the smoke of campfires, not cigarettes. Roasted nuts and chocolate round out the flavor with a subtle malt backbone, and the coffee added during brewing gives the beer the bitterness it needs to balance out its chocolate overtones.
The beer finishes smoothly with a slight stickiness that serves as a gentle reminder of the boozy drink you just consumed. The final flavors are bitter and smoky, reinforcing the accuracy and appeal of the beer's name.
---