No Comments
Savannah's Coastal Empire Beer Co: 2015 Is a Year of Milestones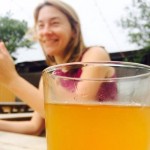 Savannah, Georgia, known for its ghost tours, historic riverwalk and ruckus St. Patrick's Day parties, is swiftly attracting yet another type of tourism: craft beer adventurers. And the city's Coastal Empire Beer Co. is part of the evolution.
"Savannah's beer culture is continuing to grow," explains Chris Haborak. Chris and his brother Kevin are co-founders of Coastal Empire Beer Co.; he heads up the sales side while Kevin is the brains and sweat behind their award-winning recipes.
"Kevin started homebrewing in 1995 after our sister and I got him a brew kit as a graduation present," Chris says. As Kevin's hobby turned into a passion, so did the idea of opening a brewery. A little less than 15 years later, the Haboraks made that dream a reality when Coastal Empire shipped its first beer in summer 2011.
The last 12 months have been particularly exciting for the brewery.
"2015 has been a year of milestones," Chris says.
In June, the brewery brought home two medals from the U.S. Open Beer Championships in Ohio. March to Sea, a collaboration with Kennesaw's Burnt Hickory Brewing, won gold in the American Barleywine category, while Barrel Aged Savannah Brown grabbed silver among the Barrel Aged Dark Beers.
https://instagram.com/p/5w_rUPSiWf/
July 1, Georgia's expanded beer laws went into effect, allowing people to buy "souvenir" to-go beer from breweries. Haborak says the new rules have definitely helped bring more money into the operation since people are coming for tours as well as leaving with fresh beer.
(MORE: Witnessing History at Burnt Hickory Brewing)
In August, Coastal Empire celebrated its fourth anniversary with a few new recipes that were so popular, Haborak said the distribution partners were asking how soon they can get it to the market.
"The Coco-Pina, a pineapple coconut sea salt gose, went over really, really well," he said (and, yes, they do plan to distribute it eventually). Another crowd favorite at the anniversary party was a new Berliner Weisse, which poured purple because of the additions of hibiscus and tamarin.
Chris teases that Coastal Empire's next generation of recipes will continue to please fans of historic styles as well as drinkers who are eager for the next big thing.
"We have some exciting stuff planned for the future," he says. "Kevin likes brewing beer to the style and stay within how that beer is supposed to be made, but he has an adventurous mind."
Coastal Empire Beer Co.
79 Ross Rd
Savannah, Georgia 31405
Hours
Monday – Wednesday: 12-4p (To-Go Only)
Thursdays & Fridays: 5-8 p.m.
Saturdays: 1-4p
Follow Jess Baker @craftcurious on Twitter and Instagram 
---