One Comment
Chicago's Best Beer Bars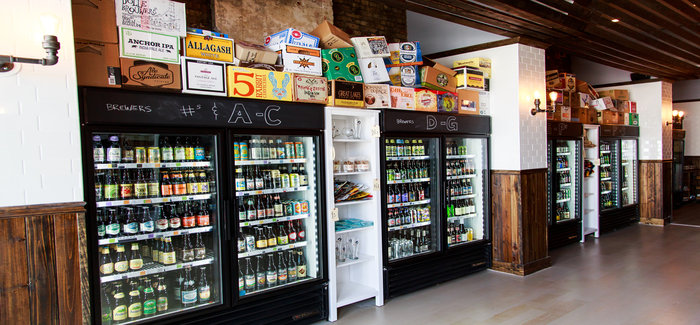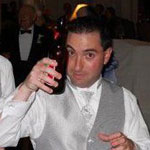 Chicago is no longer an up-and-coming craft beer scene. It is one of the top craft beer scenes in the country. With some of the best breweries pumping out must-have beers the Windy City's beer game is on fire right now.
We looked at some of the city's best places to drink craft beer and came up with our favorite places to drink beer. Agree or disagree? Leave a comment below.
1601 Sherman Ave. Evanston, IL 60201 | website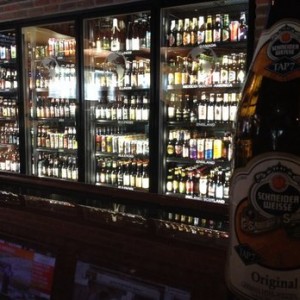 Yes, this is a national chain and yes, it's not technically in the city of Chicago, but World of Beer in Evanston has a phenomenal beer list. Hundreds of beers from just about every country make WOB our number eight best place. The beer list is so long that WOB has iPads for customers to scroll through the selection. You can search by country, style, color or ABV. Their taps are always rotating as well so you have a nice selection between draft, bottles and cans. Despite it being a chain, WOB has rare tasting events, new beer releases and a lot more. This isn't like another chain where it's the same old stuff. You will not be disappointed in making the trek 30 minutes north of Chicago to check out WOB. Pro Tip: Get the pretzel. It's delicious.
1559 N. Milwaukee Ave. Chicago, IL 60622 | website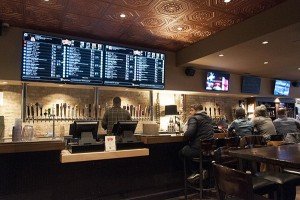 This Wicker Park bar features 36 craft beers on tap. What we really loved about Links is their up-to-the-minute draft list that is computerized. You know exactly how much beer is left in the keg – it's a great way to know if something's about to kick or not. Even from the comfort of your home you can even go onto their website and see what's on tap and the level the keg is at. The food at Links is also worth the visit. They feature a full menu but are known for their sausages. Pro Tip: Pay attention to the drink board. Once a keg is about to kick, wait to see what they replace it with.
5148 N Clark St, Chicago, IL 60640 | website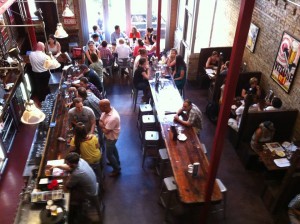 Taps on taps on taps. That's the best way to describe Hopleaf Bar. A terrific selection of draft beer and equally as phenomenal food. Since 1992 this Northside bar is constantly jammed pack with craft beer aficionados. Several times a month the bar will have special events, from tap takeovers to rare beer tastings, Hopleaf is worth the quick trip on the #22 bus. The beer list is changing so quickly you can look online for the up-to-the-date list, but your best bet is to just head in. You're guaranteed to find something delicious that you'll like. Pro Tip: Get there early. No reservations and it fills up fast.
1102 W. Webster Ave. Chicago, IL 60614 | website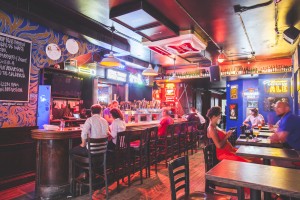 Heavy metal, tattoos and piercings are the first few things that come to your mind when you think about Local Option. Don't be intimidated when you walk in. The bartenders are extremely nice and Local Option features a draft list of excellent craft beers. More times than not they will feature rare or hard to find beers on draft during special events. This is our go-to place when we want the latest Pipeworks beer on draft. Their special events can include ultra-rare beer tappings or highlighting a popular brewery. Recently this year they featured Jester King from Austin, Texas, and co-founder Jeff Stuffings was present with some of his wild sour beers in bottles and on tap. A quick shout out to their food – go there to drink but get some wings too. Pro Tip: Go for one of the Catalina Wine Mixers. You'll find some amazing beers on tap then.
3258 N. Sheffield Ave. Chicago, IL 60657 | website
What's better than one bar serving craft beer? How about three bars serving craft beer all under one roof. Craft beer is flowing everywhere at Sheffield's. While they have the main bar when you walk in, there are two other bars in the back to give beer drinkers plenty of opportunities to find something they'll like. An always-rotating tap list ensures that there's a beer for everyone at Sheffield's. During the summertime you can check out a patio that has been named the best beer patio in America. For food, Sheffield's features solid BBQ to go along your draft beer. Whether you're day-drinking in the summertime or there for a full meal with friends, Sheffield's accommodates everyone. Pro Tip: On a summer day get there early and get one of the two big outdoor booths in the corner of the beer garden. Then you can enjoy a great day of day drinking.
3328 N. Lincoln Ave. Chicago, IL 60657 | website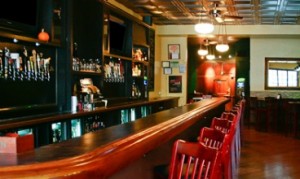 Sometimes you want to go where everyone knows your name. If you become a regular at The Green Lady that is exactly what will happen. A bar with a great neighborhood feel The Green Lady features 30 taps all pouring great craft beer, most of which is local to Chicago. In addition to the taps she normally has at least 50 different bottles and cans to choose from. In the evenings during the week there will be trivia or euchre being played. If the Blackhawks are on TV you know the game will be on with sound. Pro Tip: Make sure you ask about their specials. Also, Tuesday they have euchre!
3244 N. Lincoln Ave. Chicago, IL 60657 | website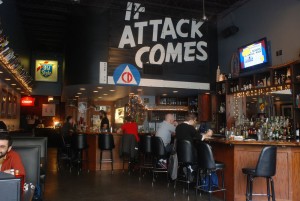 Just down the street from The Green Lady, Northdown and our number one selection really are tied for our favorite places to drink craft beer in Chicago. Northdown doesn't have the most taps of any bar, but all of their taps dish out amazing and usually hard to find craft beer. The connections Northdown has enables them to always have the beer craft beer snobs are looking for. Yes, Zombie Dust is a regular on tap, but there's so much more Northdown can offer. Besides their taps, they feature over 160 bottles that are always changing. Outside of the taps and bottles, Northdown puts on craft beer events almost regularly. From extremely rare tappings to all-day craft beer extravaganzas, Northdown is where you want to go for really rare beers. Their marquee event is their Lions, Tigers and Beers fundraiser. An all-day drinkathon featuring super-rare beers from local breweries raises money for wildlife sanctuaries. Every year the draft list gets better and better and more and more money is raised. Pro Tip: Follow Northdown on social media. They might have a spur of the moment rare tapping that they will only announce via Twitter, Facebook or Instagram.
2812 N Lincoln Ave, Chicago, IL 60657 | website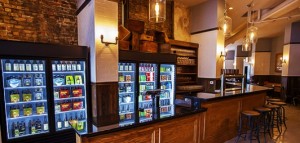 Just a bit south down Lincoln Ave from Northdown and The Green Lady sits Beermiscuous. Featuring over 350 cans and bottles in addition to 12 rotating taps, Beermiscuous has quickly become the go-to place for craft beer drinkers even though it's only been opened for a little over a year. The best part about Beermiscuous is that you can buy individual bottles and opt to drink it in the café or take it home. Whether you need a couple of bottles or multiple 6-packs, customers are free to pick and choose whatever beers they need. The café features free wifi and is BYOF. Every Tuesday a food truck is featured right outside, but Beermiscuous is next to multiple restaurants that you can either get delivery from or quickly walk to. The atmosphere inside is like a Starbucks, but instead of coffee you'll be drinking beer.  All of their employees are Cicerone certified, so they are excellent at helping you pick out a beer that you'll enjoy. Vertical tastings and rare bottle releases are common at Beermiscuous and the café uses a loyalty app so customers can trade in their points for access to these events. Whether you're looking for a hard-to-find beer or just want a great selection of craft beer, Beermisucous has what you're looking for. Pro Tip: Wednesdays they have half-off flights. Make sure you get the Loyaltree app to rack up points.
Mike Zoller is the Chicago Editor for PorchDrinking.com. Follow him on Twitter: @mikezoller and Instagram: @chicagobeer.
---