No Comments
Platform Beer Co. | Esther Belgian Christmas Ale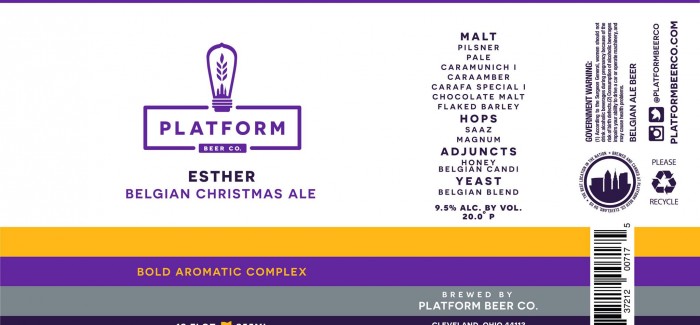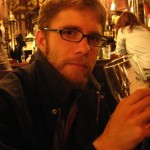 ABV — 9.5%
IBU — approximately 20
It's that time of year. Yes, Christmas is coming up, quickly, and this year the amount of early Christmas seems to have reached an even higher level! Hints of the season have already begun popping up all over the place: in department stores, specialty shops, on your friends' Facebook feeds. Truth be told, you don't have to go to Bronner's in Michigan to get your taste of the holidays early anymore. Additionally, Christmas ale releases have already happened, much to many people's delight. Even though one the biggest cult beer followings in Cleveland is the Christmas Ale from Great Lakes Brewing Company—which is awesome this year, by the way, better than the last couple of years—Platform Beer Company has released a very nice, very different style of ale for your holiday imbibing needs: Esther Belgian Christmas Ale.

Fresh from its first-place victory at GABF (in the historical beer category), Platform Beer Co. has not slowed down its production or its greatness. Over the past year, it has upped its production and has begun distributing six-packs of many of its beers, including New Cleveland Palesner and Speed Merchant, which are both phenomenal beers on draft and canned. Esther is another wonderful addition to Platform's artillery! I just had to try it when I visited the brewery on Halloween.
https://instagram.com/p/9a4VBYGDcG/
Platform Esther 2015 pours a deep, rich maroon color, a very dark brown depending on the lighting. In a smaller goblet, it reflects the warning you would typically get from this type of beverage: it's strong! At 9.5% ABV, it packs a bigger punch than the other Christmas ales you might sip on over the next couple months. Description of the beverage gives fair warning that this is a little different than most of the holiday ales you will undoubtedly enjoy: the ale is brewed with candi sugar, cherries, and honey. Though the maltiness is there, and a heavy maltiness it is, this Esther drinker definitely noticed the fruity notes, particularly the cherries. It's a wonderful Belgian present wrapped in a tiny glass package.
Definitely head to Platform Brewing Co. to sample some of this if you're in Cleveland for the holiday season. It has also been canned for local store purchases as well, so those who wish to buy a nice six-pack for a friend or family member this holiday time cannot go wrong with this present. Or you can always stuff your own stocking on the mantle with an Esther or four! We won't judge.
---
Image courtesy of Platform Beer Co.