No Comments
Great Lakes Brewing Co. | TropiCoastal Tropical IPA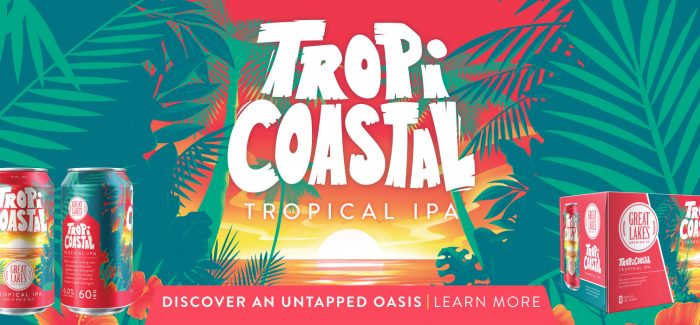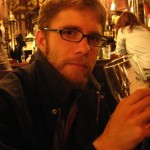 The audacity of time, to go super fast! It's already September, and it feels like summer just got here. Thankfully, one of Cleveland's finest breweries has a solution, with a new year-round offering to quench your thirst whether grilling for your next backyard BBQ or huddling up around the fire on a cold winter day. Great Lakes Brewing Company TropiCoastal Tropical IPA has a juicy mixture of flavors and hoppiness, enhancing the brewery's expanding repertoire of spectacular IPAs on tap.
The TropiCoastal Announcement
GLBC made the big announcement in July, and plans simmered. Then, in mid-August, a patio luau with all the trimmings coincided with this beer's release! Roast pig, cantina tunes, pre-mixed cocktails and skyrocketing temperatures. It was the ideal setup for a crisp new favorite from our trusty friends from Cleveland. As always, the can artwork by illustrator Sam Hadley is top-notch. It features "a picturesque waterfront hideaway" with a stellar sunset in the background and a stunning palette ranging from red, orange and yellow to jungle green.
The TropiCoastal Taste Test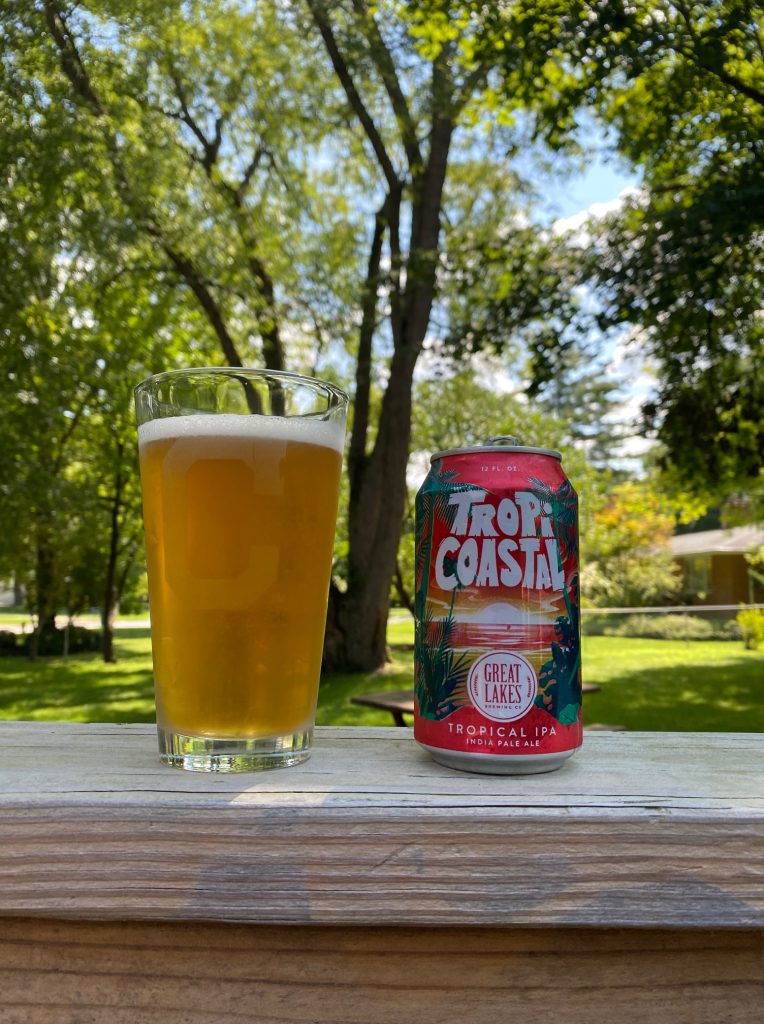 As you crack open a can, the aromas appear instantly. It makes sense. Brimming with Idaho 7®, Calypso, Strata, Mosaic® and Lemondrop hops, this IPA gives you a steadfast option whenever you need a healthy serving of hops. Pour it into a pint glass, and TropiCoastal effervesces with a bright, sparkling golden hue and plenty of smooth foam on top. Each experience is different. I catch mango and citrus when I sip it in my deck chair. You may encounter pineapple, passion fruit and other flavors. TropiCoastal is "brewed to appeal to drinkers who want big hop aroma and flavor with balanced bitterness." With an ABV of 6.0% and an IBU of 60, balanced is the perfect word. Now, with so many amazing options in GLBC's expanding lineup, it's tough to choose which to sample first!
The TropiCoastal Fine Print
GLBC released TropiCoastal Tropical IPA 12 oz. can six-packs and 12-packs at their gift shop at the start of August while the rest of Ohio, Kentucky and Indiana started to enjoy this IPA on August 16. Be on the lookout, and there's no doubt you will find this fresh and fizzy oasis in your neck of the woods – or jungle – whenever you have the urge for some hops in your hideaway. Even in February.
Featured image courtesy of Great Lakes Brewing Co.
---