One Comment
Great Lakes Brewing Company | Hazecraft IPA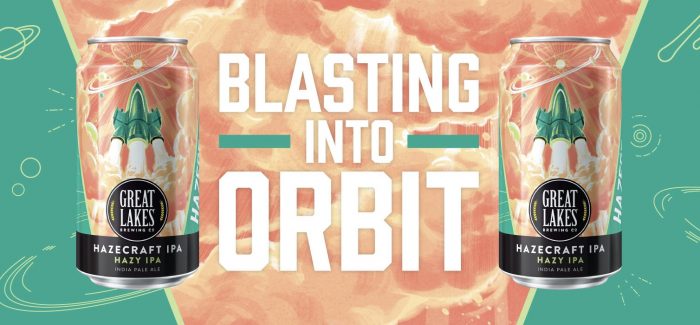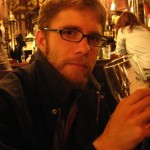 Buckle up! Great Lakes Brewing Company (GLBC) has some exciting new hardware, and they have already released it through the stratosphere. A year-long favorite that will not disappoint has arrived to wet your whistle during these waning summer weeks, deep into winter. I am talking about Hazecraft IPA, available now everywhere GLBC distributes.
Hazy IPA Background
The hazy IPA has become a popular subset of the style, and there are countless breweries that have showcased their own vision of what it entails. Even though this style is a contemporary trend within the craft beer industry, GLBC opts for a retro look to their labeling and the overall inspiration for this beer. As the "birthplace of aviation," Ohio has never backed away from latching onto the aeronautical connotations that exist within this fair state. Thus, we have an attractive and innovative label. A vivid green spacecraft blasts into orbit, and its flames roar orange and yellow to complete this complementary color combination. We also do not have to wait long for this beer to lift off. Cans were available in the brewery gift shop August 14, and Hazecraft left mission control for GLBC's entire distribution footprint August 31.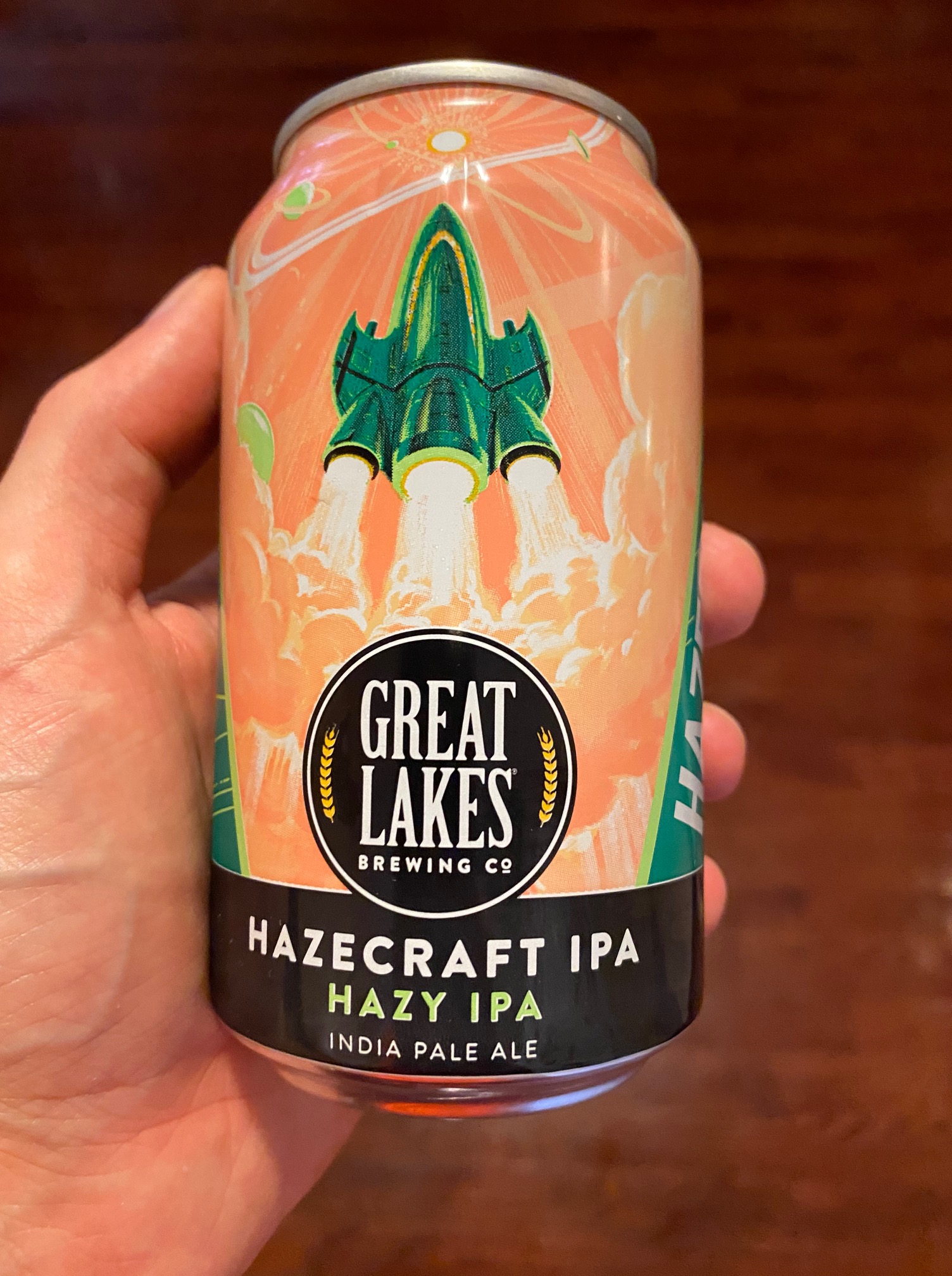 The Hazecraft Experience
Let's get ready for some hazy exploration! First, the pour. It is smooth with minimal foam at the top. As the name denotes, Hazecraft IPA is hazy. Furthermore, it sports an irresistible vibrant yellowish-orange color, as appealing as the label art.
As I hover my nose over the glass, I catch tropical fruit and pine aromas. There is a lot of activity here before the initial plunge.
Hazecraft tastes as juicy as its counterparts. It is a flavorful beer, refreshingly citrusy during these humid late-summer days. One definitely notices the plentiful collection of hops involved in the construction of this heavy hitter: Simcoe, Azacca and Lemondrop. This beer is perfect for any occasion, whether it is the most sultry summer evening or a cozy winter weekend inside. In fact, enjoy this beer anytime and anywhere — on Earth or in outer space!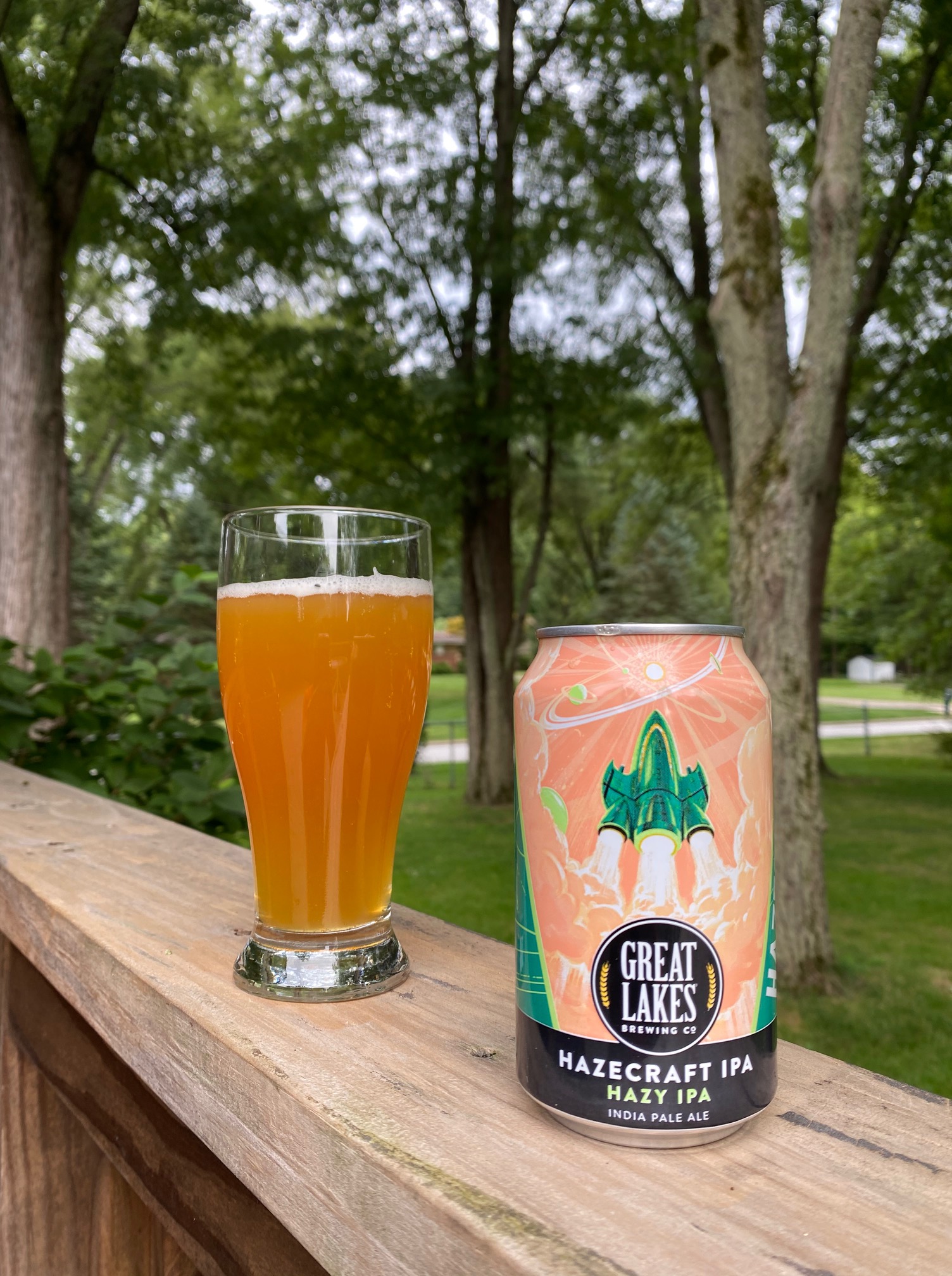 The Hazecraft Trailer
This otherworldly experience will be around the entire year and is sure to be a star in an already stacked lineup of regulars that GLBC has. Also, at 6.7% ABV and an IBU of 40, Hazecraft is a drinkable and delicious choice alongside their other canned options, including Great Lakes IPA and Dortmunder Gold.
Lastly, I would be remiss not to share one of the brewery's promotional videos. Hearkening back to a bygone era of old-school video games, heavy pixelation, bloop-y sound effects and synths, this preview of Hazecraft IPA is sure to entertain and excite!
Featured image credit: Great Lakes Brewing Company
---