One Comment
Your Guide to Finding Goose Island BCBS in Colorado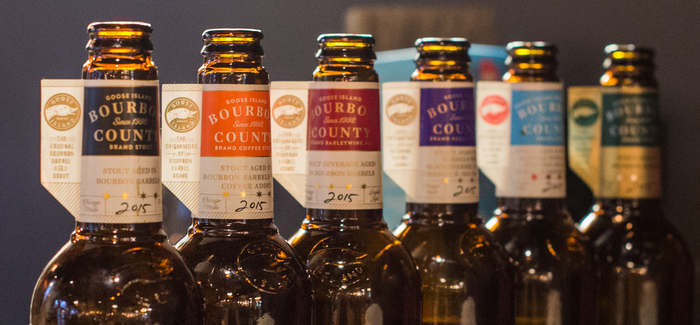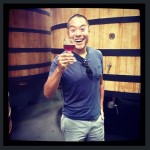 *UPDATED 11/25 at 12:20 pm MST*
This is NOT a drill, folks. Goose Island Bourbon County Brand Stout will hit Colorado shelves and bars in less than a week! While BCBS hunting on Black Friday has become a bit of a national tradition as of late, this year's stakes are considerably higher. As we detailed last week, Goose Island has released BCBS Rare for only the second time in history, and a few select lucky Colorado shoppers will have a chance to snag one. In addition to Rare, some stores will also be selling BCBS Original, Barleywine, Regal Rye and Coffee.
---
Here's what we know thus far:
Size / Packaging
All variants will come in 16.9 oz single bottles with their own distinct color coded neck label, with Rare coming in a special wooden collector's box.
Cost
Everything but Rare will ring in near $10, rare at retail was $60 so expect near that price range
Varietal Availability by Geographic Location
Metro Denver will see all five variants: BCBS Original, Rare, Regal Rye, Barleywine and Coffee
Loveland will see Barleywine and Rare
Littleton, Highlands Ranch, Colorado Springs and Glenwood Springs will see some Barleywine
Everywhere else in the state will only get Bourbon County Original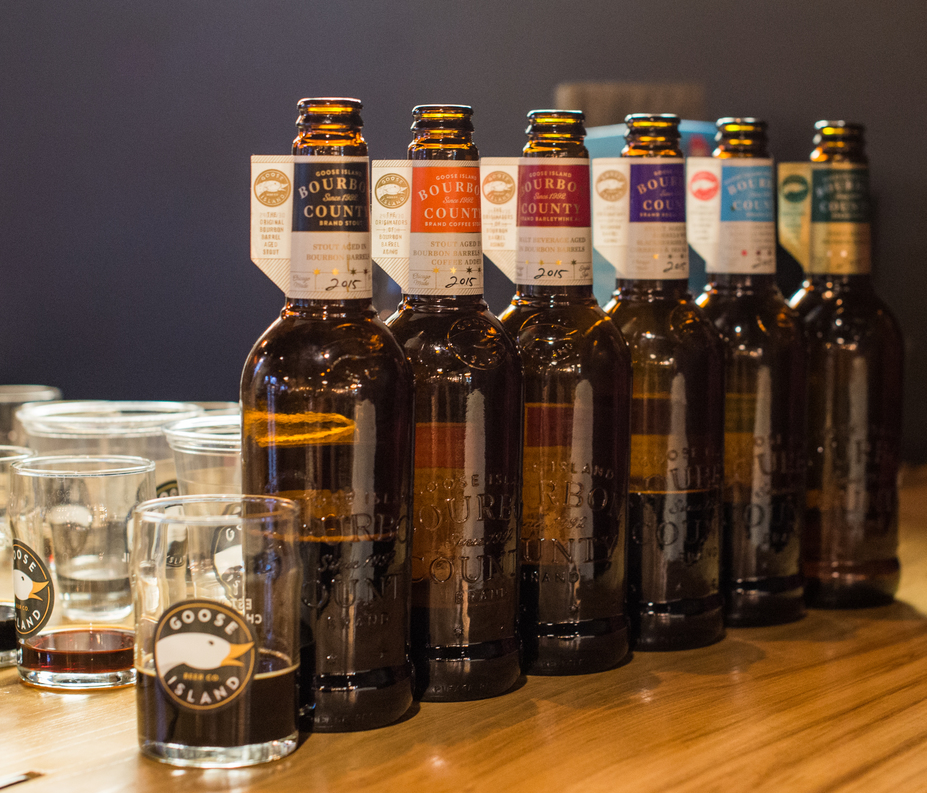 Specific Stores with Friday Releases
Denver's Argonaut will serve as the signature release location with special events happening Friday morning. Details of that release party have not yet been disclosed but we're looking into details and will keep you posted. Also, please note that these are the locations which have been confirmed thus far. As we hear of more locations receiving BCBS and as we hear confirmations of what each specific location will be receiving which specific variants we'll update our list.
North:
Total Beverage
Boulder:
Liquor Mart– receiving original, one case of all variants including Rare. Timing is TBD
Hazel's
Superior
Downtown:
Argonaut– Will have largest allotment in the state. Will have Original, all variants, and 5 cases of Rare. Doors open at 8am. First come first serve, no lottery. 1 bottle of Rare per customer. Coffee and doughnuts for attendees.
Highlands Wine & Liquor– Will have Original (limit 2), all variants (limit 1) and 2 cases of Rare (limit 1). Doors open at 10am. First come first serve.
Mr. B's– Will have Original, all variants, and Rare. Beers go on sale at 2pm. First come first serve, no lottery. 1 bottle limit per variant, 2 bottle limit for Original.
Molly's Wine & Liquors– Will give priority to Beer Club members. Will carry all variants including Original and Rare. No lines, will release bottles randomly throughout the day. Will also send out emails to loyalty members with extra chances to win complete sets. Will update Beer Club members via e-mail on reservations, still accepting Beer Club memberships in-store.
West:
Tipsy's
South:
Chambers Liquors
Davidson's– Will have original, and small allotment of Rare which will be available for rewards members only via lottery. No other variants. 3pm Release
Where to Find on Tap
Certain accounts will begin pouring 2015 BCBS as early as Wednesday night as special limited tastings and again Friday night after the bottle releases. All draft accounts will have a limited allotment of either one or two varietals. Here's where to find them:
Proprietors?
Sorry, Proprietors was only available in Chicago this year so unless you've got a great mule in the Windy City, no Proprietors for you.
Our Breakdown on the 2015 BCBS Varietals:
Bourbon County Stout Rare; ABV 14.5%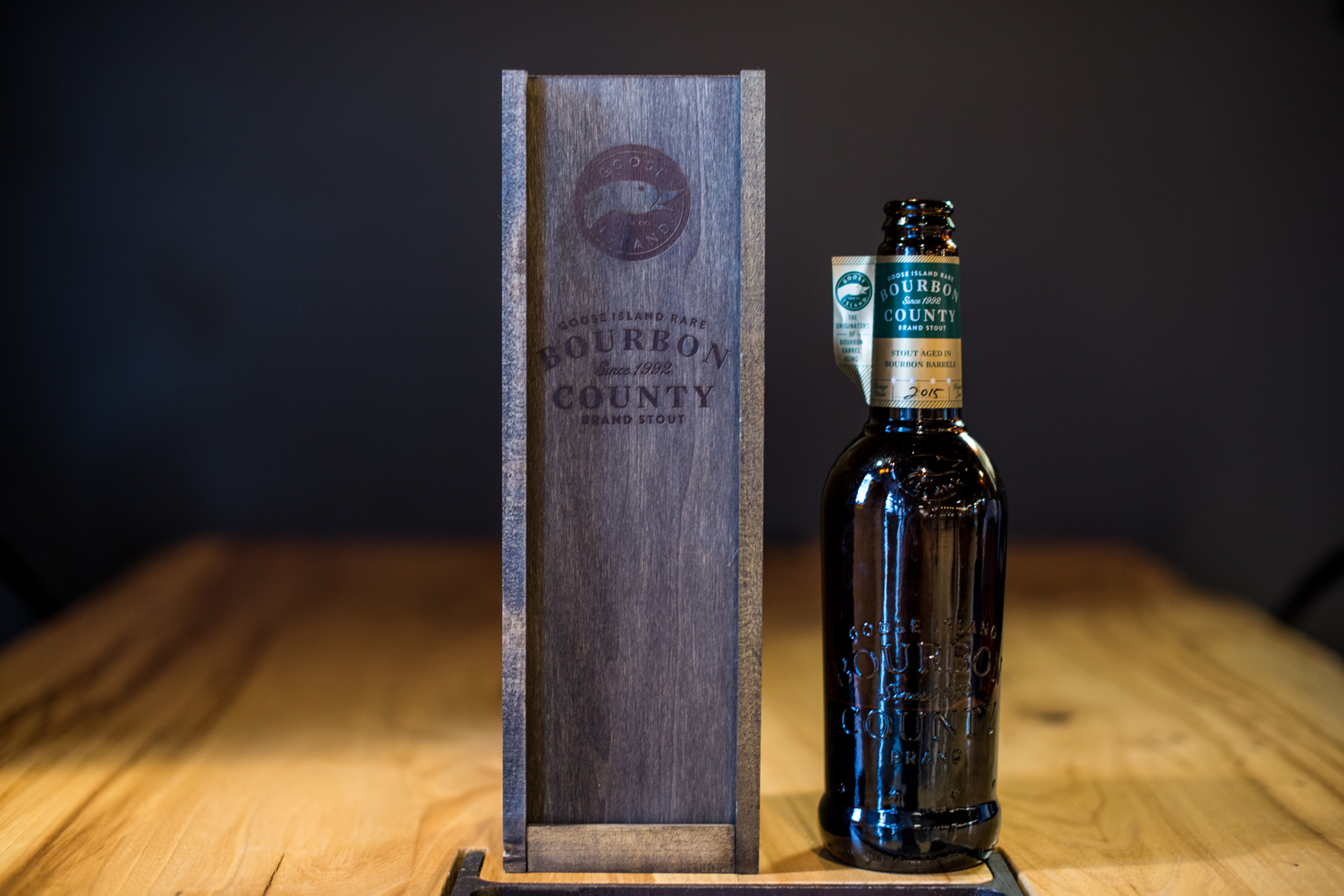 This is coup de gras, the holy grail, the beer that everyone will be clamoring for when it's released to the public on Black Friday. As we first detailed last week , Heaven Hill distilling stumbled upon a long forgotten cache of 35 year old bourbon barrels and  decided to offer those barrels up to Goose Island. There was little hesitation on Goose's part and they soon decided to fill the sacred barrels with 2013 BCS then let it age for two years.
Upon your first sniff you'll instantly take in strong notes of bourbon/alcoholic heat. But on your first taste it'll likely feel shocking smooth and velvety. When the brewers first put the beer into the barrels they didn't know what to expect, but after about 16-18 months of aging, Jankoski and his team knew they had stumbled onto something special.
Earthy tones are noticeable throughout the taste. The smell of the beer doesn't line up with the taste. It doesn't come off as a hot high-alcohol beer. You won't believe that you're drinking a beer with an ABV of nearly 15%.
Bourbon County Brand Stout; ABV 14.2%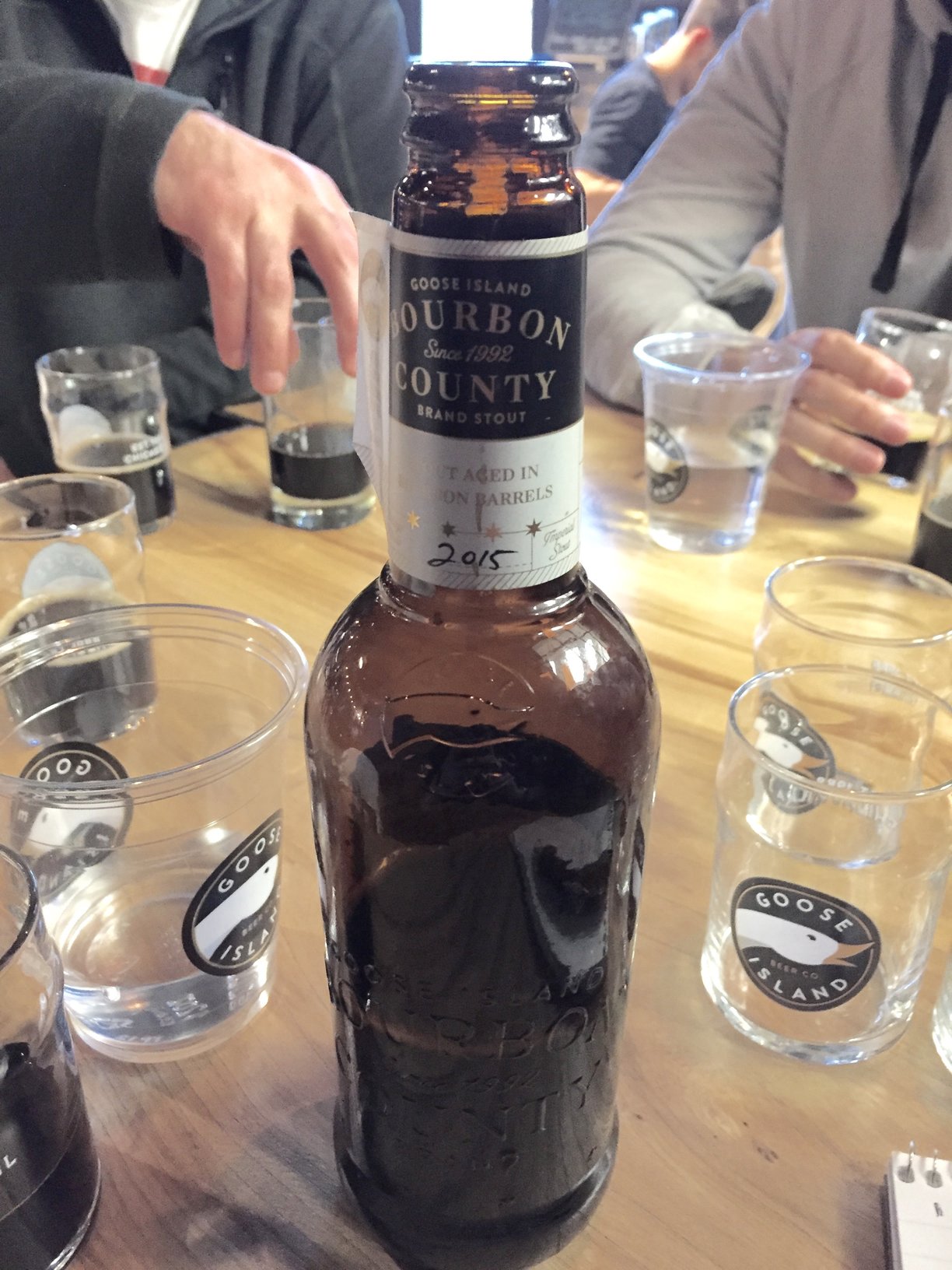 The original recipe for BCS that has gone unchanged for years delivers rich flavor bursting with notes cocoa nibs, vanilla, caramel and many other complex flavors. Unlike Rare, the original recipe's aroma doesn't pack quite the same punch. A smooth taste all the way through, I got slight vanilla notes on the back end of the sip.
Sitting in bourbon barrels for 8-12 months, the beer's bourbon qualities shine through with trace amounts of heat in the taste. While I think this beer is ready to drink right now, I'm looking forward to aging this one for a little bit to see how the flavors meld together and soften just a bit.
Bourbon County Brand Coffee Stout; ABV 13.4%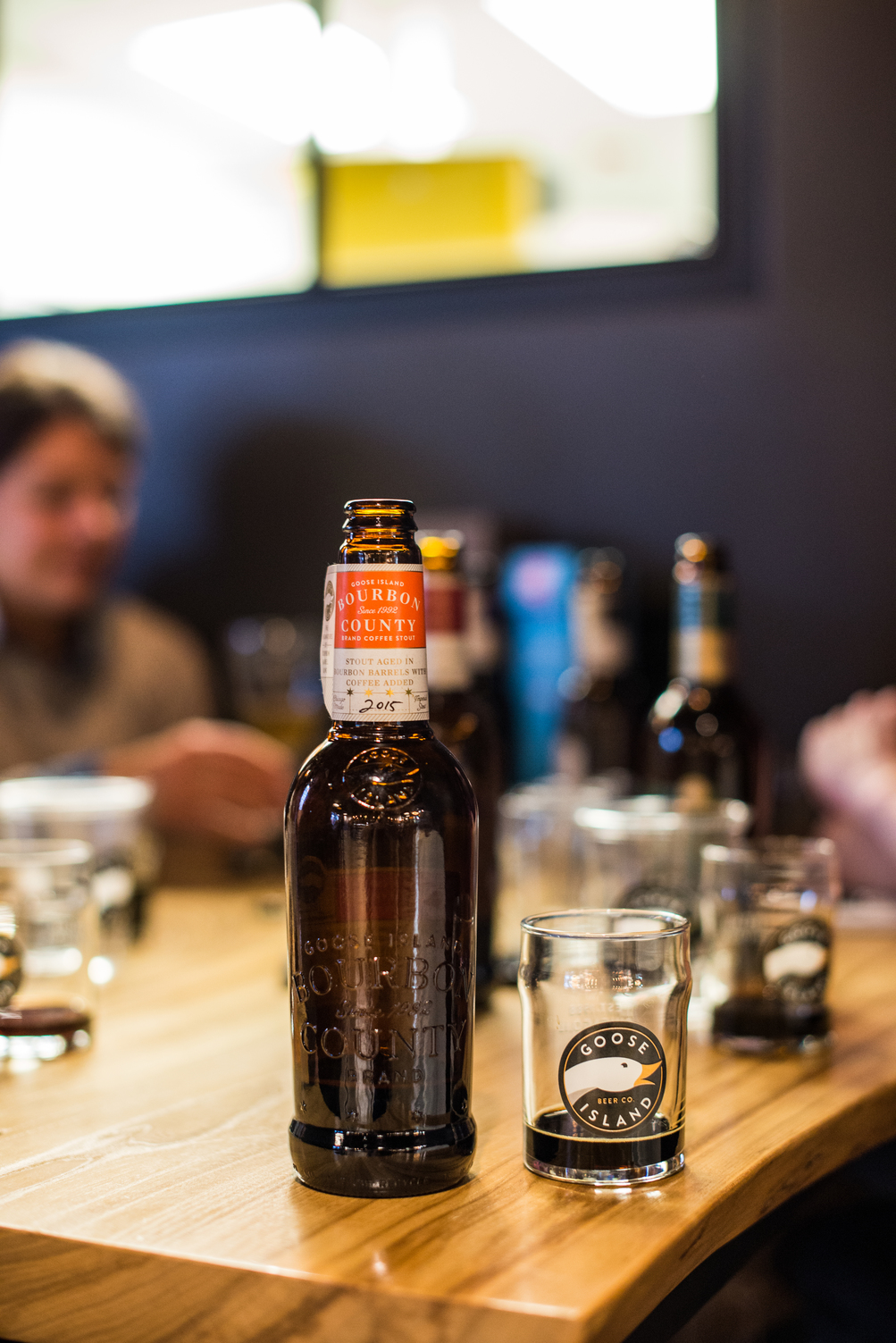 My favorite of the 2015 variants, BCS Coffee features the Los Delirios coffee from Goose Island's next door neighbor – Intelligentsia. Each year the brewers go to Intelligentsia and pick some of their favorite beans which are then cold-brewed and sent to the brewery.
This year's coffee stout delivers a stronger more robust coffee flavor that I really enjoyed. The alcohol is almost completely masked by the coffee flavor. It's much smoother and easier to drink than past BCS Coffees. With such a strong coffee flavor this year, the nuttiness really shines through.
Bourbon County Brand Regal Rye Stout; ABV 13.5%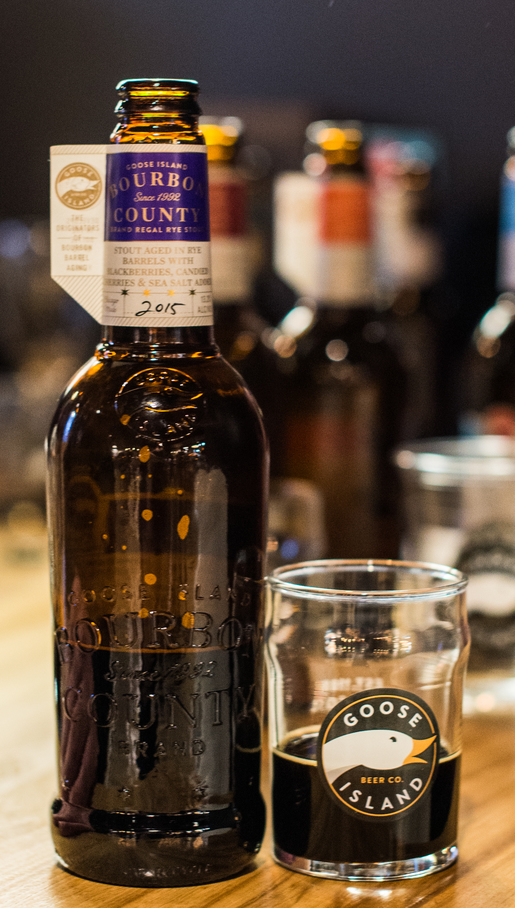 Aged in rye whisky barrels, the Regal Rye this year features a combination of fresh sour cherries, candied cocktail cherries and blackberry juice. At the end a pinch (yes, that's the measurement Jared gave me) of salt is added to the beer.
I enjoyed the blend of fruit, combined with the blend of the vanilla and cocoa nib undertones. Dirksen and I agreed that with more time, you might experience an even stronger flavor as the fruits continue to meld together. This is one I'm going to age at least another 16 months to see what the final product is. So lets talk in mid-2017.
Bourbon County Brand Barleywine; ABV 12.1%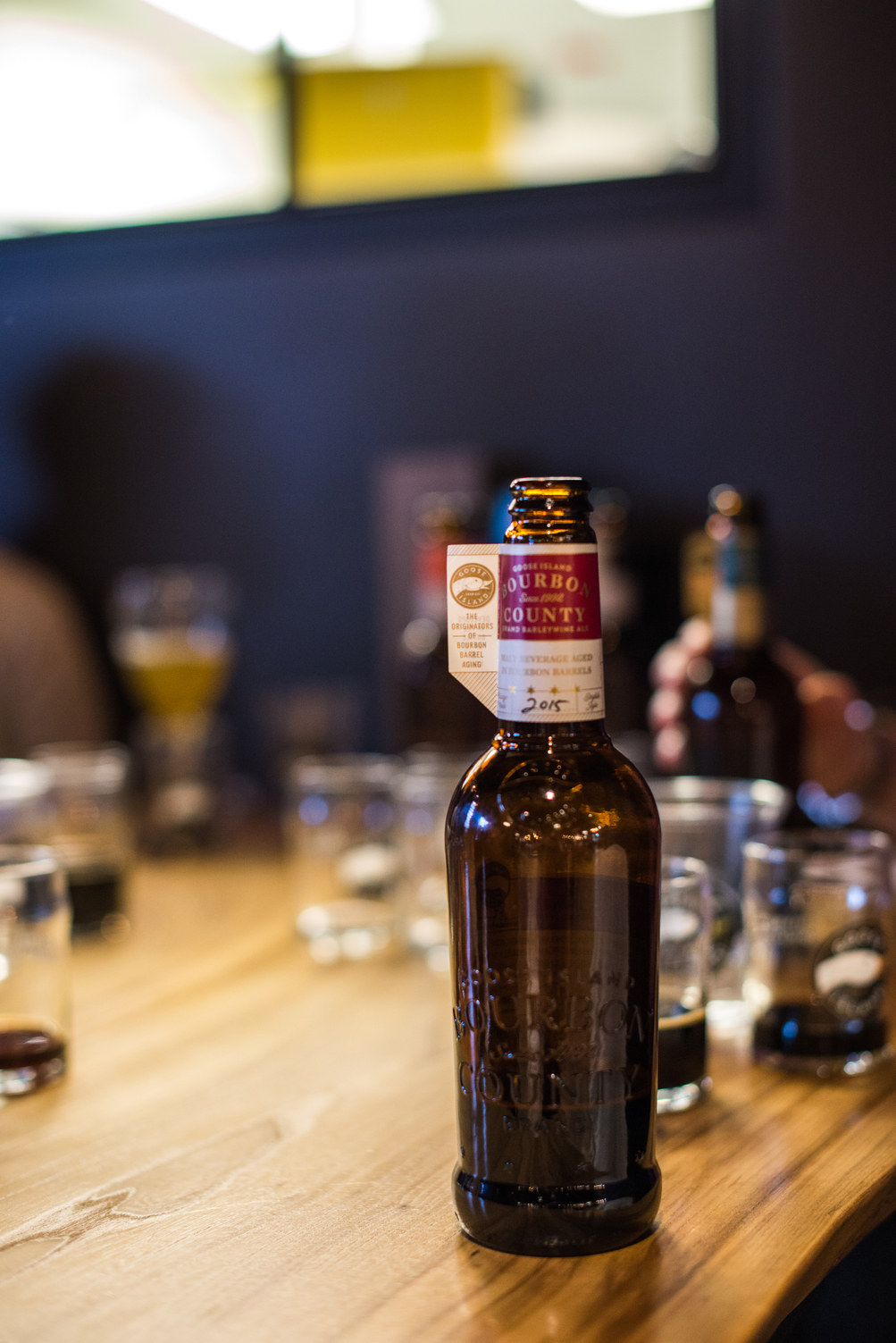 Seemingly the forgotten child in the BCS series, Barleywine is usually the one I can take it or leave it. This year's Barleywine, however, held onto my attention. I got more malt and caramel flavors balanced nicely with the bourbon notes this year which made it an easy drinker.
It's not as thick and velvety as the other BCS beers which I actually liked. A lighter beer full of flavor that has the late bourbon heat really brings the beer together. This is one I wouldn't age and instead would enjoy right away upon getting the bottle.
Again be sure to check back regularly as we'll be updating this post with release times and any further information. Otherwise Happy Thanksgiving and Happy Hunting and be sure to use #BourbonCountyStout and #GooseBlackFriday on social media once you've secured your liquid gold!
---