No Comments
Brasserie Cantillon | Iris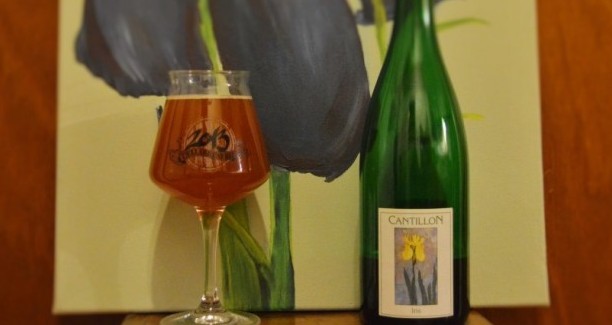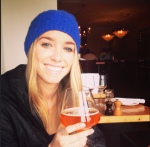 Style: Unblended Lambic | ABV: 5.0%
Most people have a favorite flower, and mine just happens to be the iris. The iris flower is also the symbol of the Belgian city Brussels. This magnificent European metropolis was built on marshes and swamps, where fields of yellow irises grew in abundance. The yellow iris flower is even on the city's flag. Brasserie Cantillon, founded in 1900, is located in Brussels, the Belgian capital.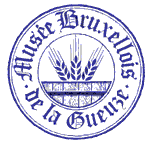 This lambic-style brewery is also home to Museum of the Gueuze. In 1998, this living museum celebrated its 20th anniversary, and in homage, Cantillon made a new, spontaneously fermented beer. The beer was named after the symbolic Belgian blossom, the iris. Notably, the beer's lovely, simplistic label was created by Julie van Roy, member of the Cantillon family. This artistic rendering could give iris fanatic Vincent Van Gogh a run for his money. This special beer is only brewed once per season, making it one of the more rare offerings the brewery puts out.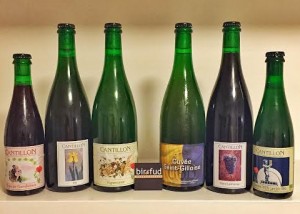 When I traveled to Italy this past summer, I made it my mission to acquire some Cantillon to bring back home to Colorado. I was lucky enough to find Cantillon on the menu at Rome's Bir&Fud (definitely a must if any of you PorchDrinkers find yourselves in Roma). The Bir&Fud manager, Angelo, told me that the beer-centric establishment has a rule in place not to allow customers to take the hard-to-come-by Cantillon beers away, because people will re-sell them for a higher price. However, Angelo said that I looked "trustworthy" and promptly sold me six bottles of Cantillon, including the Iris. Elated, I carefully packed the bottles in my suitcase where they made it safely back to the states. Four months later, I excitedly opened up this illustrious trans-Atlantic 750ml bottle of the 2014 vintage variety.
Iris sets itself apart from all of Cantillon's other beers, which are traditional, blended lambics. A traditional lambic is made with 65% malted barley, 35% raw wheat and dried hops. According to Cantillon's website, "contrary to the other products of the Brewery, [Iris] is not brewed with 35% [raw] wheat." Instead, Iris uses an all pale ale malt in the mash, which gives the beer its amber hue.
This sour ale is also made from malted barley and incorporates fresh Hallertau hops into its recipe. Notably, a traditional lambic does not have any hoppy flavor because it uses 100% dried hops that have been aged for a couple years. Therefore, Iris is different in this regard, as it uses both fresh and dry hops. According to Freshhops.com, the Hallerau hop originates from Belgium's eastern neighbor, Germany, in the Hallertauer region in Bavaria. This hop's aroma has "ever-so-subtle flower and spice fragrances." Flowery hops for a flower-forward beer? Right on.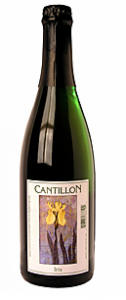 To make Iris, Cantillon ferments wild yeasts and ages the beer in oak casks for two full years. Two weeks prior to bottling, after it comes out of the barrels, Iris undergoes another round of hops. Cantillon takes hop-filled linen bags and soaks them in the beer. They refer to this technique as "cold hopping."
Upon pouring the Iris into my glass, I immediately noticed its cloudy amber hues of orange and auburn. On the nose, the smell has musty, hay-like barnyard notes awakened my senses with funky lemons, oak and fresh-cut grass.
I've never tried an unblended lambic before, and in terms of flavor, I got acidic, vinous green apple accompanied by floral, grapefruit-esque hops. There is definitely a strong presence of oaky sourness, but it is not overwhelming. Iris on the palate is quite delicate, just as a beer named for a flower should be. It has complex layers of lambicus yeast, wild bacteria and lactic acid. There are also some leathery tannins present, from the old, dry hops that were used. The cold hopping technique really imparts the Iris with more a flavorful bitterness from those Hallerau hops on the back end. Furthermore, Cantillon's additional use of these hops really provides a greater level of depth than a run-of-the-mill lambic. Overall, Iris' tartness balances very well with the two different varieties of hops. This beer is crisp, light-bodied and oh-so refreshing!
Like all of Cantillon's offerings, Iris is definitely hard to acquire in the U.S., but if and when you do find yourself in its midst, feel free to regale your fellow beer brethren with this special Belgian brew's origin story. The Dutch can have their tulips, us Belgian lambic fans will hold onto the iris. Cheers!
---