No Comments
MadTree Brewing Co. | Bourbon Barrel Aged Axis Mundi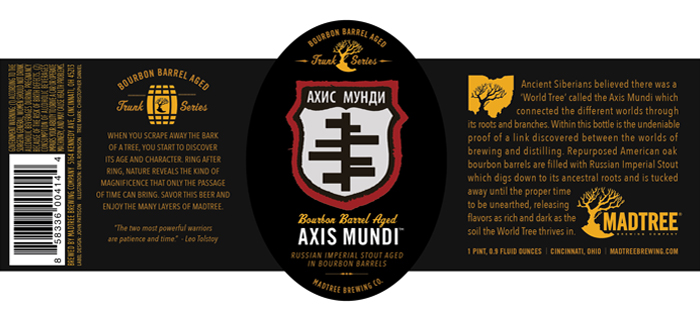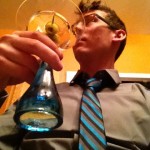 Russian Imperial Stout aged in Bourbon Barrels
ABV: 10.5% | IBU: 71
My favorite season for beer is finally upon us. Who am I kidding, every season is my favorite season for beer! However, this season is especially great, because there are fresh hop IPAs and strong stouts being released at the same time. Today, I would like to take a minute and share with you the latter of the two styles, and in this case it is MadTree Brewing's Bourbon Barrel Aged Axis Mundi.
Let me set the scene for you. It is a beautiful Sunday in the mid 60s in Ohio. I have had a very productive week and a great weekend thus far. I began to realize that I did not have many more days like this one, and also, I had about a bundle and a half of fire wood that needed to be used. The only thing missing was the perfect beer. I went for the barrel aged stout as my companion for the last fire of the season, and by god was it the right choice. I had been saving a bottle of MadTree's limited release for some time now. I thought I would share it when the moment arose. Well, the moment arose today, and let me tell you, I wasn't sharing. Just a little over a pint of this liquid gold all to my self. I was one happy camper sitting next to a proud one match-stick campfire. Which means I started a fire solely on one match stick and didn't even use lighter fluid. Take that boy scouts.
So, here I am, gazing at my miraculous feat of creating fire, while sipping on a strong 10.5% ABV barrel aged Imperial Russian Stout and wondering what to do next. The only logical thing was to capture every detail and then share it with the world. Or at least the ProchDrinking world. The fire is rolling, and there is not much difference in my backyard fire than in the next one, so I'll tell you a little bit about the beer I'm indulging in.
MadTree Brewing makes a stellar Imperial Russian Stout called Axis Mundi. Rich, malty, and coffee flavors absorb your mouth every time you have the pleasure of drinking one. However, they did not stop there. They did what any good brewery would do and aged it in Bourbon Barrels. Thus creating Bourbon Barrel Aged Axis Mundi. The barrel aging transformed this young, tantalizing brew into a full grown and mature adult beverage. The body has mouthwatering flavors of vanilla, oak, chocolate, coffee, and of course, bourbon. The nose is a bouquet of vanilla and bourbon pleasantries. Now where this beer really takes off is in the mouthfeel. Velvety smooth body with malty notes. The malts used in this brew are what really make it special, and if you want to know what malts MadTree used, they'll tell you "A metric shit ton".
Bourbon Barrel Aged Axis Mundi was the first beer to arrive in MadTree's bottling line up as well as their Trunk Series. Trunk Series is MadTree's barrel aging series where they transform existing brews into something even better, and then bottle it to be enjoyed at home. When I think of the term Trunk Series I picture my grandpa going to his cedarwood trunk and pulling out something special. It may not have been beer, but I can assure you once I'm a grandfather I will definitely be pulling out some aged beers from a cedar trunk. The trunk will of course allow for standing beers, because everyone knows not to age beers laying down……ever.
Well guys and gals, it's been fun, but since it gets dark at 5pm now, I need to start grilling before it gets too chilly. One last campfire, one last grill-out, but thank goodness this was not my last BBA Axis Mundi. I've got one in the cellar that I can't wait to crack open in a year when the timing is right. Cheers, and happy stout season!
---