No Comments
Brewery Showcase | Harvest Moon Brewery & Cafe (New Brunswick, NJ )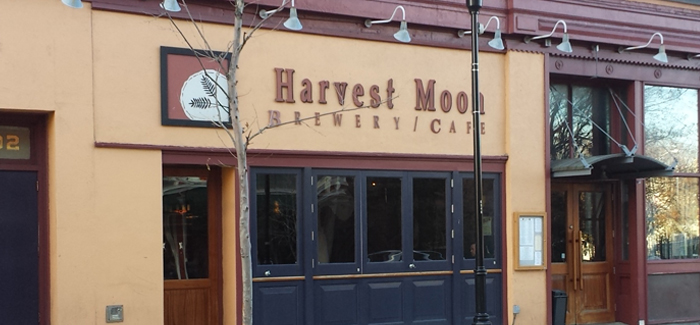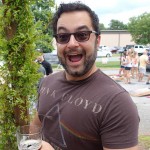 To many, opening that acceptance letter to a college or university is like getting a key to a wondrous, magical place. There are aspirations of stretching one's borders, meeting new people and trying exciting things. With a kiss to mom and dad, you're set free into a place of questions, higher learning and generally speaking — really bad beer.
Maybe not bad per se, but at the very least inexpensive and in large quantities. And in some cases, of questionable sanitary standards.
As the years and semesters go by you inevitably learn things. By the time you walk down the aisle for your degree, there is one thing you can leave the hallowed halls of your education institution knowing with certainty: I know the kind of beer I like.
It took time, but as you grew, so did your palate. And as is the case in New Brunswick, New Jersey, home to Rutgers University and Harvest Moon Brewery, sometimes you have to just try new things to see what you like.
"I kind of have this motto of, 'If I brew it, they will come,'" said Harvest Moon head brewer Kyle McDonald.
"I think the craft movement has progressed to where even now college students are starting to branch into craft beer whereas 10 years ago it was the 25 to 40-year-old range."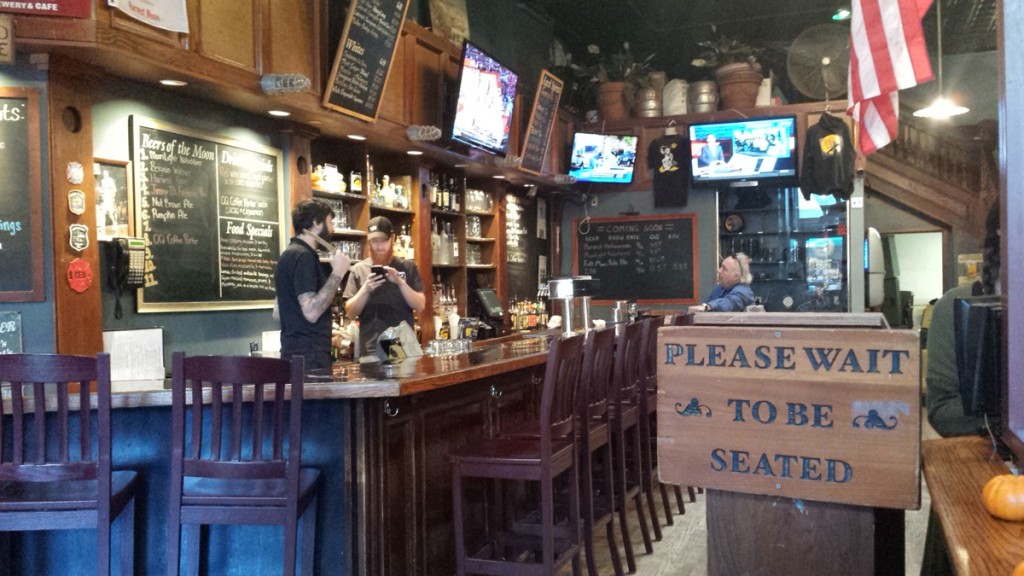 Walking into Harvest Moon you're immediately greeted with sights and smells of well-worn wood and brass. There are large glass panels showcasing its brew equipment. The bar is copper-topped with handwritten chalkboards outlining the many changing beer offerings. In some ways, it's not unlike an Ivy League classroom where McDonald puts on daily lessons in good taste.
"I do always try to keep the kolsch beer on tap, that's our light beer — our light offering. Not as light as an American lager. More flavorful but still light enough that it's approachable for anyone who has even a slightly developed craft palate," said McDonald.
"You'll usually see the Belgian witbier, which is similar in style and has similar flavors, but it's more traditional than a Blue Moon would be along the Belgian lines. About half the year I try and keep some kind of kettle sour on — either a berliner weisse or a gose or a sour saison. Usually I have some sort of malty offering on; something in that not too hoppy, not too dark, middle of the road approachable beer for people who are into craft but don't want the double IPA or imperial stout or anything really big."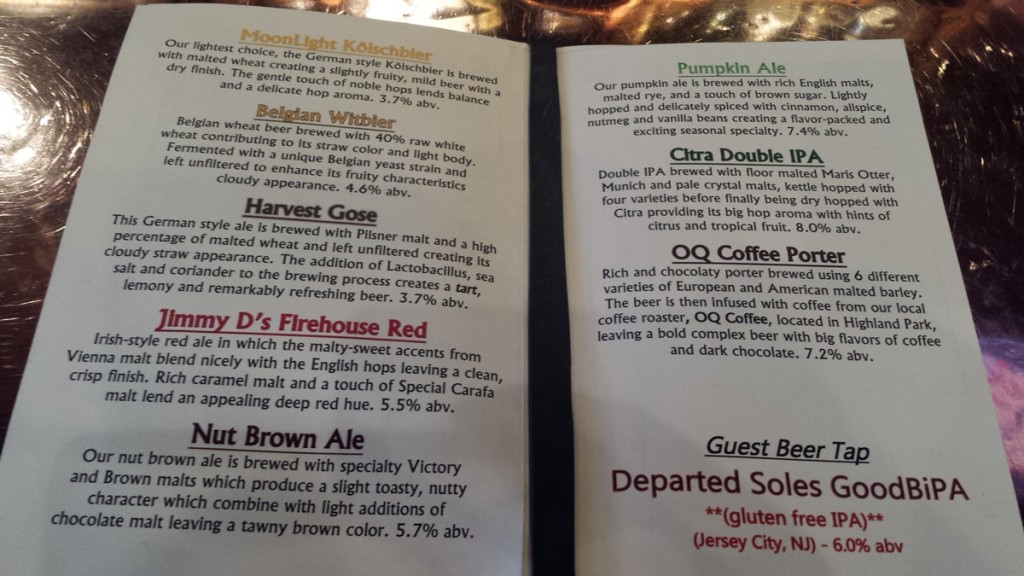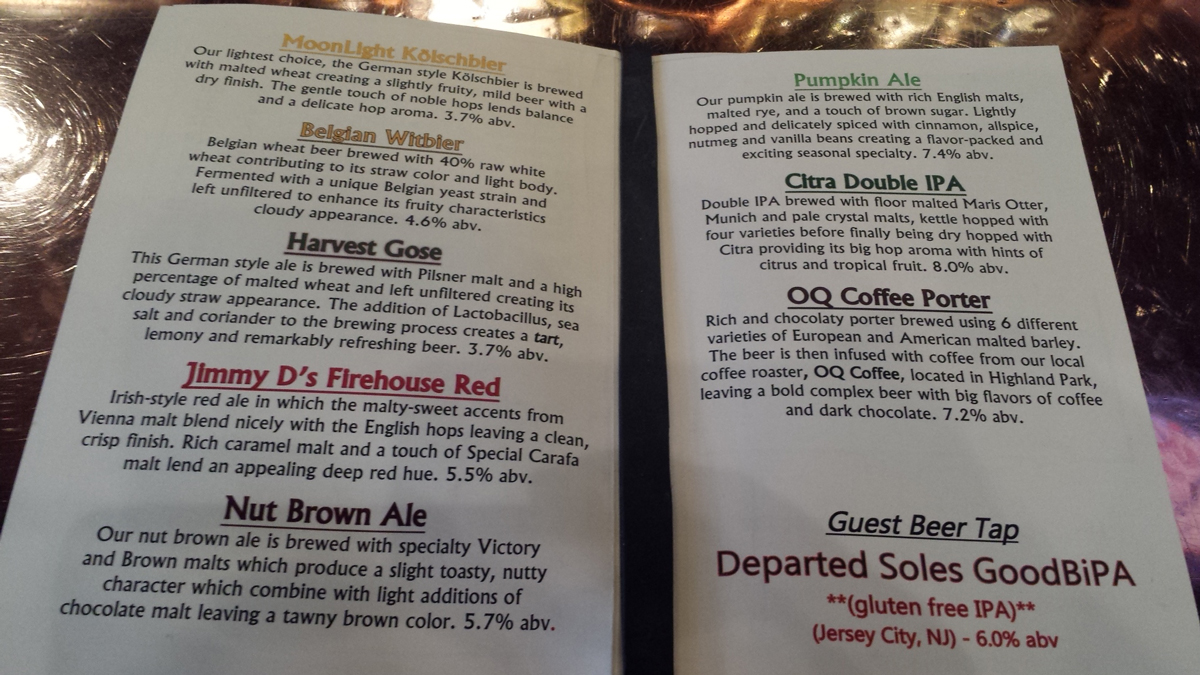 While at Harvest Moon, I enjoyed an OQ Coffee Porter. The beans were hand selected by McDonald and then roasted at OQ Coffee's nearby headquarters. McDonald is able to select the exact type of characters he's looking for in the bean and the level of roast. He says it helps create a unique beer while helping a locally-sourced product.
Speaking of helping out the locals, all the brewery's spent grain is given to Rutgers University's Animal Science Department. It is primarily fed to cattle.
Harvest Moon brews on a 10-Barrel system with four 10-barrel fermenters and six 10-barrel serving tanks. All six are connected directly to draft lines which run to the bar. In all, McDonald says they are producing between 800 and 900 barrels a year.
That's including some of his biggest experiments: his barrel aging program.
"I have eight barrels downstairs … four are first use Jack Daniels barrels full of imperial stout that should be ready in February or March, and then I have a red wine barrel with a sour saison in it. (There are) Two third use bourbon barrels that are basically stripped of their bourbon character," McDonald said. "I have a sour saison with passion fruit and Bugfarm from East Coast Yeast which has lactobacillus and pediococcus. And then I have one other that's a Belgian triple with blueberries and brett."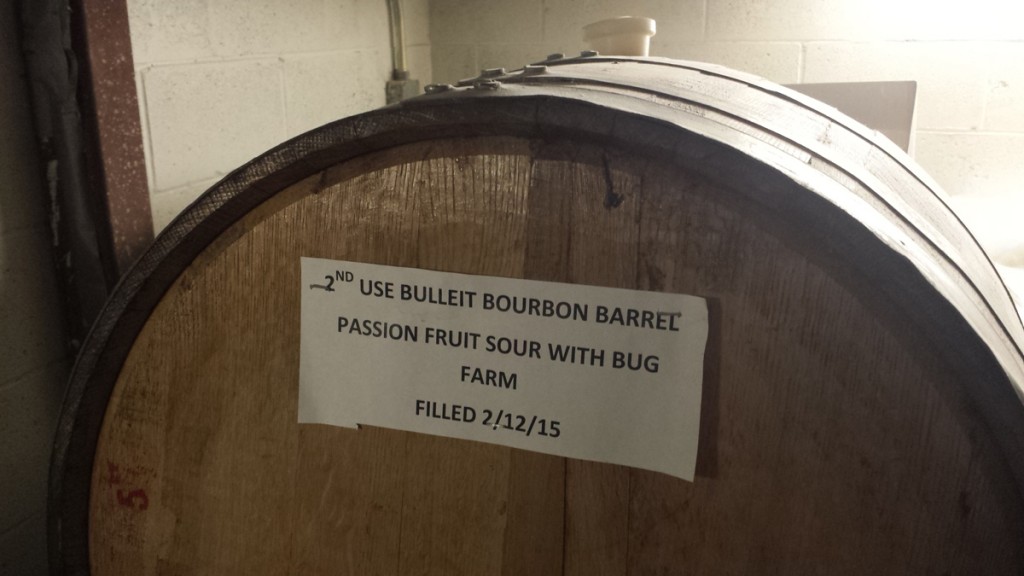 If the beers don't tempt you to stay up late and miss class, the food will. With two floors of seating the full menu features daily specials and seasonal rotations. Some of the standouts are the French Onion Pale Ale Soup, duck rissotto, six different pizzas, salads and sandwiches, and a dinner menu featuring pork ribeye, pad thai and roasted chicken to name a few.
If there's a lesson to be learned from heading out to Harvest Moon, it's this: These guys and gals love their beer, they love their food, and they would love for you to come in and get schooled on what quality craft beer can be.
"Ideally I would love for Harvest Moon to become a destination brew pub. Or certainly as New Jersey evolves with Kane and Carton and Spellbound, Tuckahoe, Cape May — as they continue to grow and evolve, New Jersey is a small enough state that it's very feasible it could become a beer destination. You can hit a lot of spots in a short period of time. I would like Harvest Moon to be part of that."
For more information, check out Harvest Moon's website.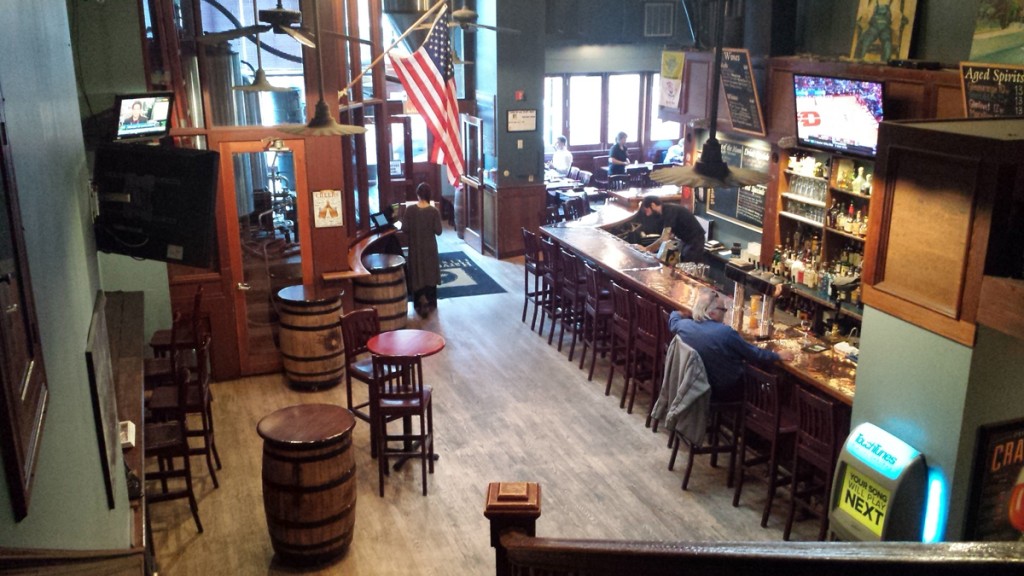 Address:
392 George St.
New Brunswick, NJ 08901
Hours of Operation:
Everyday: 11:30 a.m. – 2 a.m.
Brew System:
10 Barrel
---