No Comments
Brewery Showcase | Fremont Brewing (Seattle, WA)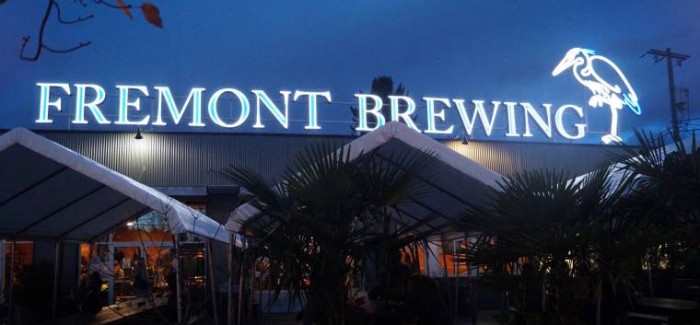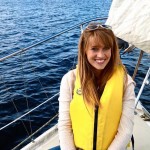 The first time I spoke with Matt Lincecum and Sara Nelson, co-founders of Fremont Brewing, was on the eve of their expansion into Oregon.  After five years, the Seattle brewery would be distributing in their neighbor to the south, marking an incredible step forward for the business and the people fueling it. The husband and wife team were excitedly passing the phone back and forth, their energy contagious. Though I had called to hear about the expansion of their business, Matt and Sara gave me an insight into something much more profound, whether they realized it or not. Fremont Brewing has become a vehicle for bringing meaning to its employees, sustainability to its planet, and amazing beer to the masses. And I had to learn more.
A few weeks later and it's Friday night and Fremont is overflowing with patrons of all kinds. There's a bridal party in motion, a toddler snuggling up to a golden retriever, and various after work happy hours underway. And I have the pleasure of meeting Nelson and Lincecum face-to-face for the first time.
"Everything here is an expression of Matt and I's values now that we own a business," says Nelson as we walk through the brewery. She points out the long tables, the lack of wi-fi, the overall structure of the brewery – which has been set-up to foster connections between anyone who passes through its doors. "It's important to remember who Matt and I are, and we remind ourselves all the time. When we had decisions to make, we fall back on our core values."
Lincecum agrees. "We are just trying to make the best beer that fits our need and our values. You find community in that. We put business aside."
Those core values are what brought Lincecum and Nelson together years before Fremont's start in 2009. If we're being specific, it was ten years before, at the World Trade Organization's Battle of Seattle. The event, which had started off as a peaceful protest, had become militant somewhere in downtown Seattle. Lincecum and Nelson met watching the rally.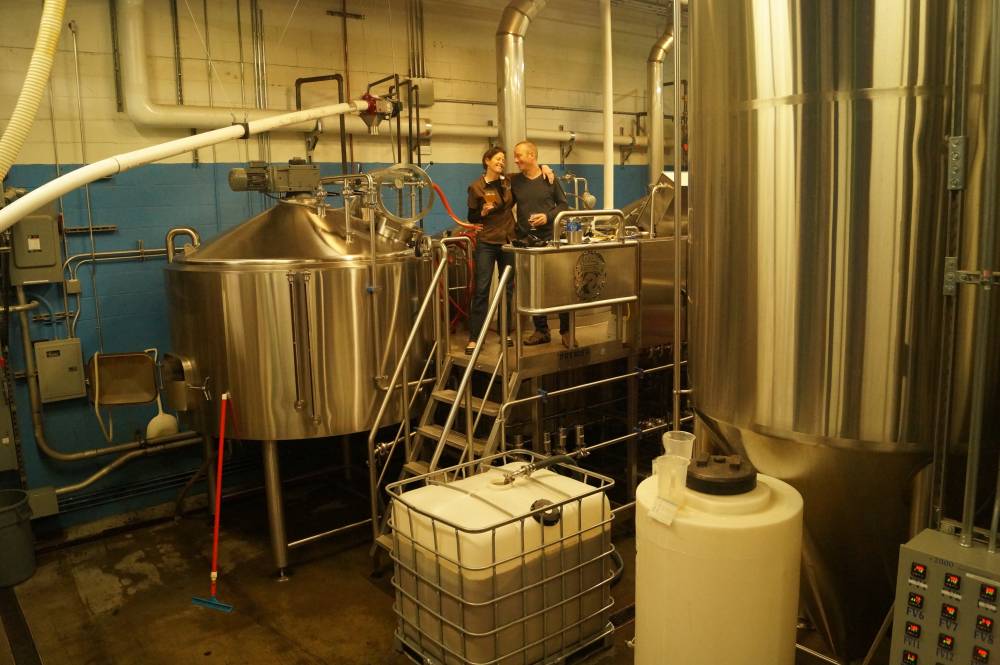 "We were both brought there because of our values," explains Nelson. Lincecum had a passion for environment, and Nelson had an interest in social justice.
Fast forward a few years and Lincecum and Nelson had married, had two boys, and asked themselves a fateful question: Why not open a brewery? Nelson, at the time, was hesitant.
"It seems natural (to own a business) now, but I am risk averse and Matt was not. I am afraid of big things, and Matt isn't. I was into wine and bourbon, and not beer." Explains Nelson, laughing at her original mindset of, "Don't we have enough microbreweries?"
Lincecum's answer was, obviously, no, and a business plan was written up. Things were set into motion – with the couple being tipped off on a space that fit their needs and investors expressing interest. And then, the unthinkable. The economy crashed. Risk averse Nelson was, understandably, nervous.
"We didn't know that there had been any turmoil going on. Upon hearing that, we didn't know what to do, and a good portion of the investors got cold feet," Nelson says. "This was already a big leap, to go into this business. I had left my job at city council, we had two small kids."
Luckily, the meltdown didn't take its toll on Fremont. "It took about a couple weeks before we started to realize that the meltdown could be a good thing, or at least not as scary as I thought. We were lucky to have a couple key investors that thought it was good to invest in something actually real," Nelson explains. Not long after the meltdown, Lincecum and Nelson met with their landlord and signed a five year lease on the space. There was no going back.
"That's when we knew it was real," Nelson reflects. "That's when we had to get resourceful."
It's also when Lincecum and Nelson's core values would come into play. It was time to get clever in regards to the community, the environment, the sustainability, the culture, of Fremont Brewing. Whether or not it was intentional, culture came first.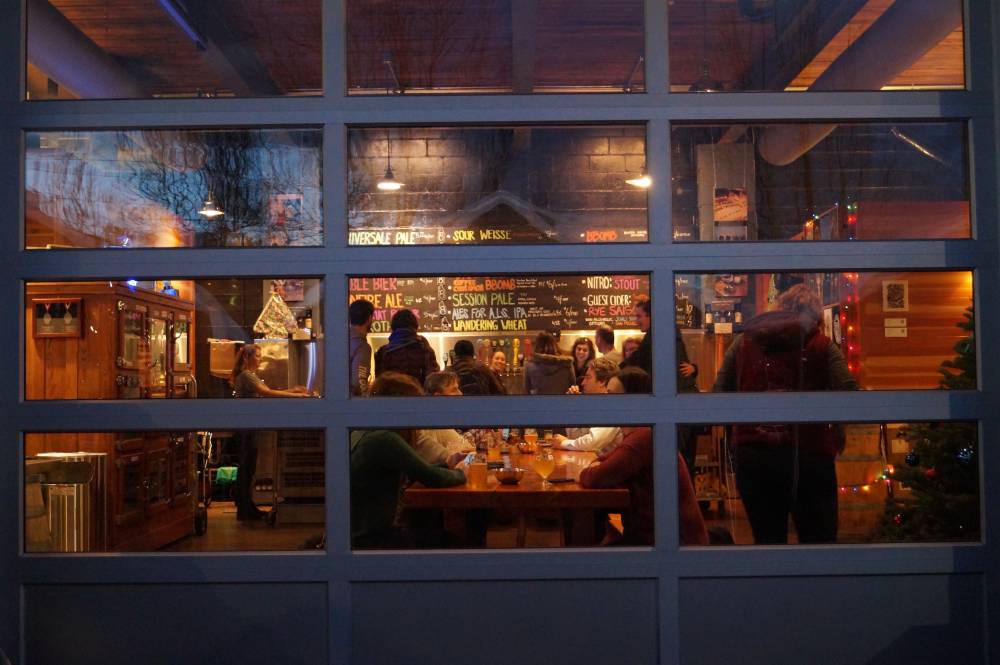 "It's fun being an employer that creates an environment that is rewarding, satisfying, has meaning, and has ability to progress upwards," says Lincecum. Fremont now employs 55 people. The goal is to have all 55 feeling that they're in a place which cares about them. "There's no word, phrase, that expresses it," continues Lincecum. "It's an action. That action delivers meaning to them."
The sustainability, community, and business decisions, came next.
"Sustainable decisions are one by one, and don't have bottom line impact or benefit," Nelson says.
Fremont Brewing is striving to reduce their carbon footprint as much as possible through energy conservation and zero waste production processes. Nelsen says that the "dream is to not put CO2 into the atmosphere."
Fremont also works with Cowiche Canyon, a family owned business specializing in organic hops. Though the organic hops may be more expensive, Lincecum and Nelson paired with the organization because it was the right thing to do. The hope was to elevate the organic hop industry in Washington. That hope became a reality – as the industry is now eight times the size today as it was when they first supported Cowiche Canyon.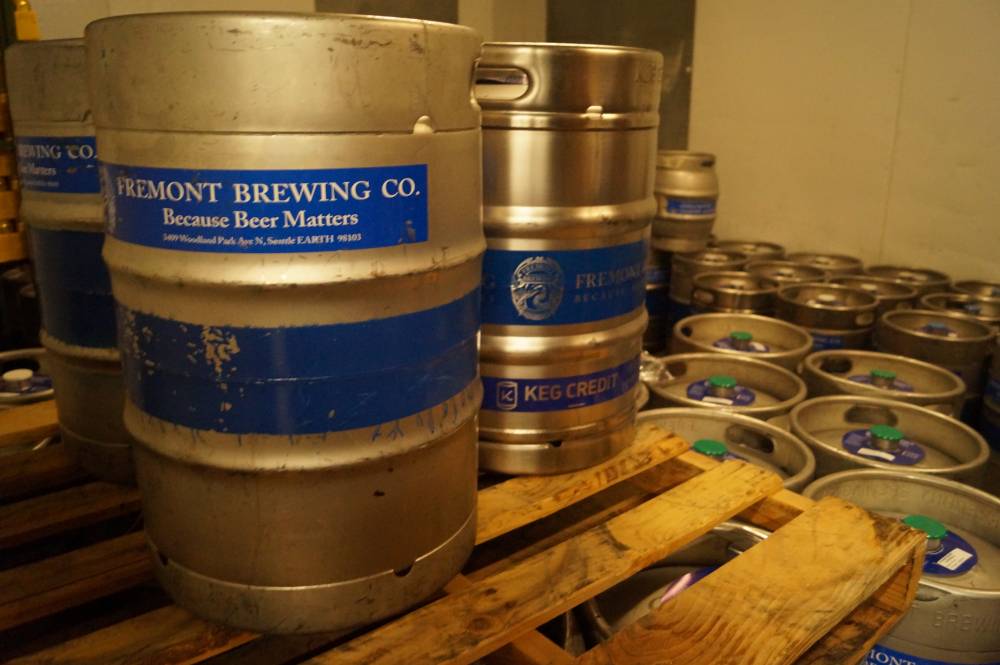 In addition, Fremont has taken the Clean Water Pledge, was one of 24 breweries across the country to sign the Brewery Climate Declaration, uses steam power over natural gas to heat water going into the brewhouse, and gives their spent grains to local farmers so they can feed their pigs and cattle. All of these decisions, along with countless others, earned Fremont Brewing, King County Executive's Small Business of the Year award in 2014. But it was never about the glory, nor the image. It was about those core values.
"You do the right thing because it's the right thing. And we do what we can," Nelson says, putting it simply.
The community aspect is, without a doubt, a continuation of the culture that Fremont created when opening its doors.
"The history of craft beer, the history of beer, is filled with phenomenal people, great businesses, lots of success," says Lincecum. "The fun part about it is to be a part of this community. We want to be a contributing member of our community. It doesn't have to be a revolution, it just has to be something that's meaningful. If you look for something that threads all of the things that you do together, you find meaning in what you do. You find meaning in how you run your business, how you treat your customers, your employees."
But, of course, you can't have a business without a product. And that product – all 18,000 barrels of it – is delicious, addictive, and award-winning.
"The driver for all new beers really is the passion. What turns us on?" Lincecum explains, noting that the brewery balances experimentation with guarantee. Beers that are favorites – that are available year round – are balanced with seasonal releases that push limits and are around for limited periods of time. These beers include the Bourbon Barrel-Aged Abominable (B-BOMB) and their Bourbon Barrel Aged Dark Star (BBADS), which have won the 2012 World Beer Cup Bronze and 2014 GABF Silver awards, respectively.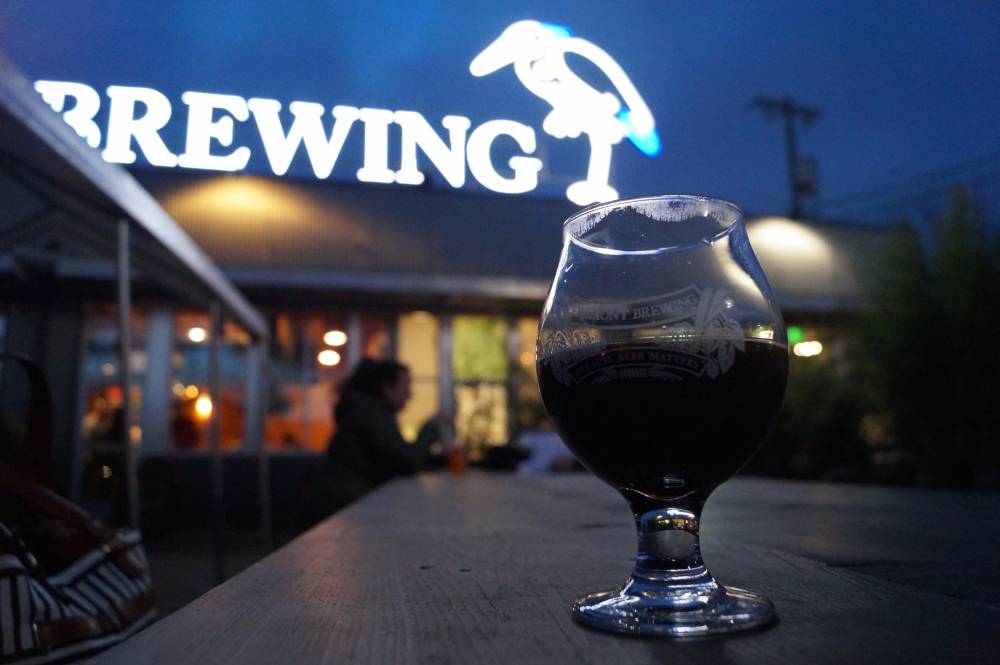 "We've got a passion for experimentation, and that passion for experimentation has taken us to all those great beers you're drinking now," Nelson says. "We also have a reputation for consistent quality."
And, at the end of the day, it boils down to to the beauty and pride of the craft for the brewers, including Lincecum. "When someone believes and says, 'Hey man that was really a phenomenal experience for me,' and you're proud of it because you worked really hard at it, that's a great feeling. It's not because you make a lot of money out of it."
A few beers that are must-trys are the classics – the Interurban IPA, and the Universale Pale, as well as the limited brew, the Bourbon Barrel Abominable.
The Classics
Interurban IPA
When I think of an incredible IPA, I think of the Interurban. Sitting at a 6.2% ABV, this beer is filled with flavor thanks to the spices of Chinook, Centennial, and Amarillo hops. At 80 IBUs, it is bursting with flavor for the adventurous beer drinker.
Universale Pale
Fremont is known as the 'Center of the Universe', giving this flagship beer its name. This beer is a Northwest twist on the classic pale ale, using select blends of pale roasted malts with classic Northwest hops to achieve perfection. It sits at a 5.6% ABV and 30 IBUs. It's available year round, and is one to have in your hand, or in your fridge, at all times.
Something Rare
Bourbon Barrel Abominable
Also known as the B-BOMB, this bourbon barrel-aged edition of Fremont's winter ale fills your mouth was spice. This beer brings the drinker notes of caramel, bourbon, wood, vanilla, and chocolate malt flavors, while also being just a bit hoppy. Be careful – this beer has a whopping 14% ABV and 65 IBUs.
One final thing that Fremont is known for? It's slogan – Because Beer Matters. The slogan is deceiving. Beer is an all encompassing term for Lincecum and Nelson.
"Beer matters because in this position you can inspire people," Lincecum says, as Nelson looks at her husband, nodding and smiling.  "I see the industry as a way to do great things," she says.
Fremont Brewing is open seven days a week, 11am – 9pm. For more information, visit their website at FremontBrewing.com.
---