No Comments
Pyramid Brewing Talks Brand Refresh, History, and Relocation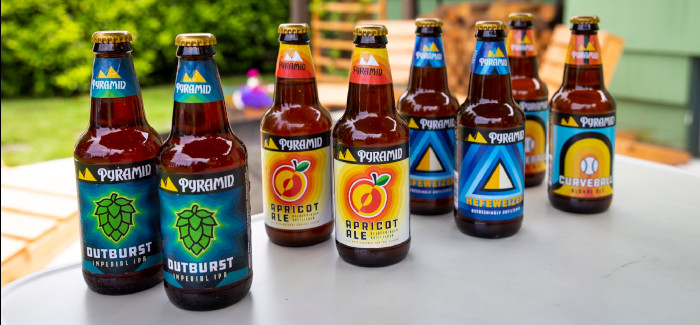 For old-school craft beer drinkers, Pyramid Brewing, with its iconic label featuring a double pyramid and evoking the beauty of the Pacific Northwest, is one of the tried and true originals. For many, their Hefeweizen, Wheaten, Apricot Ale or Outburst Imperial IPA was the gateway to quality craft beer. The times have changed, but the quality of Pyramid's beer hasn't.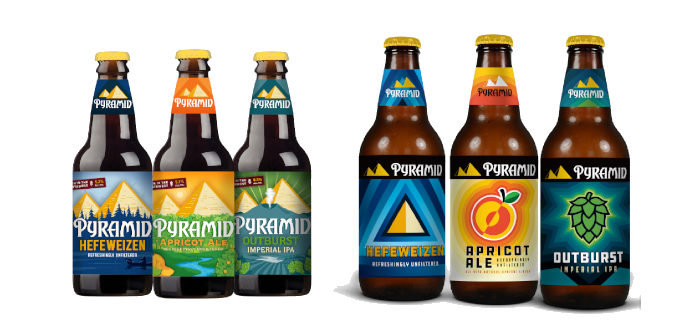 Over the years, as the number of craft beers lining grocery store shelves has dramatically increased, Pyramid has adapted its label designs accordingly. Although the most recent change was a mere three years ago, Pyramid Brewing announced in June 2020 that they have adopted a new branding theme for all of their bottle and can labels. To learn more about the branding revamp, and to discuss the challenges of being a brewery during the COVID-19 pandemic, we sat down with Head Brewer Ryan Pappe and Brand Director, Bruce Kehe.
PD: Pyramid Brewing has recently revamped its label design to a modern, more bold, and clean look. Can you tell us a bit about the impetus behind this major shift in your brand image?
Kehe: The craft beer category has never been more competitive and beer drinkers have an overwhelming amount of choice on the shelf. We wanted to ensure that our labels reflect the continuous improvement and high quality of the beers inside the package. Our new labels are a modern, clean look with great standout on the shelf to attract new awareness. And we're confident the world-class beer inside will keep them coming back.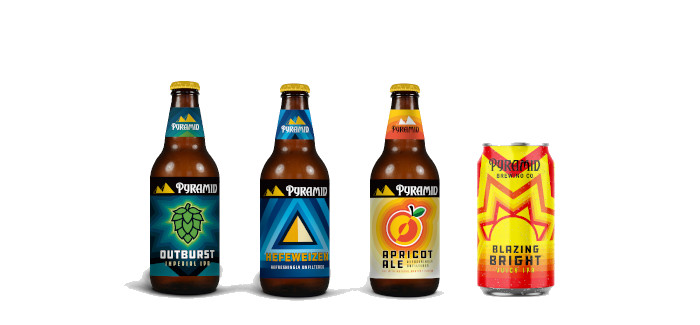 PD: You're also going through some big changes, including shuttering your Seattle brewpub and focusing more on your headquarters in Portland. Was that decision primarily because of COVID-19 or were there other factors leading up to it?
Kehe: The decision was due entirely to the effects of the pandemic. Our Alehouse was located in a district with a football and baseball stadium and we relied heavily on games to bring guests through our doors. Unfortunately with the baseball season postponed and no news on when people would be able to enjoy games at the stadiums, there wasn't any way we could keep our doors open.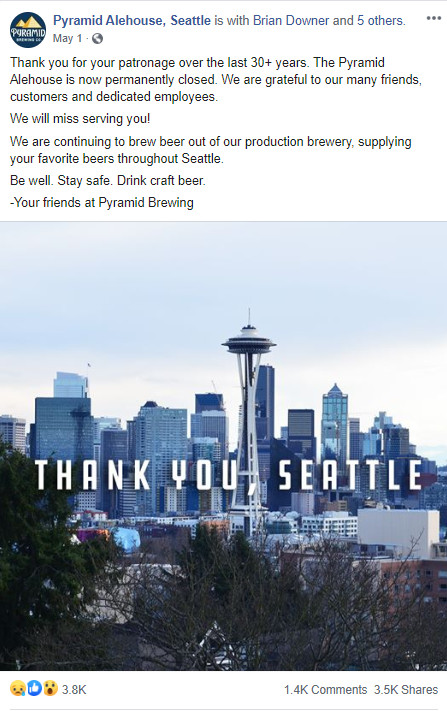 PD: Tell us a bit about the history of Pyramid Brewery in regard to the type of beer you brew, your relationship with the locale of the Pacific Northwest, and how all of that coincides with your labeling and branding decisions.
Kehe: Pyramid is a brand that was born in the Northwest and will continue to be here. When we were founded in 1984 in Kalama, Washington, there was not much choice and flavor in the beer market. We were inspired to bring flavorful beers to people tired of similar tasting industrial light lagers. Throughout our history, Pyramid beer has been brewed in Kalama, Seattle, Berkeley, California, and Portland, and we've always carried the spirit of brewing flavorful beers. This spirit was historically represented by the Northwest-inspired landscape images on our packaging. With the new design, we are doubling down on flavor by creating a central icon that captures the character of each beer's flavor and history.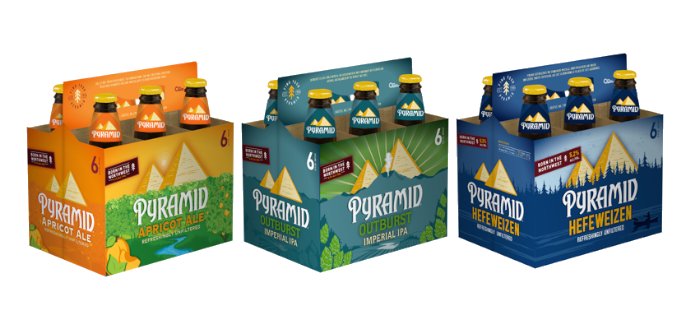 PD: With such a strong emphasis on the Pacific Northwest in your beers and their labels, do you have any plans to increase your distribution beyond the PacNW so the beers can speak for themselves or do you feel this conscious image focus won't translate as well to those not familiar with the magic of living in this region?
Kehe: Overall, Pyramid will continue to be largely distributed in the Pacific Northwest. Eighty-five percent of our beer is sold in Oregon and Washington. However, we feel confident that beers such as Blazing Bright Hazy IPA and Apricot Ale have growing relevance in California, Nevada and Arizona, so we will explore additional distribution opportunities there. The reputation of Pyramid and many other great brewers in the Northwest resonate with craft consumers beyond our region.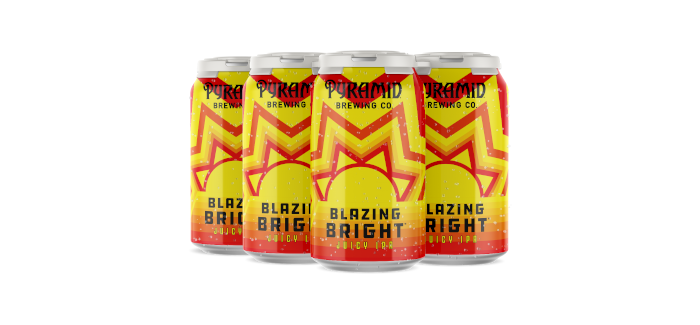 PD: There is a clear evolution in label design across four major branding eras. Can you talk to us about the conscious design decisions that you made for each of these eras, and how they reflect the time period they each represent?
Kehe: I can speak to the three labels we have had since I joined the company in 2016. The label that was in market from 2011 – 2016 was a callback to the classic Pyramid labels prior to the rebranding in 2009. In 2017, we wanted to create an evolution of the brand, unlocking the visuals that were trapped in "keyhole" design from 2011. This gave us a greater opportunity to see the story of the beer set in a landscape of Pyramids in the Pacific Northwest. However, as cans emerged as a growing package with consumers, that visual story got muddy on the shelf with the smaller format. Additionally, we heard from our consumers that the relationship between the pyramids, landscapes, and beer on the labels were a little confusing. So we really wanted to tell drinkers quickly what is in the bottle or can in a simple, clean, and visually striking way. Through several rounds of concepts we came to the look we released in market with a central image that tells the story of the beer, with radiating bands of colors to catch the eye and bring some fun and folly to the delicious beers inside.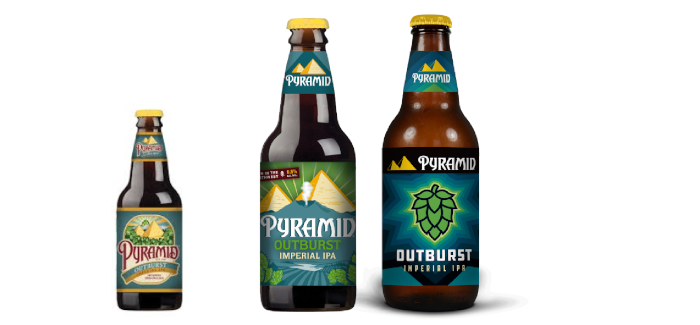 PD: When you decide to release a new beer, or make decisions about packaging existing beers, how do you determine whether to package the beer in cans, bottles or draft? On the same note, when bottling, do you find some beers sell better in 22-ounce bottles rather than 12-ounce bottles?
Kehe: In general, cans are growing and bottles are declining in sales. However, I think style and drinking occasion are factors in determining what we will use. So beers that are good for outdoor activities such as Blazing Bright IPA, with a citrusy refreshing flavor and lower ABV are ideal for backyard gatherings or backpacking. But an Imperial IPA like Outburst, which is better suited to exploring with food or evenings with friends at home, can still be a viable bottle brand. Bomber bottles and 19.2-ounce cans are both considered single-serving packages, so better suited for experimenting with new beers you haven't had before prior to committing to a six-pack, especially relevant right now with social distancing and limited bar and restaurant sales.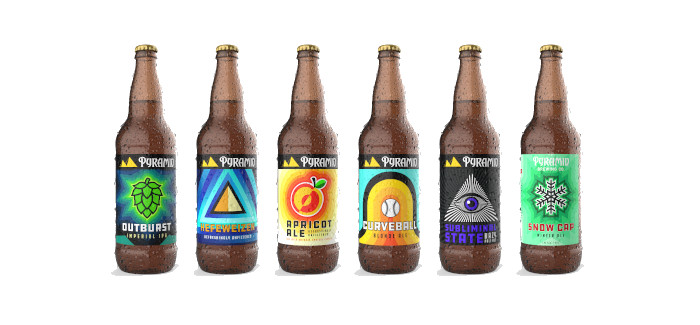 PD: You have some classic beers from back in the day that you continue to sell. Notably the Apricot Ale and the Hefeweizen (both unfiltered wheats). Has the recipe changed at all for these beers? How do they fare in today's market and in beer competitions in comparison to newer beers?
Pappe: All of our beers change slightly over time, as hops and grain change year to year. We adjust the recipe as our ingredients change to keep the beer itself as consistent as possible. Neither Hefeweizen nor Apricot Ale has substantially changed in my time brewing them (over a decade). Despite this, they do seem to hold their own in competitions. Hefeweizen last medalled with a gold from the 2009 GABF. Apricot received a gold at the 2014 GABF, a medal at the 2020 Best of Craft Beer Awards, and a Double Gold in SIP Northwest's Best of the Northwest competition. It is great to see these classic beers still hold their own against the huge numbers of entries the major competitions bring in, proving that they are still very relevant to our consumers after all these years. The best part about these large competitions is getting the judging forms back to see the comments. Even when they don't win a medal, the judging notes tell us that these beers are well in the mix of what a craft beer drinker expects to get when they order a wheat beer or a fruit beer.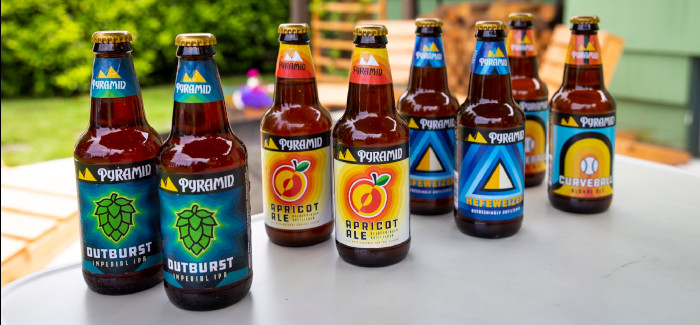 PD: Talk to us about beers beyond your traditional lineup. You're now brewing Hazy IPAs and beers with the new Norwegian yeast Kveik. While both represent modern innovations with a historical twist, some might toss out the word "trendy" when discussing these types of beers. Was your decision to brew beers such as these driven by the market, a genuine interest in brewing something different than the norm, or a bit of both?
Pappe: When we have the opportunity to bring a new beer to market, our first priority is to make sure we are producing a quality beer that we can be proud of. Sometimes the idea behind a new beer evolves from experimentation in the brewery with new ingredients, processes, or beer styles, other times we are inspired by new directions we see our fellow brewers taking with their beers. Using our two newest beers (Blazing Bright Juicy IPA and Subliminal State Hazy Pale Ale) as examples, Blazing Bright grew out of experimenting with the Hazy IPA trend. We know we wanted to package a Hazy IPA, so we tried many different hop blends, yeast strains, and malt bills until we found the one we liked the best. Subliminal State started from small batch trials with a Kveik yeast strain. We did a few trials and ended up with a beer that we loved. In the first instance, we had a target style we wanted to make and from that we developed Blazing Bright, while with Subliminal State, we were just experimenting with a new yeast and the next thing we knew we had a great beer we couldn't wait to share with the world.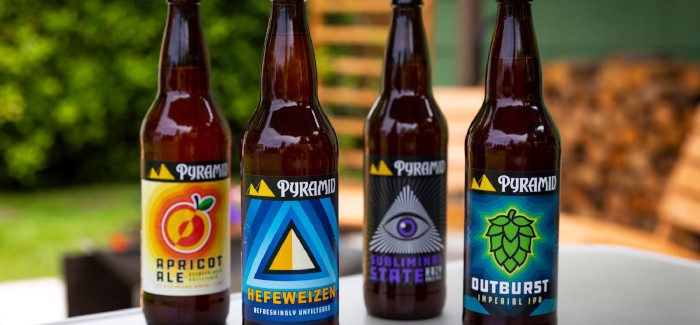 PD: Tell us about your brewing setup. Is it correct that you're still brewing on your original kit, which is a German system from the 1950s designed for lagers? If so, how do you manage to pull off beers that are high-gravity or have a lot of hops or fruit?
Pappe: Our brewing system is a large 1950s-era German brew system. It was built to brew German Pilseners over half a century ago, but now finds itself halfway around the world making all kinds of beers and styles, most of which did not really exist when it was built. It is a great system for brewing lagers, or wheat beers, or pale ales, or pretty much any kind of moderate strength beer. However, the number one beer we make right now is an Imperial IPA. It is certainly taxing on the brew system; we basically cram as much grain in the lauter tun that we can. Between that, the heavy hopping in the kettle, and then all the dry hops added to the fermenter, it is an ingredient and labor intensive process. We have gotten very good at making it work over the years, and have also invested in some newer technologies and equipment to pair with the antique brew system so that we can continue to make popular, contemporary beers with a brew system that wishes everyone just wanted to drink a nice clean lager.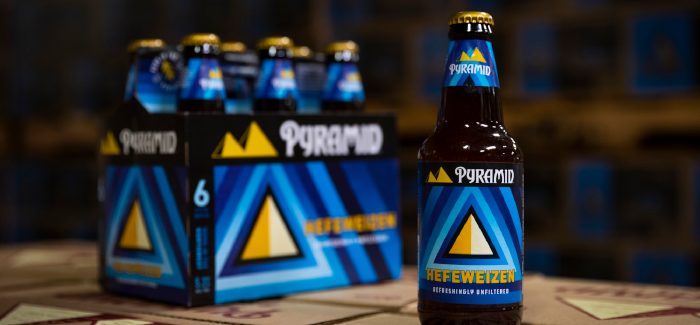 PD: How long have you (Head Brewer Ryan Pappe) been with Pyramid? Can you talk a bit about your history as a brewer and your overall brewing philosophy?
Pappe: I have been brewing here at Pyramid since October 2008. I started as a homebrewer after I graduated college, and after 5 years decided to take the plunge into the professional brewing world. I moved from the west coast to Cleveland, Ohio to take a position as an assistant brewer. After a year and a half brewing in Cleve-Oh, I headed back to my comfort zone in the Pacific Northwest. I spent one additional year brewing at a small Washington state craft brewery before moving into the big time with Pyramid. All of my training and education comes from working in breweries, or attending conferences or short trainings as a professional, rather than classroom study. I think of myself as a very practical brewer, rather than a mad scientist. I have an amazing team of brewers working hard everyday to make delicious, quality beer for the world, and thanks to their skill and passion, our beer is consistently great, and hopefully only gets better from year to year as we find new ways to improve our processes and equipment. My job is to make sure our customers get delicious beer every time they buy a bottle, can, or pint of Pyramid beer. That is true not only for our classic Hefeweizen and Apricot Ale that have been around for decades, but for brand new beers like Blazing Bright or Subliminal State.
About Pyramid Brewing
Born in the Pacific Northwest, Pyramid Brewing Co. crafts some of the PNW's favorite brews from its year-round ales and lagers to its highly anticipated rotating seasonals. In 1984, Pyramid discovered a new way of crafting beer by bringing together adventure, friends, and bold new flavors and innovations that have withstood the tests of time. Find Pyramid beers by visiting: www.pyramidbrew.com.
---