No Comments
Upslope Brewing Company | Wild Christmas Ale (Lee Hill Series, Vol. 6)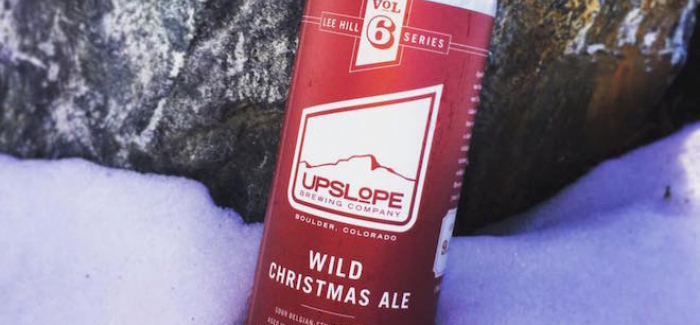 ABV: 9.2% | IBU: 11
Let me preface this showcase: Upslope's standard Christmas Ale is a really solid holiday dubbel. The Abbey Ale Yeast adds pleasant notes of dried fruit to the beer's expected holiday spice to create a unique flavor. By any measure, it's a good holiday beer.
That said, the Upslope Wild Christmas Ale takes it to a new and unexpected level. It's a sour Belgian-style spiced dubbel aged in Maryland rye whiskey barrels from Leopold Bros. Distilling. That description alone is enough to make your head spin. According to the label on the can (like all beers in this series, it comes in a 19.2-oz. aluminum can), "Aged 10 months in whiskey barrels with our house sour culture, we transformed our Christmas Ale to bring you this wild take on our holiday favorite."
Wild take, indeed.
If the Christmas Ale is a comfortable holiday gathering with your family, the Wild Christmas Ale is the holiday party with your best friends that goes late into the night and never lets up—the one Christmas get-together that you'll tell people about well into the New Year.
When I first cracked open the can, the aroma was distinctively tart and a tad fruity. Naturally, I was anticipating a pretty sour beer, and the first few sips delivered exactly that. It was a perfectly brisk way to start the experience. As I let the beer sit for little while, however, that's when the party really started. Approaching room temperature, the Wild Christmas Ale took on much heavier notes of the sweet dried fruit, nutmeg/spice, whiskey and oak. By the time I got to the last few swallows, the beer delivered a slight flavor of chocolate covered cherry, without losing all of its initial tartness. Just like the holiday party with your friends, this beer keeps getting crazier and better as the night goes on.
The Wild Christmas Ale from Upslope is highly complex, yet maintains a great balance—and it might be my new favorite holiday beer. Simply put, this beer is a lot of fun to drink. And isn't that what the holidays are all about?
https://www.instagram.com/p/-2XM5CELFq/
---