One Comment
Drink Hollywood | 14 Real Life Movie & TV Bars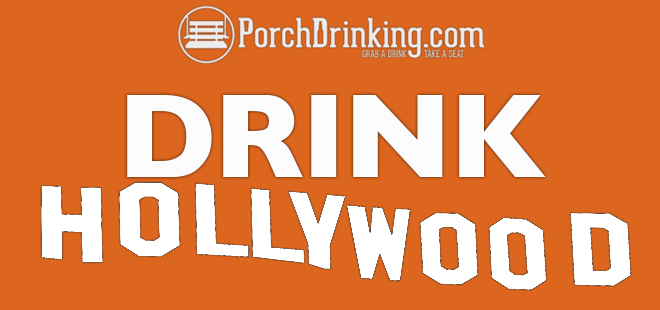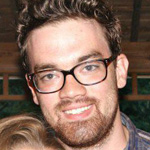 If you've seen more than a few TV shows and movies in your life, at some point you've watched a scene where characters talk (and drink, and sing bad karaoke, and flirt) in a bar. Some of the most memorable scenes in pop culture take place at bars. And more than once, I've been out for a drink with friends when I have the thought, "oh wait, isn't this where they shot that scene from that thing?"
When you really start looking into it, every nook and cranny of Los Angeles has a bar. One report estimates that there are 1,000 bars in LA, and an additional 10,000 full-service restaurants. A few of these drinkeries have made their way into movies and TV shows that I've seen. Here now is a look at where you, too, can drink where your favorite characters drank. 
Full map: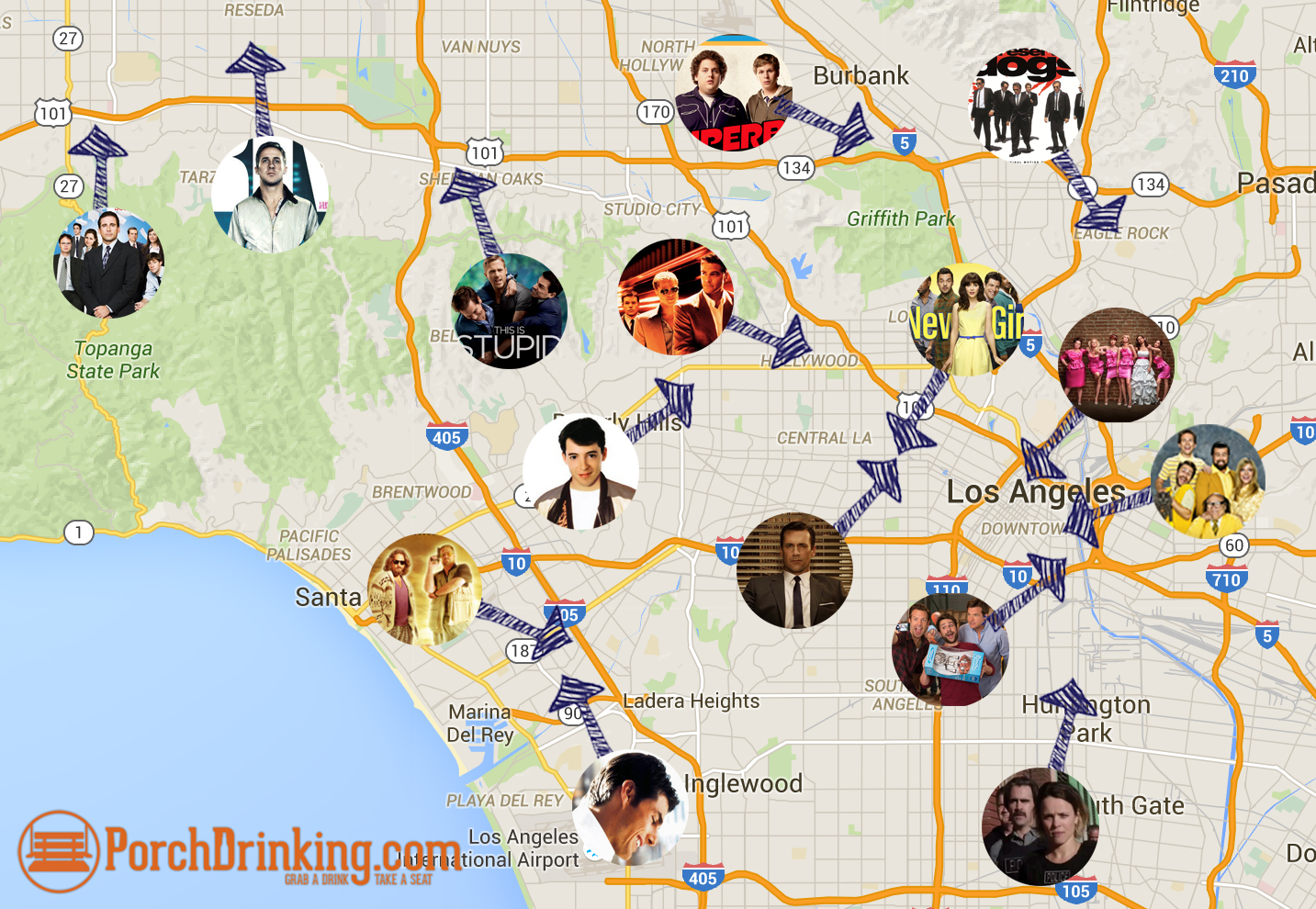 ---
"The Office" | Pickwick's Pub
Let's start with one of the more confusing places on this map. A lot of important moments on "The Office" happen at Poor Richard's, a bar in Scranton (where the show is set). And there is an actual Poor Richard's in Scranton. But here in Los Angeles, the Poor Richard's scenes were shot at Pickwick's Pub in Woodland Hills. So next time you're meeting a friend in the Valley, you can recommend the place where the Dunder Mifflin crew watched their TV commercial and Roy threw a glass at the mirror after finding out Pam kissed Jim. It's also where they shot the "Up Chickens, Down Chickens" scene, which is actually a super fun game to play with groups.
---
"Drive" | The Great Wall
I'm a heretic in that I didn't really love the movie "Drive," but I was struck by the scene in the Chinese restaurant where Albert Brooks threatens Ryan Gosling. The restaurant is so well-decorated, I figured it had to be a set or a very fancy establishment in a ritzy neighborhood. Nope. It's The Great Wall Chinese Restaurant in Reseda. It's not bad food… just not great. 3.5/5 on Yelp. As one review put it: "Vegetable Fried rice was…good. Nothing to comment on here. Rice is rice."
At least they've got a full bar. And for the ladies, there's a chance of sitting in the same seat where Ryan Gosling sat.
---
"Crazy, Stupid, Love" | El Torito Grill
Since we've covered Ryan Gosling and Steve Carrell, let's get to that movie they did together – "Crazy, Stupid, Love." You'd think I'd talk now about that scene where Ryan Gosling meets Steve Carrell and teaches him the art of picking up chicks.
But no. I'm not telling you where that bar is. Because that bar is fake. It's a set. Instead, let's talk about the scene shot at El Torito Grill in Sherman Oaks.
Josh Groban's character is so lame, he's making a toast with a cola. And if you're gonna drink at El Torito, Emma Stone… why not at least get a margarita? Or a beer.
---
"Superbad" | 7 Days Food Store
Not a bar, but undeniably one of the most hilarious uses of getting-drinks locations in any movie. When I first came to California 5 years ago, the 7 Days Food Store in Glendale was (weirdly) one of the places I was excited to stumble across. It's just a regular convenience store. But it's integral to the plot of one of my favorite movies from my adolescence.
---
"Resevoir Dogs" | Pat & Lorraine's Coffee Shop
Not really a bar, either. I'm shoe-horning this one in. I'm a bit of a Tarantino fan (and a Steve Buscemi fan), and this is maybe the only scene of Tarantino's that uses a real-life LA location (Pat & Lorraine's Coffee Shop in Eagle Rock) and doesn't include anyone dying.
---
"Ocean's 11" | Musso & Frank Grill
This location was iconic before "Ocean's 11" – it opened in 1919 and is generally considered the oldest restaurant in Los Angeles. Musso and Frank in Hollywood doesn't look like much, but it has a lot of history. Including a quick scene in "Ocean's 11"
---
"Ferris Bueller's Day Off" | Nobu
Let's hammer out these facts, because this one is kind of confusing.
Ferris Bueller lives in Chicago
The exterior shot of the restaurant where Ferris, Sloane, and Cameron have lunch is in Chicago
The name of the restaurant in "Ferris Bueller's Day Off" is Chez Quis
That scene was shot in Los Angeles at a restaurant called L'Orangerie
But L'Orangerie closed down, and is now Nobu, one of the trendier spots in LA. I have no idea if the word "trendy" applies – I just know I can't afford most things on the menu.
---
"New Girl" and "Mad Men" | The Prince
This bar has been used in a bunch of movies and TV shows for years – it was even in "Chinatown" – because of its very classic (and classy) decor. The Prince in Koreatown is used for interior shots on "New Girl" regularly, and showed up in "Mad Men" a few times. Talk about a timeless appeal – can you think of two shows with more disparate tones and settings?
Also, for "New Girl" fans, you may notice that the exterior doesn't match the exterior shot they use on the show. THAT bar is actually The Griffin in Atwater Village. Don't know why they didn't just shoot the episodes on the inside of The Griffin, since it also looks pretty cool inside.
---
"Bridesmaids" | Redwood Bar & Grill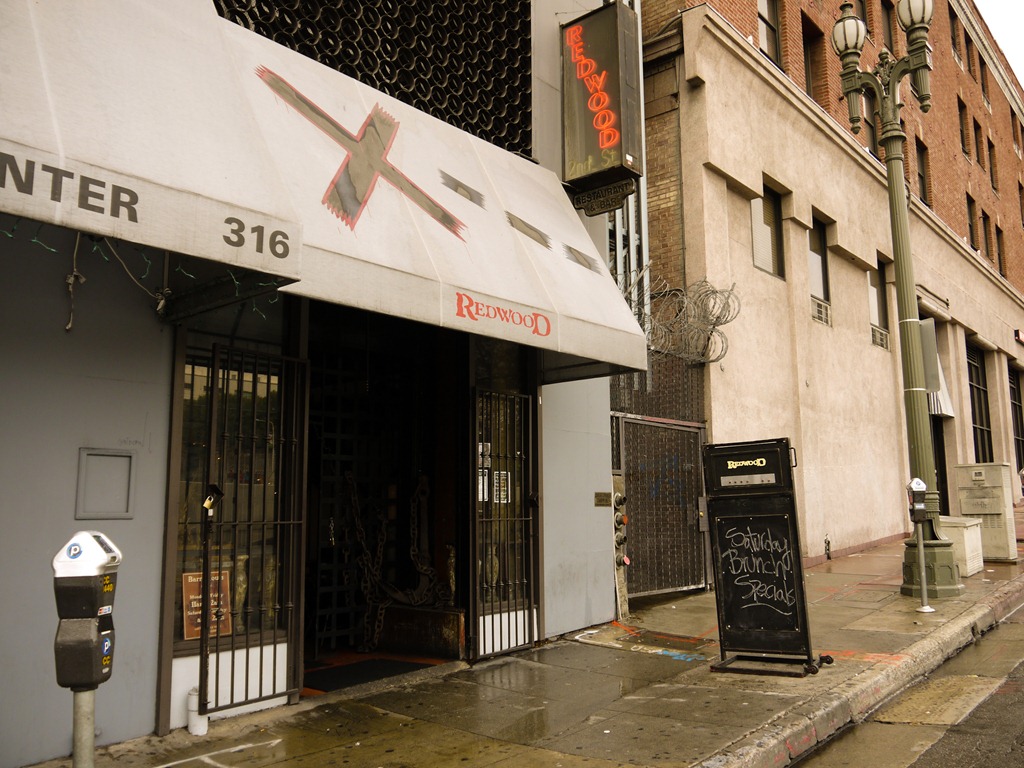 The below scene from "Bridesmaids" was shot inside the Redwood Bar & Grill in downtown LA, even though the movie uses an exterior shot from Wisconsin.
But let's be honest. The scene below isn't the one you remember when you think of the money. In the Redwood Bar & Grill scene, Maya Rudolph does NOT soil a wedding dress and Melissa McCarthy does NOT poop in a sink.
All the more reason to trust the sanitation at the Redwood Bar & Grill.
---
"It's Always Sunny in Philadelphia" |  Pan Pacific Warehouse A Scary-Looking Building Downtown
Sadly, Paddy's Pub does not exist. The show takes place in Philadelphia and is mostly shot in LA, but neither its interior nor exterior shots are real-life bars in either Los Angeles or Philadelphia. Its exterior shot is a building in LA where a lot of shows and movies have filmed… well… abandoned-warehouse-looking buildings.
While the Pan Pacific Warehouse is in an area of downtown that has grown safer in recent years, the facade remains perfect for a show or movie that wants to give the impression that the neighborhood is seedy. So even though the crime map of the neighborhood (below) is improving, Paddy's looks believably like a dump in South Philly.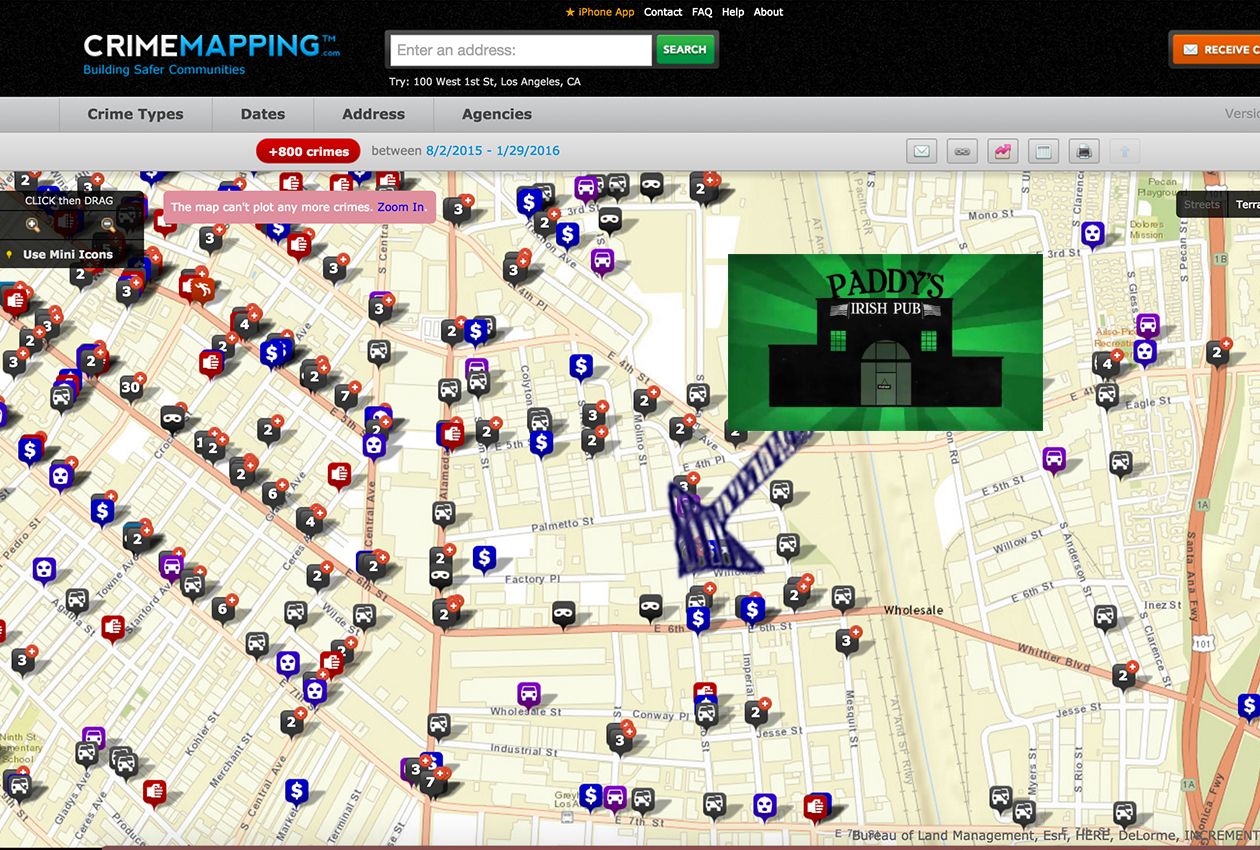 If you want to have a beer in a bar where the "Always Sunny" gang drinks, though… I recommend the Federal Bar in North Hollywood. It got a makeover for an episode of "Sunny" where the gang checks out what an award-winning bar looks like. It's also the neighborhood bar where my roommates and I have kicked ass in trivia a couple nights.
---
"Horrible Bosses" | Licha's Bar and Grill
The bar from "Horrible Bosses" where the guys meet Motherfucker Jones is actually pretty close to the Paddy's Pub exterior. They used Licha's Bar downtown for both films.
There's also a band called MAGIC! who filmed a music video at Licha's. The lead singer looks like Kyle Mooney, sounds like Enrique Iglesias, and dresses like Wayne Newton.
---
"True Detective" | Scary Shack By the Traintracks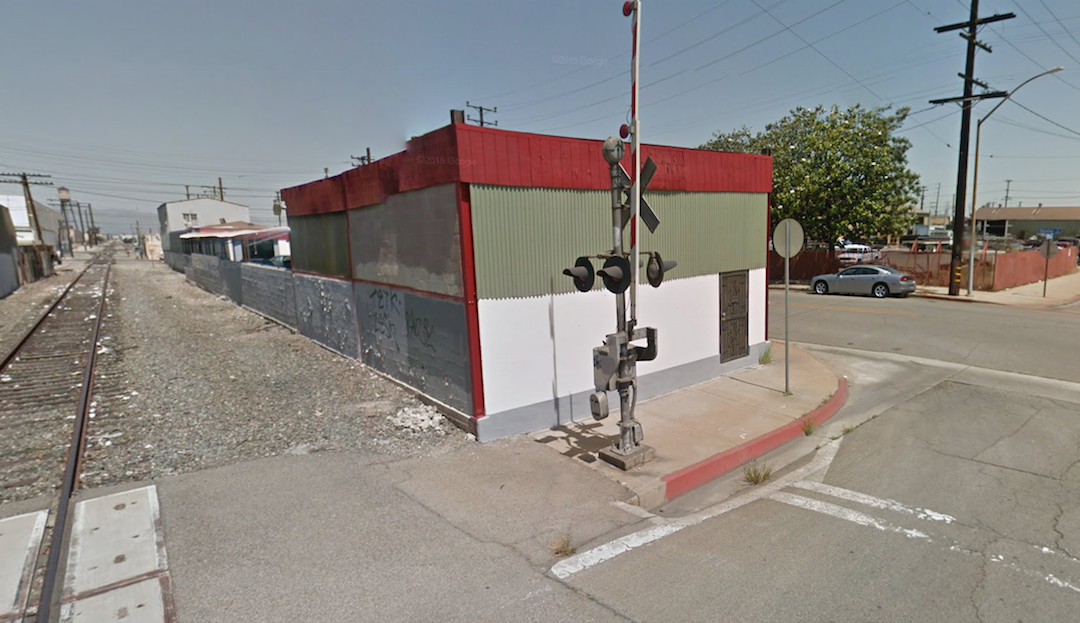 I'm not sure this is or has ever been a bar, except for in season 2 of "True Detective." When I looked up the address on Google street view, I couldn't believe any buildings on the corner were to code and suitable for human habitation. But after double-checking the below establishing shot from "True Detective," I can confirm that in fact they did use this scary shack mere feet from active train tracks to film.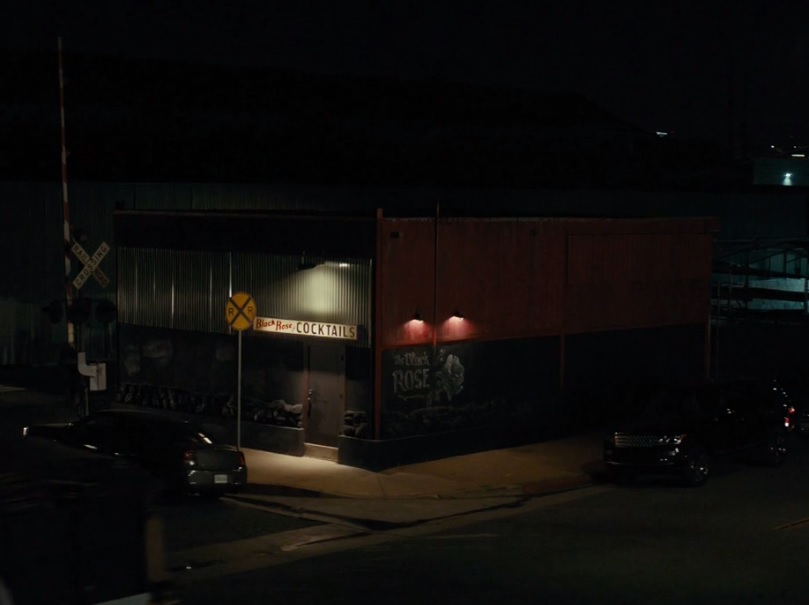 I gave up on "True Detective" a few episodes into season 2 (from sheer un-watch-ability), but I will never ever forget this dimly lit bar and the very weird musical acts that took the stage inside. I don't know which one was MORE deeply unsettling…
The most out-of-place use of "The Rose" in history…
Or the saddest background music of all time…
---
"Jerry Maguire" | Paco's Tacos
Okay, admittedly, "Jerry Maguire" was before my time. I was six years old when that R-rated movie came out, so I was only aware of how much the human brain weighs, the "show me the money" catchphrase, and the whole "you had me at hello" thing.
But "Jerry Maguire" is the kind of movie that gets replayed on cable a lot, so when I saw the scene where Tom Cruise and Renee Zellweger's date keeps getting interrupted by mariachis, it gave me a hankering for tacos. And even though I drive right past this place in Culver City every day, I've never been inside. Because no one really wants to be serenaded by mariachis when they're just trying to have a drink and a taco.
---
"The Big Lebowski" | Dinah's Family Restaurant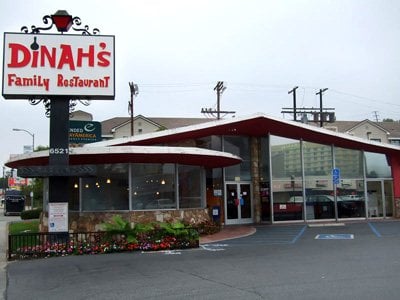 I'm really bummed about this one. I wanted to find the bowling alley from "The Big Lebowski."
I'm settling for the diner where we find out that the nihilists faked the toe-cutting… and also that they like lingonberry pancakes. Side note, the scene at Dinah's is the only scene in "The Big Lebowski" that does NOT have The Dude in it.
See, the bowling alley from "The Big Lebowski" … it's gone.
They filmed the bowling/drinking/fight scenes at Hollywood Star Lanes in Hollywood. And I wanted so badly to hang out there and have a beer and maybe run into Sam Elliot because sometimes there's a man.
But no. That bowling alley was torn down, and in its place now stands a school. An elementary school.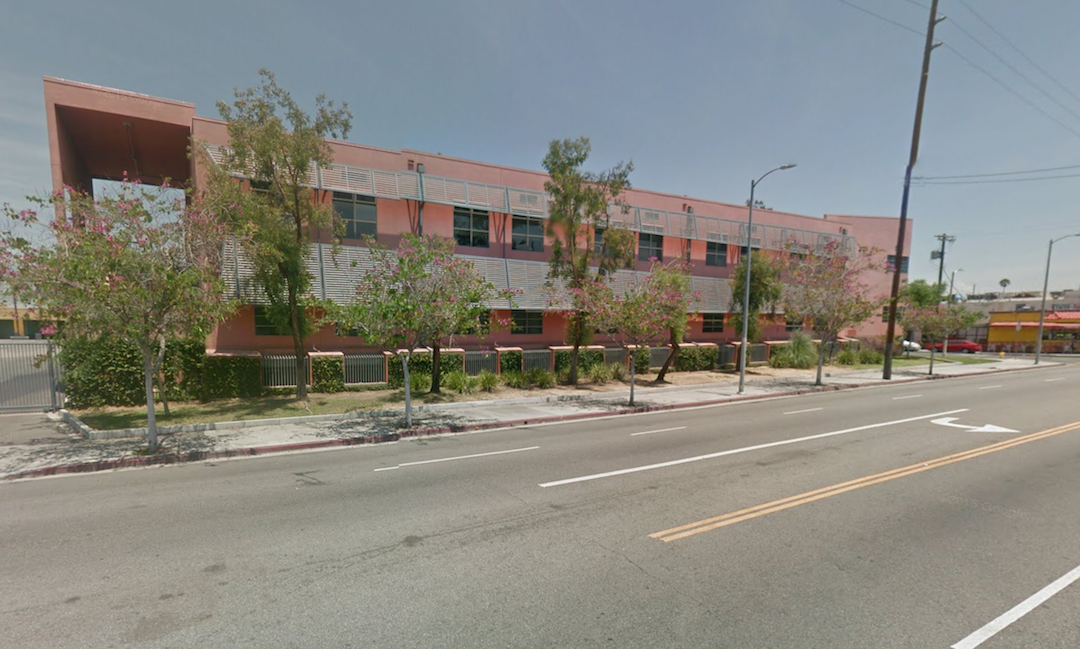 So you know who NOW hangs out at that bowling alley?
---