No Comments
Ultimate 6er | Craft Beer Infused Chocolate Truffles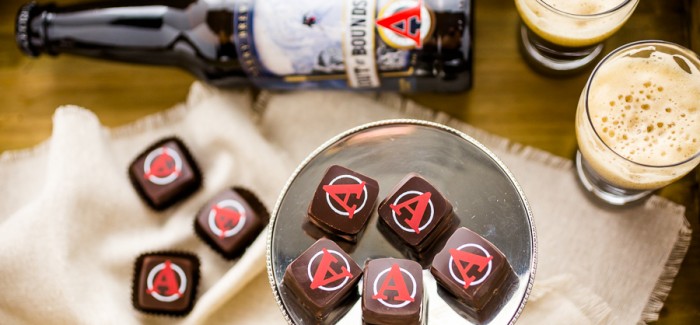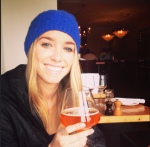 Cover image courtesy of Piece, Love & Chocolate
February – the dark, short month filled with Groundhog's Day, Mardi Gras, that much-needed President's Day Weekend and every four trips around the sun, the elusive Leap Year. Wait, am I forgetting something? Oh right, VALENTINE'S DAY. To commemorate Valentine's Day, the divisive love-it or loath-it Hallmark holiday, here are six beer-infused Colorado and Oregon chocolate creations that, like a special Valentine, will always be there when you need them.
Three of these truffles are a part of Boulder-based Piece, Love & Chocolate's Colorado Spirits Collection which you can buy here.
The other three truffles are a part of the Pacific Northwest chocolatier Moonstruck Chocolate Co. in their Oregon Craft Brewer's 12-Piece Truffle Collection, which you can purchase here.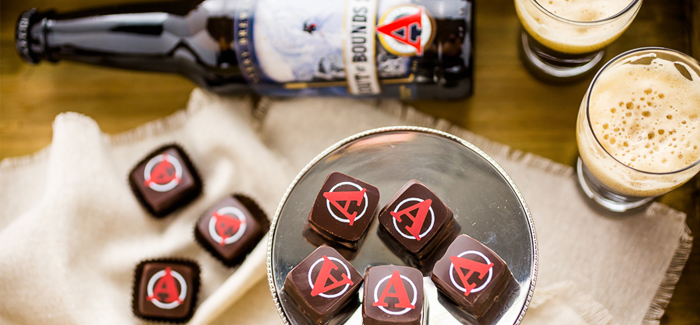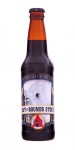 ABV: 6.3% | IBU: 51
First up is PL&C's Avery Out of Bounds Stout infused truffle. For this decadent creation, the chocolate fairies over on the west end of Pearl Street in Boulder used this hop-forward stout in its dark milk chocolate ganache. The roastiness of this full-bodied American-style stouts pairs excellently with the chocolate!
---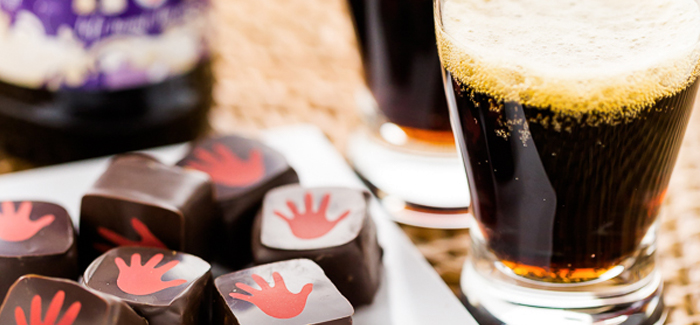 ABV: 6.0% | IBU: 25
Next, is PL&C's creamy dark milk ganache infused with lots of Longmont-based Left Hand Milk Stout. This sweet stout has really made a name for itself in the craft beer world with its coffee flavors and roasted malts. In my mind, the perfect marriage of beer and chocolate would be this candied milk stout and scumptious milk chocolate.
---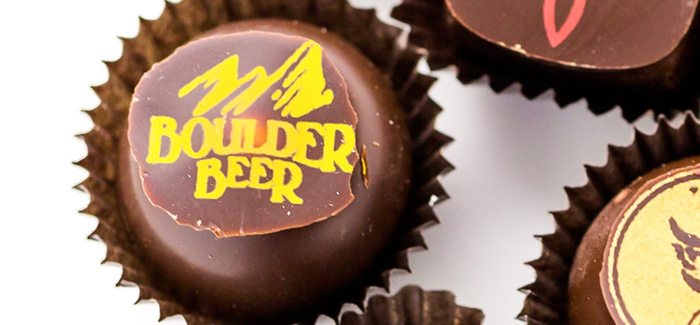 ABV: 5.9% | IBU: 39
The third and final Colorado craft beer infused truffle uses Boulder Beer's Shake Chocolate Porter. According to PL&C, this special piece is inspired by a special menu item at the Boulder Beer Company's restaurant – Shake Chocolate Porter poured over vanilla ice cream. This beer uses chocolate wheat as well as cacao nibs. The chocolate makers used a creamy liquid ganache made from vanilla bean paste, fresh cream and white chocolate with copious amounts of Shake Chocolate Porter. To complete this savory masterpiece, the truffle is then dipped in dark chocolate.
---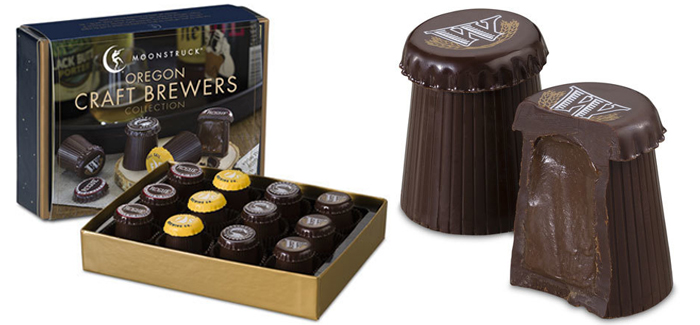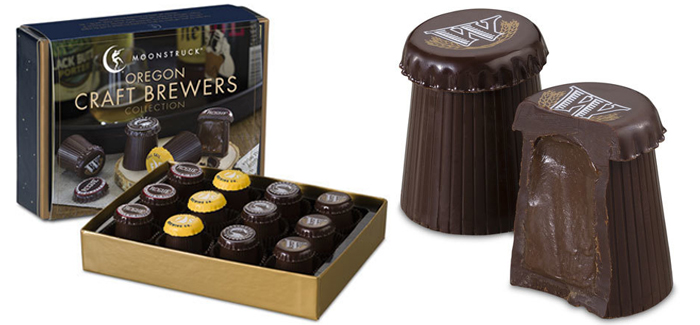 The first Oregon beer truffle created by Moonstruck to kick us off is not a beet you would typically think would pair well chocolate, a hefeweizen. This German-style ale is known for its wheat and yeast characterizes, with citrus notes on the finish. Moonstruck blended their white chocolate with a small amount of dark chocolate to, "bring forward those 'bread-y' notes and aroma[s], so distinct to Hefeweizens." For pairings with this Hefe-truffle, Moonstruck recommends fruits like apples, mangoes, and if you're feeling extra, classy, some Bayonne ham with melon. Overall, I really love how Moonstruck made these truffles in the shape of beer bottle caps!
---
ABV: 6.2% | IBU: 33
Next, we have Rogue's Hazelnut Brown Nectar incorporated into a truffle. This beer is a twist on a tradition brown ale, with its nutty aroma of roasted hazelnuts. Further, hints of coffee blend well with the hops. This pairing is actually quite fitting, because using a hazelnut-forward beer with chocolate makes for a Nuttella-esque truffle. For this creation, Moonstruck used a generous amount of Oregon roasted hazelnut praline into the milk chocolate ganache to enhance those qualities of this Rogue beer. Moonstruck thinks this truffle would go well with cognac infused dry raisins or crispy bacon!
---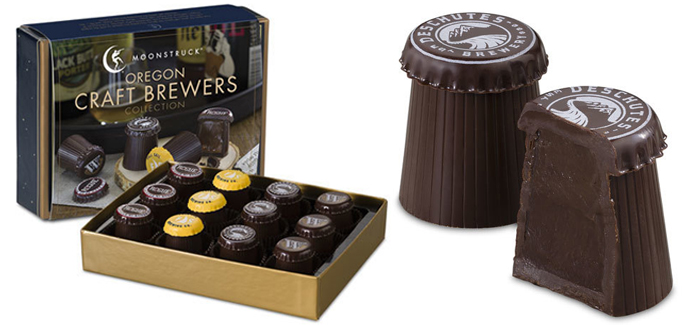 ABV: 5.2% | IBU: 30
Last but certainly not least, Moonstruck got a hold of some Deschutes' Black Butte Porter for its craft beer truffle collection. As the name suggests, Blacke Butte Porter is a dark beer, with an upfront hop bitterness that helps complement the beer's distinctive roasty chocolate finish. Moonstruck mixes their dark and milk chocolate ganache together with this assertively dark libation. For potential food pairings with the bold beer truffle, Moonstruck recommends other bold foods such as aged cheddar or prosciutto.
---