No Comments
Event Preview | Rocktown Beer & Music Festival Spring 2016 Edition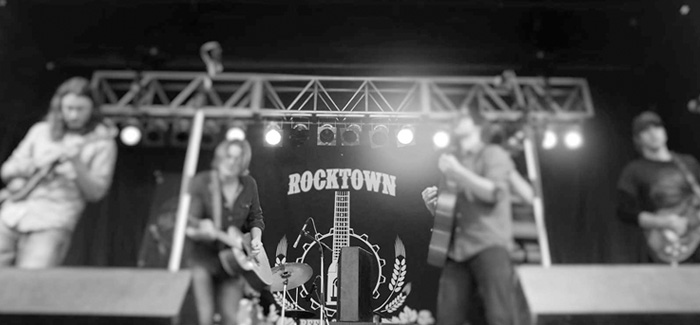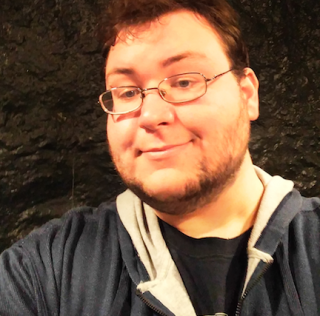 Going to a beer festival is a major step for most craft beer fans who are looking to fully immerse themselves into the culture. Where the booze is flowing and the music is playing, there's no better time to get to know new people as well as discover new beers! My introductory beer festival was the Rocktown Beer and Music Festival held in Harrisonburg, VA. "Rocktown" became synonymous with the college city as it was defined by its massive amounts of limestone in the surrounding area. The Rocktown Beer and Music Festival was created five years ago by the Harrisonburg Downtown Renaissance to celebrate our local community with good beer, good music, and good living.
The event is spearheaded by two pillars of the Harrisonburg community, Aaron Ludwig and Tim Brady. Aaron is the owner of Jack Brown's Beer and Burger Joint; our local epicenter that celebrates and immortalizes its craft beer-loving patrons. Tim Brady has been a brewer and beverage distributor, but now sells fresh pints as the co-owner of Pale Fire Brewing Company.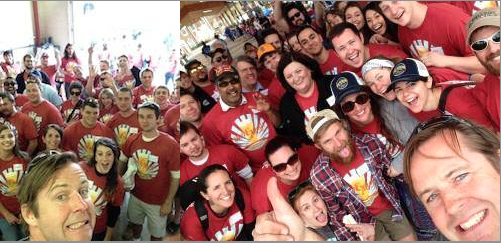 Harrisonburg's downtown area harmonizes the ingenuity of artists and businesses as the festivals caps off the "Taste of Downtown Restaurant Week." If you're a local, you already know the benefits, but anyone who comes down to Harrisonburg should experience what we have to offer! Dozens of local restaurants, breweries and cafes hold special discounts and events highlighting our exceptional variety of culinary and libation wonders. If you only arrive for the festival, no worries! The following businesses will be selling food at the festival: Jack Brown's, Chanello's Pizza, Grilled Cheese Mania, The Local Chop & Grill/Joshua Wilton House, and Black Sheep Coffee.
The Spring Edition of this festival will be expected to have up to 75+ beers from 35 breweries, with each brewery displaying a flagship and special seasonal/rare beer for attendees. Amongst this line up, the Adroit Theory catalog will be one to note, as the ghost (every batch is different) Nano-brewery is known for barrel-aged, experimental brews. Susan Keeler, the "beer guru" of the event has stated: "We'll also have some scheduled rare beer tappings in the regular festival but I'm not releasing those yet." And I believe that potential for surprise taps because during one unbelievable year, a very generous Founders representative unveiled a keg of Canadian Breakfast Stout for the public to enjoy.
Harrisonburg's rich artistic community and bar scene leads to getting great talent to highlight the Rocktown Beer & Music Festival. Headlining the event will be Sister Sparrow & The Dirty Birds, a hard soul collective that's played hundreds of shows including Bonnaroo and Firefly Music Festival. Virginia natives Major & The Monbacks along with Bryan Elijah Smith & The Wild Hearts will be bringing lively horns and Americana energy respectively.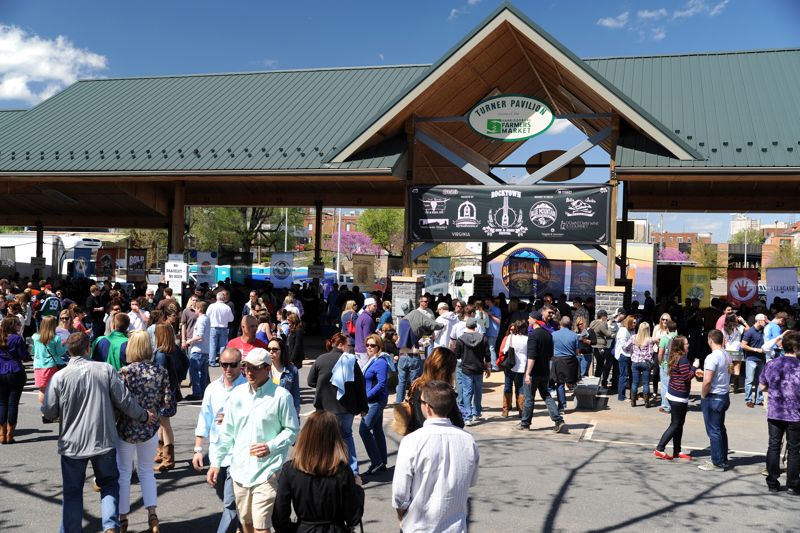 Tickets range between $24 to $75 dollars. $24  for designated drivers and attendees under the age of 21, but children 10 and under are free. $37 will earn you access to the beers with a 5 oz. souvenir sampling mug giving you 10 pours. You can buy $5 cards that will give you access to 4 additional pours.  About 3,000 tickets will be sold for the event.
Buying an $75 VIP ticket gives you direct, expedited access to the festival catalog of beers and a designated tent to watch the musicians play as food, tables, and corn hole will be provided. The VIP Section will be given exclusive taps for 12 oz pours showcasing: Ommegang's Tripel Perfection & Seven Kingdoms Hoppy Wheat Ale, Houblon Chouffe, Liefman's Kriek Brut, and Boulevard's Chocolate Ale w/ Raspberry & Tripel Julep and Blue Toad Hard Cider's APA & Black Cherry. (Special thanks to these breweries and Sustainable Solutions sponsoring this section!)
Event Location
The Turner Pavilion / Farmer's Market Pavilion
228 South Liberty Street
Harrisonburg, VA 22801
(Right across from Pale Fire!)
Event Time
April 30th, 3:00 PM to 8:30 PM
The Beer List
---
| | | |
| --- | --- | --- |
| Brewery | Flagship Beers | Seasonal / Rare Beers |
| Adroit Theory | White Noise | All Sixtels: Angels Trumpet, B/A/Y/S, Imagination Atrophy, Lux, Ortolan Bunting, Brooke's Currant Obsession |
| Alewerks | Drake Tail | Spring White |
| Allagash | White | Saison |
| Ballast Point | Grunion | Pineapple Sculpin |
| Blue Mountain | Hopwork Orange | Hop Potato |
| Blue Toad | Blonde | Pineapple |
| Bold Rock | Apple | IPA (India Pressed Apple) |
| Boulevard | Tank 7 | Ginger Lemon Radler |
| Breckenridge | Vanilla Porter | Amber Rye |
| Brothers | Hoptimization | Lil Hellion |
| Champion | Shower Beer | Positive Jam |
| Chaos Mountain | Shine Runner | Derrig The Giant |
| Crispin | Original | Blackberry |
| Devils Backbone | Vienna Lager | Cran-Gose |
| Dogfish Head | Namaste | Romantic Chemistry |
| Firestone Walker | Union Jack | Easy Jack |
| Founders | Mosaic Promise | Rubaeus |
| Green Flash | Soul Style | Passionfruit Kicker |
| Hardywood | Pils | Berliner Weiss |
| Heavy Seas | Pounder | TropiCannon |
| Jack's | Hard Cider | Conwego |
| Lagunitas | IPA | Hairy Eyeball |
| McKenzie's | Original | Black Cherry |
| New Belgium | Citradelic | Heavy Melon |
| O'Connor | El Guapo | Norfolk Canyon |
| Ommegang | Rosetta | Gnomegang |
| Oskar Blues | BEERito | IPA |
| Pale Fire | Salad Days | Razor's Edge, Electric Sheep |
| Parkway | Grapefruit Get Bent | Four Damn Fights |
| Potters | Farmhouse Dry | Hopped |
| Smartmouth | Murphy's Law | Sommer Fling |
| South Street | Virginia Lager | Acoustic Kitty |
| Starr Hill | Daily Grind | King of Hop |
| Terrapin | Mosaic | Sound Czech |
| Three Notch'd | Ghost of the 43rd | Spice of Paradise |
| Wolfe Street | Enamel Peeler | Coffee Elixir |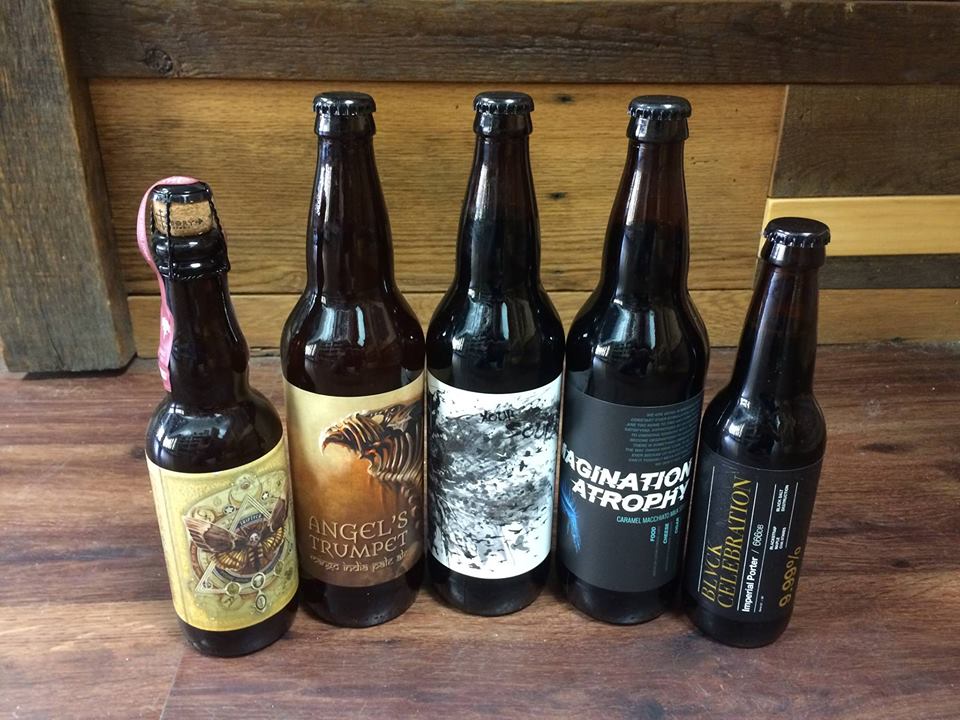 If you plan to enjoy Harrisonburg throughout the week, here are some craft beer destinations! Head to the four locals breweries: Brothers Craft Brewing, Pale Fire Brewing Company, Three Notch'd Harrisonburg Taproom and Wolfe Street Brewing for taproom specials. Check out Jack Brown's Beer and Burger Joint & Billy Jack's Wing and Draft Shack will be having taproom events all day and The Capital Ale House offers steal the pint nights every day of Rocktown Week! And if you want to hit up a great beer store, the Midtowne Bottle Shop is the place, even offering a special Adroit Theory tasting the day before the festival!
Rain or shine, it's always a mighty fine time!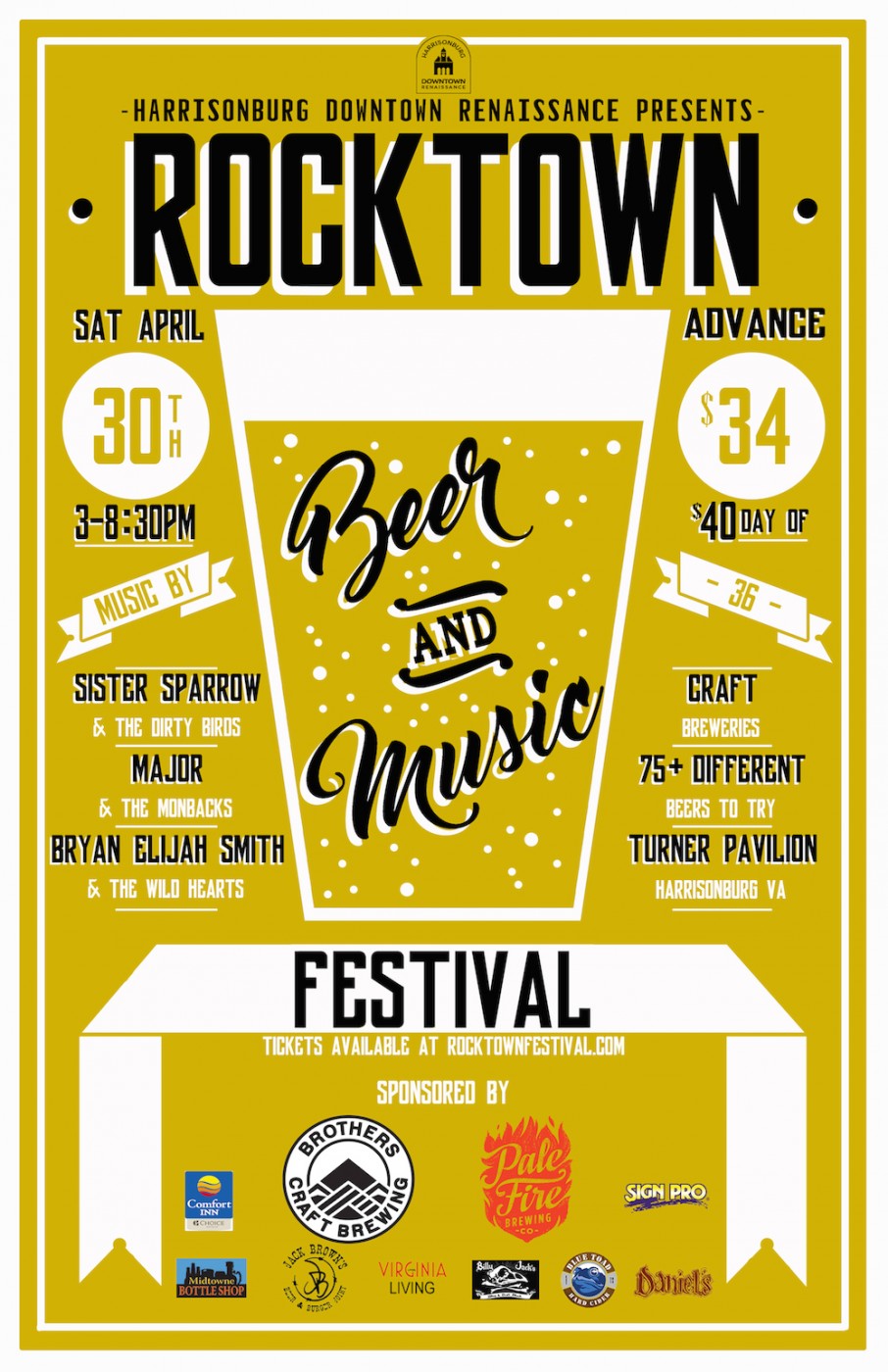 ---