No Comments
Austin Beerworks, Meanwhile Brewing and Kaiju Cut & Sew Release Social Harmony: A Kaiju Brew, benefiting Austin's AAPI Community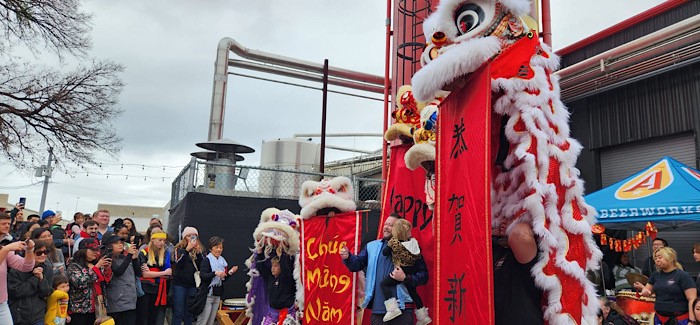 Austin Beerworks co-founder and director of brewing operations Will Golden and Kaiju Cut & Sew owner Chris Gomez are back celebrating the Lunar New Year and fundraising for their local Asian American and Pacific Islander communities with Social Harmony: A Kaiju Brew Roasted Barley Tea- Infused Gold Lager, brewed to herald the Year of the Rabbit.
This is the pair's second collaboration, following last year's Eastern Philosophy: A Kaiju Brew, a strong lager made with jasmine dragon pearl green tea. The first beer brewed to fundraise for the nonprofit organization Stop AAPI Hate, the project successfully raised over $5,000 for the charity and attracted hundreds of Austinites to the day-long launch event.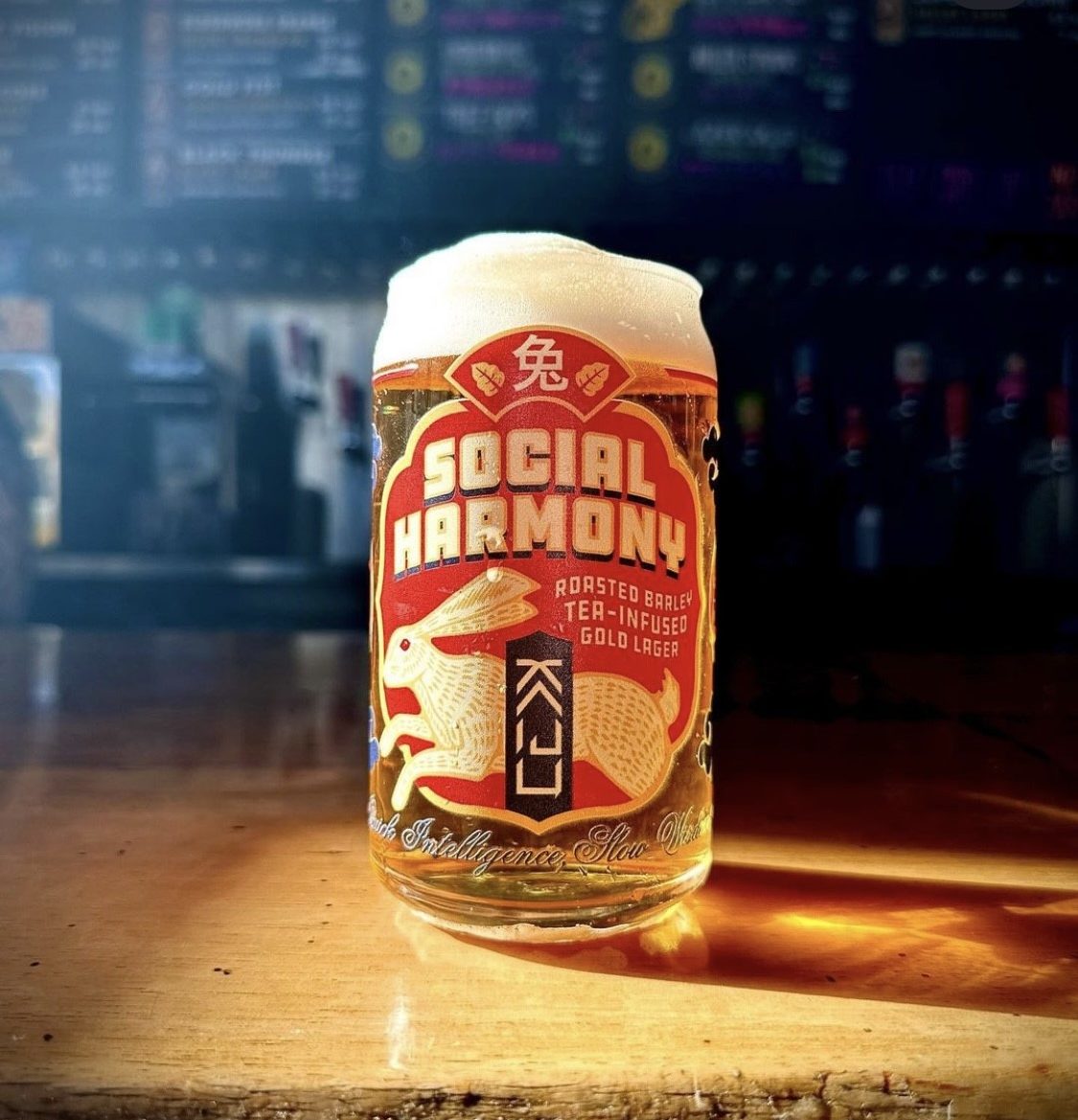 This year, Golden and Gomez joined forces with South Austin's Meanwhile Brewing, whose director of brewing operations Nao Ohdera has brought a new voice to the project. As a member of Austin's Asian community, Ohdera was keen to get involved and be a part of the fundraiser. "New Year's is the most important holiday in many Asian cultures," he says. "This project brings people together, supports an important cause, celebrates Lunar New Year, helps expose people to new things and all the while enjoying some delicious beer."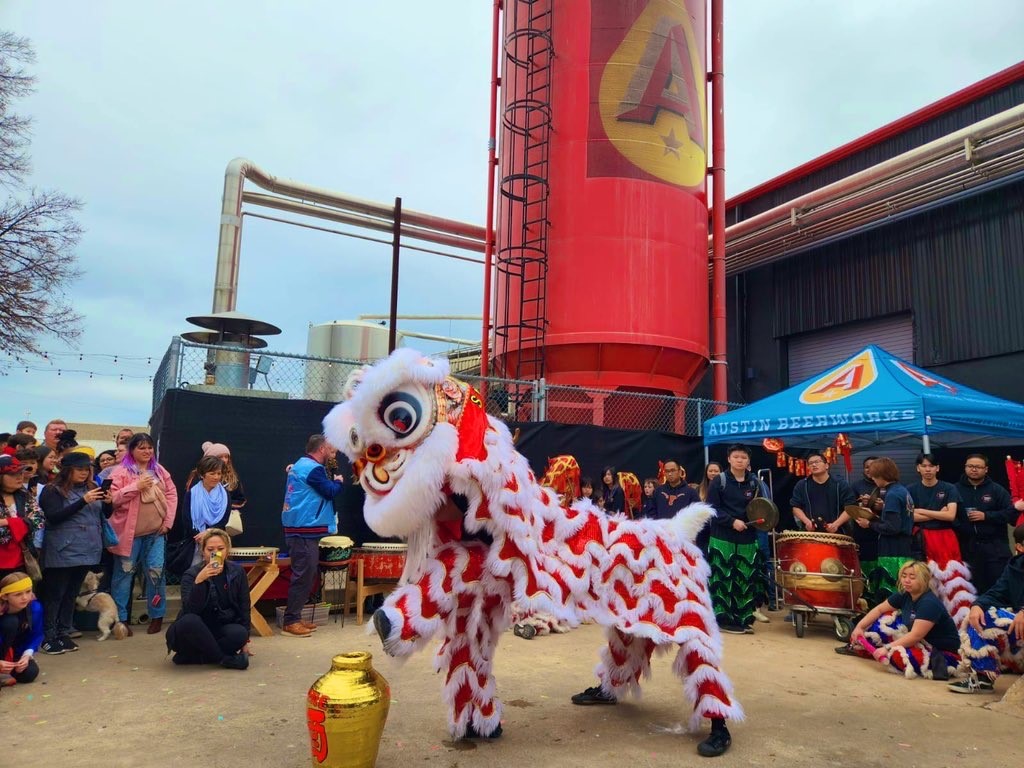 The three decided to stick with the lager-tea theme, creating a gold lager brewed with Mugi-cha, the Japanese name for roasted barley tea. Mugi-cha, also known as damai-cha in China, bori-cha in South Korea and be̍h-á-tê in Taiwan, is a popular drink across East Asia, made by steeping roasted unhusked barley in hot water for a toasty, bitter, caffeine-free tea that can be served hot or cold. While dedicated drinkers will prepare Mugi-cha from scratch, it can also be purchased as a tea bag or bottled cold drink, and is rich with vitamins and antioxidants as well as being sugar-free (although it can be sweetened to taste with sugar or syrup).
Mugi-cha is as ubiquitous as soda in East Asian countries, with a history going back over a thousand years. Yet for many Austinites, Social Harmony will be their first taste of it. For the team, it was a standout choice for this year's brew. "When we were doing experimentation last year for Eastern Philosophy the Mugi-cha tea was a very close second to the dragon pearl tea," says Golden.
To highlight the flavor of the tea, the beer is made with Weyermann Pilsner malt, with the addition of Golden Naked Oats for body and color. They didn't want to overcomplicate things though.
"We wanted to keep it pretty traditional as far as hops used so we used all German noble hop varieties—Gm. Tettnanger and Hallertau Mittlefruh," Golden explains.
Getting the flavor balance right was crucial.
"Lagers are meant to be easy drinking just like the Roast Barley Tea is," says Ohdera. "A Gold Lager has a slightly greater malt presence and sweetness that helps balance the toast-roast from the tea."
And Ohdera confirms that it's worked out perfectly. "The finished product definitely delivered on what we were going for—a beverage that is delicious, easy drinking, and approachable, while using an ingredient that not everyone here might be familiar with."
Gomez adds: "We really think everyone is going to love this new beer."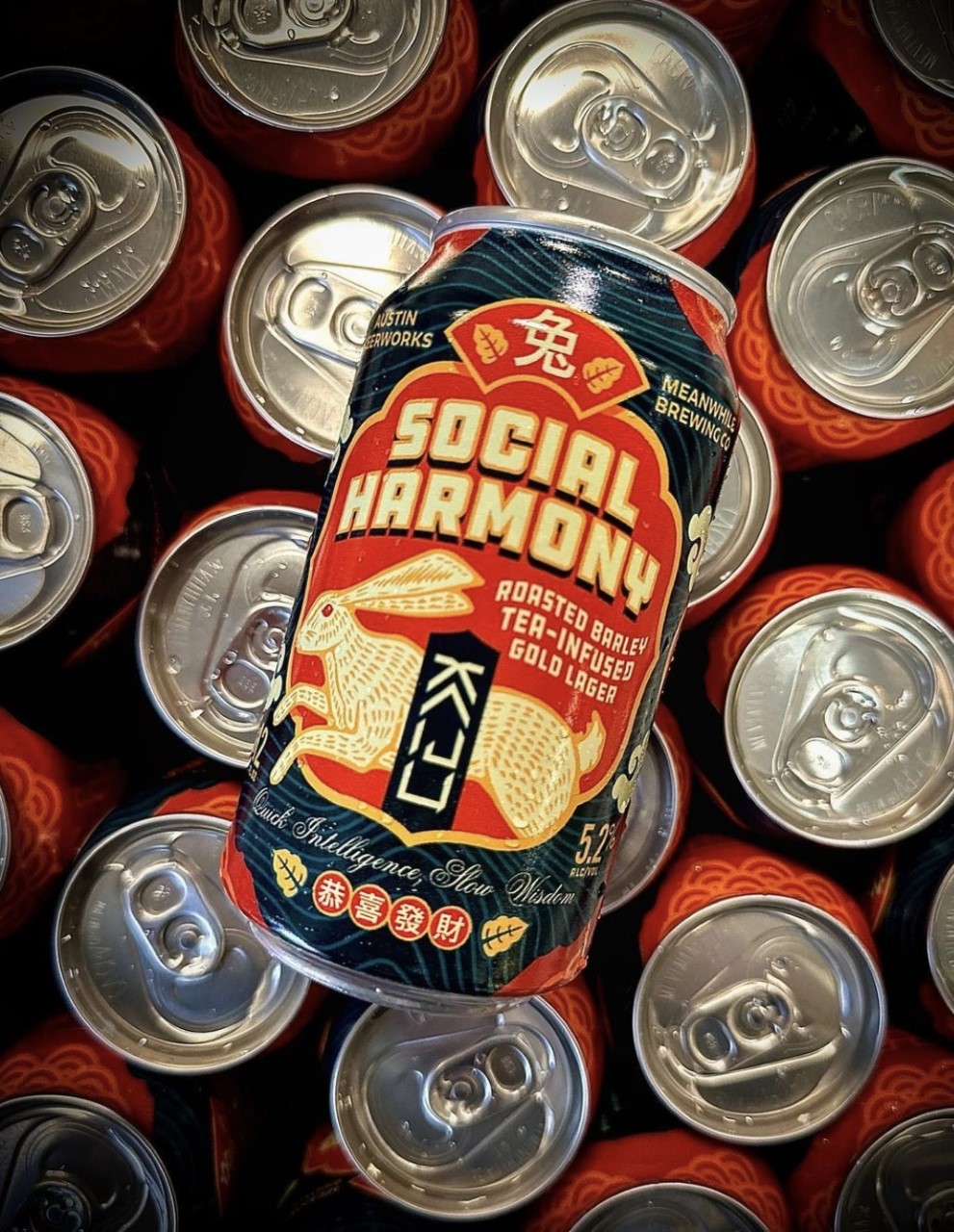 And love it Austinites did, turning out in impressive numbers on a slightly drizzly Saturday morning to watch a fantastic performance from Summit Lion and Dragon Dance team—a local group of children and adults from all backgrounds whose expressive and engaging show delighted audience members of all ages.
The event also included local vendor stalls from the Austin Flea, food from ATX Cantina and Chopsticks Asian Fusion Cuisine truck, as well as live music and specially made merch from Kaiju Cut & Sew featuring this year's logo, designed by local artist Bobby Dixon, creative director for Industry Printshop and branding designer for Kaiju Cut & Sew.
"There are a lot of components to this harmonious collaboration," says Dixon. "From the beer recipe itself with the addition of Japanese tea, to the expansive merchandise offerings, to the teaming up of ABW, Meanwhile, Kaiju Cut & Sew, and me as the designer."
The team wanted the design to be as inclusive and expressive as possible, while highlighting the nature of the Year of the Rabbit in the "Quick Intelligence, Slow Wisdom" themes which Dixon captured.
"There were several moving parts, many great ideas being bounced back and forth, and I wanted the design to reflect that activity and that constant evolution," he says. "The rabbit is the perfect animal to symbolize that motion. Ricocheting back and forth, bouncing from one idea to another. This rabbit never sits still, so much so that I wanted it to appear like it's jumping off the label."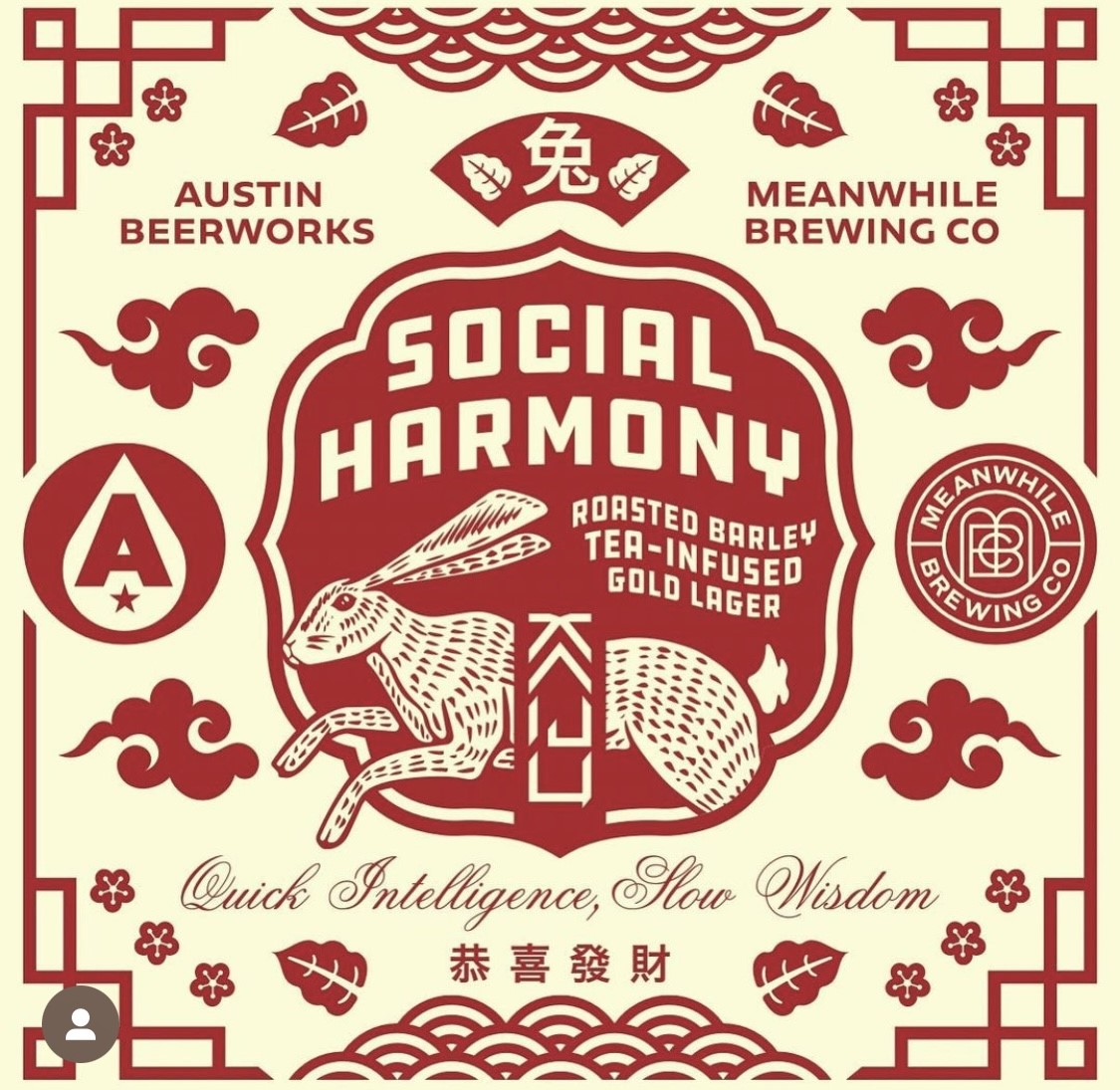 This year, the team is fundraising with a local focus—Social Harmony will benefit Asian Family Support Services of Austin, a charity that offers crucial services for immigrants including crisis intervention, access to secure housing, counseling and help finding legal services and employment. Gomez first worked with Asian Family Support Services of Austin during the pandemic when he was raising funds for charities and nonprofits by selling face masks.
"I told Will and team all about AFSSA and what they do in the community and the services they provide and they instantly said, yes, let's work with this organization for the Lunar New Year event," says Gomez. The organization also had a table at the event to share information about its services.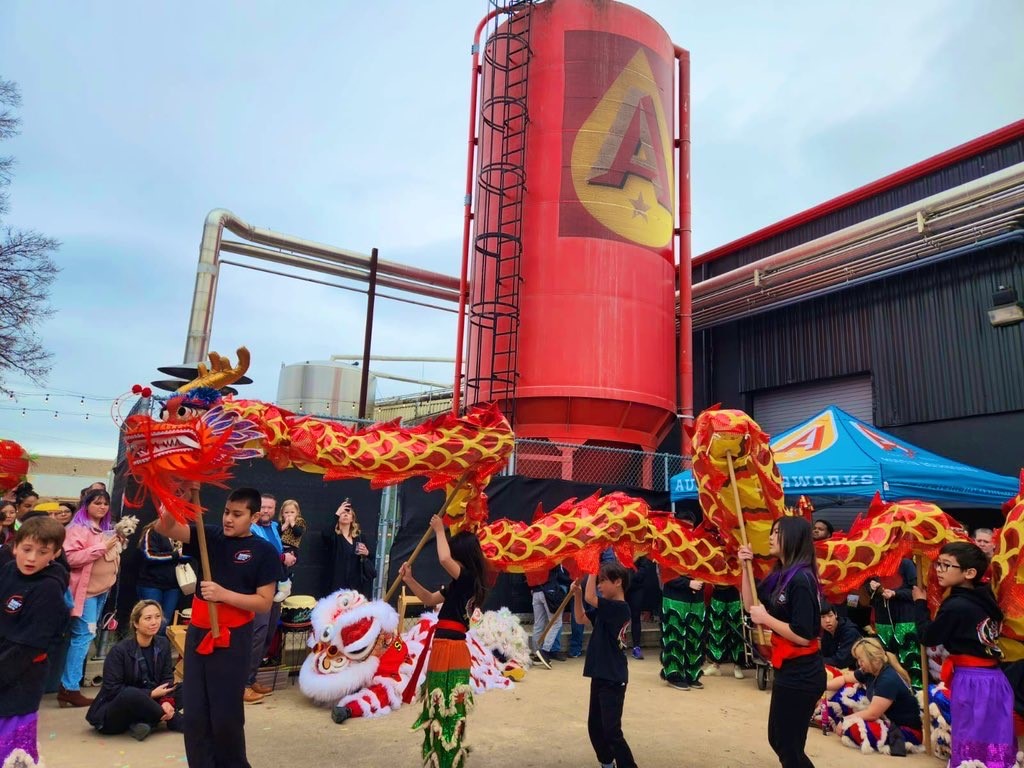 Going forward, the team plans to make their Lunar New Year fundraiser an annual project to support Austin's AAPI community and create exciting new beers using ingredients which will showcase various aspects of Asian cuisines and identities.
"We have definitely seen an increase in AAPI customers [since last year's event]," says Golden. "I hope this is due to the fact that they feel welcome and supported here, so for the foreseeable future, we do plan on doing this annually."
Austinites can look forward to more Kaiju Brews in the future.
"We joked that the cool thing about Lunar New Year is that it occurs every year," adds Gomez.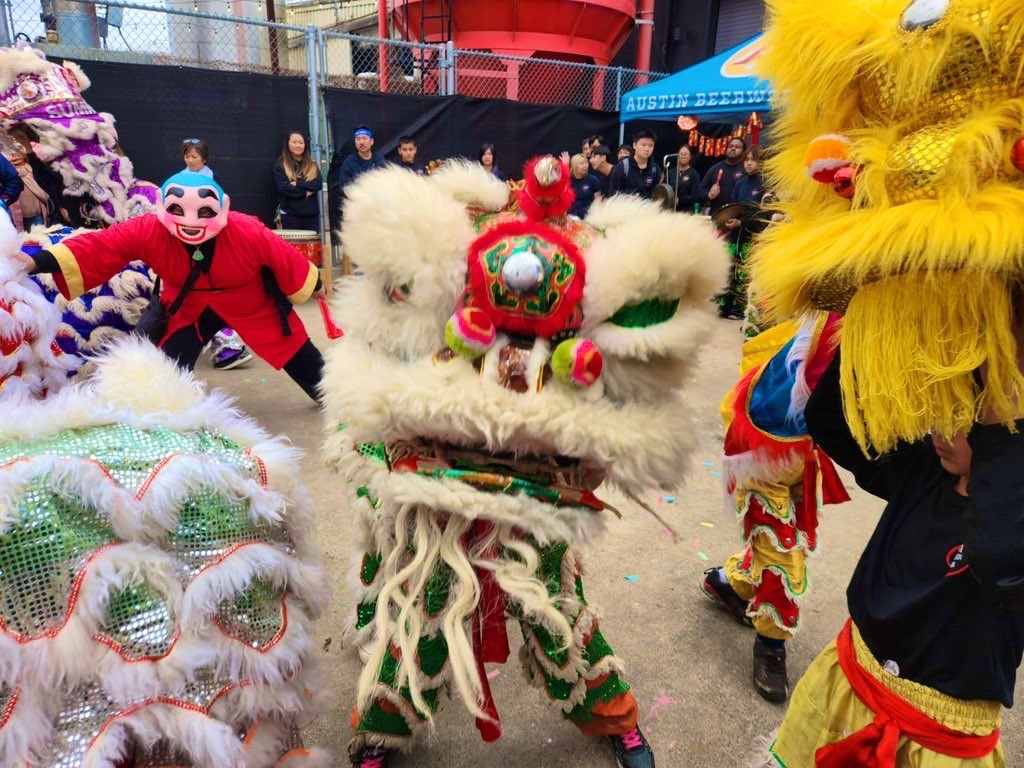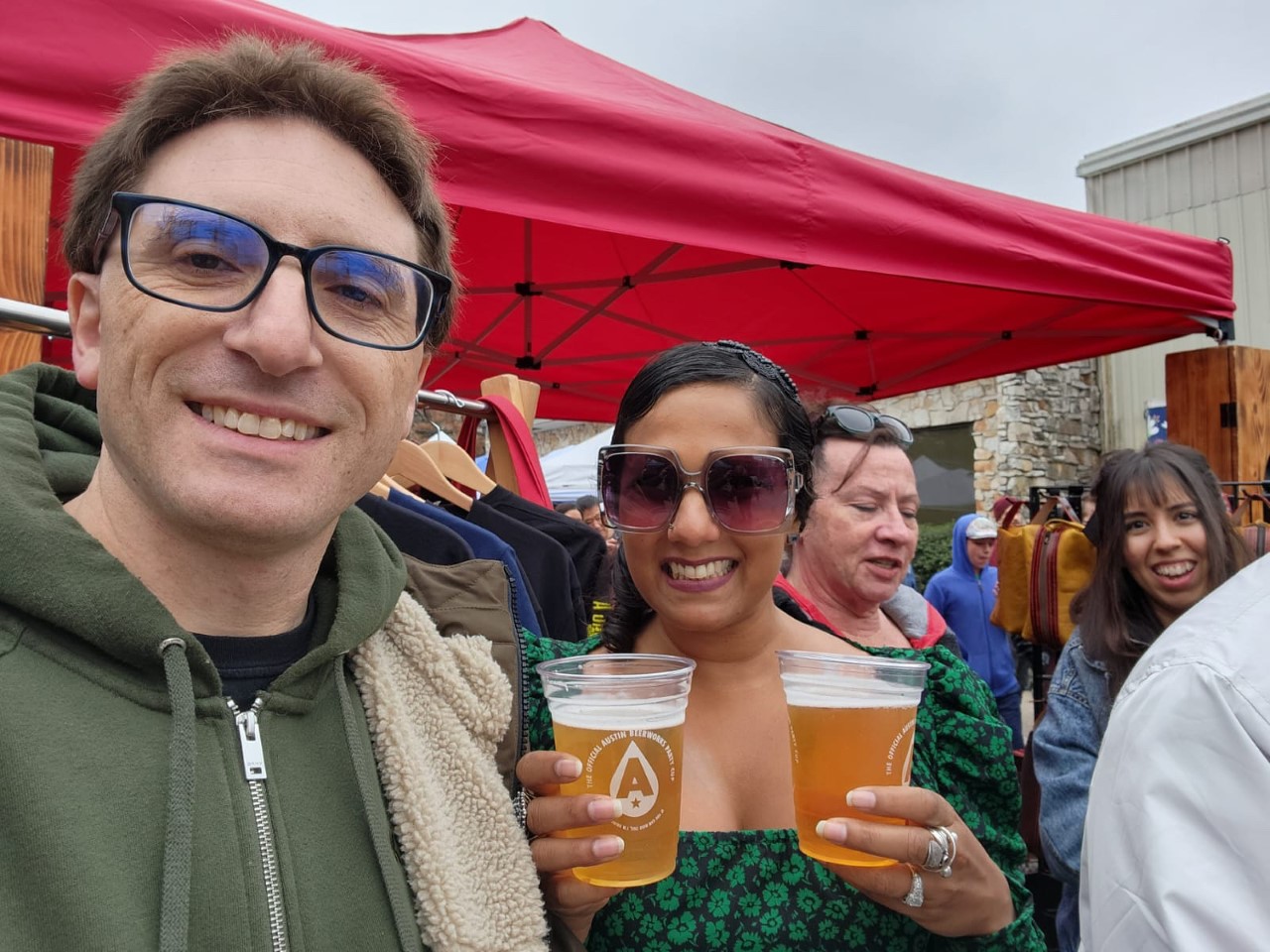 Social Harmony: A Kaiju Brew was launched on Jan. 21 and is available on draft and in cans at the Austin Beerworks and Meanwhile Brewing taprooms.
---