No Comments
Event Recap | #CCBW Miskatonic Brewing Mystery Infusion Contest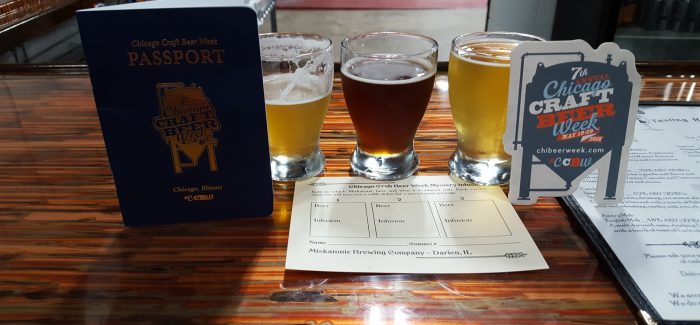 Suburban Chicago's Miskatonic Brewing (Darien, IL) challenged patrons to a test their skills as a beer connoisseur during Chicago Craft Beer Week. Sure, it's easy to log on to any one of the numerous beer rating sites and provide insight, but just how good are you? More to the point, as the writer who covered the event, how good am I?
The challenge involved receiving three beers for which one had to guess the name of the beer (from the beer menu) and each beer's mystery ingredient. My favorite aspect of the event involved observing beer geeks sniff their beer, swirl the beer around the glass, taste it and then talk to others at the bar for input. If you think watching people pick a melon at the supermarket is interesting, you should watch beer geeks struggle to discern what is in their beer. Notably, when a prize is on the line.
I did not struggle, of course. Not me. I am a professional beer writer who spends every day of my life reading about beer, tasting beer, interviewing brewers and writing about beer. I once spent 20 weeks of my life intensely studying American beer culture as part of my Master's in history. Before all that, I home brewed. I, you see, am an expert.
My score? A paltry two out of six. Yes, 33%.
I do know my beer pretty well, but this was a difficult exercise, to say the least. More importantly, it was truly a blast. I've enjoyed beer at Miskatonic Brewing several times, and I know them well. Nonetheless, I not only struggled to recognize beers for which I'm familiar, I failed to guess a beer that is my favorite: Catchpenny Rye. The mystery ingredient — bananas — fooled me into thinking it was a different beer. Of course, I also neglected to recognize the banana. Apparently, I am challenged in recognition of both beer and fruit.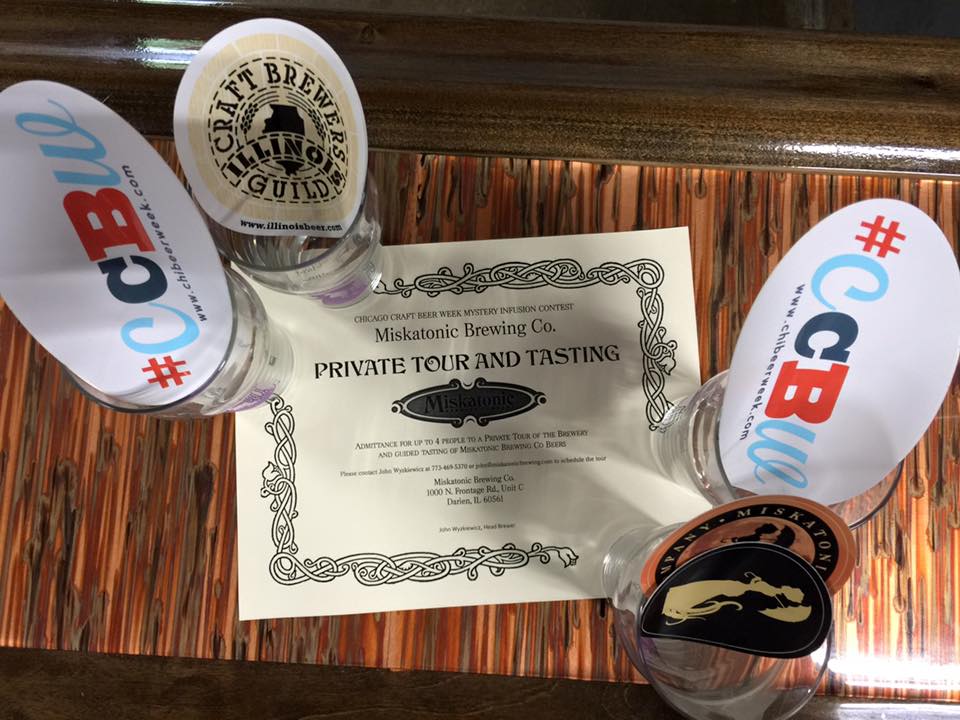 All kidding aside, the event demonstrates how a skilled brewer does more than just develop a cookbook-type formula. He or she is an artisan that understands flavors and possesses such terrific skills that tweaking one ingredient results in an entirely new brew. Mastery of ingredients is how Miskatonic Brewing can successfully brew a diverse set of beers including dry and Russian imperial stout, American and wheat IPA, maibock, Scotch ale, farmhouse, rye, and so much more.
Each ingredient or beer guessed correctly provided contestants with entry into raffle. The first winner received a certificate along with a private tour and tasting at Miskatonic Brewing; a cool prize, indeed. But, in truth, the real prize was the event itself. Along with the Mystery Infusion contest, beer enthusiasts consumed gorditas and other Mexican delights from Ofrenda Food Truck. And, the bonus involved sharing the taproom with an entire wedding party, who stopped by to enjoy a few great brews between the ceremony and reception.
All in all, It was enjoyable to sit down with a bunch of beer geeks, talk with the Miskatonic Brewing staff and collectively embrace our inner beer geek. Well done Miskatonic Brewing.
---