No Comments
Brewery Showcase | 4 Noses Brewing Company (Broomfield, CO)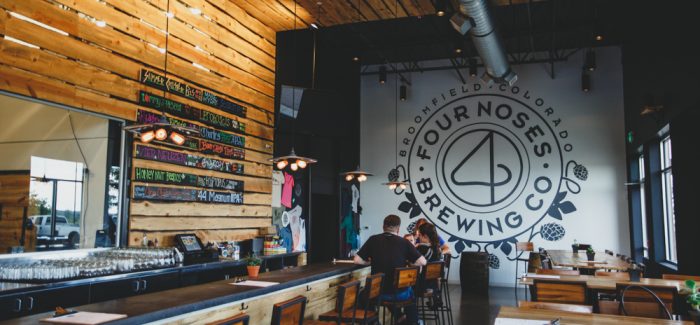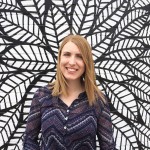 Located nearly smack dab between Denver and Boulder, right off of the US 36 corridor drag, you can find yourself at 4 Noses Brewing Company in Broomfield, Colorado. 4 Noses Brewing Company jumped onto the Colorado beer scene in May of 2014 with their tastefully modern taproom and brewery. Shortly thereafter, they were already making waves with their incredible selection of beer.
4 Noses started as a family endeavor. Head brewer Tommy, who was a longtime homebrewer, decided to join forces with his brother and parents to open a brewery. His wife is now part of the 4 Noses family as well. "The brewery's name stemmed from a joke from Tommy's family," remarked Sales Lead, Dustin Ramey. "All of them love tasting wine and beer properly, with their noses first. Other people that knew them would always say, 'Are the noses coming?'"
From that, their brewery and unique name were born.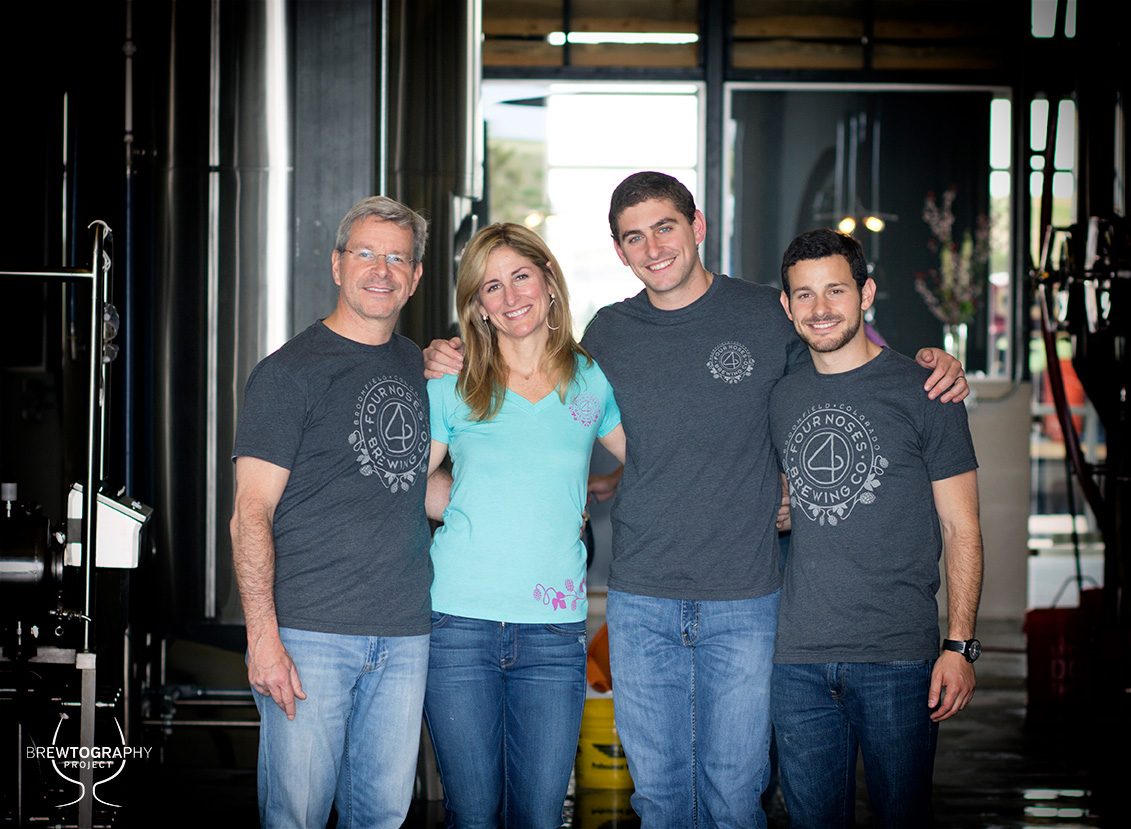 4 Noses focuses on providing quality on a wide array of styles. Within those styles they like to experiment with unique flavors, such as their winter seasonal El Jefe — a horchata-inspired stout. Recently, the brewery was awarded a Gold medal at the World Beer Cup for their fall seasonal, Pump Action Pumpkin Ale. The 20-barrel brewery is also home to a souring room and a barrel-aging program. "Barrel-aging is something we do currently… but would love to do a lot more of in the future," commented Ramey.
Canning their beer is something that the owners had always intended to do, even from day one. That goal came to fruition in February of 2015, when they rolled out several of their popular taproom favorites on their in-house canning line. 4 Noses is currently canning seven different styles and are trying to "fine tune" which styles they'd like to continue canning. "We don't have a flagship beer on purpose," remarks Ramey. "We want the customer to let us know which beers they like the best, and we will then consider canning styles, depending on what our customers are drinking the most of or what seems most popular." Two of the most popular in 4 Noses' arsenal include 'Bout Damn Time, a bold American IPA, and Bareback Blonde Ale, a Raspberry Blonde Ale.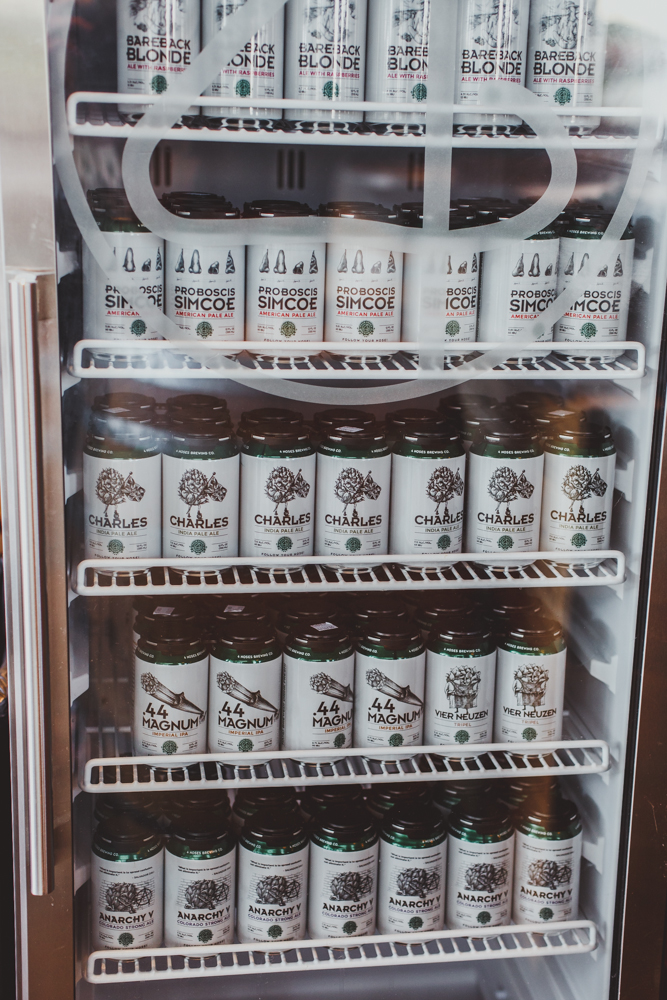 Food Truck Schedule/Availability
4 Noses offers some snacks in their taproom, but they also have a rotating schedule of food trucks including: Basic Kneads, Burgerchief, T.H. Cusine, Corner of Gourmet, Tony Guacamole, Barbed Wire Reef, Taste of Texas, and Comfort Food.
Events
4 Noses hosts Beer tapping & release parties, Geeks Who Drink Trivia on Wednesdays, and live music on Thursday, Saturday, and Sunday.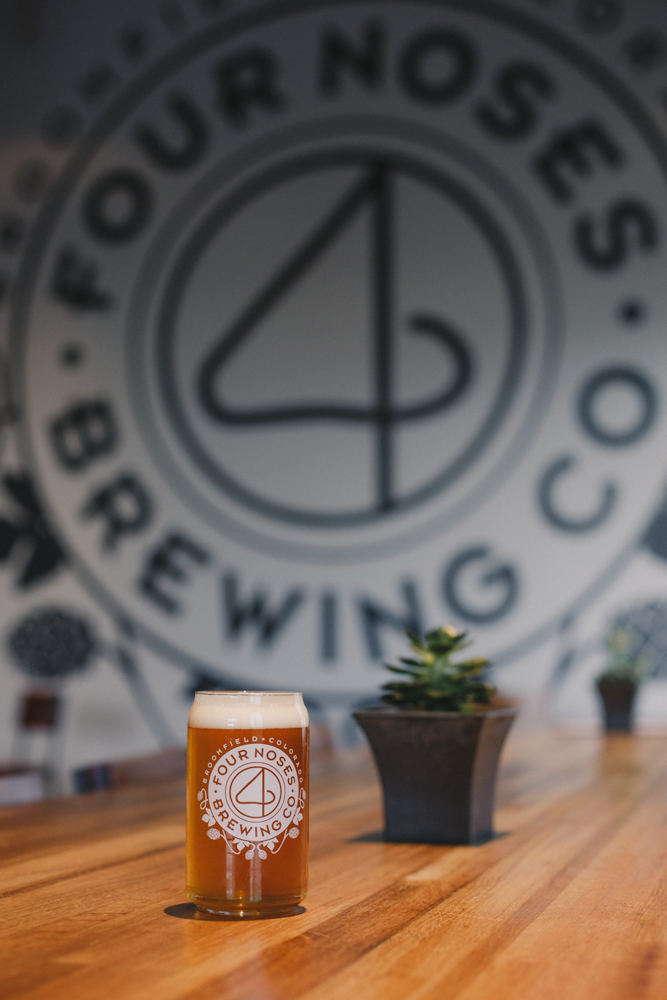 What's On Tap?!
4 Noses offers about 14 different brews in their taproom on any given day and it is ever changing. Some current offerings (not including the always on tap aforementioned 'Bout Damn Time, or Bareback blonde) are listed below*!
Nitro Honey Nut Beerios | Brown Ale | ABV 6.0%
Charles IPA | English Style IPA | ABV 7.1%
Hoot's Pie | Fruit & Herb Blonde | ABV 6.5%
Vier Nuezen | Tripel | ABV 9.5%
Summer Crusher Pils | Pilsner | ABV 4.5%
Ritual Rivers Cocoa Coffee | Porter | ABV 5.3%
Make My Day | Session IPA | ABV 5.0%
*as of June '16
Location
8855 W 116th Cir #4
Broomfield, CO 80021
Hours of Operation
Monday – Thursday: 3:00pm – 10:00pm
Friday: 2:00pm – 11:00pm
Saturday: 11:00am – 11:00pm
Sunday: 11:00am – 10:00pm
Be sure to follow 4 Noses on Facebook and Instagram!
---