No Comments
New Terrain Brewing Co. | Rambler Amber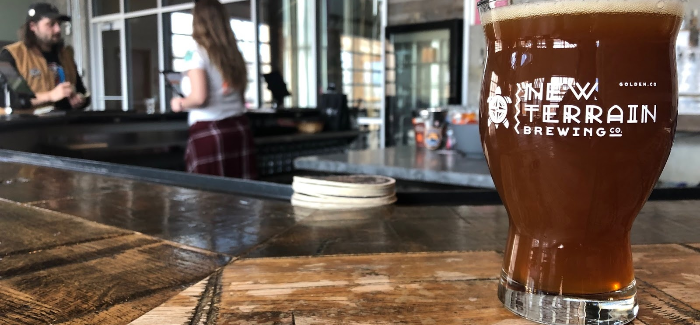 "For Those Who Wander."
The slogan of New Terrain Brewing Company isn't limited just to those who explore the great outdoors—though it certainly does include outdoor adventurers. Accordingly, visitors of the Golden, CO-based brewery are rewarded with a spectacular view of the Foothills; in addition to effortless access to a forested dog park. This facility, with its bucolic beer garden that offers scenic sights of Rocky Mountains to the west and Denver's skyline to the east, was certainly built with those who wander outside in mind.
This tap list is also tailor-made for those who wander up and down the beer spectrum; featuring options like a cream ale and a mint chocolate stout that bookend the gamut. There's also no fewer than two New England IPAs and three sours in between. The 2.5-year-old brewery's 15 current taps pour a taste and a style for all drinkers; which is New Terrain's exact intent, when so many other breweries focus exclusively on niche or trendy styles, said lead brewer John Law.
"The goal is to have a beer for everyone who walks through this door," said Law, a former engineer and homebrewer, who graduated from the Colorado School of Mines, a strand of intellectual DNA shared at this brewery, whose two owners are Mines graduates themselves.
And Rambler Amber is a beer for everyone. Its hop profile boasts enough unique characteristics to satisfy those seeking the hop-forward flavors from IPAs; while the malt base provides a nice sweetness to balance it out, with notes of peach seeping throughout. Overall, Rambler is a malty, sweet, slightly tangy amber that is approachable yet flavorful. It clocks in at 5.2 % ABV and 28 IBU.
With plenty of malt-forward beers available in the Colorado market, including but not limited to powerhouse names like New Belgium Fat Tire and Odell 90 Shilling, Law says the way New Terrain's Amber sticks out is the "American hop profile," which includes Sterling and Centennial hops. They also brew the beer with plenty of caramel and pale ale malts.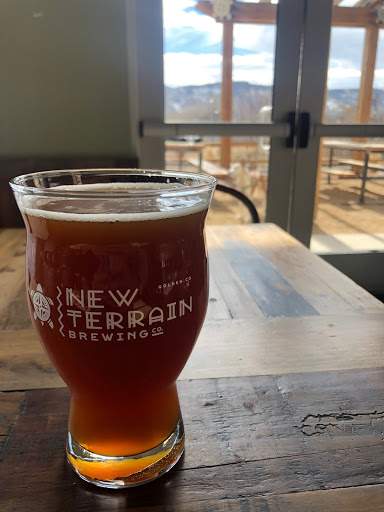 "The main difference is it's fruity on the nose, which keeps it different from traditional styles," Law said.
Rambler, named partly because "Rambler Amber rolls off the tongue" and partly because seven of New Terrain's current 15 beers on tap are a not-so-subtle nod to wanderers (Dictionary.com considers "rambles" a synonym of "wanders"), is available throughout New Terrain's distribution territory. Law says it includes roughly 50 restaurant and bars throughout the Denver area alone. New Terrain hopes to brew upwards of 2,500 barrels this year;  up from a thousand it hit in its first year in production.
The brewery's first can release, a raspberry yogurt sour layered with lemon peel, raspberry puree, vanilla and lactose sugar, on Saturday, March 16, will launch what Law said is hopefully the beginning of New Terrain's wider distribution of beers in cans. Rambler could be next.
And though it'll still be the delicious, decadent amber that is in cans, there's arguably no better experience than enjoying a Rambler in the zany pint glass that the beertenders at the incomparable New Terrain campus serve it in.
"A beautiful beer deserves a beautiful glass," Law said. "We want to show it off."
---