One Comment
Pinthouse Pizza | Electric Jellyfish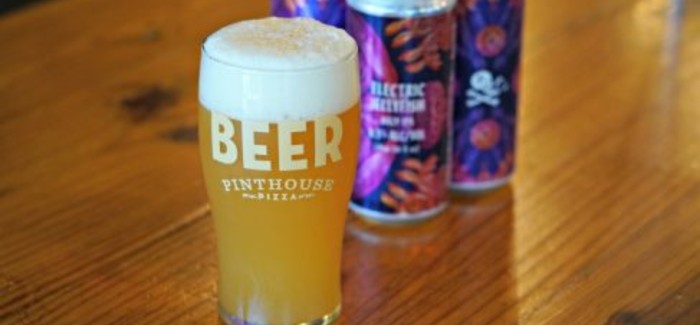 Pinthouse Pizza's award-winning Electric Jellyfish has had quite the journey. In 2015, the hazy IPA was designed to be a beer only available at the Lamar, TX location. In the five years since, it has become the brewery's most popular beer. Soon, it will be the first Pinthouse Pizza beer available off-site.
Nevertheless, brewmaster Joe Mohrfeld doesn't believe in keeping the exact same recipe. Rather than focusing on the same recipe each and every time, Mohrfeld and the team at Pinthouse believe in taking the drinker on a journey based on the raw materials. When they go hop harvesting each fall, the Pinthouse brewers don't worry about the static materials; they take the best hops that will allow them to craft their beers.
"Sometimes raw materials get glossed over," said Mohrfeld. Because of such a focus on raw materials, there's no guarantee the exact same hops will be available from year to year, which is why Mohrfeld does not just care about a recipe. He cares about the essence of the beer. When patrons order an Electric Jellyfish, they will get what they expect, even if it's not necessarily made the exact same way.
Fortunately, the customer will always get a delicious beer. Electric Jellyfish is a 6.5% juicy IPA with a tropical aroma and floral backbone. The orange and mango flavors balance well with the noticeable bitterness, making it extremely drinkable while holding true to Mohrfeld's philosophy of making beer "flavorful, complex and innovative."
The name still makes Mohrfeld smile. It's a nod to Wes Anderson's "The Life Aquatic," and it perfectly falls in line with Pinthouse's nautical theme. It's a fun approach that captures the brewery's mission while giving the customer something fun to say.
Like many in the craft beer industry, COVID-19 forced Pinthouse Pizza to pivot. Accordingly, the group purchased a canning line, and they will now be able to can their own beer instead of using a mobile canner. Beginning July 20, Electric Jellyfish will be distributed around the Austin area. Mohrfeld still believes in keeping certain beers available only on-site, but now everyone will be able to do their best Owen Wilson impression.
Feature image contributed by Rob Larry of Pinthouse Pizza.
---