No Comments
Yolo Brewing Encourages Personalization, Experimentation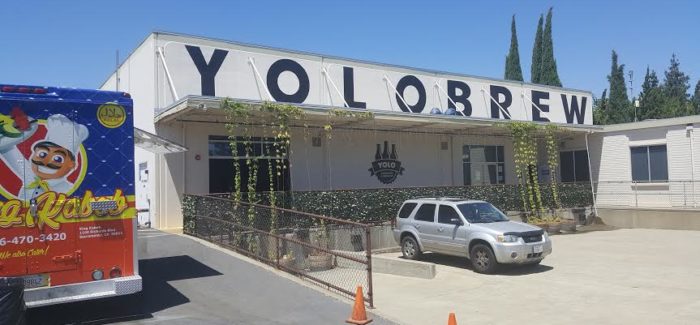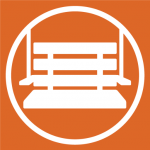 How many times have you been on a brewery tour and thought, "I wonder what it's like to actually brew this beer?" Or maybe you've been working your way through a flight of beers and you became inspired. "How awesome would this beer be if it had ___ in it?" I can gladly say, I have found the spot for you: Yolo Brewing Co.
Yolo Brewing (named for the county, not #YOLO) opened two years ago. They are located in an industrial section of town that you wouldn't normally think to find your neighborhood brewery in.  Oddly enough, among all the 18-wheeler trucks and warehouses, there are three popular local breweries located within a mile of each other, giving craft beer lovers a nice brewery crawl to partake in.
Walking into the former warehouse, there is a shady sitting section on the old loading dock. Inside, you'll be offered a wide selection of brews, with up to 16 on tap at any given time. As you sit with your brew, you'll notice something different about their "Beer Hall" — something that makes this brewery different from the rest. They let you brew your own beer!
I sat down with the owner, Mike Costello, to find out more about the personal brewing service they offer and how he came up with it. As a graduate of UC-Davis' fermentation science program, he knew how to brew and with "not much of a business plan," he opened Brew It Up! in 1996. The plan was simple: give the customers what he'd want if he was one of them. Homebrewing can be challenging. Starting out, you don't know what you're doing, you have to buy the equipment and you're on your own. So Costello provided space, guidance and equipment. After finding success in Davis, he was ready for the big city and moved into downtown Sacramento in 2003, growing from just a personal brewing operation to a full-fledged brew pub. The restaurant fizzled out in 2011. Costello said, "I know what we did wrong, but people still really liked the personal brewery."
Luckily for us, Costello found a fresh start and was able to open Yolo Brewing Co. I asked him about some of the challenges he's experienced with the personal brewing.
"There's a lot of tiny batches, in a tiny atmosphere with lots of people. It's like a three-ring circus, trying to factor for all of the variable and maintain consistency," Costello said.
They have a large variety of recipes you can follow, but they let you go on your own tangent, too.  When I told him I'd want to use maple syrup in a batch of beer, he gave me a great sense of how someone can put their fingerprint on a brew, but why his expertise is needed. "Someone like you might come in, thinking, 'I'm gonna use five liters of syrup!' and I encourage them to scale that back a bit. Let them know in our Orange Blossom Blonde, we only use one liter of honey, so five might be overkill." This is guidance that is, no doubt, necessary to a first-time brewer. Costello is a self-described "balanced beer person, to a fault," so a customer is wise to heed his advice.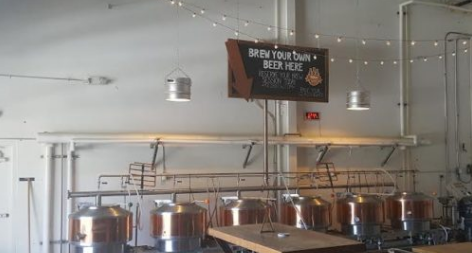 I asked Costello how challenging it is to have both Jackrabbit Brewing Co. and Bike Dog Brewing Co. so close, and he surprised me a bit with his enthusiastic answer.
"It's great! It really gives craft beer drinkers destination and a huge selection to check out. It's too bad the three of us don't hang out more and collaborate on some things. And Drake's is coming to the neighborhood, too," he added about the San Leandro-based brewer opening a West Sacramento location early in 2017.
His passion for well-made craft beers, a vibrant market of available options and education of customers showed throughout our conversation. On the other hand, it seemed like his biggest pet peeve is fresh beer going to waste. His annoyance with stores that allow beers to age, that aren't supposed to age, was evident. Drinking a fresh beer allows you to drink it "as the brewer intended" and has inspired this writer to clear out his back stock of brews at home ASAP.
As we finished up, I asked Costello what else he wanted us to know about the personal brewery. "The interesting thing," he said, "is that compared to even just five years ago, the personal brewery isn't as needed to find unique beers. But people really enjoy being able to do the brewing themselves."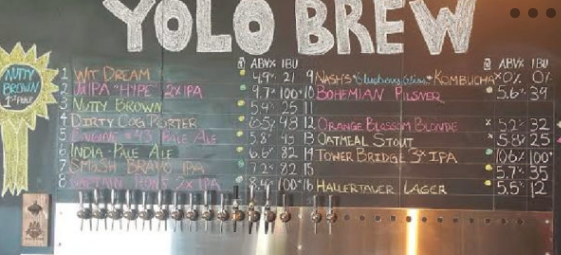 I was lucky enough to enjoy a coconut porter while we talked. Drinking a dark beer on such a warm summer day was intriguing, but I decided to take a leap of faith on this limited release. Delicious, smooth and with just the right amount of coconut, it was a surprisingly tropical flavor for a porter. They have a huge selection of wonderful beers available, which should allow everyone in your group to find at least one brew to fall in love with.
Yolo Brewing allows you to host your own events, as well. I saw a college reunion group fill up the Beer Hall while I was there. They host plenty of their own weekly events, too: Taco Tuesdays; West Sac Wednesdays, when pitchers are on sale; and Thursty Thursdays, which feature $4 pints. Add in the live music on Fridays and Saturdays and a rotating cast of food trucks daily, and it's no wonder this brewery is one of the most popular in the area. One of the upcoming bands is a group of eighth graders that play classic rock, so they definitely have a family-friendly environment at the brewery. Be sure to check them out the next time you're in the area and "raise your glass higher."
---