No Comments
Powder Keg Brewing Company | Quartet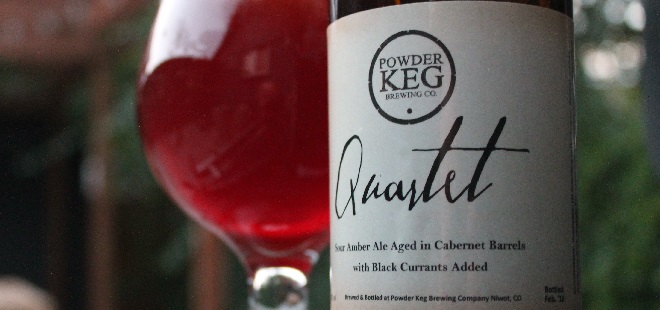 This showcase is sponsored by Small Batch Liquors.
ABV: 7.8%
Bottle: Crown Capped 375ml
The Brewery
Powder Keg Brewing Company is a brewery and tap room in downtown Niwot, Colorado, dedicated to brewing excellent craft beer.
Look for American and Belgian-style beers and a smattering of session ales designed for the work-hard-play-hard Coloradan. Whether you've just finished a 5.10 route in Boulder Canyon, completed your first century ride or designed the newest payload for launch into space, come join the extended family at Powder Keg Brewing Co.!
Powder Keg Brewing Co. is located at 101 2nd Avenue, Niwot, Colorado 80544. Check them out on Twitter, Facebook and Instagram.
The Beer
A sour amber ale aged in cabernet barrels with black currants.
Overall Impression: The finish is elevated with smooth and slightly sweet hints of oak, big jammy berry tones with a luscious finish on the palate. A gateway to funk, a path to pleasure.
With lively flavors of juicy cherries and soft, oak-laden tartness, Powder Keg Brewing Co's Quartet is a robust yet delicately balanced hit of sweet-and-sour.
Powder Keg Brewing created this oak-aged brew that somehow pops with breathtaking yet approachable flavor. Punchy considering it was sitting in a barrel for as long as it was.
Shimmering mahogany, Quartet emanates with a faint red glimmer and pink head, which reveals its fruity under'currant. Fresh, tangy cherries and currants sneak out from behind a curtain of deep, port wine-esque foundation. The main takeaway of this ale is the brisky ("that's Brisk, baby!") sweet vs sour battle that is a knife fight of chubby little cherubs trying to overpower each other but only finding an even bout with equal blow for blow. What is truly swelling is a mild baguette-ish Belgian malt character. It all bubbles up to be a tart, cranberry-like pucker. Your mouth is all, "Whaaaaaaaat? Dang."
As a foray into the burgundy sour echelon, this beer is no longer just a pivotal piece of Belgian history; it's become a piece of American history. Share this excellent example of a neo-classic Belgian sour with first time sour drinkers to really get their palate-a-moving.
Powder Keg Brewing Co. brews move quick and are available at Small Batch Liquors. Make sure to swing in and tell them PorchDrinking sent ya!

You can find this brew and many other fantastic carefully curated craft beers available for purchase at Small Batch Liquors in Denver, Colorado.
Small Batch Liquors
4340 Tennyson St.
Denver, CO 80212
---