One Comment
Tired Hands Brewing Company | Ourison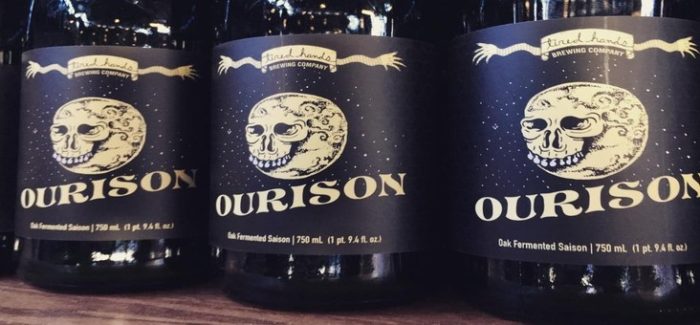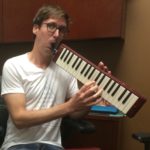 It's been hotter than Hansel in Los Angeles the past few weeks and when the temperatures rise, I start moseying into the sour/saison realm for refreshment. Luckily, I had a bottle of Tired Hands Brewing Company Ourison to help cool me. Straight out of Ardmore, Pennsylvania, I enjoy Tired Hands for its unfiltered yet refined farmhouse and sour ales that regularly have unusual style and ingredient combos. For instance, Woodlahands, a Flanders oud bruin with mushrooms added, is an example of the type of beer that emanates from the Tired Hands Fermentaria, and I'm all about it.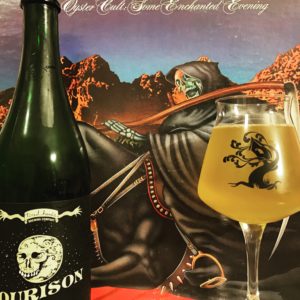 Ourison is a more traditional offering than Woodlahands for those of you that have reached the point in their beer consuming snobbery where a barrel-aged saison has become the norm. Taking SaisonHands and throwing it on some oak for two months then letting it condition hard and strong like off-season Kobe, it pours a slightly hazy but radiant gold with a head that disappears faster than Milli Vanilli's career. There's some citrus and funk on the nose, which follows the tart trail to your tongue and dances with the wood this was aged on. Everything is very well balanced – not too tart, and not like sucking on the skeletal remains of a popsicle stick. The finish is like kissing a mom at an AYSO after party as there's a lingering oaky-lemon finish not unlike many Chardonnays. This beer would be perfect with a delicate fish dish, but that will be an adventure for another evening.
As for the album, it's that Halloween season and seasons don't fear the reaper. This live set has some of the more well-known songs, features some serious shredding, and Godzilla will always bring out the inner-Guitar Hero in me. The only way to prepare for Halloween when it's in the high 80s outside is to put on some ominous rock and drink a saison. I've got a fever, and the only prescription seems to be drinking more Tired Hands.
---